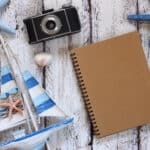 Elizabeth is an experienced traveler and writer with bylines in several popular travel publications. She currently co-owns a small digital travel publication and spends her free time writing, taking photos, and traveling.
Welcome to the land of great plains and breathtaking natural beauty—South Dakota. With its rugged landscapes and endless expanses, it's no wonder that this state is home to some of the most spellbinding lakes in the country. Come along and discover the 15 most stunning lakes in South Dakota that are sure to take your breath away.
1. Lake Oahe
Unfolding across South and North Dakota as America's fourth-largest reservoir, Lake Oahe is a 370,000-acre sapphire gem etched with deep historical imprints. Whether you're lured by the allure of reeling in a Chinook salmon or the fascination of prehistoric archaeological sites such as Molstad Village, the lake's shimmering waters and bounding shores extend an intriguing invitation. As you traverse its vast expanse, Lake Oahe unfolds a rich tapestry of outdoor activities, making it a great spot to get out and breathe some fresh air.
2. Sheridan Lake
Sheridan Lake, nestled within the Black Hills of South Dakota, is steeped in history and rich with outdoor adventures. It's home to a marina and sandy swimming beaches on both its North and South shores. What else is there to do here? Traverse its small dam on foot, discover hidden picnic spots, or embark on a scenic drive via the Sheridan Lake Drive from Rapid City.
3. Lewis and Clark Lake
Step into the world of adventure at Lewis and Clark Lake, a petite dam on the Missouri River straddling the Nebraska/South Dakota border. With a name rooted in historical explorations, the 25-mile-long lake boasts 90 miles of shoreline and 27 recreation areas, offering diverse activities ranging from thrilling water sports to serene hiking trails and bird-watching spots.
4. Lake Poinsett
Lake Poinsett is one of the largest lakes in South Dakota, named after the influential US Secretary of War, Joel Poinsett. This historical retreat, explored for the first time in 1838, invites you to follow in the footsteps of pioneers. With its rich history showcased at the Lake Poinsett Visitor Center and Museum and ample opportunities for lakeside camping and recreational activities, Lake Poinsett offers an adventurous yet tranquil getaway.
5. Lake Thompson
Discover a piece of prairie magic at Lake Thompson, one of South Dakota's largest natural lakes, named after early settler John Thompson. Its 44.6 miles of shoreline invite adventure, from angling for a varied catch of game fish to embarking on boating journeys under open skies. Nested within a state recreation area, the lake's camping facilities offer an immediate embrace of nature, making it not just a stopover but a destination woven into the fabric of local history.
6. Pactola Lake
Pactola Lake, a shimmering jewel 15 miles west of Rapid City, holds the title of the largest reservoir in the Black Hills. Playful perch and brown trout fill its depths, calling for a day of relaxing fishing, while its emerald shores titillate with opportunities for camping, swimming, and hiking. Dare to go deeper and dive into the history of the submerged town of Pactola, a unique adventure offered nowhere else in South Dakota.
7. Big Stone Lake
Cast a line into the crystalline waters of Big Stone Lake, a sprawling expanse bordered by verdant state parks, quietly narrating South Dakota's rich glacial history. This watery wonder, stretching an impressive 26 miles, serves as the birthplace of the Minnesota River and is a haven for anglers, with over 30 different species to challenge your skills.
8. Enemy Swim Lake
Exceptional in clarity and ecological diversity, Enemy Swim Lake captivates visitors with its array of activities. Spot the graceful ballet of the Caspian terns in search of prey along the Church Bay shoreline, or discover the reclusive Red-necked grebe nesting amid the bulrush beds of the quieter bays. A rare aquatic treasury in South Dakota, the lake's undeveloped shoreline and surrounding tallgrass prairie teem with a rich variety of fish, invertebrates, and macrophytes, inviting a closer look at the vibrant ecosystem.
9. Pickerel Lake
Nestled in the heart of Day County, South Dakota, Pickerel Lake intertwines the charm of history and the thrill of adventure across its 955 acres. Formed by glaciers, it gets its name from an American Indian term, "where you spear long fish"—an invitation echoed today by the lake's vitality as a boating and fishing hub. As one of South Dakota's deepest lakes, surrounded by the Prairie Pothole Region and encircled by two accommodating campgrounds, Pickerel Lake is a must-see on any trip to South Dakota.
10. Sylvan Lake
Framed within the Black Hills of South Dakota, Sylvan Lake, the striking diamond in Custer State Park's crown, offers a haven for travelers looking for diverse outdoor activities. With hiking trails that lead to breathtaking sights like Black Elk Peak and The Needles, it's also a gateway to exploring the larger park. Picture yourself rock climbing, renting a quaint boat, or swimming in the pristine waters—you can do that all and more here!
11. Lake Alvin
Tucked away in Lincoln County, Lake Alvin is a man-made oasis formed by a dam on the Nine Mile Creek. This 59-acre hotspot, lying comfortably near Sioux Falls and Newton Hills State Park, is a hive of activity, offering a tranquil beach setting ideal for swimming, boating, and unparalleled fishing.
12. Lake Vermillion
Few places can rival the year-round allure of Lake Vermillion Recreation Area. Nestled 27 miles west of Sioux Falls, this 512-acre aquatic marvel, stemming from the impounded Vermillion River, invites you with its clear waters abundant in fish. Whether you're a fervent fisherman, an eager swimmer, or a boating aficionado, there are plenty of things to do here. When the cool autumn air sweeps in, the echo of waterfowl and upland game beckons sportsmen, making it one of the best fishing lakes in the state.
13. Iron Creek Lake
Iron Creek Lake, a tranquil retreat crafted among the pristine Black Hills during a 1930s WPA employment initiative, offers a delightful plethora of family-oriented activities. A mere 20-minute journey south of Spearfish, this idyllic haven prohibits noisy watercraft, fostering a serene setting for hiking, swimming, or boating. Before visiting, prepare for a 12-mile gravel-road journey to reach the lake, and remember the rustic charm of the area means there are limited shower facilities.
14. Lake Sharpe
Unveil the allure of Lake Sharpe, a vast reservoir tucked away in central South Dakota, boasting both rich biodiversity and boundless entertainment. When planning your trip, remember that riveting fishing sessions abound, with walleye as the star catch. You can also count on catching sight of some deer, bison, and a smorgasbord of bird species within the adjacent public lands.
15. Angostura Reservoir
Conceived in the heart of Fall River County, South Dakota, Angostura Reservoir's shimmering waters have narrated a tale of thriving life since 1949. A paradise for ardent explorers, the reservoir is home to untamed northern pike, elusive walleye, lively smallmouth bass, and radiant sunfish, making it a top-notch destination for boating, fishing, and swimming adventures. The area, which also serves as a refuge for migratory birds, offers immersive experiences in its surrounding campsites, tucked away on some of the state's finest sandy beaches.
20 Thrilling Florida Vacation Spots
Ready to plan your next vacation in sunny Florida? Here are the highlights of the 20 best vacation spots in the state! From the vibrant nightlife of Miami to the laid-back charm of Clearwater, there's something for everyone. Whether you're looking for family-friendly activities, high-end experiences, or unique adventures, this article has got you covered. So, pack your bags and get ready to soak up the sun and fun in the Sunshine State!
15 Virginia Vacation Spots Perfect For Exploring History
Explore the best vacation spots in Virginia with this must-read article! From the historical charm of Williamsburg to the breathtaking beauty of Shenandoah National Park, there's something for everyone. Don't miss out on the top attractions, outdoor adventures, and unique experiences that Virginia has to offer.
Top 15 Ohio Vacation Spots: Vibrant Cities & Aesthetic Parks
Ready to discover the best vacation spots in Ohio? Look no further than this article, which highlights the top destinations in the state, from the vibrant cities of Cleveland, Cincinnati, and Columbus to the scenic Hocking Hills State Park. Explore the great outdoors, enjoy cultural activities, and indulge in local cuisine and attractions. So, pack your bags and get ready to experience the diverse and exciting vacation spots that Ohio has to offer!
Picturesque Lake And Mountain Top Views: 16 Michigan Vacation Spots
Discover the best Michigan vacation spots with this ultimate guide! From the charming university town of Ann Arbor to the breathtaking Pictured Rocks National Lakeshore, there's something for everyone. Whether you're looking for outdoor adventures, cultural experiences, or romantic getaways, Michigan has it all.