The capital city of Madison in Wisconsin lies between lakes Mendota and Monona. Founded in 1829, the city became a capital in 1848.
There are plenty of attractions in Madison itself too. Plus, madison's central location in the creates a lot of opportunities for visiting neighboring communities.
If you are in Madison and want to explore the cities around you, here are some of the best day trips from Madison Wisconsin.
Wisconsin Dells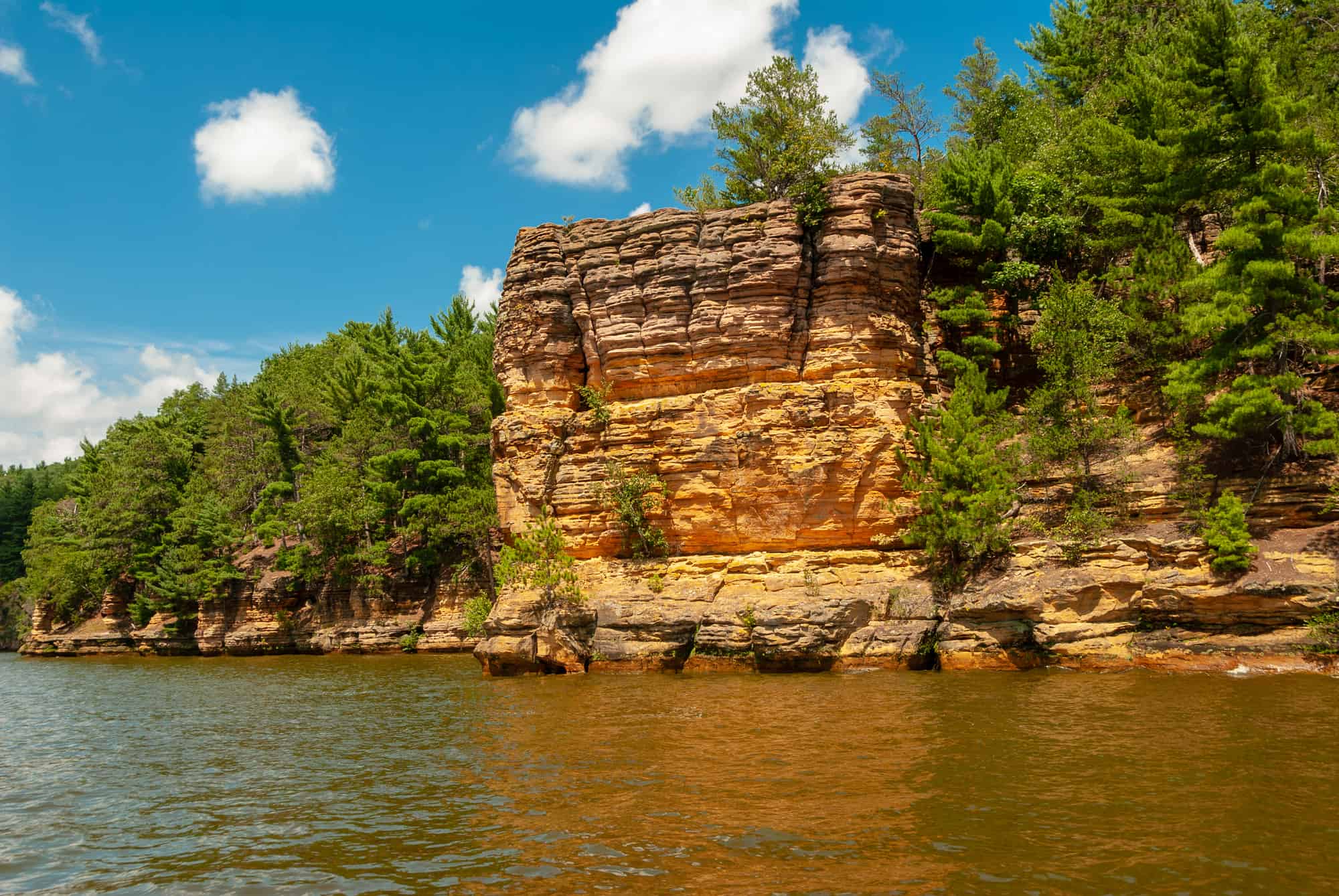 Located just an hour away from Madison, Wisconsin Dells offers many activities for its tourists and its easy to watch a day pass by.
Also home to America's largest water park, it makes for a great family-friendly spot. Another spot worth visiting is the village of Lake Delton form "the Dells" which is a popular tourist attraction site.
History lovers will have a good time visiting the downtown where H.H. Bennett Museum and Historic Studio is located.
Distance: 1 hour
Ideal for: Family fun
Spring Green, Wisconsin
Located an hour away from Madison, this smalltown is home to two of Wisconsin's most famous architectural attractions: House on the Rock and Taliesin.
The Taliesen is an 800-acre estate that was built as a tribute to Frank Lloyd Wright. It is a great place to visit for architecture aficionados.
The House of Rock is a unique crowded attic with quirky attractions, including the world's biggest carousel.
Other places worth visiting are the American Players Theater where Shakespeare's plays are shown, the Spring Green General Store and the art galleries.
Distance: 1 hour
Ideal for: Architect aficionados
Devil's Lake State Park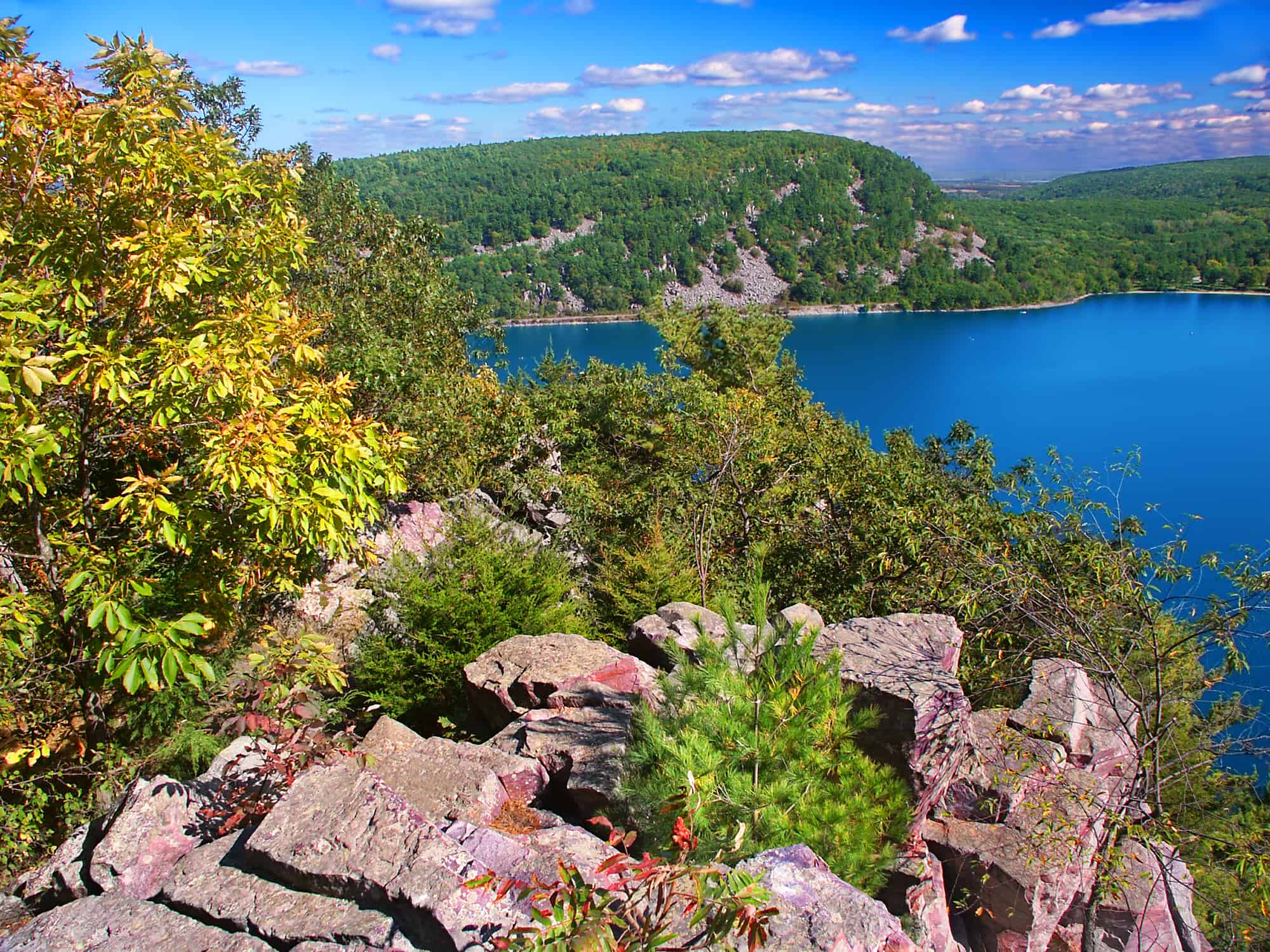 One of the largest and most popular parks in Wisconsin, the Devil's Lake State Park is situated about 35 miles northwest of Madison.
It is known for its 500-foot-high bluffs and its pink quartzite cliffs along the lake. One of the main attractions here is the closed drainage lake located about 2 miles to the south of Baraboo.
Soak up the sun on the lakeshore or enjoy some great outdoor activities.
Distance: 55 minutes
Ideal for: Outdoor lovers
Baraboo, Wisconsin
The largest city in Sauk County, Baraboo is approximately an hour's drive from Madison. It is home to the "Greatest Show on Earth", the Ringling Brothers Circus.
They started here in the 1800s. Today, the Circus World Museum is a great place to visit as it preserves the history and carries on the legacy of their world-famous circus.
In summers they also hold daily parade performances with clowns and magicians.
Baraboo is also home to the only clown focussed museum in the world, which is the International Clown Hall of Fame and Research Center, a must-visit for clown fans
Distance: 54 minutes
Ideal for: Circus lovers
New Glarus, Wisconsin

Located at the intersection of Wisconsin Highways 39 and 69, New Glarus is home to one of Wisconsin's most famous craft brews like Spotted Cow.
Some of the first settlers here were immigrants from Switzerland in the mid-1800s. New Glarus is the perfect getaway from Madison.
Known for its Swiss-charm, visitors can have a great time exploring the Swiss culture, food, and history. Explore the range of restaurants, shops and more here.
Distance: 34 minutes
Ideal for: Family getaway
Monroe, Wisconsin
Wisconsin is famous for its cheese and Monroe is the right place to get it. It is also referred to as "Swiss Cheese Capital of the USA" and is located just an hour south of Madison, near the Illinois border.
Visitors can explore more about the city's 100-year cheese-making history by touring local cheese factories. Also, visit the National Historic Cheesemaking Center and Museum to know more.
Distance: 54 minutes
Ideal for: Family getaway
Mount Horeb, Wisconsin
Mount Horeb is a village located about 30 minutes west of Madison. It is also referred to as the "Troll Capital of the world".
Here you will find many creatures from Norwegian folklore lining the main street on what is referred to as the village's "Tollway". This was created to pay a tribute to Norvegia's immigrant past here and now serves as drawing tourists as well.
Explore more of this tradition at antique shops, gift shops, and several specialty shops in the downtown area. There are more than 15 life-sized trolls all over downtown and it is a lot of fun spotting them all!
Distance: 30 minutes
Ideal for: Fun getaway
Mineral Point, Wisconsin

Located in the Driftless Hills of southwest Wisconsin, Mineral Point was settled in 1827 and it became leading zinc and lead mining center in the 19th and the 20th century.
The community here is reminiscent of a small European village, which has over 2 dozen artist galleries and studios, charming shops, historic sites, and most importantly delicious dining.
This creative community has all kinds of artists, painters, and farmers which the visitors can explore.
Distance: 56 minutes
Ideal for: Fun getaway
Sun Prairie, Wisconsin
This city located in Dane County in Wisconsin is a thriving community just east of the City of Madison. Sun Prairie is the second most populated city after Madison.
The city offers a quiet getaway as there are some wonderful community parks here which you can take advantage of. Explore the historic downtown or just bring your picnic along for a great family day out.
Distance: 23 minutes
Ideal for: Quiet getaway
Beaver Creek Nature Reserve
These 400 acres of Beaver Creek Nature Reserve provide endless opportunities for outdoor fun. The Nature Reserve includes upland woods, river bottom forests, wetlands, and savannah area and is home to a multitude of flora and fauna.
The reserve is bordered by the Eau Claire River and two trout streams that run through the property. It also contains a butterfly house which gives tourists a beautiful experience as they become one with nature.
Distance: 2 hours and 51 minutes
Ideal for: Outdoor fun
Monona Terrace, Wisconsin
This convention center located in on the shores of Lake Monona and is also referred to as the Monona Terrace Community and Convention Center.
Designed by Frank Lloyd Wright, this building was built in 1997. This building is a sight to see in itself. Visitors can get on the rooftop for some fantastic views of the downtown, the Capitol, and Lake Monona.
Distance: 12 minutes
Ideal for: Architecture enthusiasts
Elkhart Lake, Wisconsin
Located just south of Wisconsin, Elkhart Lake is home to the famous Road America race dating back to the '50s.
A great day trip from Madison, Elkhart lake hosts many races where many people from other nations also visit the US for this event.
Of course, there are a lot of water sports and activities that you can enjoy at Elkhart Lake. Have a great time at the Broughton Sheboygan Marsh Park or Fireman's Park.
Fireman's Park has a sandy beach that families can enjoy.
Distance: 1 hour and 46 minutes
Ideal for: Family fun
Door County, Wisconsin
Door County makes for a popular tourist spot in Wisconsin and is one of the best places for a day trip from Madison. Located just around 3 hours away, Door County offers a variety of attractions.
There are multiple state parks that tourists flock to during their off-days, such as on Memorial Day. Visitors enjoy fishing, hunting, and camping opportunities.
Door County also has a variety of beaches and resorts which can make for a relaxing getaway. There are plenty of beaches with soft sand where kids can swim in shallow water and families can relax in the sun.
Distance: 3 hours
Ideal for: Family fun
Lake Geneva, Wisconsin
This resort city is one of the most popular attractions and gets away from Madison Wisconsin. There is an assortment of beaches, resorts, and cruises that the visitors can choose from.
Enjoy the lovely breeze of Lake Geneva or spend a day at Lake Geneva State Park, where you can have a lovely picnic or take a long stroll.
For visitors who want a bit more excitement, you can try zip lining. Hop on and have a ride of your life and make this day trip memorable.
Distance: 1 hour and 19 minutes
Ideal for: Relaxing getaway
Milwaukee, Wisconsin
Head to the lovely city of Milwaukee for a fantastic day trip from Madison Wisconsin. Families with kids and head to the 200-acre zoo, or plan a day to view the Harley Davidson Museum.
If that has built up your appetite then try some of the most popular steakhouses in the city. Rare Steakhouse is a great place for meats and fine wines.
Of course, the Milwaukee County Zoo is a great place to spend some time as there are many breeds of animals here.
Distance: 1 hour and 18 minutes
Ideal for: Family fun
Kettle Moraine, Wisconsin
Kettle Moraine or the Kettle Ranges makes for one of the best day trips and getaways from Madison Wi.
It is actually a massive moraine with glacier and boulder-formed debris and kettles all around it. There are a variety of outdoor activities to keep you busy like rock climbing, hiking, trekking, etc.
You can also have a wonderful fishing experience at the Ottawa Lake where there is a wide area for you to fish, swim, and hop on a boat.
If you visit in the winter then you can try your hand at snowmobiling. Twist and turn your way along beautifully shaped trails, among tall trees and boulders around you.
Distance: 1 hour and 32 minutes
Ideal for: Outdoor fun
Conclusion
Madison itself has many treasures waiting to be uncovered, but there are many day trips you can make near the city for a great time off. Visit the beautiful Devil's Lake State Park or the unique city of Baraboo.