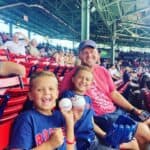 Jake Cain is an entrepreneur and writer from Cincinnati, Ohio. He spends his free time driving around the country in his late 90's conversion van, affectionately known as the "Monster Van" with his wife and 3 boys.
My wife and I recently had the pleasure of taking a quick 3-night trip to Margaritaville's newest all-inclusive resort, Margaritaville Island Reserve in Riviera Maya, Mexico (opened June, 2023). Better yet, the resort was in the middle of its Oktoberfest celebration, which meant beachfront vibes with a German twist.
Needless to say, if you're a beer lover, this resort should be on your short list of vacation spots.
Here are a few highlights from our stay at this beautiful, adults-only resort.
Craft Beer Tasting & Brewery Tour
A trip to Margaritaville Island Reserve Riviera Maya wouldn't be complete without a visit to the LandShark Grill. During our stay, we found ourselves repeatedly drawn to their famous "Tower Nachos", sharing bucket after delicious bucket in the relaxed beachfront setting.
In addition to the food menu, Landshark is also home to the onsite microbrewery that sets this Margaritaville apart from any other all-inclusive I've visited.
Not only do they brew their own Landshark Lager on-site, they also feature a rotating seasonal tap. Of course, this was the Oktoberfest beer.
While the brewery itself is small, we enjoyed spending about 45 minutes with the brewmaster learning about how they make their beers and trying different beer and food pairings.
It was obvious that he was passionate about beer and put a ton of thought and care into the recipes they're making at the resort. The Oktoberfest beer in particular, was my personal favorite of the four, but I'd love to come back in the future and see what other seasonal beers are on tap!
Amazing Pools Everywhere

One of our favorite features at Margaritaville Island Reserve Riviera Maya was the variety of pools.
From the tranquility of the private infinity pools attached to some of the rooms to the energy of the main pool, we appreciated the range of choices.
We decided next time, we're definitely booking one of those rooms with swim-up access, offering an instant and refreshing dip right from our suite's patio. It's a unique feature that really emphasizes the resort's commitment to making sure you're never very far from being poolside.
The main pool was always buzzing with life, serving as the heart of the resort with its music and even some group line dancing that would spontaneously erupt during the afternoon DJ sessions.
But what really made our poolside lounging memorable was the attentive wait staff. They were always nearby, ready to bring us a fresh cocktail or snack, yet never intrusive. And despite the resort being busy, we never had any trouble finding comfortable seats each day. It was the perfect balance of fun-filled action and laid-back relaxation.
St. Somewhere Spa Experience
The spa experience at Margaritaville Island Reserve Riviera Maya was incredible. My wife and I decided to go for a 50-minute hydrotherapy session. Neither of us had tried it before, but man, it was relaxing. A staff member leads you through different stations like hot tubs, hydro jets, steam rooms, saunas, and even a cold plunge. By the end of the experience, you're warmed up and ready for your massage.
Speaking of the massages… Wow!
We've had our fair share over the years, but I have to say, the therapists at St. Somewhere Spa by Karisma know what they're doing. We both got a 30-minute massage, and it was top-notch. The rooms were quiet and comfortable, and the therapists applied just the right amount of pressure for a rejuvenating experience.
A Room With A View
I mentioned earlier that we were a little jealous of the swim up suites, but the view from our top floor room left nothing to complain about.
The design of the resort is a horseshoe shape, so it seems like virtually every room would have a view of the pools and the ocean.
As for the room itself, it was what we've come to expect from Margaritaville. Everything was clean, crisp and decorated perfectly. It's amazing the small touches they think of to stay on brand with the 'island lifestyle' vibes.
Fun Experiences Everywhere You Look
We've stayed at other resorts where the "fun" was a little over the top and in your face. Not ideal if your main goal is to relax.
I'm happy to report that wasn't the case at Margaritaville.
There were so many fun, thoughtful touches, like the floating taco boats and floating margarita boats in the pool, to the live music at night at Landshark.
In our case, we were lucky to visit during Oktoberfest, which meant yodeling competitions and beer stein-holding contests. Not things you'd typically expect to see on a beach vacation in Mexico 🙂
We really appreciated the balance Margaritaville Island Reserve Riviera Maya struck when it came to entertainment and activities. It was just right – enough to keep things lively and fun, but not so much that you felt like you were constantly being roped into something.
Sometimes, all you really want to do is enjoy some Tower Nachos and sneak in a midday nap, and they totally got that.
If you're after the perfect blend of beachfront Margaritaville vibes with a splash of craft beer paradise, this place should be at the top of your list. Trust me, it's worth checking out.