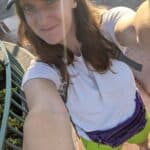 Kelsey is a freelance writer based in Southern Virginia. She enjoys traveling with her family to destinations from national parks to amusement parks and loves sharing tips and stories from along the way.
Electric cars were once rarely spotted, but today, they make up over 7% of the total market. That's a huge increase from 4.9% in 2022 and just 3.1% in 2021.
What's next for electric vehicles and green travel? If you ask one LA-based aviation company, it's electric airplanes.
In a notable industry advancement, Ampaire Inc., a company specializing in electric aviation technology, has achieved the first-ever hybrid electric flight into Palo Alto Airport. CEO Kevin Noertker piloted the Electric EEL aircraft, showcasing the current capabilities of hybrid electric airplanes and their role in the future of aviation.
The flight's completion into Palo Alto, a nucleus for technological innovation, illustrates Ampaire's progress in developing aviation that may reduce carbon emissions and operational costs. This event could be indicative of the industry's readiness to adopt hybrid-electric planes.
Ampaire claims these planes can retain full flight range without necessitating new airport infrastructure. The Los Angeles-based company is focused on electric aircraft development, aiming to reduce aviation's carbon footprint and enhance accessibility through electrification.
CEO Kevin Noertker commented on the occasion, "The flight into Palo Alto Airport is not just a technical verification of our systems but a clear message that the era of electric aviation is upon us." Ampaire's event in Silicon Valley was an opportunity for local investors and stakeholders to gather insight into hybrid electric aviation's potential impact on air travel.
Ampaire asserts that its optimized hybrid electric airplanes can offer fuel savings of over 50 percent compared to conventional aircraft. The company highlights these airplanes' operational cost benefits along with their ability to operate within existing airport environments. Its technology has been applied in various flight applications, including routes in Hawaii, Scotland, and across North American regions.
This milestone may signal to the aviation industry and interested investors that Ampaire is progressing toward broader commercial viability and aligning with sustainability goals. The implications of such technological developments for the travel industry and the environment remain a subject of interest.
Since the maiden flight of its Electric EEL technology testbed aircraft in 2019, Ampaire has achieved the longest flight for a hybrid electric aircraft and the inaugural flight of the Eco Caravan, dubbed the world's largest hybrid electric airplane.