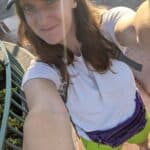 Kelsey is a freelance writer based in Southern Virginia. She enjoys traveling with her family to destinations from national parks to amusement parks and loves sharing tips and stories from along the way.
We just came across this article about current baby naming trends, and the data they found is pretty astounding!
TV Shows Influence Baby Name Choices
One of the most incredible places our travels have taken us is the American West, and the TV series Yellowstone is a perfect way to enjoy those Western views between trips. Well, it looks like we're not the only ones who are obsessed with Yellowstone- tons of parents are even naming their kids after the characters!
According to this article, the TV series Yellowstone gave us not one but two skyrocketing boys' names: Dutton and Kayce. (For those who aren't fans of the show, "Dutton" is the family name of the main characters, and "Kayce" is the first name of a main character, played by Luke Grimes.)
Dutton jumped from #1821 to #835, while Kayce made an even more impressive leap from #1077 to #587. These names, popularized by the rugged world of Yellowstone, are clearly a hit with new parents.
If you're loving the Western vibes from Yellowstone, you'll be pleased to know that other Western-inspired names are also gaining ground. Names like Waylon, Maverick, and Walker are making their mark in the top 100, and they're steadily growing in popularity. These names embody the rugged charm of the American frontier.
For boys, another screen sensation, The Chosen, has sparked interest in the name Chosen. This biblical moniker, inspired by the hit Christian TV show, soared in popularity, making it the third-fastest-rising boys' name from 2021 to 2022.
For girls, the biblical name Neriah, which has been around for a while, experienced a resurgence. This is perhaps thanks to Maz Siam's portrayal of Neriah in The Chosen in 2021. It's proof that classic names can have a fresh start in the spotlight.
Rare Biblical Names Making A Comeback
If you grew up with classrooms full of Michaels and Matthews, as I did, you won't be surprised to hear that parents today still look to the Bible for naming inspiration. However, they're much more likely to dig deep for a rare, uncommon Biblical name than ever before.
Names like Asher, Ezra, and Levi are all in the top 50 and continue to rise. In contast, more traditional biblical names like Michael, Joseph, and Matthew are gradually losing their popularity.
Girls Names Inspired By Nature
Nature-inspired names are a current trend for baby girls, offering a vintage touch with a connection to the great outdoors. Hazel, Ivy, and Violet are all examples of popular vintage names with a nature-inspired vibe.
There's also a trend toward earthy names with a modern twist. Oaklynn, which jumped from #888 in 2017 to #159 in 2022, is a prime example. This name combines the rustic charm of oak trees with a contemporary flair.
The biggest surprise in the girls' name category is Wrenlee, which experienced the most significant jump in popularity from 2021 to 2022. The alternate spelling, Wrenley, also saw a notable increase in popularity. This name fits into the nature trend, too, as a derivation of Wren.
And the Winners Are…
Of course, even though these baby names are fast-rising, none of them have managed to unseat the reigning champions. Olivia was, once again, the most popular name for baby girls. This is the 4th year the name has held the spot. Liam was the most popular boy's name for the 6th year in a row.