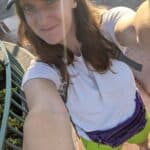 Kelsey is a freelance writer based in Southern Virginia. She enjoys traveling with her family to destinations from national parks to amusement parks and loves sharing tips and stories from along the way.
Get ready to sink your teeth into some of America's most mouthwatering barbeque dishes! Let's take a look at the top barbeque restaurants featured on Diners Drive-Ins and Dives.
From fall-off-the-bone ribs to juicy brisket, these spots are sure to satisfy your cravings and leave you wanting more.
Louie Mueller BBQ, Taylor, TX
Louie Mueller BBQ in Taylor, Texas, is one of the most iconic BBQ restaurants in the state. This family-owned and operated establishment has been serving up some of the best-smoked brisket and burnt ends for over 70 years. Their traditional Texas-style BBQ has received an American Classics award from the James Beard Foundation and has held the #1 or #2 spot on the Texas Monthly list of Best BBQ Joints since 1973.
Texas Pride Barbeque, Adkins, TX
Texas Pride Barbeque in Adkins, Texas, is a must-visit for anyone looking for an authentic Texas-style BBQ. This family-owned restaurant has been serving delicious BBQ since 1922 and is a favorite among locals and tourists. The extensive menu features all the classic BBQ dishes, such as pulled pork and brisket, and plenty of traditional sides, like mac 'n' cheese. We highly recommend ending with a serving of peach or pecan cobbler!
Shalhoob's Funk Zone Patio, Santa Barbara, CA
California may not be the first place you look for great barbeque, but Shalhoob's Funk Zone Patio has been featured on Diners, Drive-Ins, and Dives for exactly that! The BBQ dishes here can't be beaten, including its artisan butcher's take on the tri-tip sandwich. The restaurant also offers a variety of other dishes, from crispy fries to avocado salad.
Big Pinks Barbeque, Bridgewater Township, NJ
The goal of Big Pinks is to bring BBQ to Central Jersey. This food truck serves meats prepared with house-made rubs and sauces, then meticulously smoked for hours. You can savor classic BBQ favorites like the tender ribs or hickory-smoked brisket, slow-cooked to perfection, or something more adventurous, like a mouthwatering brisket taco or a satisfying pulled pork burrito.
Bludso's Bar & Que, Los Angeles, CA
At Bludso's Bar & Que in LA, pitmaster Kevin Bludso has a simple motto. "My whole thing is don't make bad barbeque," he says. This James Beard Award-winning chef keeps his promise, serving melt-in-your-mouth brisket and a lengthy menu of other family-style meats and hot and cold sides.
Fox Bros. Bar-B-Q, Atlanta, GA
Fox Bros Bar-B-Q is a Texas-style BBQ joint that captures the essence of authentic flavors and southern spice. Founded by twin brothers Jonathan and Justin Fox, the restaurant has evolved from a pop-up barbeque stint to a BBQ spot that serves signature smoked brisket, pulled pork, wings, and an array of delicious side dishes. An extensive drink selection and delicious menu options like chicken fried ribs and mac and cheese make it the ideal destination for a satisfying and memorable BBQ experience.
Porter's Real Barbeque, Richland, WA
Porter of Porter's Real Barbeque in Richland, WA, started as a backyard hobby smoker, searching for the "real" southern barbeque he'd learned to love while living in South Carolina. Ten years later, his backyard operation has expanded to four restaurant locations. The menu at Porter's Real Barbeque features a variety of meats, including brisket, pulled pork, and ribs. Customers can also choose from a selection of house-made sides, such as mac' n' cheese and baked beans.
Locale BBQ Post, Wilmington, DE
Locale BBQ Post in Wilmington, DE, is famous for barbecue lovers. The restaurant has been featured on Diners, Drive-Ins, and Dives, and for good reason. The pitmaster serves up some of the best and most consistent barbeque in the area, including baby back ribs, brisket, and chicken. The sauces are especially tasty; we recommend their signature, "The Sauce."
Piece of Meat, New Orleans, LA
Piece of Meat in New Orleans is a nose-to-tail butcher shop and restaurant that has been featured on Diners, Drive-Ins, and Dives. This restaurant offers a unique dining experience where customers can watch the butchers work their magic while they enjoy their meals. One of the standout dishes at Piece of Meat is the Boudin Egg Rolls. These egg rolls are filled with boudin, a sausage popular in Louisiana, and served with a spicy sriracha mayo sauce.
Fat Daddy's Smokehouse, Kihei, HI
Fat Daddy's Smokehouse in Kihei, Hawaii, is known for its delicious and authentic smoked BBQ. One of the standout dishes at Fat Daddy's Smokehouse is the brisket. It is slow-cooked to perfection and has a smoky flavor that is hard to resist. The cornbread is another must-try, made with creamed corn batter.
Big Daddy's BBQ & Banquet Hall, Fairbanks, AK
Yes, you can even find great BBQ in Alaska, thanks to Big Daddy's BBQ & Banquet Hall! This restaurant has been featured on Diners, Drive-Ins, and Dives and is known for its delicious barbecue dishes and friendly service. The restaurant's brisket is a must-try; it is cooked to perfection and has a mouthwatering smoky flavor. In addition to the brisket, Big Daddy's also serves up delectable mac 'n' cheese, a perfect complement to any barbecue dish.
More Great DDD Barbecue Restaurants
Do you still have a hankering for more BBQ? Check out this list of barbeque joints featured on Diners, Drive-Ins, and Dives! No matter where you live, you're not far from incredible barbeque!