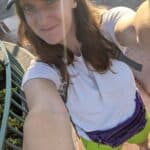 Kelsey is a freelance writer based in Southern Virginia. She enjoys traveling with her family to destinations from national parks to amusement parks and loves sharing tips and stories from along the way.
Lake Tahoe is known for its iconic beauty and clear waters, but after Independence Day this year, it looked more like a landfill. Over 400 volunteers spent hours cleaning up the mess left behind by Fourth of July party-goers.
The cleanup was organized by Keep Tahoe Blue, and it was the 10th annual "Keep Lake Tahoe Red White And Blue" event. This year's cleanup was the worst the volunteers have ever seen, with over 8,500 pounds of trash collected.
Volunteers hauled away truckloads of garbage, including food trash, cigarette butts, toys, beer boxes, and even whole barbeques and tents.
Beach Clean Up at Lake Tahoe, CA, After Shocking Footage of Trashhttps://t.co/9QodgpHPw0 pic.twitter.com/QwzZvCBopN

— SnowBrains (@SnowBrains) July 5, 2023
Volunteers worked tirelessly to clean up the debris left behind by Fourth of July revelers. The cleanup effort was led by Keep Tahoe Blue, a nonprofit organization dedicated to preserving the clarity and beauty of Lake Tahoe.
The organization has been working to protect the lake since 1957, and its volunteers have collected over 200,000 pounds of trash from the lake and its shores over the past decade.
While Commons Beach in Tahoe City and Kings Beach State Recreation Area stayed relatively clean, the worst area for litter was Zephyr Cove, where more than 6,300 pounds of trash was collected.
"There was no accident about it. People partied, trashed and left it like that," said Colin West with Clean Up the Lake. https://t.co/FnHrbzbnEU

— ABC7 News (@abc7newsbayarea) July 6, 2023
The cleanup effort was aided by divers who gathered trash from the water as well as some innovative pieces of technology. A mobile watercraft cleaning station, which cleans paddleboards and small watercraft of invasive species before they hit the water, was employed for the first time.
The BEBOT, an electric beach-cleaning robot that sifts the sand to remove tiny plastic bits and other trash, also lent a helping hand.
Curious volunteers watched as beach-cleaning robot BeBot collected hundreds of pieces of trash on the shore of Kings Beach. https://t.co/9VSPuDMYAG

— The Sacramento Bee (@sacbee_news) July 6, 2023
The "Keep Lake Tahoe Red White And Blue" event is held every year on July 5th to clean up after the Fourth of July celebrations. This year's event was the largest yet, with more volunteers and more trash collected than ever before.
Despite the challenges, the volunteers remained committed to their mission of preserving the beauty of Lake Tahoe and were able to make a significant impact.
"This morning, one of Tahoe's beaches looked like a landfill," said Dr. Darcie Goodman Collins, CEO of the League to Save Lake Tahoe, in a statement. "Thanks to passionate volunteers and community partners, it started to look like Tahoe again after some hard work."
Whether you're a local or a visitor, remember to pack out your trash, properly dispose of cigarette butts, and respect the natural beauty of this incredible resource. With a little effort from all of us, we can ensure that Lake Tahoe remains a pristine and breathtaking destination for generations to come.