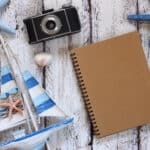 Elizabeth is an experienced traveler and writer with bylines in several popular travel publications. She currently co-owns a small digital travel publication and spends her free time writing, taking photos, and traveling.
Summer is the season of adventure, relaxation, and exploration. Whether you're soaking up the sun on a white sandy beach or trekking through a lush jungle, one thing is for sure — you need the right accessories to make your vacation unforgettable.
From life-saving gadgets to must-have clothing items, we've curated a list of 11 ultimate accessories for summer travel that will take your trip to the next level. Grab these essentials and get ready to embark on an adventure of a lifetime.
Microfiber Towel
Microfiber towels are lightweight, absorbent, and quick-drying, making them perfect for the beach, pool, or any outdoor activity (especially longer outdoor camping trips where you won't have much time or space to hang your towels out to dry properly). Plus, they take up minimal space in your luggage, so you don't have to sacrifice valuable packing real estate for them.
Power Bank
Don't let a dead phone ruin your travels — bring along a power bank to keep all your devices charged on the go. Most power banks are small enough to fit in your pocket and can charge your phone multiple times on a single charge.
Reusable Water Bottle
Staying hydrated is essential during summer travel, and a reusable water bottle is an eco-friendly way to do just that. Look for a bottle with a built-in filter, so you can fill it up anywhere without worrying about the taste or quality of the water.
Inflatable Neck Pillow
These compact pillows can be blown up in seconds and offer comfortable support for your neck and head, so you can arrive at your destination feeling refreshed and ready to go.
Waterproof Phone Case
A waterproof phone case is a must-have accessory to protect your phone from water damage while enjoying lazy days floating down the river or exploring underwater worlds on vacation.
Take underwater photos or videos without any worry with this reliable accessory. They come in various sizes and colors and can be used for any water-related activity, including snorkeling, jet-skiing, or simply splashing around at the pool.
Travel Umbrella
Don't let unexpected rain showers ruin your summer adventure. A travel umbrella is a compact and lightweight accessory that can be easily packed in your bag and taken out when needed. Choose a model that is wind-resistant for added durability.
Portable Speaker
A portable speaker is a great accessory for any summer trip. Whether lounging at the beach or camping in the woods, a portable speaker can provide the perfect soundtrack for your adventure. Many models are waterproof and shockproof, so you don't have to worry about damage from water or drops.
Sun Protection Clothing
Wearing SPF on warm summer days often leaves you feeling sticky or oily. Instead, use proper sun protection clothing to block harmful UV rays while keeping you cool and comfortable.
Travel-Sized First Aid Kit
No one expects to get sick or injured on vacation, but being prepared is always wise. A travel-sized first aid kit is essential for treating minor cuts, scrapes, and headaches. Get a kit that includes adhesive bandages, disinfectant wipes, pain relievers, and antihistamines.
Lightweight Packing Cubes
Keeping your luggage organized is key to stress-free travel, and lightweight packing cubes are one of the best ways to separate your clothing, shoes, and accessories, so you can easily find what you need without digging through a messy suitcase.
Insect Repellant
Bugs can be a nuisance, sure, but they're also a health risk when exploring new places. Mosquitoes, for instance, can transmit dangerous diseases like Zika and Malaria.
Choose a repellant that's effective against the species of insects that are prevalent in the area you're visiting. Opting for an eco-friendly option, like lemon eucalyptus oil, is also a good idea to minimize your environmental impact.
8 Most Unique Places To Kayak In The US- Stunning Beauty
Looking for a unique and thrilling way to explore the natural beauty of the United States? Look no further! From the bioluminescent bays of Puerto Rico to the rugged beauty of the Apostle Islands in Wisconsin, there's something for every adventure seeker.
The 10 Most Beautiful Hikes In The US- Discovering America
This article highlights the most beautiful hikes in the US from California to Maine. Whether you're a seasoned hiker or just starting out, there's a trail on this list that will leave you awe-inspired. So, put on your hiking boots and get ready to explore the diverse and awe-inspiring landscapes of America's most beautiful hiking destinations.
10 National Parks To Skip If You Have Young Children
This article is a must-read if you're planning a national park trip with young children! Don't get stuck in rugged terrain, limited water access, or super-long hiking distances with your kiddos! Learn about the challenges and potential dangers of visiting these parks with young children and plan your trip accordingly for a safe and enjoyable experience.