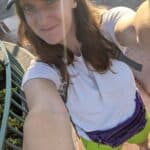 Kelsey is a freelance writer based in Southern Virginia. She enjoys traveling with her family to destinations from national parks to amusement parks and loves sharing tips and stories from along the way.
If you want to rub shoulders with some of America's richest residents, head to Seattle. Ten of the country's billionaires call the Seattle metro area home, and the city is also home to over 50,000 high-net-worth individuals.
Let's take a look at some of the richest people parking their private jets in Seattle.
Jeff Bezos
Jeff Bezos, founder of Amazon, is the third-wealthiest person in the world with a net worth of $160 billion as of September 2023. He was born in Albuquerque, New Mexico, and currently owns homes in several cities, including Seattle.
MacKenzie Scott
MacKenzie Scott, novelist, philanthropist, and ex-wife of Jeff Bezos, is currently the third-richest woman in the world. She has lived in Seattle since 1994. Scott pledged to give away at least half of her wealth during her lifetime.
Bill Gates
Bill Gates owns a mansion in Medina, Washington, an exclusive community near Seattle. Nicknamed "Xanadu 2.0," the Microsoft billionaire's home is nearly 50,000 sq. ft. and features luxuries like a movie theater, beach, and cutting-edge home technology.
Melinda French Gates
Melinda French Gates is a philanthropist and former product developer and manager for Microsoft. She and Microsoft founder Bill Gates divorced in 2021. French Gates' current net worth is estimated at over 10 billion dollars. She bought a home in Seattle's North Broadway neighborhood just before her divorce from Bill Gates was finalized.
Steve Ballmer
Steve Ballmer is a businessman and investor who served as CEO of Microsoft for 14 years. He's currently the owner of the Los Angeles Clippers. With a net worth of $120 billion, Ballmer is one of just ten people on Earth whose net worth exceeds $100 billion.
Howard Schultz
Howard Schultz was the chairman and SEO of Starbucks from 1986 to 2000 and again from 2008 to 2017. He has a net worth of over $3 billion and lives in Seattle's Madison Park neighborhood.
Charles Simonyi
Charles Simonyi is a software architect who built some of Microsoft's most profitable programs, Microsoft Word and Microsoft Excel. He is a Hungarian national and United States citizen who resides in Medina, Washington.
Craig McCaw
Craig McCaw, a pioneer in the cell phone industry, lives in Hunt's Point, Washington in a home he bought from Kenny G. His net worth is approximately $1.9 billion.
Gabe Newell
Gabe Newell, president of the video game company Valve, is another high-value resident of the Seattle area. He is estimated to have a net worth of $3.9 billion.
8 Most Unique Places To Kayak In The US- Stunning Beauty
Looking for a unique and thrilling way to explore the natural beauty of the United States? Look no further! From the bioluminescent bays of Puerto Rico to the rugged beauty of the Apostle Islands in Wisconsin, there's something for every adventure seeker.
The 10 Most Beautiful Hikes In The US- Discovering America
This article highlights the most beautiful hikes in the US from California to Maine. Whether you're a seasoned hiker or just starting out, there's a trail on this list that will leave you awe-inspired. So, put on your hiking boots and get ready to explore the diverse and awe-inspiring landscapes of America's most beautiful hiking destinations.
10 National Parks To Skip If You Have Young Children
This article is a must-read if you're planning a national park trip with young children! Don't get stuck in rugged terrain, limited water access, or super-long hiking distances with your kiddos! Learn about the challenges and potential dangers of visiting these parks with young children and plan your trip accordingly for a safe and enjoyable experience.