Daniel is a copywriter who has well and truly been bitten alive by the 'travel bug'. After ticking off several North American National Parks and exploring Europe by train, his sights are now set on South East Asia. Usually with at least one camera locked and loaded, you'll find Daniel wherever there are mountains, lakes or beaches.
Discover the world's most extraordinary places with these 14 must-visit destinations that should be experienced before life's journey is complete.
From stunning landscapes to cultural treasures, these unique places promise unforgettable adventures and memories to last a lifetime.
Galapagos Islands, Ecuador
Home to rare and captivating plant and animal life, the Galapagos Islands host 19 islands located off the South American coast in the Pacific Ocean. Best experienced by boat, make sure to visit the Charles Darwin Research Center for snorkeling, seeing the famous giant tortoise, and climbing up Bartolome Hill for beautiful views.
Yosemite National Park, United States
Yosemite National Park in California's Sierra Nevada mountains is renowned for waterfalls, cliffs, sequoias, and wildlife. With over 4 million yearly visitors exploring the 800 miles of trails, 350 miles of roads, and 1,600 miles of streams, you could spend weeks in this beautiful park.
Preikestole, Norway
Experience Norway and the surrounding jaw-dropping landscape at its finest by visiting Preikostole, otherwise known as Pulpit Rock. After a 4-mile hike, you'll be greeted by one of the most impressive views in Europe. For a truly magical experience, make the hike for sunrise or sunset!
Pyramids of Giza, Egypt
Remaining largely intact as the sole survivor among the Seven Ancient Wonders of the World, the Pyramids of Giza are a must-see attraction. The Great Pyramid of Giza, erected around 2,560 BC, held the record as humanity's tallest creation for an astonishing 3,800 years.
Santorini, Greece
Santorini, a volcanic island, is famed for its dramatic vistas, sunsets, and pebble beaches. Clinging to cliffs, its villages are full of traditional architecture, ruins, and wineries. Fira, the capital, features white streets, shops, taverns, and cafes, while Oia offers stunning sunsets. To avoid the crowds, try to visit between November and April.
Bora Bora, French Polynesia
Bora Bora stands as the perfect representation of a tropical paradise 143 miles northwest of Papeete in the South Pacific. With its mesmerizing turquoise waters, pristine white sand beaches, and lush greenery, this island exceeds all tropical expectations.
Machu Picchu, Peru
Get ready for an unforgettable journey through ever-changing landscapes, from the enchanting mist of cloud forests to the rugged beauty of alpine tundra. The Classic Inca Trail offers a flexible adventure, with a 4-day route as its core but options to customize the length to your preference.
Banff National Park, Canada
Banff National Park is a haven for those looking for adventure. Offering skiing and snowboarding in the winter and beautiful hikes, whitewater rafting, and kayaking in the summer. So whatever time of the year you arrive, they'll be plenty of adventure on the menu!
Kyoto, Japan
As Japan's cultural heart, Kyoto charms with its picturesque streets, serene gardens, and unhurried pace of life. The city's free gardens, especially during the Cherry Blossom season, are worth visiting alone. Unlike bustling Tokyo, Kyoto offers a slower pace, with beautiful hiking trails and friendly locals to point you in the right direction.
Verdon Gorge, France
Add Europe's most stunning canyon to your must-see destinations. Experience the mesmerizing turquoise waters and enjoy the delicious French cuisine and drinks.
The Great Barrier Reef, Australia
The Great Barrier Reef, the world's largest coral reef, stretches an impressive 1,400 miles, even visible from space. With around 400 coral species, 1,500 fish varieties, and 4,000 mollusk types, its biodiversity is truly remarkable. As one of the Seven Natural Wonders, it offers a unique diving experience and a stunning showcase of underwater life.
Aurora Australis, Antarctica
While the North Pole and its Aurora Borealis usually steal the spotlight, Antarctica's Aurora Australis, or Southern Lights, should never be looked over. This marvel frequently appears as a luminous display of green or red light in the night sky.
Grand Canyon, United States
Spanning more than 200 miles, the Grand Canyon was sculpted by the Colorado River millennia, standing as one of the Seven Natural Wonders of the World. Pictures do not do it any justice; you really need to see it to believe it. Aim to visit from September to November to steer clear of the crowds!
Prague, Czech Republic
A trip to Prague is like a journey through time, with its wealth of Gothic architecture spanning from the Old Town Square to Prague Castle. Stroll along the Charles Bridge, touch one of the 30 saint statues for luck, and check out the famous Prague Astronomical Clock.
The 16 Best National Parks to Visit in June For Summer Fun
Are you looking for the perfect summer adventure? Look no further than these top national parks to visit in June! From the stunning wildflower displays at Lassen Volcanic National Park to the world-class whitewater rafting at New River Gorge National Park, this article provides insider tips and recommendations for an unforgettable outdoor experience. Don't miss out on the chance to explore these breathtaking natural wonders during one of the best months of the year!
6 National Parks To Avoid This Summer (And The Alternatives)
Are you planning a summer trip to a national park but want to avoid the crowds? Look no further than this article, which provides insider tips on which popular national parks to avoid and offers recommendations for six alternative destinations that offer unique experiences and stunning natural beauty. From exploring rugged peaks and pristine lakes at North Cascades National Park to discovering the geological history of Capitol Reef National Park, this article has everything you need to plan an unforgettable outdoor adventure this summer.
Best 16 Utah Vacation Spots
Are you looking for an unforgettable vacation spot with breathtaking natural beauty? Look no further than Utah! With stunning national parks like Zion and Bryce Canyon, as well as unique attractions like the Homestead Crater and Dead Horse Point, Utah has something for everyone. This article provides insider tips and recommendations for the best places to visit in Utah, from hiking to skiing to soaking in natural hot springs. Don't miss out on the chance to explore this incredible outdoor playground!
5 Waterfalls in Zion National Park For A Fabulous Day Out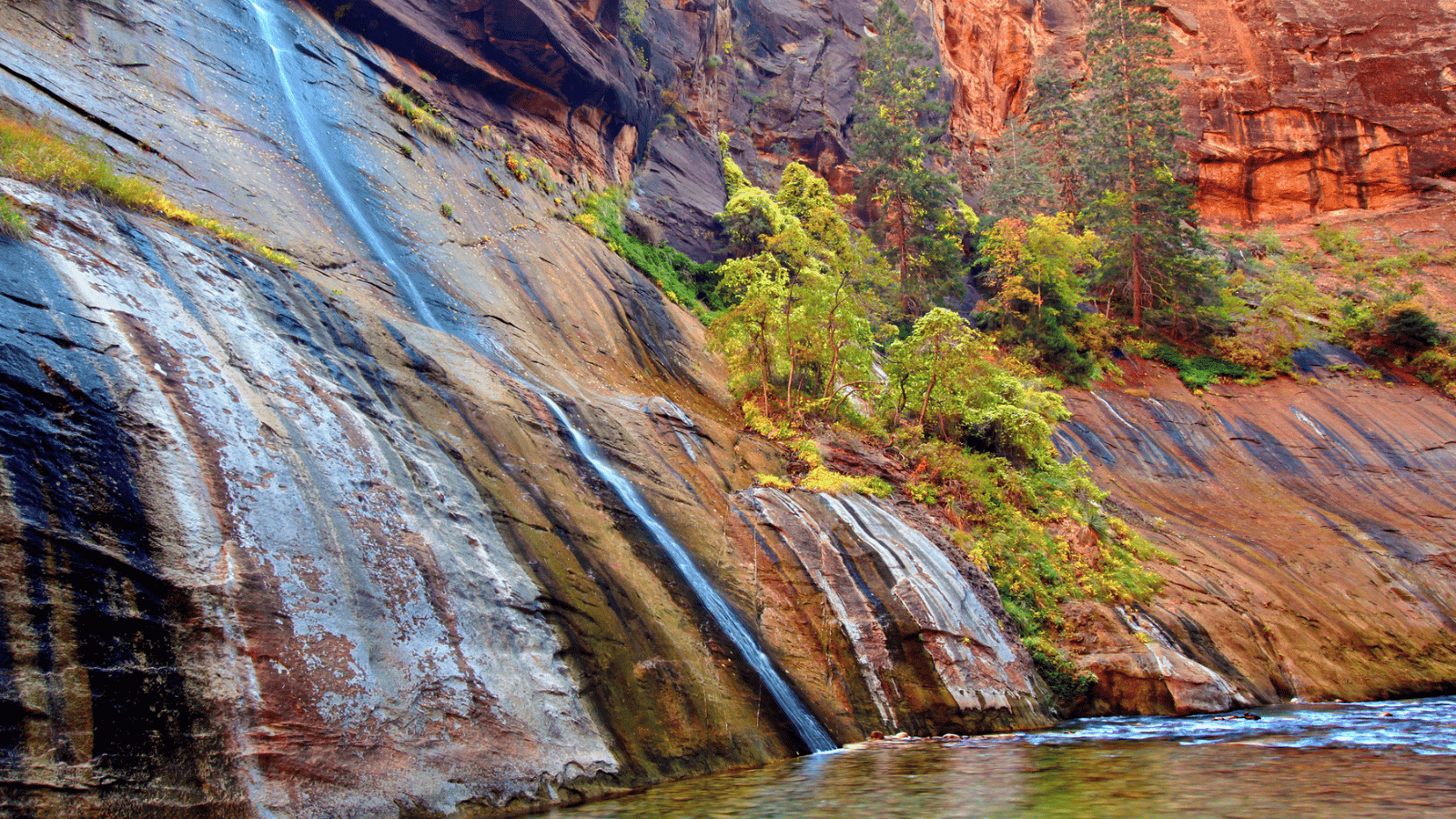 Are you a nature enthusiast looking for an outdoor adventure that will take your breath away? Look no further than Zion National Park in southwestern Utah! This article explores the park's stunning waterfalls, including the moderate hike to Archangel Falls and the more challenging Upper Emerald Pools. But that's not all – the article also highlights other natural attractions in the park, such as The Great White Throne and the Court of the Patriarchs. Don't miss out on the chance to explore this gorgeous landscape and experience the beauty of Utah's unique natural wonders!