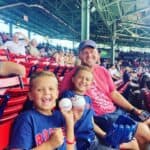 Jake Cain is an entrepreneur and writer from Cincinnati, Ohio. He spends his free time driving around the country in his late 90's conversion van, affectionately known as the "Monster Van" with his wife and 3 boys.
Utah is undoubtedly one of the great outdoor states in the nation. Home to spectacular stone arches, waterfalls, deep canyons, great cities – Utah seems to have it all.A road trip to Utah will leave you astounded and refreshed. Utah even has places that are great for skiing and cultural highlights like Salt Lake City.
Let us explore the varied gems that Utah has to offer which makes Utah ingreat itself a great place for a vacation spot. Here are the best places to visit in Utah.
Zion National Park, Utah
Just a three-hour drive from Las Vegas, Zion means "heavenly mountain" which is inspired by the heavenly nature that surrounds this place.
If you visit here from the time of spring until fall, then a bus takes visitors through the park along this route stopping at all major sites. In winter, you can take your own vehicle and drive through this route.
There are lots to admire at Zion National Park – slot canyons, colorful sandstone cliffs, towers, monoliths, rivers, and waterfalls. Also, try the Zion-Mount Carmel Highway which runs east-west through the park.
This route takes you above the valley and offers a spectacular view of the vistas.
Emerald Pools are also a must-see. They have spectacular waterfalls, and natural hanging gardens created from plants sprouting from tiny cracks in the steep cliffs.
Arches National Park, Utah
Like its name, the Arches Park offers more than 2,000 stone arches that range from thin cracks in the rock to the magnificent 300-foot long Landscape Arch.
Backed by the often snow-capped peaks of the La Sal Mountains, it makes this one of the best National Parks to visit in Utah and also a great vacation spot.
These arches are a result of years of erosion, deposition, and other geological events that have affected the soft sandstone.
The most famous arch is the Delicate Arch, which is also the most photographed.
If you are there for a short visit, you can take the 18-mile long scenic road, but you will be able to explore much more by hiking one of the narrow unmarked trails.
The best time to visit is spring or fall. The top attractions in the park are Devil's Garden, Delicate Arch, Fiery Furnace, Double Arch.
Monument Valley, Utah
Monument Valley looks as if you have stepped back in time to a thousand years ago. Red rock buttes rise up from the orange desert floor, and occasionally a horse and rider even wander by.
A phenomenal vacation spot in Utah, Monument Valley is a must-visit. It is located on the Navajo Indian Reservation in southeastern Utah, near the Arizona border.
This has been the backdrop of numerous films and commercials thanks to its grand backdrop.
Hikers can try some easy and not so easy trails through the canyons, under natural bridges, and to the site of some spectacular Anasazi ruins.
Explore this area fully by arranging a guide which you can get at the visitor's center.
Great Salt Lake, Utah
The Great Salt Lake is just a half an hour drive away from Salt Lake City. It is the largest inland lake west of the Mississippi, measuring 72 miles long, 34 miles wide, and up to 50 feet deep.
The Great Salt Lake makes for one of the best vacation spots in Utah.
The lake is the remains from the last ice age lake, Lake Bonneville.
Visitors can enjoy the views of the lake or go to the south end of the lake to enjoy bathing beaches and there is a recreation park for families.
You can float in this lake without sinking, because of the salt content, just like the Dead Sea in Israel.
Canyonlands National Park, Utah
Around 35 miles from Moab in southeast Utah, Canyonlands is Utah's version of the Great Canyons. The park is divided into three sections, but the most popular section is Island in the Sky.
The area offers remarkable views over carved canyons and beyond to the snow-capped mountains. The other two areas of the park – Needles District and The Maze, offer a different type of landscape but are also just as impressive.
When here, don't forget to pay a visit to the Mesa Arch which is one of the main attractions of the park. The beautiful stone arch forms a window to the canyons, buttes, and torn landscape below.
For the adrenalin junkies, there is the White Rim Road as well, which runs down from the park to the valley below, following a dirt road of switchbacks along sheer cliff walls.
Grand Staircase- -Escalante National Monument, Utah
This remote National monument makes for a great vacation spot in Utah. The area features 3000 square miles of the most amazing sun-baked landscape.
It is so awe-inspiring that one should really take some time off to visit this stunning landscape.
The Grand Staircase is a huge terrain, with a landscape that is full of canyons, arches, hills, waterfalls, forest, and scrubland.
Drive through dirt roads where you can drive great distances without ever passing a vehicle. It is an experience in itself.
Hiking is also a great way to explore the region. The Lower Calf Creek Falls Trail is one of the most popular trails and offers fabulous scenery.
Bryce Canyon National Park, Utah
Located in southwest Utah, Bryce Canyon National Park offer brightly colored and tightly packed hoodoos that dominate the landscape.
It is a series of enormous natural amphitheaters located along the eastern side of the Pausaugunt Plateau.
These stone pillars are a marvel to look at as they glow in shades of orange, pink, cream, and cinnamon creating a magical landscape begging to be explored.
It is also worth venturing down to the forest of hoodoos on one of the numerous hiking trails in the park to fully appreciate the size and unique shapes of these formations.
Bryce Canyon National Park is located at an elevation of 8,000 feet and receives snowfall during the winter months and into spring.
Park City, Utah
This fun mountain town is located 45 minutes southeast of Salt Lake City, and home to two awesome ski resorts.
Park City makes for a great vacation spot in Utah. Try the Park City Mountain Resort, with lifts operating right from town, and just down the road is Deer Valley Resort, one of Utah's poshest ski resorts.
A paradise for ski lovers, both the resorts offer outstanding terrain for skiers.
The Utah Olympic Park is also a must-visit. It was used as a venue for the 2002 Winter Olympics. Now, it operates as a great area offering all kinds of activities for kids and adults.
Try ziplining and hiking in summer. If you are here in late January, Park City is also the venue for the famous Sundance Film Festival every year.
Homestead Crater, Utah
A very popular tourist destination, the homestead center is a unique place to visit in Utah. Also known locally as "The Crater" it is a natural hot spring surrounded by a rock dome.
You can try scuba diving or swim at the crater in style. This is actually privately owned and is part of the Homestead Resort, which is located nearby and features all the amenities of a luxurious vacation.
Homestead Crater is a natural geothermal spring which was formed when melting snow on the Wasatch Mountains seeped deep within the earth. The dome is 400 feet wide and the crater pool is almost 65 feet deep.
Even if you are not keen on swimming, this crater is worth having a look at.
Dead Horse Point, Utah
Located just outside Moab, Deep Horse Point is a rock peninsula located on top of sandstone cliffs. Dead Horse Point makes for a great vacation spot in Utah.
Offering one of the best views the main viewpoint looks over a gooseneck in the Colorado River, this place is a must-visit.
Magnificient mountains surround the land. The best way to tour this place is to hike or follow trails. There is also a Thelma and Louise Point, where the final scene of the motion picture Thelma and Louise was filmed.
Goosenecks State Park, Utah
Overlooking a deep meander of the San Juan River, Goosenecks State Park is a great holiday spot in Utah.
It is located near the southern border of the state. The meander was created millions of years ago. Today, you can enjoy camping, photography, hiking and other outdoor activities in the park.
Cedar Breaks National Monument, Utah
This dynamic looking natural amphitheater makes for a lovely vacation spot in Utah.
It is located near Cedar city and it is more than 2000 feet deep and the elevation of the amphitheater's rim is more than 10,000 feet above sea level.
Cedar Breaks is open to visitors all year round and because of its high elevation, there is snow during the year. Visitors can catch the best views from Rim Drive.
The Spectra Point and Ramparts Overlook Trail is a popular four-mile route along the edge of the plateau, that also offers breathtaking views.
Natural Bridges National Monument, Utah
Located south of Canyonlands Park, Natural Bridges National Monument is a great vacation spot in Utah.
It was declared a national monument in 1908. As the name suggests, it is made up of three natural bridges named Kachina, Owachomo, and Sipapu.
If you only have time to visit one, then Sipapu is the biggest and most impressive of the three.
The bridges are located at an elevation up to 6,500 feet.
Another place of interest in the park is the Horsecollar Ruins, revealing the remains of ancient Native American buildings inhabited more than 700 years ago.
Dinosaur National Monument, Utah
Located on the border between Utah and Colorado, Dinosaur National Monument is known for a large number of Jurassic period fossils that have been discovered here.
It doesn't hurt that the surrounding terrain is beautiful as well. The dinosaurs were carried by the river and their remains were embedded in the river sediment.
Hiking, rafting, and camping are also popular activities here.
Bonneville Salt Flat, Utah
This unassuming area of flat land is located about 90 minutes west of Salt Lake City along I-80, near Wendover.
During certain times of the year, this area is also the venue for some of the world's fastest racers.
This is a naturally flat salt land is devoid of any vegetation, which makes the surface hard and perfect for high speeds. Speed Week and World of Speed are held in August and September, respectively.
Visitors can even try it themselves, as most of the time this area is empty.
Flaming Gorge National Recreation Area, Utah
Located in northeast Utah and southwest Wyoming, the Flaming Gorge National Recreation Area is administered by Ashley National Forest and there are many activities that visitors enjoy in the area.
Perfect for a weekend getaway, there are 43 campgrounds with 700 individual campsites. Try boating, fishing, hiking, and rafting.
Utah is truly an outdoor lovers paradise with some of the most unique national parks and creations of nature, Utah has lots of vacation spots to explore.
20 Thrilling Florida Vacation Spots
Ready to plan your next vacation in sunny Florida? Here are the highlights of the 20 best vacation spots in the state! From the vibrant nightlife of Miami to the laid-back charm of Clearwater, there's something for everyone. Whether you're looking for family-friendly activities, high-end experiences, or unique adventures, this article has got you covered. So, pack your bags and get ready to soak up the sun and fun in the Sunshine State!
15 Virginia Vacation Spots Perfect For Exploring History
Explore the best vacation spots in Virginia with this must-read article! From the historical charm of Williamsburg to the breathtaking beauty of Shenandoah National Park, there's something for everyone. Don't miss out on the top attractions, outdoor adventures, and unique experiences that Virginia has to offer.
Top 15 Ohio Vacation Spots: Vibrant Cities & Aesthetic Parks
Ready to discover the best vacation spots in Ohio? Look no further than this article, which highlights the top destinations in the state, from the vibrant cities of Cleveland, Cincinnati, and Columbus to the scenic Hocking Hills State Park. Explore the great outdoors, enjoy cultural activities, and indulge in local cuisine and attractions. So, pack your bags and get ready to experience the diverse and exciting vacation spots that Ohio has to offer!
Picturesque Lake And Mountain Top Views: 16 Michigan Vacation Spots
Discover the best Michigan vacation spots with this ultimate guide! From the charming university town of Ann Arbor to the breathtaking Pictured Rocks National Lakeshore, there's something for everyone. Whether you're looking for outdoor adventures, cultural experiences, or romantic getaways, Michigan has it all.