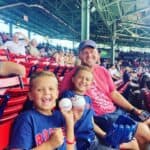 Jake Cain is an entrepreneur and writer from Cincinnati, Ohio. He spends his free time driving around the country in his late 90's conversion van, affectionately known as the "Monster Van" with his wife and 3 boys.
Wyoming is one of the most sparsely populated states in the USA. Famous for the legendary Wild West history and extraordinary natural beauty, Wyoming makes for a great vacation spot in itself.
Home to Yellowstone National Park, Grand Teton, and many other natural wonders, this state is a wonderful haven for nature lovers.
Here are some of the best Wyoming vacation spots to explore.
Yellowstone National Park, Wyoming
Yellowstone National Park is the world's oldest and first national park. Established in 1872, it is one of the most awe-inspiring wilderness areas on the planet.
The park is 2.2 million acres big and visitors can spot herds of bison still roaming free in the valleys. You can also spot wildlife like grizzly and black bears, grey wolves, elk, antelope, trumpeter swans, and majestic bald eagles.
You can drive through the park, but the best way to really experience this wonderful natures bounty is to hike through the park. Get your tents and park it at one of the many campgrounds available here.
Tourist attractions include the Old Faithful geyser, Yellowstone Lake, and the scenic cascades of Lower Falls.
Jackson, Wyoming
Jackson, Wyoming is located in a sprawling valley at the foot of the Teton Mountains. Exuding the spirit of the Wild West, there are many rustic buildings, quaint shops, galleries, and restaurants.
Must-see is the town square that is recognizable by four arched elk antler entrances. Jackson is the getaway to the beautiful Grand Teton National Park.
Visitors can also experience carriage rides and staged Old West shootouts. During summers, you can ride horses, bike, hike, rock climb, and boulder.
The Snake River also runs through this town giving opportunities to kayak, fish, and float.
Grand Teton National Park, Wyoming
Located between Jackson Hole and Wyoming, Grand Teton National Park is one of the jewels of Wyoming. These mountains were formed millions of years ago when a fault in the Earth's crust buckled, creating 12 peaks reaching heights of more than 12,000 feet.
The highest peak is the Grand Teton which soars 13,770 feet above sea level. Hike through these scenic areas or visit places such as the parks Visitor Center, Mormon Row and Menor's Ferry Historic District, Murie Ranch.
Wildlife is pretty abundant here and there are more than 300 species of birds, 0 species of mammals, and much freshwater fish live within the park. This is the reason that this park attracts many wildlife photographers, nature enthusiasts, and birdwatchers.
Cody, Wyoming
The town is named after founder William F. "Buffalo Bill" Cody who was a frontiersman and showman. This scenic Wyoming town will truly remind you of the Wild West.
There are many things to do here like hike, fish, raft, rock climb, and camp during summer. A must-see in the town of Cody is The Buffalo Bill Center of the West.
This is a fascinating museum that retraces an important chapter of American history. Here you can view the artifacts from the life of Buffalo Bill Cody, the legendary American soldier, and showman.
Apart from that, visitors can also check out Buffalo Bill Dam and Reservoir, Absaroka Mountain Range, Beartooth Mountain Range.
Hot Springs State Park, Thermopolis
Hot Springs State Park is built around the world's largest mineral hot spring. This is a great place to have a soak in the lovely warm water.
The steamy water rushes from Big Spring and is channeled in bathhouses which are kept at a constant 104 degrees Fahrenheit.
Apart from that, Thermopolis has the Wyoming Dinosaur Centre where you can see one-of-a-kind dinosaur exhibits.
Bridger-Teton National Forest, Wyoming
The beautiful Bridger-Teton National Forest expands to 3.4 million acres of western Wyoming's rugged mountain.
Explore the wildlands, watersheds and abundant wildlife. Within the forest's boundaries lie three Wilderness Areas: The Bridger Wilderness, The Teton Wilderness, and Gros Ventre Wilderness.
Visitors can take advantage of the 3,000 miles of trails and roads, pristine rivers and streams.
There is a lot of wildlife here to be found like the grizzlies, wolves, and bison.
The Periodic Springs also makes for a great visit. These springs have intermittent water flows lasting from 4 to 25 minutes and release just under 300 gallons per second.
Cheyenne, Wyoming
The capital of Wyoming, Cheyenne, offers a host of things to do. The town is dotted by many museums and historic sites which talk about the history of Cheyenne in 1867.
Begin your tour of the city at Cheyenne Frontier Days Rodeo. Catch the annual rodeo which is held every late-July since 1919. There are many fun-filled activities here that you can try.
For other times of the year, you can head to the historic Cheyenne Depot & Museum which is a tourist hotspot and home to the city's Visitor Center.
Other top things to see and do include the Wyoming State Capitol Building and a National Historic Landmark which is the Wyoming State Museum.
Flaming Gorge National Recreation Area, Wyoming
The area was named after the striking red sandstone cliffs. Flaming Gorge National Recreation Area stretches from Green River, Wyoming, south and into Utah.
The area is fed by the waters of Green River which make up the Flaming Gorge Reservoir and is a popular spot for boating, camping, and swimming. Rafting sessions also happen down the Green River.
Head to the Red Canyon Vista and Visitor Center for the best views of the gorge.
Casper, Wyoming
This outpost in Old West can be a lovely cultural experience for visitors and makes for a great vacation spot in Wyoming.
In the earlier days, Casper provided respite for travelers headed to Oregon and California. Today, you can head to this city for a historic old West experience.
From western wear shops, western-themed restaurants, and an active rodeo scene – Casper can be a fun getaway.
A must-visit is the National Historic Trails Interpretive Centre. This museum provides an interactive experience recreating the old pioneer trails and their important role in American history.
This is a great attraction for families who want to learn about the country's history.
The Wind River Range, Wyoming
The Wind River Range is a beautiful and scenic destination where fewer tourists visit. Its 2.25 million acres encompass seven of the largest glaciers, lush meadows dappled with wildflowers, glacier-carved valleys and much more.
No wonder it is a haven for hikers and nature enthusiasts. You can do camping, hiking, fishing, and climbing here.
For hikers, there are More than 600 miles of trails here including the Continental Divide Scenic National Trail, which runs from Canada to Mexico.
You can also spot wildlife here like moose, mountain lions, deer, and elk. The Wind River Range is also one of the best fly-fishing destinations in the country.
Buffalo, Wyoming
The historic city of Buffalo is a symbol of Old West heritage. Located on the Eastern End of the 47-mile Cloud Peak Skyway Scenic Byway, Buffalo makes for a great vacation spot in Wyoming.
History lovers can appreciate a dozen buildings in town that are on the National Register of Historic Places.
You can also explore the over 15,000 Old West artifacts at the Jim Gatchell Museum, and visit the nearby Hole-in-the-Wall Outlaw Hideout of the Sundance Kid.
Devils Tower National Monument, Wyoming
Though the name is pretty ominous Devils Tower is a geological gem that rises more than 1200 feet above Wyoming's eastern plains.
Pictures absolutely do not do justice to this tall tower. The unforgettable piece of landscape is deemed sacred by the Lakota and other tribes.
Visit the Devils Tower Visitor Center for details of the geology of this flat-topped volcanic marvel. Take ranger-guided walking tours on trails surrounding the monument. Hikers can also hike along eight miles of nature trails, which surround the rock and tread through the forest and meadows.
Rock Springs, Wyoming
Want to have a peek at wild horses roaming around? There is no better place than Rock Springs.
Located in the high desert of Southwestern Wyoming visitors can enjoy hunting and fishing vacations, off-roading trips, and golfing getaways.
Check out horses roaming around at the Pilot Butte Wild Horse Scenic Loop Tour. Around a thousand horses wander the loop here!
Stop by the Rock Springs Family Recreation Center and the popular Wataha Recreation Complex.
Laramie, Wyoming
Laramie is also referred to as the "Gem City of the Plains". It is a small town which is full of American history. This is a great place to explore the outdoors.
Tour the University of Wyoming or explore the various museums like the Tate Geological Museum and the UW American Heritage Center.
Outdoors you can for a drive on the Snowy Range Scenic Byway or book a horseback-riding tour on local trails.
Sheridan, Wyoming
The perfect place for a fun family getaway, Sheridan makes for the perfect Wyoming vacation spot. Located in the shadow of the Bighorn Mountain Range, Sheridan provides visitors with a balance between an Old West experience and modern-day amenities.
Visit Main Street for charming turn-of-the-century buildings housing shops and restaurants as well. Also, make sure to visit the weeklong Sheridan WYO Rodeo and First People's Pow Wow & Dance in July.
Visitors can also have a beer with the local cowboys at the 1907 Mint Bar and even take a horse and carriage ride.
Needless to say, Sheridan can make for a true and fun Wild West experience.
Dubois, Wyoming
Dubois is positioned between two mountain ranges, Wind River and the Absarokas. Said to be one of the "last real Western towns", Dubois can be a great vacation spot in Wyoming.
A great place to spot wildlife, you can see get glimpses of deer, bighorn sheep, and wolves. Stop by at the Cowboy Cafe, and the Dubois Museum for an unforgettable experience.
As we saw, Wyoming provides a true Wild West experience which is unparalleled to any other state in the U.S. From the famous Yellow Stone National Park to the historic town of Cody – there are lots to explore in the state of Wyoming.
20 Thrilling Florida Vacation Spots
Ready to plan your next vacation in sunny Florida? Here are the highlights of the 20 best vacation spots in the state! From the vibrant nightlife of Miami to the laid-back charm of Clearwater, there's something for everyone. Whether you're looking for family-friendly activities, high-end experiences, or unique adventures, this article has got you covered. So, pack your bags and get ready to soak up the sun and fun in the Sunshine State!
15 Virginia Vacation Spots Perfect For Exploring History
Explore the best vacation spots in Virginia with this must-read article! From the historical charm of Williamsburg to the breathtaking beauty of Shenandoah National Park, there's something for everyone. Don't miss out on the top attractions, outdoor adventures, and unique experiences that Virginia has to offer.
Top 15 Ohio Vacation Spots: Vibrant Cities & Aesthetic Parks
Ready to discover the best vacation spots in Ohio? Look no further than this article, which highlights the top destinations in the state, from the vibrant cities of Cleveland, Cincinnati, and Columbus to the scenic Hocking Hills State Park. Explore the great outdoors, enjoy cultural activities, and indulge in local cuisine and attractions. So, pack your bags and get ready to experience the diverse and exciting vacation spots that Ohio has to offer!
Picturesque Lake And Mountain Top Views: 16 Michigan Vacation Spots
Discover the best Michigan vacation spots with this ultimate guide! From the charming university town of Ann Arbor to the breathtaking Pictured Rocks National Lakeshore, there's something for everyone. Whether you're looking for outdoor adventures, cultural experiences, or romantic getaways, Michigan has it all.