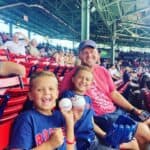 Jake Cain is an entrepreneur and writer from Cincinnati, Ohio. He spends his free time driving around the country in his late 90's conversion van, affectionately known as the "Monster Van" with his wife and 3 boys.
Since it is the second smallest state in the country, Delaware is often overlooked as a vacation spot. But contrary to popular belief, there are many romantic and family vacation spots in Delaware.
It has plenty of history, culture, and a beautiful coastline. The towns offer exciting nightlife and great cuisine.
Let us explore some of the best Delaware vacation spots that you can explore with your friends and family.
Milton
Milton is a lovely historical town in Delaware and makes for a fantastic vacation spot. The town was originally established because of the shipbuilding economy that flourished during and after the Civil War.
The town is filled with more than 200 historical buildings and it is located close to Delaware Bay. Enjoy fishing here with Martha Marie Fishing Charters that take you to all the best fishing holes.
Cool off after fishing at the Dogfish Head Brewery who offer tours as well.
You can also do kayaking on the Broadkill River, be a part of historic tours around town, or visit the farmers market.
Rehoboth Beach
Rehoboth Beach has been a town where many go to enjoy the beaches. The town comes alive during the summer months as everyone heads to the beach.
Enjoy the sun, sand, and ts many restaurants, shops. Plus, there are many festivals that keep happening during the year.
The Sea Witch Festival at the end of October is one such festival where there is live music, vendors, and activities.
Cool off at the Jungle Jim which is a local waterpark with slides, a lazy river, and a wave pool. End the day with a walk at the boardwalk where you can watch the sunset and spend some time off.
Delaware City
Delaware City is one of the best vacation spots in Delaware as it is filled with various local attractions and regional cuisine.
Nestled on the Delaware River, it is located a stone's throw from New Jersey. Start by visiting the DuPont State Park.
The park was used as a military base starting during the Civil War up until World War I. Now the park is used as a state park, featuring things like the Diamond State Baseball Club.
History lovers can also explore the Sterling Building that dates back to the 1800s. Or you can just hop on to the ferry and take a ride over to Fort Delaware on Pea Patch Island.
Bethany Beach
If you want something low-key than Rehoboth Beach, then Bethany Beach can be the perfect place for you. This small town of Bethany Beach is named after the beach that lines the coast.
The beaches here are much quieter and low-key than other beaches in the area. Arrive here in September for the Bethany Beach Boardwalk Arts Festival where you will get the opportunity to see the works of local and regional artists.
Or you can always just spend some time on the beaches which are perfect for swimming, spending time with family, or enjoy the shops and restaurants.
Do visit the Bethany Beach Farmers Market which provides you with fresh fruit, cheese, baked goods.
Lewes
Also referred to as First Town since it was the original settlement of the Dutch, it has an intricate and extensive history. It was originally founded in 1631, and today it is known for being a peaceful and progressive town.
Lewes is located between the Delaware Bay and the Atlantic Ocean and provides easy access to Cape Henlopen State Park. Here you will find access to miles of beaches, bike trails, and birdwatching opportunities.
Visit the Zwaanendael Museum to learn more about the history of the state. You can also spend your day on the beach or park to relax.
Dover
Dover is home to a vast collection of diverse opportunities and it makes for a great vacation spot in Delaware. Visit the Amish community or NASCAR racing where you can go for one of the races at the Dover International Speedway if you are a race car fan.
You can also visit the Biggs Museum of American Art for a nice selection of modern artwork. After that, you can also visit the Air Mobility Command Museum where you will get to know more about the modern and vintage aviation as well as see many aircraft and other artifacts.
Other important museums you can visit are the Delaware Agricultural Museum which depicts the development of farming on the East Coast.
Smyrna
Smyrna is a small town which is located on the water's edge. It was once a settlement on the southern bank of Duck Creek, before the American Revolution.
Earlier it only relied on shipping and shipbuilding. Modern-day Smyrna is a much larger settlement now and has become a sought-after place for families to settle down and raise their kids.
This city is the perfect opportunity to have a peaceful and relaxing getaway.
Wilmington
Wilmington has so much to offer to its visitors. From brewery tours to historical train rides and museums to opera houses.
The Wilmington Riverfront is a great place to take in the city, take a stroll with different views and attractions to be seen.
For families with children, head to the Delaware Children's Museum and give you kids a chance to grow and learn. Sports fans can enjoy a Blue Rocks baseball game at Frawley Stadium.
Fenwick Island
Fenwick Island is situated on the southern border of Delaware is conveniently located near Ocean City, Maryland.
This Island has amazing beaches which are considered one of the finest beaches in Delaware. Do visit Fenwick Island Lighthouse as well as it is a landmark of the state.
It is no longer an active lighthouse, but you can visit the museum and gift shop.
Outdoor lovers will love some time off at Fenwick Island State Park where you can hike, fish, windsurf, sunbathe, explore marine life.
Georgetown
Georgetown is located in the south-central part of Delaware and makes for the perfect destination for a getaway.
The city has a rich local history and it can please any history buff with its museums and the presence of many architecturally historic buildings.
Visit the Marvel Carriage Museum which will talk about the timeline of the city and also you will be able to see many carriages up close and personal.
Milford
Milford is the kind of town that has surprises in every corner. There are many quaint attractions tucked away for visitors to explore.
Start with the Mispillion Riverwalk where visitors can stroll the downtown along the waterfront plus with ample greenery around, it makes for a great place to roam around.
You must also explore the art galleries that are tucked along picturesque Walnut Street. After that have a meal at a delicious downtown restaurant like Abbott's Grill.
End your day by visiting a brewery like Mispillion Brewing Company.
New Castle
New Castle is one of the oldest towns in Delaware. The residents here are extremely proud of its history and the town has maintained a majority of the original buildings.
There are many entertainment attractions to keep you busy. Visit the New Castle Courthouse Museum and the Historic New Castle Walking Tour.
Here you can step back in time and walk the cobblestone streets and explore the shopping street. You can find more information about the town at the visitor's center or the town's website.
Newark
Newark is one of the third-largest cities in Delaware and is located in the northern reaches, giving easy access to both Baltimore and Philadelphia.
This city is a great place for outdoor enthusiasts as you will find over 17 miles of hiking and biking trails and a total of 33 parks containing more than 650 acres in total.
Head to the Chapel Community Theatre for year-round entertainment or just explore the shopping areas of the town for some downtime.
Ocean View
Ocean View began as a small collection of farmers, watermen, and seamen surrounding a convenience store, but now has become a very sought-after vacation spot in Delaware.
The town has been welcoming tourists and visitors since the Civil War and modern-day visitors are likely to be pleased by the collection of small shops and restaurants.
Delaware Bay
Delaware Bay attracts many migratory birds whose journey begins near the tip of South America and will end far north in the Arctic.
Many shorebirds arrive here after traveling 10,000 miles and stay here for ten days straight sometimes. Bird enthusiasts can view this spectacle every summer in May.
Though Delaware is a small state, it surely packs a punch and there are lots to see in this state. From the lovely cities of Milton to the scenic beaches of Rehoboth, take your pick.
20 Thrilling Florida Vacation Spots
Ready to plan your next vacation in sunny Florida? Here are the highlights of the 20 best vacation spots in the state! From the vibrant nightlife of Miami to the laid-back charm of Clearwater, there's something for everyone. Whether you're looking for family-friendly activities, high-end experiences, or unique adventures, this article has got you covered. So, pack your bags and get ready to soak up the sun and fun in the Sunshine State!
15 Virginia Vacation Spots Perfect For Exploring History
Explore the best vacation spots in Virginia with this must-read article! From the historical charm of Williamsburg to the breathtaking beauty of Shenandoah National Park, there's something for everyone. Don't miss out on the top attractions, outdoor adventures, and unique experiences that Virginia has to offer.
Top 15 Ohio Vacation Spots: Vibrant Cities & Aesthetic Parks
Ready to discover the best vacation spots in Ohio? Look no further than this article, which highlights the top destinations in the state, from the vibrant cities of Cleveland, Cincinnati, and Columbus to the scenic Hocking Hills State Park. Explore the great outdoors, enjoy cultural activities, and indulge in local cuisine and attractions. So, pack your bags and get ready to experience the diverse and exciting vacation spots that Ohio has to offer!
Picturesque Lake And Mountain Top Views: 16 Michigan Vacation Spots
Discover the best Michigan vacation spots with this ultimate guide! From the charming university town of Ann Arbor to the breathtaking Pictured Rocks National Lakeshore, there's something for everyone. Whether you're looking for outdoor adventures, cultural experiences, or romantic getaways, Michigan has it all.