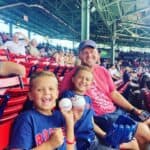 Jake Cain is an entrepreneur and writer from Cincinnati, Ohio. He spends his free time driving around the country in his late 90's conversion van, affectionately known as the "Monster Van" with his wife and 3 boys.
The Southern state of Arkansas is also known as "The Natural State". Bordered by the mighty Mississippi River, it is a favorite holiday destination for outdoor enthusiasts.
The state is culturally rich and is abundant with natural resources. Arkansas has a diverse terrain which includes beautiful rivers, hot springs, mountains, and caves.
Let us explore some of the best Arkansas vacation spots which you can visit.
Hot Springs, Arkansas
Located in the Ouachita Mountains and surrounded by the natural hot springs, this makes for an exciting vacation spot in the area. The Hot Springs park was established in 1921 but, visitors have been coming here for much longer.
This town has an adventurous past, and if you want to learn more you can go on a tour of the Gangster Museum of America and the 1888 Victorian Bath Houses on Bathhouse Row.
As for the park, it still contains old bathhouses that are still in use today in various forms, including the historic Fordyce Bathhouse. The attractions in the park also include an observation tower and hiking trails.
Little Rock, Arkansas
The capital city of Arkansas has a lot to offer in terms of culture, entertainment, food, and amazing adventures. Little Rock makes for an ideal vacation spot for the family.
History buffs can enjoy touring the William J. Clinton Presidential Center, the Little Rock High School National Historic Site (a significant site in the Civil Rights struggle), and the Old State House Museum.
You can also visit the historic Quapaw Quarter, whereas art lovers can head to the Arkansas Art Museum and the Arkansas Symphony Orchestra.
Families with kids will love a ride on the River Trail Trolley and a visit to Little Rock Zoo.
Buffalo National River, Arkansas
Buffalo National River winds for 151 miles and is one of the few remaining undammed rivers in the lower U.S. The river is a favorite haunt for nature lovers and outdoor enthusiasts.
Many visitors come here to float which can be done on a kayak, canoe, or tube. If you have had enough of the water, then you can also enjoy hiking, picnicking, camping, fishing, horseback riding, and more.
The river is divided into an upper, middle, and lower district, each of which has its own special charm.
Mammoth Spring State Park, Arkansas
This is the largest spring in Arkansas and pumps nine million gallons of water per minute into Spring Lake, which in turn feeds Spring River. You can also learn more about the history of Mammoth Spring State Park at the visitor's center.
Plus, there is also a restored 1886 train depot and a Frisco Railroad caboose which visitors can explore.
Visitors can enjoy fishing, kayaking, canoeing, or enjoy a picnic.
Mount Magazine State Park, Arkansas
Mount Magazine State Park is located on the tallest mountain in Arkansas and surrounded by one of the most impressive views as well. The state park is a mecca for outdoor enthusiasts and sports lovers.
Popular activities include rock-climbing, rappelling, hang-gliding, and technical climbing on Mount Magazine. For a little less adventurous activities you can go hiking along miles of trails, enjoy mountain biking, horse riding, and nature observation.
After that, spend some time at the visitor's center for some interesting exhibitions or spend a night at the campsite.
Blanchard Springs Caverns, Arkansas
Located near the Ozark-St. Francis National Forest in northern Arkansas, Blanchard Spring Caverns is known for fishing, hiking, and swimming trails.
There are more adventures right underneath your feet as well. The Blanchard Springs Caverns will take your breath away.
Do visit the Dripstone Trail tour which is open all year round and the paved pathways enable visitors to access the beautifully lit caverns and see a variety of crystalline formations, including stalactites, stalagmites, and columns.
Lake Ouachita State Park, Arkansas
Located close to the city of hot springs, Lake Ouachita State Park is surrounded by the natural beauty of the Ouachita National Forest. The lake invites all outdoor adventure enthusiasts and nature lovers.
The pristine waters of the lake enable visitors to fish for a variety of species, including bream and largemouth bass, on the open waters. Visitors come to the lake to also enjoy swimming, scuba diving, boating, and other water sports.
You can also go hiking or wildlife watching along trails. If you want to stay longer, you can rent a cabin as well.
Whitaker Point Trail, Arkansas
This beautiful Arkansas spot has appeared in many Disney movies and lies along the Buffalo National River in the Ozark National Forest south of Harrison.
If you want to hike, then Hawk's Bill Crag Trail could be just what you are seeking. Just under 3 miles long, the trail takes three hours round trip.
This trail will also lead you to the most scenic point in the state at Whitaker Point. The jagged edge towers hundreds of feet high overlooking some of the most stunning Ozark Mountain scenery.
This trail looks even more beautiful in the fall season.
Pinnacle Mountain State Park, Arkansas
Pinnacle Mountain State Park is a huge day park comprising of 2,356-acres of land situated just west of Little Rock. The main attraction for this park is the towering cone-shaped Pinnacle Mountain.
Visit the mountain as two trails lead to the summit and the view from the top is spectacular. The park is dedicated to environmental education and you can join guided interpretive hiking, canoeing, or boating tours.
There are two trails suitable for mountain biking and equestrians which enthusiasts can enjoy.
Petit Jean State Park, Arkansas
The oldest state park in Arkansas, Petit Jean State Park has 21 miles of hiking trails and welcomes outdoor enthusiasts. The infrastructure in this park was constructed by the Civilian Conservation Corps (CCC) starting back in 1933.
This beautiful and rugged terrain with untamed bluffs and caves attracts wildlife enthusiasts from all over the country. The state park has rugged trails that will lead you through meadows, canyons, streams, and mountains overlooked by steep craggy bluffs that conceal highlights like Cedar Falls and Seven Hollows.
Magnolia Falls, Arkansas
Found on Upper Buffalo River, Magnolia Falls are a well-kept secret. To experience the beauty of the falls, you need to hike a 2.5-mile trail that is considered to be easy to moderate.
Compared to other falls in the state, Magnolia Falls is somewhat shorter in stature reaching 26' at its highest point. However, the rugged beauty that surrounds the falls is a sight to see.
If you visit in winter, then you can see interesting rock formations covered by glistening ice "curtains."
Hemmed-in-Hollow Falls, Arkansas
Located in the Ponca Wilderness Area of the Buffalo National River in the Ozark Mountains, Hemmed-in-Hollow Falls is Arkansas' biggest waterfall at a massive 210'.
It is worth the while to hike the strenuous 5-mile hike from the trailheads along State Highway 43 to see them. Spring and early summer is the best time to visit as there is lots of water at that time.
Despite the difficulty of the trail, the waterfall is worth at least one visit.
Arkansas is one of the most nature-abundant states and you can find natural beauties like Magnolia Falls or Hot Springs.
20 Thrilling Florida Vacation Spots
Ready to plan your next vacation in sunny Florida? Here are the highlights of the 20 best vacation spots in the state! From the vibrant nightlife of Miami to the laid-back charm of Clearwater, there's something for everyone. Whether you're looking for family-friendly activities, high-end experiences, or unique adventures, this article has got you covered. So, pack your bags and get ready to soak up the sun and fun in the Sunshine State!
15 Virginia Vacation Spots Perfect For Exploring History
Explore the best vacation spots in Virginia with this must-read article! From the historical charm of Williamsburg to the breathtaking beauty of Shenandoah National Park, there's something for everyone. Don't miss out on the top attractions, outdoor adventures, and unique experiences that Virginia has to offer.
Top 15 Ohio Vacation Spots: Vibrant Cities & Aesthetic Parks
Ready to discover the best vacation spots in Ohio? Look no further than this article, which highlights the top destinations in the state, from the vibrant cities of Cleveland, Cincinnati, and Columbus to the scenic Hocking Hills State Park. Explore the great outdoors, enjoy cultural activities, and indulge in local cuisine and attractions. So, pack your bags and get ready to experience the diverse and exciting vacation spots that Ohio has to offer!
Picturesque Lake And Mountain Top Views: 16 Michigan Vacation Spots
Discover the best Michigan vacation spots with this ultimate guide! From the charming university town of Ann Arbor to the breathtaking Pictured Rocks National Lakeshore, there's something for everyone. Whether you're looking for outdoor adventures, cultural experiences, or romantic getaways, Michigan has it all.