This charming city with the Blue Ridge Mountains is also referred to as the "Magic City". Roanoke is the cultural hub of Virginia and has good food, great people.
It has many cultural attractions in the city, but it makes for a great jumping-off point to explore other cities around the state as well. Let us explore some of the best day trips from Roanoke which you can take.
Blue Ridge Parkway, Virginia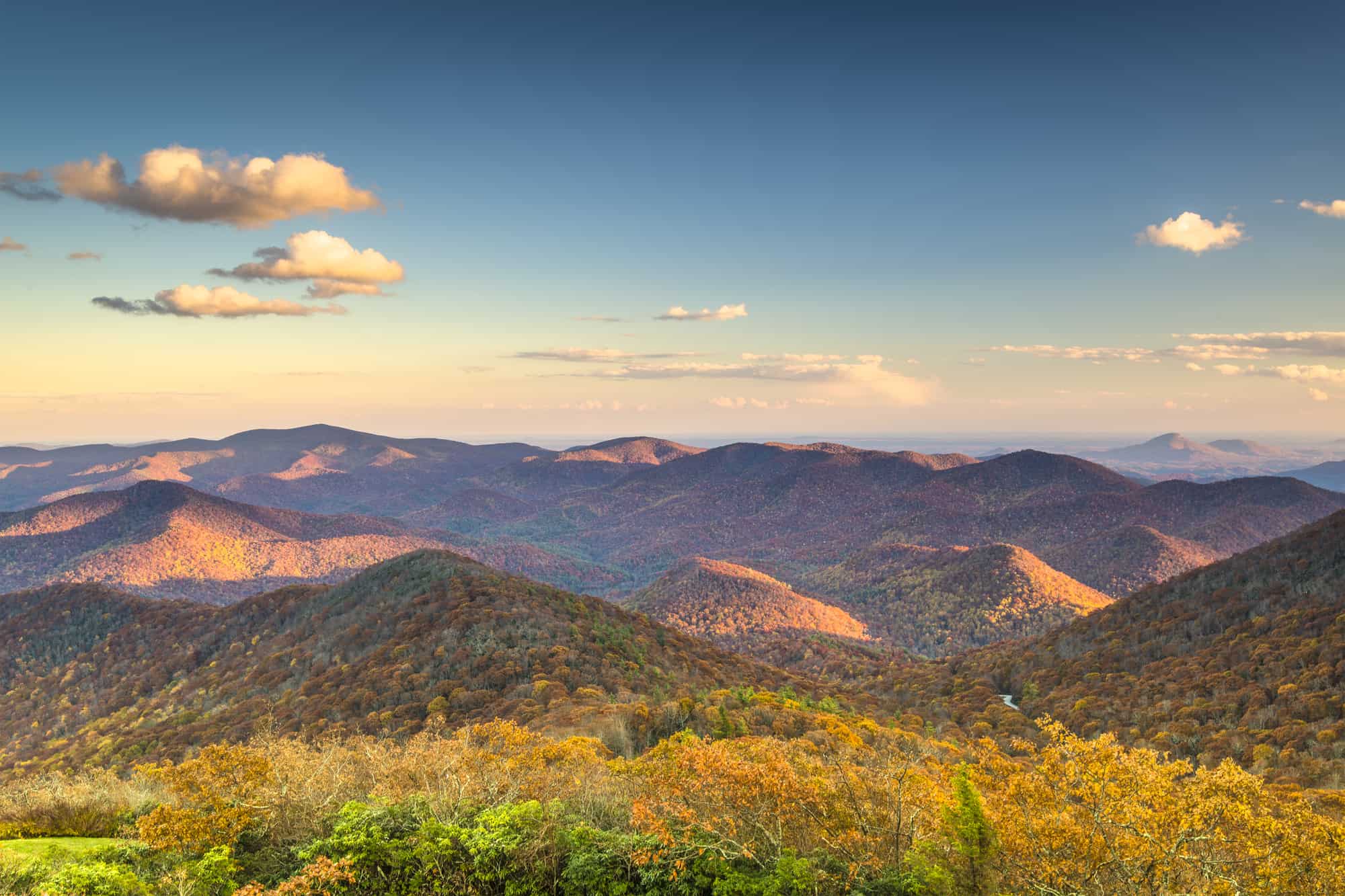 The Blue Ridge Parkway is a fantastic highway that weaves through the region's vibrant living traditions. This 469-mile scenic byway goes through the spine of Virginia's Blue Ridge Mountains and makes for one of the best day trips from Roanoke.
The most popular length of the highway is the National Park System. The Parkway spans the southern and central Appalachians and offers an exceptional glimpse into the region's flora and fauna.
This is the longest linear park and connects to the Shenandoah National Park to the north and the Great Smoky Mountains National Park to the south.
Distance: 29 minutes
Ideal for: Relaxed drive
City of Salem, Virginia
Founded in 1802, the City of Salem is located in Roanoke County and is bordered by the city of Roanoke. This historical town has a lot to offer and makes for a great day trip from Roanoke.
There is archaeological evidence showing the existence of Native American Tribes, dating from as far as 8000 B.C to the 18th century.
Apart from that, there are many tourist destinations worth visiting like Fort Lewis and Salem Public Library.
Distance: 15 minutes
Ideal for: Historic getaway
Brushy Mountain, North Carolina
Located in the northwestern end of North Carolina, Brushy Mountain is an isolated spur of the Blue Ridge Mountains. These mountains span five counties- Yadkin, Iredell, Wilkes, Alexander, and Caldwell.
Approximately 45 miles long and 6 miles wide, Brushy Mountain ranges are approximately 45 miles long and about 6 miles wide. There are lots of apple orchards here and celebrations are held every year to celebrate the harvest.
Another place you can visit is the Brushy Mountain Penitentiary, where tourists can get a chance to visit the infamous maximum-security prison.
Distance: 1 hour and 13 minutes
Ideal for: Mountain lovers
Virginia Museum of Transportation, Virginia
The Roanoke Transportation Museum was originally formed as a partnership of the Norfolk & Western Railway and today serves as a museum that attracts many. A great day trip for train enthusiasts, this museum includes electric and diesel locomotives, antique automobiles and trucks, aviation, and vintage steam.
You will also get a chance to see a Class A locomotive which is known for its durability and power.
Distance: 3 minutes
Ideal for: Train enthusiasts
Shenandoah Valley, Virginia
Shenandoah Valley makes for one of the most romantic trips in Virginia for couples. This place is a wine country escape which is only two hours away from Roanoke.
Discover some of the most incredible vineyards in the region, indulge in fine cuisine, or take a horseback tour through the region. Any which way, it will be a memorable trip for sure.
Distance: 2 hours and 11 minutes
Ideal for: Romantic getaway
Charlotte, North Carolina
Charlotte in NC makes for a great day trip from Roanoke, Virginia. Choose from a variety of things to do in Charlotte from U.S. National White Water Rafting Center to NFL and NBA games; there are tons to explore.
Plus, there is incredible nightlife and shopping here to keep you occupied. Located just three hours away from Roanoke, this is a great destination.
Distance: 3 hours and 5 minutes
Ideal for: Fun getaway
Read Mountain Preserve, Virginia
Read Mountain is one of the County's largest passive recreation areas. contains 243 acres of forested land and aims at preserving a natural environment. Day trip to Read Mountain Preserve makes for a great day trip and is a place where you can get your entire family along, including your pets.
The park includes a 5-mile trail system with moderate to strenuous levels of difficulty. You can take the hike to be rewarded with lovely views of the preserve.
The main feature of this hidden gem is a 1.9-mile moderately rugged trail that takes the average hiker approximately 2.5 hours to get to the top.
Distance: 17 minutes
Ideal for: Hikers
Rock Castle Gorge Trail, Virginia
There are beautiful colors all along the trails in the form of wildflowers, trees, and other plant life. The trail makes for a great getaway if you want to be around nature.
Take a stroll through the trail as you enjoy the wonderful views of the gorge. Rock Castle Gorge boasts over 200 species of wildflowers, 45 species of trees, and 28 species of ferns.
Distance: 1 hour and 12 minutes
Ideal for: Hiking
Richmond, Virginia
Located three hours away from Richmond, it is the capital city of the Commonwealth of Virginia. The most popular attraction in this city is the Virginia Museum of Fine Arts, where you will find extensive collections and exquisite pieces of art on display all year round.
You can also visit the gorgeous Maymont, a 100-acre (40.5-hectare) estate given to the community by James and Sallie Dooley who lived there from 1893 to 1925. Another popular attraction is the Lewis Ginter Botanical Garden.
Distance: 2 hours and 51 minutes
Ideal for: Family getaway
Conclusion
Virginia is the gem to explore and there are many destinations to visit around Roanoke. From the city of Richmond to the lovely Shenandoah Valley, there are lots to do.