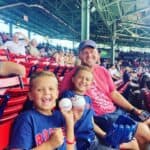 Jake Cain is an entrepreneur and writer from Cincinnati, Ohio. He spends his free time driving around the country in his late 90's conversion van, affectionately known as the "Monster Van" with his wife and 3 boys.
We left our charming brownstone in Boston and headed down to the small town of New York City to spend a week.
While we spent most of our time in New York, we actually stayed just across the Hudson in Weehawken, NJ.
We packed a lot into a week, so rather than a chronological breakdown, I'm going to share a quick list of our 10 most memorable things from our week Road Schooling in New York. (In no particular order).
1. Central Park + Snowball Fight
Created in 1858, Central Park is 843 acres of beautiful green space, lakes, trees, bridges etc. in the middle of the massive concrete jungle that is Manhattan.
It looks pretty crazy from overhead:
We actually spent a decent amount of time in Central Park, letting the kids play football by the baseball fields, play on the playground, and just walking around taking the scenic route from one destination to the next.
Then, one day we were walking by and saw a bridge that reminded me of the snowball fight in Elf.
I know there are many bridges in Central Park, so I thought they probably all look alike and this wasn't really "the bridge" where they filmed the scene.
It turns out, I think we really did randomly find the right one (Pineback Arch)
So naturally, we had the idea to recreate the famed snowball fight. Me and Sarah filmed it all, then I had her brother Tommy the video editor do all the hard stuff:
Central Park is just a fun little oasis in the Big City that feels so different because of where it's located.
2. Our Apartment
When I say we were just across the Hudson, we were very much right on the water.
The result (and the main reason I booked this place) was the amazing Manhattan view from the living and bedroom:
In all my excitement snatching up this place with a million-dollar view, I did overlook one detail about the place.
After I finally found a street parking spot for the Monster Van, we walked into the building with arms full of groceries and bags.
Sarah said "What floor?"
I said, "We're going to the 5th floor, find the elevator."
We looked back and forth down the narrow, short hallway when it hit me that this WW2 era building had no elevator.
Of course, in addition to a full week's worth of groceries, we also had a van full of suitcases and bags containing a library full of books and every piece of clothing we own.
To add to the fun, the best I could do was find parking on the other side of our busy street. That just meant I'd have a chance to catch my breath while waiting on a walk signal…
The best part is that I was really the only person capable of carrying the luggage, which meant I got to take 5 trips up and down the stairs and across the street to get us unpacked and ready for our big week.
So my week in New York started out like this:

Even though we had to earn it, the view definitely made it worth it.
Another interesting thing we discovered is that right outside our door was the place where Alexander Hamilton lost his life in a duel with Aaron Burr.
We got to have one of those cool road school experiences when we read "Who Was Alexander Hamilton" and talked about how he rowed a boat from Manhattan to Weehawken (because dueling in New York was forbidden), and we wrapped up the book by walking down to the Weehawken dueling grounds.
3. Ellis Island

Another awesome road schooling experience was reading "What Was Ellis Island" with the kids and then going to visit the place that so many immigrants came through in the late 1800s and early 1900s.
We paid for the ferry tickets, which take you to both Ellis Island and Liberty Island, and then you get an audio guide included so you can have commentary to help you navigate and understand what you're seeing in the museum.
One thing that's amazing to me about Ellis Island (and a number of other historical places we've seen) is how close it was to being destroyed.
After Ellis Island was no longer used, it basically sat empty as was forgotten. The forces of nature and looters had destroyed the place, and it wasn't until the late 80's when they really started restoring it and turning it into a museum.
They've done a fantastic job of making it look like it did during its immigration heyday. The receiving room in particular has a super grand feel about it.
The stories you get on the audio tour, many of them told by the actual people who lived it – take the tour to the next level.
You really get a sense of the excitement, fear, uncertainty, optimism, and all the other emotions both kids and adults were feeling when they arrived on the Island.
It's truly incredible what people risked to get their chance at living the American Dream.
Ellis Island is a must stop when you're in New York. Plus, you get to see the Statue of Liberty on the same trip:
4. Macy's on 34th Street
Like all good Americans, we're fans of the Christmas classic, Miracle on 34th Street.
We didn't really plan on visiting the store, but we took a little bus tour earlier in the week and they pointed it out, so we ended up making the trip over on another day.
It turns out, Macy's flagship store has about 1.25M square feet of retail space – which makes it the largest department store in the US and one of the biggest in the world.
I don't even like shopping, but it was impressive.
Perhaps the coolest part? the 100+ year old wooden escalators that took you from floor to floor:
We also checked out the displays they had to honor the classic movie, which did have scenes filmed on site back in the 1940's. Macy's even had the actor who played Santa Claus be the actual Santa Claus in their Thanksgiving parade in 1946 so they could film shots for the movie with the real crowds.
In a lapse of judgment, I actually walked with the boys over to Bryant Park to play football for a couple of hours and let Sarah enjoy over a million square feet of retail bliss.
Let's just say when we left Weehawken, I had to carry more things down 5 flights of stairs than I'd carried up at the beginning of the week.
5. New York Pizza
Of course, when in the Big Apple you've got to partake in a New York slice!
We had our first NYC pizza experience after we took a guided walking tour of the Brooklyn Bridge.
We started on the Manhattan side of the bridge and then walked over to Brooklyn while learning about the Roebling family and some fun facts about the bridge.
Then, we headed over to Pier 6 in Brooklyn which had a nice park space where we could play some football and work on our physique.
#SunsOutGunsOut
After that, we headed over to the original Grimaldi's Pizza location at the foot of the Brooklyn Bridge and shared a couple of pies.
The other NYC pizza experience was at Joe's – The Greenwich Village Institution. Apparently, it was a pizzeria visited by Peter Parker himself in Spiderman… and it's been around since 1975.
The boys and I had this pizza experience without Sarah, who was still getting her retail therapy at the world's largest Macy's.
I've got to admit, the outdoor only, Covid-friendly dining scene puts you dangerously close to the New York traffic and keeps you on edge – which adds a little extra spice to the pizza.
6. Natural History Museum
The American Natural History Museum in NYC is one of the largest of its kind in the world.
It was also used for some of the filming and basis of the Night At The Museum movie with Ben Stiller, Robin Williams, etc.
Most of the museum is divided out by regions of the globe, with real "stuffed" animals on display. It's kind of creepy and cool at the same time.
On the "not real" side of things, they had a life-sized blue whale that was based on a 94-foot long whale that washed ashore back in 1925. It hangs from the ceiling and gives you an awe-inspiring view of just how huge these things are.
On the pre-historic front, the museum boasted the first T-rex fossil ever found, which was discovered in Montana in 1902.
This included a near-perfectly intact skull that they had encased in glass because it was simply too heavy to hang it along with the rest of the skeleton.
After spending a few hours exploring the museum, the kids were ready for their first NYC hot dog cart experience.
7. Staten Island Ferry
We did this as part of a guided bus tour we took, but the Staten Island Ferry is kind of a must-do simply because it's free and gives you unique views of the Statue of Liberty as well as the Manhattan skyline like this:
We didn't actually do anything in Staten Island, just hopped right on the free ferry back to Manhattan.
8. Times Square
NYC wasn't a ghost town, but it definitely wasn't as busy as it normally would be. Plus, we also went to Times Square at a very off time of early Sunday morning and it was particularly dead.
We also stopped by earlier in the week a little closer to evening and there was more of a crowd, including the dressed up "superheroes" and other characters looking to make a quick buck by getting you to take a photo with them.
I'd warned the kids ahead of time not to run up to Spiderman or Mickey Mouse, but unfortunately, Jackson still managed to make eye contact with this creepy guy dressed up as the Joker.
I advised him just to stay close and keep walking, but the Joker was still walking our direction, waving us over to come take a picture.
"Dad, that Joker is scaring me a little bit…"
It was a fun, authentic Times Square experience.
Besides the adults dressed up like creepy characters and stalking children, we also enjoyed visiting the World of M&M's and making our own custom batch of M&M's with Bengals and Chiefs logos.
I also turned the corner and discovered that they've officially opened a Krispy Kreme at Times Square.
It had a line around the block on the first day, so we skipped it. But when we visited on Sunday morning there was nobody around so we took advantage and grabbed us some donuts.
Despite what the red sign promised, the donuts weren't particularly hot – which was a little disappointing given the inflated NYC price I paid for them.
9. Ground Zero
It feels weird calling Ground Zero of the Word Trade Center one of the "best" things we did, but it's certainly a sobering experience that you should take in during your visit.
In the footprint of the towers is now a waterfall, with a list of all the victims engraved along the edges.
9/11 is a really hard thing to explain to kids, but we tried our best.
One thing that really seemed to sink in for Jackson was when we stopped by the firehouse across the street, which has a fantastic memorial to all the firefighters who died that day doing their jobs.
Below is a sign they have with photos of the 343 men and women that lost their lives that day.
Our tour guide also pointed out that volunteers still go to Ground Zero every day and put a flower to honor the birthday of any victims on that day.
365 days per year – rain or shine.
It's a super heavy topic that our kids knew nothing about, but I find it to be both a sad and inspiring place to visit – seeing all of the people who paid the ultimate sacrifice trying to help their fellow citizens in need.
10. Cinderella Man
This one is definitely not a "must see" on your NYC list, but it was cool for me.
The movie Cinderella Man tells the story of James J Braddock, the "Bulldog of Bergen," who was a professional boxer who was injured and lost his career during the Great Depression era, and ultimately reluctantly took public assistance to help provide the very basics for his family.
(Spoilers ahead)
After several years out of the sport, fortune shined on him and he became a last-minute replacement opponent for a top title contender.
He shocked the boxing world by winning that fight.
Ultimately, that led to him getting his license to box reinstated and he went on to upset the overwhelming favorite, Max Baer, and win the heavyweight title. With his winnings, he actually returned his public assistance money back to the government and bought his family a house in New Jersey.
When people ask me my favorite movie, I generally answer Cinderella Man.
It had been years since we'd watched it, and scrolling around one night we saw it on Prime Video and decided to watch it.
Only then did it occur to me that I'd been seeing signs for Bergen all week on my Google Maps, so the "Bulldog of Bergen" must have lived close by.
A quick Google search revealed that nearby our Airbnb was the James J. Braddock park and the house he bought for his family and lived in for the rest of his life after he won the championship.
So on our way out of town, we made a quick stop and checked out each one.
I loved it.
After we left the Braddock family abode, we saw one of the more terrifying sites we'd seen all week:
In case you can't tell, that's a double-length bus driven by a student driver, heading into NYC morning traffic.
That's one bus I would never want to be on.
Wrap Up
The kids enjoyed their first trip to NYC, though it probably wasn't typical. Restaurants didn't allow you to dine in yet, some places hadn't reopened, and the crowds were generally down – which honestly is a good thing when it comes to museums and attractions like Central Park.
Next, it's off to Philadelphia – which will be a first for all of us.