Daniel is a copywriter who has well and truly been bitten alive by the 'travel bug'. After ticking off several North American National Parks and exploring Europe by train, his sights are now set on South East Asia. Usually with at least one camera locked and loaded, you'll find Daniel wherever there are mountains, lakes or beaches.
Welcome to the ultimate guide for commuters! We'll unveil the top 10 states in the United States that offer a commuter's paradise with their exceptional public transportation systems.
So, hop aboard as we explore the best destinations for stress-free commuting!
Seattle, Washington
Seattle may not be the largest city, but its transportation system is a standout! With a robust network of rail, buses, streetcars, and water taxis, getting around the city is a breeze.
According to a WalletHub study, Seattle topped the charts among 100 U.S. cities for its accessible, convenient, safe, and reliable transit system, backed by abundant resources. Plus, all transit stations are in line with the Americans with Disabilities Act (ADA), making it inclusive for everyone.
As the sixth most congested U.S. city, Seattle's transit system has become a game-changer. Residents enjoy reduced commute times, while visitors find a fast and easy way to explore the city hassle-free.
Boston, Massachusetts
Boston's metro system, fondly known as the T, offers a comprehensive transit network featuring subways, buses, and trolley cars, making it a preferred choice for commuters. Over 30% of Bostonians hop on public transit for their daily grind, making it a popular choice.
The T isn't just about getting to work; you can reach the airport, Harvard, and other key spots without a hitch. Boston's transit system is no small fry either: it's the fifth-largest in the whole U.S., serving a whopping 4 million people across the region.
San Francisco, California
San Francisco charms travelers with its iconic cable cars, but that's just the beginning! The city boasts a well-rounded public transit system, including buses, the BART light rail, and the Muni municipal railway. Notably, San Francisco prioritizes electric power, ensuring energy efficiency and economic benefits compared to other cities.
With a staggering 220 million daily riders, the city's transit system is a lifeline for locals and visitors alike. Navigating through traffic congestion, taking public transit proves to be a smart move, slashing average commute times with ease.
New York, New York‌
New York City is home to America's largest metro system, transporting a remarkable 5.5 million riders on an average weekday and 1.7 billion rides each year.
With 472 subway stations, including the bustling Times Square, and a successful bus system with 2.2 million weekday riders, New Yorkers have embraced public transit, with over 50% using it for their daily commutes. The city's multifaceted transportation infrastructure, including ferries, trains, subways, and buses, sets a stellar example of coordination for a thriving transportation network.
Washington, D.C.
The nation's capital boasts a highly efficient transit system, simplifying travel within the city center, suburban areas, and nearby regions. Washington D.C.'s renowned Metro serves as the backbone of the city.
With nearly 200 million annual trips, the D.C. Metro ranks as the second-largest system in the U.S., a testament to its popularity. The extensive bus network also contributes, clocking around 130 million trips each year. With a total of 91 Metro stations dispersed across various neighborhoods, hopping on from multiple locations throughout the area is a breeze.
Chicago, Illinois
Chicago's Chicago Transit Authority is a star among transit systems, with buses and trains connecting the entire city. Residents love it, with a 90.7% approval rate recorded back in 2021.
The iconic "El" train system has eight colorful routes and 145 stations, offering easy accessibility. It supports nearly 500 million riders annually, making city travel a breeze at just $2.50 for the train and $2.25 for the bus.
Madison, Wisconsi‌n
The smallest city on the list, Madison is a perfect place to settle down, and you won't have any issues when it comes to getting around!
Supporting approximately 12.9 million riders, Madison's transportation team is on a mission to revamp the bus system, catering even better to the community's needs. Seeking collaboration through community feedback, the government is working with its citizens to build an even more efficient and people-oriented transit system.
Denver, Colorado
Public transport might not be the first thing that comes to mind when you think of Denver, but the city's residents rate their city's trains and buses highly.
Offering both bus and rail options with over 125 bus routes, it seamlessly connects to the airport and sports stadiums. Affordable fares, from as little as $6 for a 'local' day pass, make living and commuting across the city a cakewalk!
Pittsburgh, Pennsylvania
Pittsburgh, a city known for its industrious spirit, offers its commuters a well-organized and efficient public transportation system.
With access to buses and Pittsburgh's T, an underground light rail system, the residents of Pittsburgh have access to almost 24-hour public transport. The T operates from 5 am until midnight each day, connecting to 53 stations whilst you can see real-time updates through TrueTime-to-Text for buses.
Portland, Oregon
Portland is a city big on environmental consciousness, and this is reflected in its impressive city transportation infrastructure. The TriMet bus and rail system efficiently serves residents and visitors, offering affordable fares for seamless travel across the city.
Commuters enjoy the convenience of a light rail line connecting to the airport, and both buses and trains operate at regular 15-minute intervals throughout the day. To make commuting that much easier, Portland provides the Hop Fastpass app, letting you jump aboard through your cell. Plus, all stations in the city are ADA-accessible!
The 16 Best National Parks to Visit in June For Summer Fun
Are you looking for the perfect summer adventure? Look no further than these top national parks to visit in June! From the stunning wildflower displays at Lassen Volcanic National Park to the world-class whitewater rafting at New River Gorge National Park, this article provides insider tips and recommendations for an unforgettable outdoor experience. Don't miss out on the chance to explore these breathtaking natural wonders during one of the best months of the year!
6 National Parks To Avoid This Summer (And The Alternatives)
Are you planning a summer trip to a national park but want to avoid the crowds? Look no further than this article, which provides insider tips on which popular national parks to avoid and offers recommendations for six alternative destinations that offer unique experiences and stunning natural beauty. From exploring rugged peaks and pristine lakes at North Cascades National Park to discovering the geological history of Capitol Reef National Park, this article has everything you need to plan an unforgettable outdoor adventure this summer.
Best 16 Utah Vacation Spots
Are you looking for an unforgettable vacation spot with breathtaking natural beauty? Look no further than Utah! With stunning national parks like Zion and Bryce Canyon, as well as unique attractions like the Homestead Crater and Dead Horse Point, Utah has something for everyone. This article provides insider tips and recommendations for the best places to visit in Utah, from hiking to skiing to soaking in natural hot springs. Don't miss out on the chance to explore this incredible outdoor playground!
5 Waterfalls in Zion National Park For A Fabulous Day Out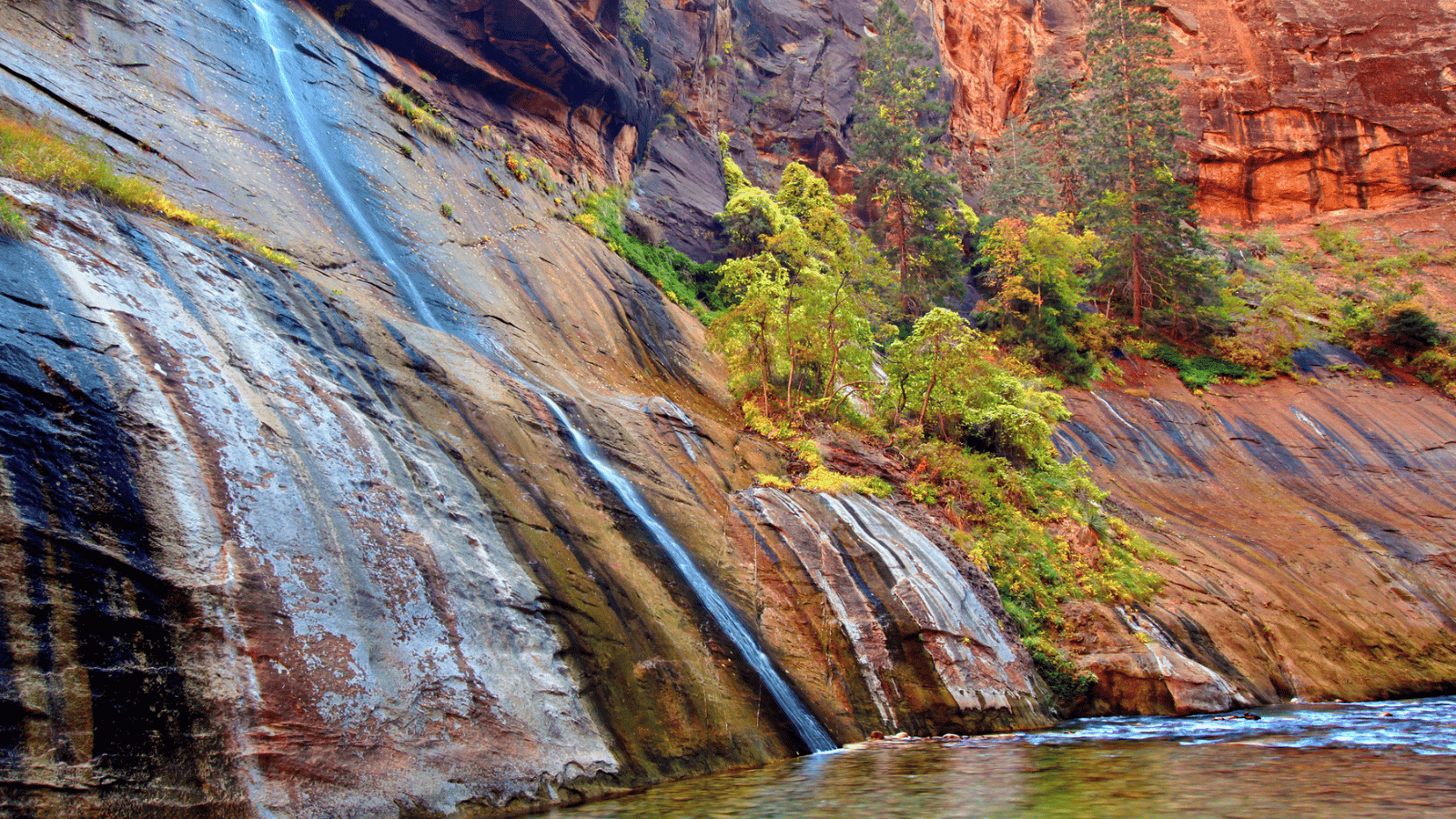 Are you a nature enthusiast looking for an outdoor adventure that will take your breath away? Look no further than Zion National Park in southwestern Utah! This article explores the park's stunning waterfalls, including the moderate hike to Archangel Falls and the more challenging Upper Emerald Pools. But that's not all – the article also highlights other natural attractions in the park, such as The Great White Throne and the Court of the Patriarchs. Don't miss out on the chance to explore this gorgeous landscape and experience the beauty of Utah's unique natural wonders!