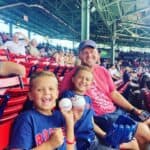 Jake Cain is an entrepreneur and writer from Cincinnati, Ohio. He spends his free time driving around the country in his late 90's conversion van, affectionately known as the "Monster Van" with his wife and 3 boys.
We headed out from Yosemite and drove a couple of very dark, hilly hours to Salida, CA. It was here we made a late night stop at the famed west coast burger joint, In & Out.
In & Out burgers and fries are very fresh and tasty, but I'm more impressed with the affordable prices, simple menu, and friendly (almost Chick-fil-a-like) service.
We had a short stop over at the La Quinta, which put us about 1.5 hours from San Francisco – which was on our agenda for the next 2 days.
San Francisco is such a fun city to visit, as there is plenty of history and iconic sites to see. In fact, I went on record saying that if I only had one week to cram in as many bucket list items as possible, I'd start by flying into San Francisco.
Here's some of the highlights of our 2 days in the Bay Area.
Touring Alcatraz
Last time we stopped in San Fran, we just looked at Alcatraz from across the bay at Pier 39. It's an eerie site for sure, where once smiling children are transformed into hardened criminals:
This time, I booked tickets in advance (apparently they are usually sold out if you don't buy ahead of time).
In fact, when I went to pick up my tickets at will call, 2 guys who apparently only had one day in the city offered to buy my tickets for double what I paid.
For a split second I was tempted to turn a hefty profit and eat a better dinner, but I refrained.
It's Higher Than It Looks
When we were riding the ferry boat out to the island, the recorded narration warned that you should expect "steep elevation, uneven footing, and tripping hazards" on your ascent to the prison – which is about 13 stories up once you're on the island.
My dad, still worn out and sore from walking around Yosemite, said his legs were shaking with intimidation after hearing that announcement.
Fortunately, a golf cart shuttle was available for those who didn't think they could make the long, steep trek up the hill.
The Audio Tour Delivers
The audio tour is included with your admission to Alcatraz and is an outstanding guide to the place for adults and kids alike.
The narration and stories told are all from former prisoners and guards who worked at Alcatraz, so the various gruff voices you hear telling the stories of arriving on the island, escape attempts, and more go to another level.
At times, it can even be a little scary…
The audio tour was so informative, by the time we left even the kids were telling stories about Machine Gun Kelly like they were familiar with his body of work.
The best part is that you can tour at your own pace, and take the ferry back whenever you're ready. Here's a few more shots from our morning at Alcatraz:
Boudin Sourdough
After we arrived back on shore, we walked down to the Boudin cafe & bakery – the original creator of sourdough bread in San Francisco.
We had some sandwiches and bread bowls – then did the self guided tour of the factory and watched the bread makers do their thing.
Cable Car Fiasco
After we had lunch, we went down to the turnaround point of the Powell & Hyde line of the famous cable car system.
I'd bought a one day visitor pass for each of us so we could hop on any transport we'd like for a 24 hour period. (Interesting note – no driver ever asked to see the ticket on my phone…)
The plan was to get the experience by riding the cable car all the way to the end of it's route, then ride an old fashioned streetcar back down to Pier 39 for dinner.
Eventually… that's what we did.
However, the line waiting to get on the cable car took FOREVER. At first I thought the MUNI guys were just being insanely slow, waiting 10-15 minutes between trips when cars were just sitting there waiting to be used.
What we found out later is that they have to space them out, to prevent traffic jams in downtown.
Though, while you're waiting you can watch them put the cable car on a turntable and spin it around – which is fantastically old school.
Nevertheless, we waited for over an hour to get on the cable car. We were the next people in line when an employee came up and said "this one's only going half way. If you want to go to the end of the line you need to wait for the next one." 
He said their crew's shift was ending, so they were stopping in Chinatown and calling it a day.
I thought this might be a little tourist humor, so I said "are you joking?" 
He said "do I look like I'm joking?" 
I said "I don't know what your face looks like when you're joking."
Turns out, they weren't joking.
Once you've waited an hour + what's another 20 minutes, right?
Eventually, we did get on the cable car and I was the only one who rode it the proper way – hanging off the edge.
Riding the cable car is such a fun experience with all the steep hills and all the manual work the driver has to do pulling brake levers and angrily ringing bells to get people to move.
It's fantastic.
Here's a little video I shot of my view:
The ride was so exciting, in fact, that all 3 of my kids passed out before we got to the destination.
Streetcar Debacle
The cable cars get all the ink, but the streetcar system in San Francisco is really cool too.
As you'll see – it's not cool if you're actually relying on them to get you somewhere on time, but it's cool if you're a tourist and just want to cruise around.
The fleet of streetcars are fixed up and painted to honor different historic streetcar systems from around the world, which really helps them stand out from a typical bus or train car.
We had a heck of a time figuring out exactly where to stand to get on the streetcar that would take us back to Fisherman's Wharf, but eventually one pulled up and we jumped in.
We were enjoying the sites out the window for a few minutes when the driver informed us that the next stop was the last stop.
We were nowhere near Pier 39, so I said "Doesn't this take you down to Pier 39?"
To which she replied "Normally it does, but my shift is over…"
I've heard this story before…
So we were once again standing in the middle of the road, waiting on the next streetcar to come along. Eventually, we got where we were headed with smiles on our faces.
Moral of the story? If you've got a schedule to keep, take Uber.
Fog Harbor Fish House
The reason we were doing a big public transportation loop was because we had dinner reservations at Fog Harbor Fish House.
I booked it on Open Table and made a note that we'd like a seat with a view if possible, and they definitely delivered.
It was a little overcast in San Francisco, which only happens 334 days a year on average, but the view was still pretty sweet.
The seafood was tasty and the restaurant was beautiful – I'd certainly recommend stopping there if you're looking for one of the iconic (perhaps touristy) seafood stops in the area.
AirBnB in San Carlos
We drove about 20 minutes south and stayed at a really nice condo in San Carlos, CA.
Here's a link if you're interested.
It had plenty of space for us and a distant view of the city from the balcony.
Personally, I was a little nervous about finding a place in the city with a sketchy parking situation – particularly driving the Monster Van.
So having a nice place with dedicated parking that's not too far from town was a big win.
Starting Day 2 Off Right
One of my most important rules for traveling is that when you've got a full day of activities, it's of utmost importance to have a balanced breakfast.
So before we jumped on our Blue and Gold boat tour, we stopped by Trish's Mini Donuts at Fisherman's Wharf.
After we polished off that bucket of donuts, I was really hoping the choppy waters wouldn't result in anyone depositing their donuts into the bay.
The boat ride lasted about an hour, and took us underneath the Golden Gate Bridge and gave a recorded narrated tour of sights you were seeing up and down the coast.
It was part of a Go City combo ticket I bought, and it was basically what you'd expect – a unique perspective of the bridge and so-so narration with a full dose of cold Bay Area wind that left Gray looking for somewhere to hide:
Before we hopped back in the car, we walked over to Hot Spud and enjoyed some tasty (and enormous) baked potatoes.
Walt Disney Family Museum
If you're into Disney – particularly the life and story of Walt, you've got to check out the Walt Disney Family Museum.
Because "Disney" is in the name, you automatically think it's a kid thing, but it's more a of a personal collection that shows where and how Walt grew up and ultimately brought different characters to life, created Disneyland, and a bunch of other interesting things.
So it's somewhat kid-friendly, but it's honestly more of an adult thing than a kid thing (even though our kids still enjoyed themselves).
They've even got his Oscar(s) from when Snow White & The Seven Dwarfs won the best picture award:
We spent a couple of hours there and would highly recommend it to fellow Disney fans.
Lombard Street & The Tanner House
Once we were back in the car, then it was time to explore the city via Monster Van.
San Francisco is an intimidating city to drive in.
Just when you look left for the cable car, look right for the streetcar, you get t-boned by a city bus. There's just so much to be thinking about – including the ridiculously steep streets.
You wouldn't think that would matter, but it feels like you're ascending a paved route to the peak of Everest when you suddenly hit a stop sign. You can't help but worry that you're car is just going to start rolling backwards when you release the brake.
Perhaps the most famous intimidating street to drive on is Lombard street – dubbed the crookedest street in America.
Assuming you successfully weave your way down the crowded & narrow hill, you can get a pretty sweet view from the bottom before you drive off.
From there, we went to the site of the "Full House house"
AKA the Tanner Residence from the hit show Full House.
It's just sitting on a really pretty, but crowded residential street full of intricately designed row houses.
We parked on the street and walked up to take a picture that probably nobody has ever taken before…
Golden Gate Bridge
Our last big stop in San Francisco was driving across the Golden Gate bridge.
Once we got across, we made our way to the famous overlook at Battery Spencer. What I didn't expect was just how windy it was up there.
I was a little worried we'd have a kid get picked up and blown away while we were trying to snap a family photo.
Here's a video I did walking up, where it sounds like I'm reporting live at the site of a hurricane:
We did manage to fight through the wind and take some really cool shots from this one of a kind view:
Gray thought the high winds were hilarious (of course), so I loved this picture where you can look at it and almost hear him laughing as he struggles to stand up.
Once we'd done the overlook, we paid the toll to cross back over the bridge and into San Francisco.
Then, we started our drive down the Pacific Coast Highway and caught some views of the sunset on our way to Santa Cruz.
Up next, journey with us to see some coastal redwoods and on down the Pacific Coast Highway to Big Sur, Pebble Beach, and more.