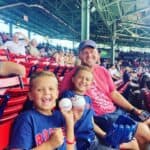 Jake Cain is an entrepreneur and writer from Cincinnati, Ohio. He spends his free time driving around the country in his late 90's conversion van, affectionately known as the "Monster Van" with his wife and 3 boys.
When we took our first once in a lifetime road trip, I made the decision to rent a van.
We own a perfectly capable Honda Odyssey, but after googling the hound out of "rent vs. drive your own car" and using all the depreciation calculators, it looked like the numbers favored renting.
As it turned out, we got a brand new Toyota Sienna for our trip and put about 10,000 miles on it, and spent less than $1,000 to rent it for the month. So I think we won that one…
When we added my parents to the passenger manifest of our next "once in a lifetime trip", I knew a Sienna wasn't going to cut it.
I also knew I was too scared to drive an enormous RV. I figured I could handle the highway, but my first stop for gas would look something like this:
So I set my sights on an ever-comfortable conversion van. But the problem was, most of the big rental companies don't stock vans like this. They go straight from minivans to 12-15 passenger style.
No problem! I'll just rent from a specialty rental company.
Sticker Shock
I checked some local rental places that do rent out conversion vans, and I was greeted with weekly prices north of $1,000:
Doing the quick math of a 4 week trip, I thought "I might as well just buy one…"
An Expensive Imagination
I don't know if you're like this, but when I've allowed my brain to hear myself say the words "I might as well just buy one" it's pretty much all over.
Immediately I start daydreaming of how cool that would be, and selling myself on why it's such a great idea.
10 seconds later I'm scouring Craigslist and Facebook Marketplace and the search is on.
I tell myself things like "Heck, I could buy it and use it for this trip and then just sell it again. That'd be cheaper than renting!" 
But my heart knows I'm lying.
I'm suddenly all-in on having an ugly & comfortable road trip van.
Add in supportive friends like Chiara Carroll who loves the idea and keeps texting me links to old school vans for sale and it's pretty much a done deal.
The Monster Van Tour
The name "Monster Van" came about organically. I often call things that are large and out of control "monsters."
Example: "We finally got that dresser up the steps – that thing was a monster." 
So when I first saw the van, I said with great excitement and anticipation "this thing's a monster!" 
Naturally, the kids started calling it "The Monster Van" and the rest is history.
Official Monster Van Walkthrough
I purchased the van from a dude in Indiana for about the price I would have paid to rent one for a month. It had about 128,000 miles on it and a pretty good maintenance history.
I know very little about the mechanics of a car (hence my joke about showing you what's under the hood in the video above).
The van needed some work on less fun things like new tires and fluid leaks – but I was mostly excited about updating the technology in it.
I'd found Cody at Cincy Security & Sound via Google search when I bought a remote starter as a gift for someone.
He did great work and had a spotless reputation online, so he was the first guy I thought of to do this job.
I called Cody and asked if I could come up to the shop and get some help brainstorming some cool stuff to do to our van.
That was like asking a grizzly bear, "Hey, you hungry?"
He sat in the back of the van with me for 30+ minutes tossing out all kinds of crazy ideas and taking notes. I think he was more excited than I was about the possibilities of this huge interior space.
It was then that I realized a van with these enormous compartments and electronic hook-ups to a guy like Cody is kind of like handing Bob Ross a paint brush and an empty canvas.
I gave the van to Cody and week later the tube tv and VCR were gone and I had a 1999 vehicle with 2019 technology.
A List Of Improvements
Here's a short list of all the interior things we upgraded or replaced:
Replaced factory radio with Apple Carplay enabled Pioneer DVD/CD Unit
Bluetooth calling, GPS navigation, etc. (via Pioneer unit mentioned above)
Mounted 24 in Roku TV in place of 13 inch tube tv
Added mobile internet via inverter and Verizon Jetpack
Wireless headphone receiver with 4 sets of headphones for silent movie watching
Rearview camera so I don't back into the Grand Canyon.
Rear DVD player and volume control – so we can podcast in the front and play a movie in the back.
I definitely get some odd looks when I'm circling the elementary school to pick up our kids in this thing, but it's going to be sweet to drive this thing around in parts of the country where people won't recognize me…
Want To Rent The Monster Van?
Our helpful sales team would love to talk to you!
Rates start at $1,149 per week…