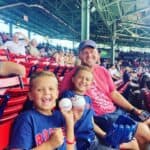 Jake Cain is an entrepreneur and writer from Cincinnati, Ohio. He spends his free time driving around the country in his late 90's conversion van, affectionately known as the "Monster Van" with his wife and 3 boys.
A couple of years ago, we were fortunate to take a month-long, cross-country road trip with our family of 5.
At the time, I was working remotely for Spencer Haws and he agreed to let me take an unpaid leave of absence to make the trip happen.
I jumped right into planning mode and starting making a list of all the places I'd ever wanted to see.
Then, I quickly realized something problematic:
America is big. 
So I had to trim down some things that meant we'd have to drive way out of the way (Sorry, Glacier National Park).
While a month-long trip sounds like forever, when you start factoring in drive times and the level of sanity you'll need to avoid evicting your kids from the van somewhere in the Nevada desert... a month really isn't that long.
Even once you had the list of stops whittled down, planning the details where to stay, what to eat, and what exactly you should see was a daunting task.
Where the heck do I start? 
Despite all that, we were able to pull it off and the trip was a huge success.
We were able to spend time at iconic places like Yosemite, Yellowstone, and the Grand Canyon. We also made time for kid-friendly places like Disneyland and Sarah-friendly places like Magnolia in Waco, TX.
On top of that – we spent time with longtime friends like the Turpins and even stayed at Derek Mills' La Quinta Guest Suite.
It all added up to an unforgettable trip.
You Should Go With Us Next Time…
When you take 4 weeks and do a loop around America, people often comment that it's "a once in a lifetime trip."
I get that.
It's kind of a cliche thing to say, but there's also some truth to it. Taking that amount of time off and seeing so many incredible sights and experiences in one trip is truly something that most people never get to do.
If you are fortunate enough to do a trip like that, certainly you can only pull it off once, right?
However, at the ripe old age of 34, it was a little sad and depressing to think of it as a "once in a lifetime trip."
I wanted to do it again.
So after we got back, I started dropping hints to my mom and dad about going with us next time.
Yeah, That Would Be Fun…
Somewhere in the response "yeah, that would be fun…" is an embedded idea of "that sounds great, but it'll probably never happen."
Nevertheless, I knew my parents had spent a limited time out west and loved it. I also knew that they'd enjoy seeing the grand nothingness of Wyoming highways even more than I did.
Another thing I realized after planning our 2017 trip is that my parents would have a really hard time planning and booking a trip of that magnitude.
At least planning it as well as I did…
(pats self on back)
Time Is Fleeting
The danger with pushing off "bucket list" items to a seemingly never-ending date-to-be-named-later is that they usually never happen.
I still credit the gimmicky-sounding book The Four Hour Workweek for changing my mentality about work and life.
One of the main messages I took away from it is "what are you waiting for?" 
Why work like a dog and wait until you're 65 or 70 to (hopefully) do the things you've always wanted to do?
Perhaps it's having 3 kids that has really made me very keenly aware of how quickly time goes by.
Seemingly every day Facebook shows me a memory that makes me say "Dang! That was 2 years ago?!"
Similarly with my parents, they're a relatively healthy 60-ish and at great age for enjoying a trip like this with their grandkids.
My concern was that if we kept saying things like "we should do that one day," they'd go from 60-ish to 80-ish before we knew it and would be too preoccupied with yelling "get off my lawn" to kids in their neighborhood to drive to California.
So, we're doing it.
In early 2019 we all gave verbal commitments, which meant that I could get to the fun yet time-consuming task of planning cross-country trip #2.
This time I'd have to squeeze in iconic sights with the kid-friendly, Sarah-friendly, and Thelma-friendly + a couple of Major League Baseball games for me and dad.
It was a challenge, but it's one I was ready for.