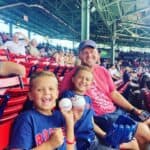 Jake Cain is an entrepreneur and writer from Cincinnati, Ohio. He spends his free time driving around the country in his late 90's conversion van, affectionately known as the "Monster Van" with his wife and 3 boys.
I'm not sure about my friends in other parts of the country, but when you live in Ohio your radio and tv commercials tend to be filled with the voice of Buzz Lightyear (AKA Tim Allen) inviting you to drive North and experience "Pure Michigan" on your next vacation.
The commercials go something like this:
I remember when those commercials first hit the airwaves and I used to think, "That actually makes me want to go to Michigan."
He makes the place sound like heaven on earth.
Certainly, he's talking about a different Michigan?
Based on what I've seen and heard of the place, I've always imagined that a Michigan vacation would involve things like watching an overrated team play college football, drinking poisonous water in Flint, and then having my car stolen in Detroit.
But after spending my first week in Michigan, I have to admit that Tim Allen was right.
Setting The Stage
Our family of 5 was joined on this trip by my in-laws, Chris and Pam Vincent. We were skipping past the big city areas and heading up near the top part of the hand.
If you don't get the reference, I learned in college that if you ask a Michigander where they're from, they'll first just say "Michigan."
Then, if you ask a follow-up question like "Oh yeah? Where about in Michigan?"
They extend a palm toward your face, which looks very similar to the shape of the state, and then point to a spot on their hand…
So to make things really simple, we spent most of our time in the space between the upper third of the pinky and the index finger. We also took a beautiful day trip to the top of the middle finger.
Here's a HANDy guide to everything we saw along the way.
One Sweet Cabin
We booked this cabin on Airbnb which was located in a town called Bellaire.
One thing I overlooked in the description was that the cabin didn't have air conditioning.
I guess that's a thing when you live far enough up north.
It's one of those basic things that you don't really think to ask, so the first time I found out was the day we were checking in when the host sent me last minute check-in details.
Knowing how hot July has been, I was a little worried this might ruin the trip.
Fortunately, the nights were cold enough that it really wasn't an issue – even in the middle of July.
So if you're scoring at home, that means my #1 vacation rental oversight remains when I walked into our New Jersey apartment building with arms full of suitcases and groceries and then figured out there was no elevator up to our 5th floor apartment.
That was a sweaty night. Full story here.
Here are a few photos of our place in Michigan:
Here's Gigi and chef Gray preparing omelets for everyone on our first morning in the cabin:
We found Bellaire to be centrally located for exploring a variety of Michigan essentials such as Torch Lake, Traverse City, Mackinac Island, and even Sleeping Bear Dunes.
Frankenmuth
On the drive up, Pam suggested that we stop at a little Bavarian-themed town called Frankenmuth.
It's famous for Bronner's Christmas Wonderland, which claims to be the largest Christmas store in the world.
There's nothing I love more than shopping for Christmas decor in July, so we took the short detour and stopped in.
We honestly only covered the Southwest corner of the building, but if you're a Christmas nut I'm sure you could spend a day in there.
Here's a photo from their website that helps give more perspective on just how large the building is.
They have an estimated 6,000 different kinds of ornaments, all sorted by theme.
So if you're looking for some really obscure, specific ornament to give as a gift – you should check Bronner's.
Traverse City
Our first full day was supposed to be mostly rainy and overcast, so we took a 45-minute drive to Traverse City to check out some of the sights.
For our first stop, I promised everyone that we were going to see something world-famous, that none of us had ever seen before.
Needless to say, nobody guessed that we were going to see the world's largest cherry pie pan.
I hadn't spent much time researching this weird roadside stop, so I was rather surprised to find that in 1987 they actually baked a cherry pie in this thing.
Here I thought it was just a fun, enormous pie pan put there for a photo opp.
No, this guy once held a cherry pie that was over 17 ft. in diameter and 28,000 pounds in weight.
Weirdly enough, that record only lasted a few years. Some Canadians thought it would be fun to bake a 37,000 pound cherry pie in 1990.
Finally, 2 brothers in Michigan have grown tired of being outdone by the Canadians and decided to bring the record back to America, where it belongs. They're working on the logistics to bake a 50,000 pound cherry pie later this year.
We then did some shopping at a former state hospital that's been repurposed into a shopping and dining destination known as The Village. After that, we enjoyed a hibachi lunch at Fuji Steakhouse and then went over to Front St. downtown and sampled some of the legendary Murdick's Fudge.
Other notable stops downtown included the Cherry Republic store, which as you may have guessed is home to all things cherry. My favorite part is that they have several stands set up where you can sample the cherry candies, cherry sauces, dips, salsas, etc.
We're talking about at least a dozen different free samples you can help yourself to.
Chris learned the hard way that some free samples come with a price.

He was walking around diving into every sample bowl without reading the sign. 30 minutes later in the car, his mouth was still on fire and we pieced together that he'd unknowingly dipped into the Cherries on Fire habanero salsa.
So when visiting the Cherry Republic, sample with caution.
Another stop you shouldn't miss is Brew coffee shop – the cold brew was excellent and the setting and decor inside of the old Opera House building made it one of my favorite shops I've been to.
Old Mission Peninsula
After exploring downtown, we took a drive out on Old Mission Peninsula.
For all of you geography buffs, let's use our Michigan hand shape analogy. The peninsula sticks out of Michigan like a splinter in the top of your index finger.
It's a super pretty drive that features several wineries and U-pick cherry farms. We made sure to stop by the Mission Point Lighthouse at the very tip of the peninsula and then the Old Mission General Store which has been around since 1839.
Here's the view of the lake from the Mission Point Lighthouse.
Fishing The Great Lakes
"The early bird catches the worm."
We've all heard it, but I don't usually wake up early enough to find out if it's true.
In this case, we'd booked a 6 AM fishing trip with captain Ben of Daydreamer Charters which meant we needed to hit the road around 4:30 to make sure we got to the boat in time.
The last time we did a guided fishing trip, it was in Key West and I was the loser who hauled in only an eel while everybody else caught huge barracudas.
This time I was out not just to have a fun time on the lake, but to restore my reputation as a fisherman.
We had some luck early, then we hit a lull for a couple of hours and finally ended in a flurry to end up with 5 trout and a king salmon.
I'm happy to report that my fish was the biggest and most delicious fish of the bunch.
After our 4 hour fishing trip, we went home to rest up and then headed out to King Orchards for some cherry picking fun.
The kids were really excited to get started.
The cherries themselves were picture perfect:
Unfortunately, the U-pick experience doesn't include ladders.
So, when we wanted to go for some of those perfect cherries in hard to reach places, we had to employ some lesser known farming methods.
My biggest takeaway from our cherry picking experience was that $5 for a bag of cherries at my local Kroger is a phenomenal deal.
This little field trip cost me $24 for the bucket that I had to go fill, plus whatever a chiropractor costs to straighten my neck out from my time spent as the family ladder.
We ended the night by grilling up our trout and salmon and enjoying family dinner on the deck.
Sleeping Bear Dunes
The Sleeping Bear Dunes National Lakeshore was a little over an hour west of us, and proved to be a standout on the trip.
To give you some perspective on where it's located, if Michigan were a hand, Sleeping Bear Dunes would be like a really dry patch of skin on the top of your pinky finger.
The most famous stop inside the park is the Dunes Climb, which is a 3.6 mile out and back hike up a seemingly never-ending series of enormous sand dunes.
Sarah and I have watched a lot of the Keep Your Daydream YouTube Channel and got pretty intimidated when we saw how long it took their fit family to complete the dunes climb.
So I had no intention of doing the whole hike, but thought it would be fun to climb up the first big hill and let the kids run back down.
Knowing that I'd need all the help I could get beating the kids to the top of the hill, I pulled out a classic dad move out of the bag of tricks you get when you first become a father.
I called all the kids over to check out a bald eagle I'd spotted in a nearby tree.
Idiots…
Of course, this bald eagle didn't really exist, but the kids were all looking really hard for it when I sprinted into the lead:
About 60 seconds into the ascent I realized I had no shot of winning this thing.
It was kind of like running up the face of Mt. Everest if it were made of hot sand.
At certain points, you feel like you're on a sandy treadmill and you're literally going nowhere.
So a few minutes later, with the taste of blood in my throat and my heart beating uncontrollably our group looked a little more like this.
I'm not anti-hiking by any means, and we usually do a few moderate hikes on our trips, but I realized that hiking up ridiculously tall sand dunes isn't for me.
The trip back down the dunes is basically just running uncontrollably down a hill like the kids from Little House On The Prarie.
The kids loved it, of course.
As an adult, running down a hill like this is more of a 50/50 mix of fun and fear.
You find yourself laughing, but simultaneously you're thinking things like "please don't break a femur."
Glen Haven Village
Next, we went over to historic Glen Haven Village and saw a working blacksmith shop demonstration.
We also found a perfect picnic spot down at the beach.
Afterwards, the kids did a little rock stacking on the beach before we headed onto the next town.
Leland & Fishtown
We drove the M22 which is the famed state road in Michigan to a little old fishing port, turned tourist area known as Fishtown in the town of Leland.
The kids enjoyed watching some fish swim around from the dock and we checked out some of the nearby shops where Sarah bought her *first* M22 hoodie of the day.
Pepaw bought the boys some ice cream at the Harbor House and we did a little people watching before hopping back in to drive around some more.
Glen Arbor
Back towards the dunes is the charming little town of Glen Arbor.
But first, we stopped to take a photo by this sign:
When in town, we stopped by another Cherry Republic, this time being careful to stick to only mild and medium cherry salsa samples.
The kids played a little cornhole and some other games in their sweet outdoor patio area while Sarah and I explored the little town on foot.
This is when Sarah found another M22 hoodie she couldn't live without, and bought that one too.
Empire
The final stop on our Sleeping Bear Dunes day was the town of Empire.
Our friend had recommended an established neighborhood restaurant called Joe's Friendly Tavern that we decided to try for dinner.
They have their own root beer on tap, which is always a big selling point for me. The French Dip sandwich was excellent, and overall we all left full and happy.
From there, we drove around the corner to Empire Beach which turned out to be an amazing end to the day.
The place had a huge playground and basketball court, so the kids made quick friends and played sports for a couple of hours while the sun went down.
The adults spent time walking down the shoreline looking through the beautiful collection of rocks that wash up on the shore. Sarah even found one of Michigan's famous Petoskey stones!
We were fortunate to have a perfectly clear night, so we built a campfire, ate some smores, and hung out and watched a sunset beautiful enough to star in a Pure Michigan commercial narrated by Tim Allen.
Torch Lake
Near where we were staying in Bellaire is the majestic Torch Lake.
I'm not sure why or how, but it's some of the clearest, blue water you'll find this side of Lake Tahoe.
It's also famous for its large sand bar where you can pull up and park your boat and hang out in clear, knee-deep water and have lunch, play games, etc.
We rented a Tritoon boat via Vacation Water Sports for the day, and had what was probably my favorite day of the trip.
First off, the weather was 77 and sunny as could be – which set the stage for a perfect lake day.
Our rental included a tube you could pull behind the boat, which was a new experience for the kids.
I had to show them how it was done…
After some morning tubing, we pulled up and dropped anchor at the strikingly turquoise waters of the sandbar.
We had a lunch that we'd packed, and then hopped in the water for a little sandbar tackle football.
We spent an hour or two at the sandbar, but I could definitely see how people pull up and spend a full day there hanging out.
After the sandbar, we spent a few more hours tubing and the kids did a little fishing without a whole lot of luck.
Overall, it was about as idyllic of a lake day as one could imagine.
If you're planning to spend time between the index and middle finger of Michigan, add Torch Lake to your "must do" list.
We were pretty exhausted as our lake day came to an end.
We capped it off by heading to Short's Brewing in downtown Bellaire for some pizzas – which were excellent in their own right.
Mackinac Island
On our last full day, we drove about an hour and 20 minutes to the city of Mackinaw to get a ferry over to Mackinac.
Both are pronounced "Mack-in-aw" but they are spelled differently.
I used to see quirky things like that and google "why are Mackinac Island and Mackinaw City spelled differently?"
Now I just say "Well, that's stupid" and move on with my day.
Despite the spelling fiasco, Mackinac Island is a real step back in time. If you're not familiar, there are no cars on the island so you generally see people on horse carriages, bikes, or just walking around.
Walking down the main street feels like it probably inspired Walt Disney's own Main Street USA at Disneyland.
We started off with a ferry ride on Shepler's Ferry, which takes you right underneath the picturesque Mackinac/w bridge that connects the lower peninsula to the upper peninsula.
Once we arrived at the island, we went to the Bike Barn and rented bikes for a couple of hours so we could ride around the 8 mile outer loop of the island.
Once again, we lucked out on the weather, as it was perfect for bike riding. It was a little breezy and right around 70 degrees as we were cruising the island.
My favorite part of the bike tour was at the very beginning, when Sarah told me to "lead the way" and for some reason that triggered the spirit of my days as a Lee University admissions tour guide.
Everything I knew about Mackinac Island I already shared in my opening paragraph above.
However, I had a good time loudly making up "facts" and stories about significant homes, famous alumni of Mackinaw School, and other little-known tidbits about the island as we rode around.
It's the simple things in life that bring me joy.
Like when I told our group that the house on my right was painted in a color unique to the island known as "Mackinac Blue," a random lady on the sidewalk stopped what she was doing, pulled out her phone, and took a picture of this completely insignificant house I was talking about.
Other stops along the route included a picnic lunch overlooking the lake at the British Landing area and stopping by Arch Rock for some photos.
After we did the loop, we returned our bikes and continued our day on foot.
We went to the historic Grand Hotel and walked around the grounds a bit, and had ice cream at Sadie's which is on the corner of the property.
Another fun part of visiting the Grand Hotel was that the kids made up some goofy "Grand Hotel" song/chant thing they'd do anytime somebody would say "The Grand Hotel."
It was kind of like Pee Wee Herman's secret word of the day.
It was fun the first few times they did it, but then by the end of the day you feel like…
Oh well, Gigi never seemed to tire of it. She kept fitting the Grand Hotel back into our conversation as often as possible for the remainder of the trip.
After that, we explored more and walked around Fort Mackinac which dates back to the 1700's and swung by the oldest grocery store in the country, which is one of the few businesses that stays open year-round on the island.
Then, the ladies went one way and the guys went another for some time apart.
I'd spotted a real grass, beachfront mini-golf course that I was dying to play and I think Sarah wanted to get a third M22 sweatshirt before we headed back to Ohio.
The mini-golf course was awesome.
It's part of the Mission Point Resort and you simply can't beat the views.
After the golf, we rendezvoused with the ladies in town and decided to take a Mackinac Uber to dinner instead of walking uphill again.
We enjoyed a sunny patio dinner at The Gate House which featured Tin Can Nachos and excellent burgers.
After that, we took the ferry back and headed for the cabin. Of course, we ended the trip with another round of smores by the fire.
Wrap Up
If Michigan could amputate its thumb and get rid of Ann Arbor, I'd be a fan of the whole state.
As it stands, I'm declaring myself a fan of the fingertips of Michigan.
The July weather for us was mostly like what we'd consider a warm Fall day in Cincinnati – which is pretty much perfect in my book.
Mackinac is touristy, of course, but it's still a historic and beautiful place that I'd visit again. Torch Lake in particular is spectacularly beautiful, and a place you could plan an entire trip around if you like spending most of your time on the water.
So it's now official, both Tim Allen and Jake Cain encourage you to experience some Pure Michigan for yourself.