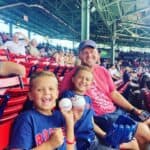 Jake Cain is an entrepreneur and writer from Cincinnati, Ohio. He spends his free time driving around the country in his late 90's conversion van, affectionately known as the "Monster Van" with his wife and 3 boys.
Chicago is home to famous landmarks like Willis Tower, parks like the Millennium Park, and breweries. You'll discover that there are so many places to explore within a short drive despite what Chicago has to offer. In this guide, we explore a few of the day trips you can take.
Some of the best day trips from Chicago include:
Milwaukee
Milwaukee lies on the shores of Lake Michigan and is 90 miles north of Chicago.
You'll want to visit the lovely lakefront that offers a unique dining experience and walking trails. There are also parks and various attractions to check out.
Milwaukee is also home to the Harley Davidson Museum that showcases how various motorcycles came into being. The Museum has over 450 artifacts and bikes that include the oldest Harley-Serial Number One.
As part of history, Milwaukee's City Hall stands tall, having been built in 1895, and designed in German and Flemish styles.
The Pabst Theater is an architectural gem that boasts a charming interior, unique furnishings, and impressive decor. There are guided tours of the theater that you can join.
If you're looking for family-friendly activities, the Milwaukee County Zoo has an array of activities, including a display of wild animals, an animal petting area, penguin viewing area, camel rides, a mini-steam train, and camel rides.
Milwaukee is home to various celebrations and events like the world's biggest music fest-Summerfest. You'll also discover 25 theatres, over 70 golf courses, and 150 parks while on a day trip.
North Utica
Located along The Illinois-Michigan Canal, North Utica is a town that appeals to nature, antique, and wine lovers.
One of the must-visit places is the Matthiessen State Park that features unusual rock formations. You can also have a picnic at the Park or go hiking at the over 5 miles of trails.
Children will love being at the Enchanted Forest that has mini-golf, a laser tag game, video games, inflatable slides, and more. What's more, you can have pizza at the Pizza Store.
If you love bowling, Lassale Family Bowl has open and league bowling with automatic bumpers and scoring. At the bowling center, you can check out the sports bar, the pro shop, and other games available.
Dine at the Canal Port Bar, Cajun Connection, or the Grand Bear Resort. Nearby state parks offer outdoor recreational activities.
Kettle Moraine State Forest
Kettle Moraine State Forest was formed when two glaciers clashed and left behind. A 22,000-acre space with hardwoods, prairies, pines, and springs.
You can start by exploring the forest through guided tours, sunset cruises, and taking mountain bike lessons. Run or hike the Ice Trail that runs from Lapham Peak State Park and extends to Whitewater Lake State Park.
You can also go on a backpacking trip and use the different access points.
Check out the extensive collection of beer, fantastic deli, unique gifts, and more at the LaGrange General Store. The store also has bike and ski rentals at a reasonable price.
If you're looking for more thrill and challenging experience, you can hike at the Stone Elephant and go up the Bald Bluff, which is one of the highest points.
Golf enthusiasts will love spending time at the Eagle Springs Golf Resort as you enjoy a cold one. You can also go camping at Ottawa Lake, Whitewater Lake, or the Pine Woods.
Visit the DNR Nature Center that has an indoor Nature Center and plenty of educational nature walks. Horseback riding is an activity you can explore at the several stables around.
Spend your day at Old World Wisconsin, which is an open-air museum that's a representation of the traditions of different communities in the state.
The 115-mile drive from Chicago is delightful and passes geological landmarks, Wisconsin communities, and over 20 natural areas.
Apple River Canyon State Park
The Apple River Canyon State Park is in a 297-acre land that has bubbling streams, deep ravines, limestone bulges, and plenty of wildlife.
There's plenty of flora and fauna as you explore this landscape. You'll also come across a variety of wildlife.
Apart from wildlife watching, you can explore other outdoor activities like swimming, fishing, or hiking the numerous trails. Find picnic areas with grills, tables, drinking water, and restrooms.
Lake Geneva
Lake Geneva is an hour and a half drive from Chicago, and it's one of the famous tourist attraction sites that has shopping, activities, and adventures throughout the year.
Discover the rich history of the lake and the community by visiting the Geneva Lake Museum. You can also choose from a variety of exciting sightseeing tours that give you an unclose view of the mansions that line the shores and get some ice cream on the tour.
The Big Foot Beach State Park has a beach and hiking trails you can explore. If you brought your family along, you could stop by the Adventure City that has activities like disc golf, volleyball, mountain bike riding, rock climbing, and more.
The Geneva Java has fresh-baked cookies, scones, and other delights with their uniquely blended coffee. They also have some sandwiches, home-made soups, and salads that you can try out.
Going on a scooter tour is another fantastic way to explore spots like the Williams bay, Fontana Beach, and Edgewater Park. There are company guided scooter tours by Lake Geneva Scooter Tours, or you can opt to go alone.
Naperville
A 30-minute drive from Chicago, Naperville is a place you'll want to check out whether you need to go shopping, visit historical sites, or enjoy the natural beauty.
One of the best family-friendly activities is to visit the Naper Settlement, which is an outdoor history museum. You get to see the various exhibits and villagers in costumes.
The Morton Arboretum has activities like cycling trails, driving trails, hiking, and an interactive children's garden.
Catch a game at Benedetti-Wehrli Stadium that has a seating capacity of over 5,000 people.
Of course, no trip to Naperville is complete without camping the city's food. You can take a culinary tour and get to visit the local and family-owned restaurants.
The journey takes you to a Chicago-style Pizzeria, a chocolate/pastry shop, an Irish Pub, a specialty tea shop, among other places.
Children will have fun at the Ball Factory Indoor Play and Cafe. The site has activities that develop your little one's social, mental, and imagination skills.
Head over to the cafe and enjoy some bites after a day of play.
Explore plenty of wildlife and nature at the Knoch Knolls Nature Center as you sample the different events that happen throughout the year.
Starved Rock State Park
Starved Rock State Park is a fantastic place to experience Illinois on a different level.
Ideal for any time of the year, the park provides visitors with an opportunity to go wildlife watching at the Waterway Visitor's Center. While here, you can get a glimpse of a wild turret, local eagles, deer, among other animals.
If you're looking for adventure and thrill, consider ice climbing in one of the four canyons at the Park. That will also allow you to enjoy the views of the beautifully crafted waterfalls.
Go hiking at the trails that stretch to over 12 miles or opt for a weekday getaway and get to experience the lively Starved Rock Lodge. The park has weekday offers on their foods and drinks.
Geocaching is another popular recreational activity at the park. You can bring your partner along and get to learn more about landscapes.
Explore art in the park that features a collection of sculptures. You can opt for a self-guided tour and get a map or join the walking tour that takes an hour.
During winter, the park has musical performances, guided hikes, wine tasting, trolley tours, and more. Setting up camp at Southward grounds is an excellent choice.
Horseback riding, boating, and fishing are some other options you can check out when you need to take a break from hiking.
Brookfield Zoo
Brookfield Zoo opened its doors in 1934. The Zoo is a 40-minute ride from Chicago and hosts several events and activities throughout the year.
Young children will enjoy visiting the Art of Dr. Seuss Gallery, which has sculptures with illustrated art.
Shedd Aquarium exhibits fish and other aquatic life. Children love the Caribbean reef that contains a sea turtle, a variety of tropical fish, sharks, and eels.
Adults can explore the array of wildlife at the Habitat Africa and Australia House. Gaze at the fish, sharks, and corals at Living Coast.
Old State Capitol State Historic Site
Old State Capitol State Historic Site is a three-hour drive from Chicago.
A historical landmark dedicated to Abraham Lincoln, the site allows visitors to watch a fifteen-minute video that describes the history of the Old Capitol before taking on a self-paced tour.
You can also participate in events like the Annual Civil War Encampment, the Abraham Lincoln Symposium, or the holocaust Remembrance Day.
Village Oak Park
A 15-minute drive from Chicago, the Village of Oak Park is home to famous architecture, cultural history, and plenty of things to check out.
If you love organic produce, you need to stop at the farmers market that runs on Saturday.
Having a picnic is a fun way to spend your weekend, and the Austin Gardens have the perfect spot for you. Spread out on a 3.6-acre park; the gardens boast of natural green space with restroom facilities.
If you'd rather have a lazy day, the Lake Theatre has movies that run on different screens, digital projections, and comfortable seating.
Sample some of Chicago's best beers at the Chicago Beer Classic that features over 70 breweries, concession stands, and games.
Architectural Bike Tours are held during summer. These tours explore the historic neighborhoods on weekends.
White River State Park
The White River State Park is worth exploring, given the different activities, you can participate in as a family, with friends, or alone.
Take a pedal boat and enjoy the picturesque skyline views as you cruise through the Central Canal. You can also take a ride with Gondoliers with a special person.
Music enthusiasts will love the amphitheater at the park that hosts people like Arctic Monkeys and Michael Franti, to name a few. Nothing beats a relaxed day with panoramic views of downtown.
The Victory Field offers you the opportunity to watch a ball game and connect with your favorite team.
If you love history, the State Museum showcases culture, art, and science to celebrate the state's history.
At the White River Gardens Zoo, get to experience the botanical garden and aquarium with unique exhibits and educational programs.
Anderson Japanese Gardens
The Anderson Japanese Gardens are an hour and a half drive from Chicago.
Established in 1978, the Gardens has a space that boasts of natural beauty and tranquility. Designed by master craftsman, Hoichi Kurisu, these gardens use water, plants, and stone to create a thought-provoking space.
You can opt for guided tours to understand the history of the gardens or sit in the beauty provided by the different elements.
Six Flags Great America
Six Flags is a famous amusement park in Chicago.
Featuring over 20 family-friendly rides, 14 Roller coasters, and more than 15 thrill rides, the park is a perfect place to take your kids on their summer break.
Another impressive thing about this park is the variety of restaurants that you can indulge in after a tedious day.
A 20-acre water park, Hurricane Harbor also has water slides, surf simulators, children's water playgrounds, river floats, and a pool.
While Chicago has a lot to offer to both locals and visitors, stepping out of town allows you to see what's nearby. Pick from our list of the best day trips from Chicago above and get to experience what the nearby destinations have to offer.
These trips will leave you feeling refreshed and knowledgeable about what other places have to offer.
20 Thrilling Florida Vacation Spots
Ready to plan your next vacation in sunny Florida? Here are the highlights of the 20 best vacation spots in the state! From the vibrant nightlife of Miami to the laid-back charm of Clearwater, there's something for everyone. Whether you're looking for family-friendly activities, high-end experiences, or unique adventures, this article has got you covered. So, pack your bags and get ready to soak up the sun and fun in the Sunshine State!
15 Virginia Vacation Spots Perfect For Exploring History
Explore the best vacation spots in Virginia with this must-read article! From the historical charm of Williamsburg to the breathtaking beauty of Shenandoah National Park, there's something for everyone. Don't miss out on the top attractions, outdoor adventures, and unique experiences that Virginia has to offer.
Top 15 Ohio Vacation Spots: Vibrant Cities & Aesthetic Parks
Ready to discover the best vacation spots in Ohio? Look no further than this article, which highlights the top destinations in the state, from the vibrant cities of Cleveland, Cincinnati, and Columbus to the scenic Hocking Hills State Park. Explore the great outdoors, enjoy cultural activities, and indulge in local cuisine and attractions. So, pack your bags and get ready to experience the diverse and exciting vacation spots that Ohio has to offer!
Picturesque Lake And Mountain Top Views: 16 Michigan Vacation Spots
Discover the best Michigan vacation spots with this ultimate guide! From the charming university town of Ann Arbor to the breathtaking Pictured Rocks National Lakeshore, there's something for everyone. Whether you're looking for outdoor adventures, cultural experiences, or romantic getaways, Michigan has it all.