The capital city of Ohio, Columbus is also the largest city in the state. There are tons of activities and festivals going on throughout the year making it a great state to live in.
But, everyone needs a break sometimes, which is why we are going to round up some of the best day trips from Columbus, Ohio.
Columbus is the perfect location to get access to the entire state. Visit the historic towns of Newark and Dayton, or find your own adventure in State Parks that can be found all over the state.
Let us explore the best day trips from Columbus, Ohio.
The Wilds, Cumberland
This safari park and animal conservation center is an exciting place to visit with your family. Animals roam free here and the visitors are taken around on big safari trucks to see rare and endangered wildlife in natural settings.
Not to be confused with a usual zoo, The Wilds is an unusual and amazing place to visit. It is home to hundreds of animals like giraffes, buffaloes, rhinos and many other endangered species from all over the world.
The center helps educate the visitors about these animals.
Distance: 22 minutes
Ideal For: Family day out
Hocking Hills, Ohio
This is a great destination for people who are looking for romantic getaways and for outdoor lovers as well. Hocking Hills is located southeast of Columbus.
This place is great to explore various cliffs, hills and also to take hikes. The Ash Cave is a popular site within Hocking Hills which you must visit. It forms a huge open recess in the rock that can be walked in and around.
Cedar Falls is also a great find in this park which you should not miss.
Distance: 1 hour
Ideal For: Outdoor lovers
Cleveland, Ohio
This big city has a lot of places to visit and sits on the banks of Lake Erie. Explore the sandy beaches or take a stroll around the city.
It is famous for being the home of the Rock and Roll Hall of Fame which is a museum showcasing the best of rock from across the world.
Have a meal and choose from a variety of restaurants in Ohio.
Distance: 1 hour 57 minutes
Ideal For: Family day out
Amish Country, Ohio
A great destination for a peaceful holiday experience, Amish Country is made up of several towns and cities. Here you can learn more about Amish people and culture.
You can also sample various dynamic Amish dishes offered in various eateries around the region.
Amish people live according to their beliefs in the Bible and they live according to the olden times still. Explore the traditional houses and horse-drawn carriages on the roads.
Needless to say, a vacation in the Amish Country will not be forgotten.
Distance: 1 hour 57 minutes
Ideal For: Exploring the history of the Amish
Dayton, Ohio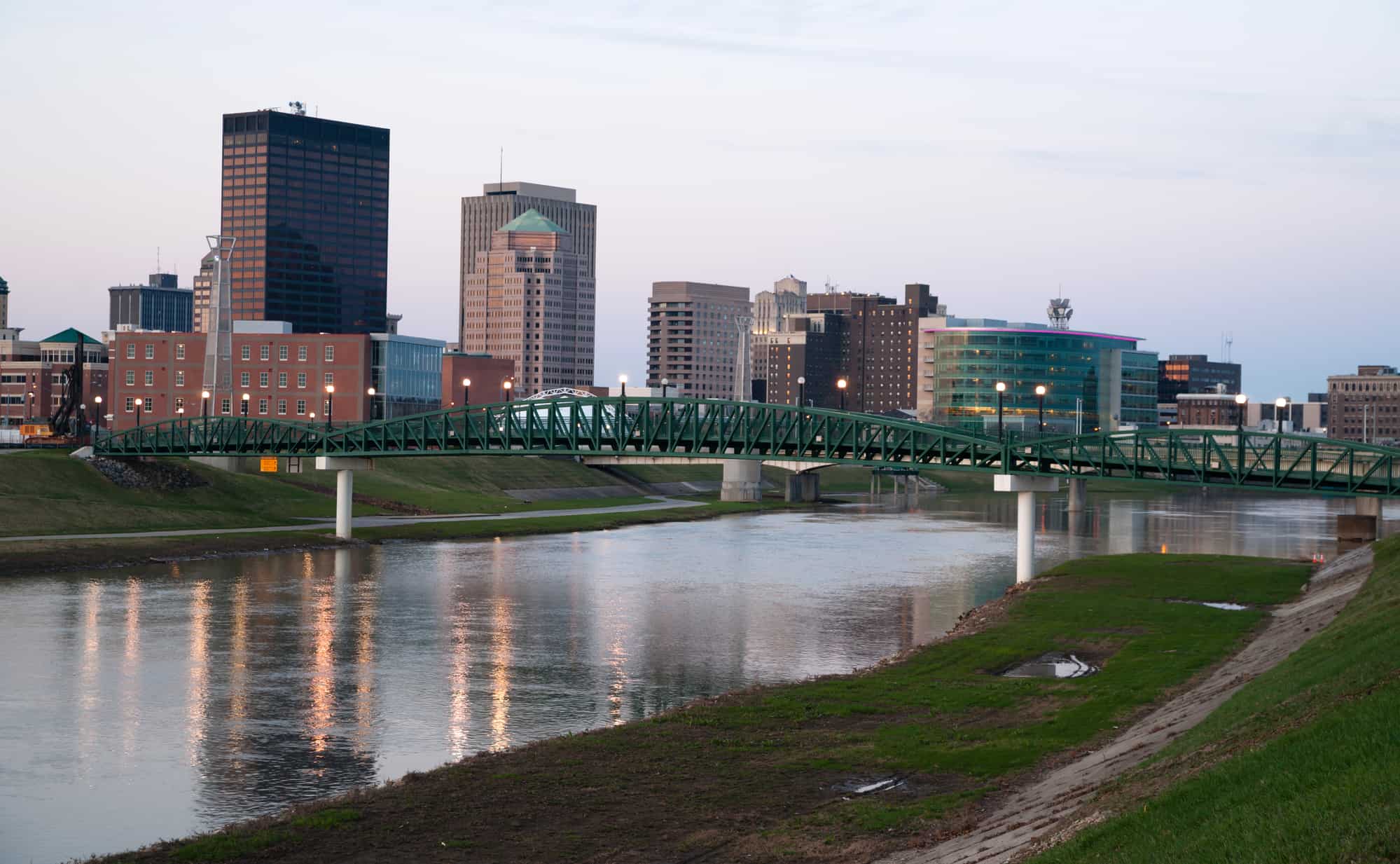 Popular for its contribution to the aviation industry, Dayton is where the Wright Brothers came from, and where they built their first aircraft.
Dayton is just a day trip away from Columbus and makes for an excellent day trip destination. Take your kids to the Boonshoft Museum. Aside from that, you can also enjoy the charming streets in this city.
Dayton is also home to the National Museum of the U.S. Air Force. They hold a vast collection of aircraft from the early 1900s. Art lovers can also visit the Benjamin & Marian Schuster Performing Arts Center.
Distance: 1 hour 9 minutes
Ideal For: Family fun
Cuyahoga National Park, Ohio
Cuyahoga National Park is a great region filled with waterfalls, rivers, and canals. Plus this is the only National Park located in Ohio so take full advantage of this fact.
First established in 1974, it was designated a national park in 2000. This park has miles and miles of trails with a landscape that changes from marshy wetlands to mossy limestone ledges.
If you love nature then this is the place to be. Enjoy bird watching, swimming and biking here.
Distance: 1 hour 57 minutes
Ideal For: Outdoor enthusiasts
Cincinnati, Ohio
The third-largest city of Ohio, Cincinnati is packed with a lot of things to do. It is also the home of the Cincinnati Reds, the oldest baseball team in America.
Take the family to Newport Aquarium where you can learn more about its marine life. The city has reinvented itself from just being a city to now being a tourist destination.
Dine-in some of the best restaurants available in the city to make your day trip more memorable. Do visit the Columbus Museum of Art for a fun time with your friends and family.
Distance: 1 hour 40 minutes
Ideal For: Family fun
Toledo, Ohio
Also known as the "Glass City", Toledo has a long history of the glass industry here. It makes for a perfect day trip from Columbus Ohio.
Toledo is a great place for visitors who love the outdoors. You can go hiking, snorkeling, and many other activities.
Take your kids to the Toledo Zoo for a great time. It is more than a century old and the zoo has more than 9,000 animals, from elephants and otters to camels and gorillas.
Toledo Museum of Art is another great place to visit for art enthusiasts. It is recognized globally for its art collections.
Distance: 2 hours 19 minutes
Ideal For: Family fun
Marietta, Ohio
This historical city is known for its trade and agriculture with the East. It is also known for its shipbuilding industry.
Packed with caves, waterfalls, and parks, there are lots to do in the city of Marietta which makes it a great day trip from Columbus, Ohio.
A beautiful city in itself, you can just walk around the city and soak in the beautiful sights of Marietta.
Have a meal at one of the many eateries in the streets.
Distance: 1 hour 55 minutes
Ideal For: Relaxing day out
Salt Fork State Park, Ohio
One of the largest state parks in Ohio, Salt Fork State Park. A beautiful place to hike and spend time with nature, Salt Fork State Park makes for a great day trip from Columbus, Ohio.
It is also known for the legend of Big Foot! Reported sightings have been made all across Salt Fork since the first European settlers arrived in the 1700s.
Many documentaries have been filmed here and you can try to check this place out for yourself.
Distance: 1 hour 23 minutes
Ideal For: Outdoorsy fun
Newark, Ohio
Ever seen those amazing photos of a building shaped like a huge basket? It is right here in Newark, Ohio!
Just 40 miles away from Columbus, Newark makes for an excellent retreat from the city. You can, of course, go for a photo op near the basket building. It is actually a company headquarters.
Also, visit the Works Museum which is the museum dedicated to Newark's industrial and technical history. Here you can learn more about the history of this city.
They also host the Newark Strawberry Festival which can be a great time to plan a trip to Newark.
Distance: 40 minutes
Ideal For: Relaxed day out
Miamisburg Mound, Ohio
A spectacular man-made feature, Miamisburg Mound makes for a great day trip from Columbus, Ohio.
These mounds are not only found around Newark but exist around the state of Ohio. You can climb on top of the mound and take pictures. The mound is conical and has an interesting shape. It is 65-feet tall and makes for a great place to relax and chill.
They even have picnic tables where you can relax and have a good time with your family. There is a playground for the little ones as well.
Distance: 1 hour and 25 minutes
Ideal For: Family Fun
John Glenn Astronomy Park, Ohio
A great night trip, the John Glenn Astronomy Park makes for a great getaway from Columbus, Ohio.
On a clear night, visitors can have a great experience at the John Glenn Astronomy Park. There are weekly programs that are held for visitors to experience the night sky.
The park also lets visitors plan their own evening. Plus, John Glenn Astronomy Park is open at all times, so it is perfect for you night owls out there.
Plus, there is no admission fee! Learn more on their website.
Distance: 1 hour and 10 minutes
Ideal For: Astronomy enthusiasts
Holden Arboretum, Ohio
This beautiful garden deserves a visit all year round. Holden Arboretum gives a whole new perspective of trees. The Judith and Maynard H. Murch IV Canopy Walk takes you 65 feet into the air, which is an exciting experience in itself.
There are also different displays of gardens such as a hedge garden, a butterfly garden, a rhododendron garden, and conifer and magnolia collections.
You can also climb up to the Kalberer Emergent Tower which takes you 120 feet above the ground! Enjoy the view from up there and you will also be able to spot Lake Erie.
Distance: 2 hours and 30 minutes
Ideal For: Nature enthusiasts
Conclusion
As we saw, Columbus has a host of places nearby which make for great day trips for traveling with friends or family. From the fun city of Cleveland to the romantic Hocking Hills – Ohio has something for everyone. So, go, plan a trip now!