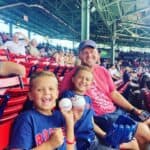 Jake Cain is an entrepreneur and writer from Cincinnati, Ohio. He spends his free time driving around the country in his late 90's conversion van, affectionately known as the "Monster Van" with his wife and 3 boys.
Ohio is blessed with a geographically diverse landscape. Lake Erie lies in the North, while Ohio River is in the South, plus there is a forest land in between – Ohio has many vacation spots to explore.
Plus, the vibrant cities of Cleveland, Cincinnati and Columbus also lie in the state which offers so much to explore.
Let us check out some of the best Ohio vacation spots in the next few paragraphs.
Cincinnati, Ohio
Synonymous with baseball, Cincinnati has something for everyone, which makes this city a great vacation spot.
If you are a baseball fan, then you can pay a visit to the Great American Ballpark for a game by Cincinnati Reds.
History buffs can have a great time in the city by visiting many museums like Cincinnati Museum Center at Union Terminal and the National Underground Railroad Freedom Center.
Art lovers can enjoy the Cincinnati Art Museum and the marvellous Taft Museum of Art, which showcases many illustrious artists including Rembrandt and Goya.
Do spend an evening strolling along the downtown riverfront and enjoy the sunset. You can also head to the Smale Riverfront Park after that which is a popular spot for families.
Lastly, don't head home without trying the famed Holtman's Donuts, they make creative doughnuts every morning from scratch.
Cleveland, Ohio
Cleveland makes for a great vacation spot in Ohio. There are plenty of things to do here and it is an exciting city to explore.
You can start by visiting some amazing museums like the Cleveland Museum of Natural History and the Cleveland Museum of Art. The Rock and Roll Of Fame and Museum is also a must-see.
For something exciting, check out a game at Progressive Field where you can see Cleveland Browns Football Game or a Cleveland Indians baseball game.
Lovers of art will enjoy a cultural evening of opera or ballet or to Severance Hall to attend the Cleveland Symphony Orchestra.
There are many Metroparks system that lets you enjoy the outdoors, with hiking, biking, bird watching, rowing.
Columbus, Ohio
The capital city of Ohio can fill your weekend with lots of surprises and activities. You will never have a dull moment here in Columbus.
Explore the downtown area which is full of activities in the summer. Enjoy music festivals, culture and art festivals as well.
For a cultural visit, you can spend time at the Columbus Museum of Art or make your way to the Ohio Theatre for a symphony concert.
Nationwide Arena is also a great place to relax where they host popular concert tours and it is also the home to Columbus' NHL Team, the Columbus Blue Jackets.
For a unique experience, you can walk the brick streets of German Village and grab a coffee or authentic cream puff for a taste of the area's German heritage.
For a quieter visit, stop by the Franklin Park Conservatory and Botanical Gardens.
Hocking Hills, Ohio
The Hocking Hills State Park is a great place to visit for nature lovers. Considered one of the most popular vacation spots in Ohio, Hocking Hills deserves at least one visit.
Hiking, canoeing, zip-lining are great ways to explore this beautiful spot. Bring along a tent or RV or rent a cabin in the woods for a great experience.
Hikers can choose from the six hiking areas in the park – Ash Cave, Old Man's Cave, and Cedar Falls are three of the most popular.
Best time to visit Hocking Hills during the fall, when the trees are changing colors and the area looks heavenly.
Toledo, Ohio
Known as the "water recreation capital of the Northwest," Toledo is known to offer some great water-based activities and fun.
Located on the shores of Lake Erie, visitors can charter a sailing or fishing boat to explore all the coves and inlets of Lake Erie. You can also indulge in some fishing.
Art lovers can explore the Toledo Museum of Art which is home to a famous glass art collection. Families can head to the Toledo Zoo for a fun time or the interactive Imagination Station to encourage science and math skills.
Put-in-bay, Ohio
This lovely resort town of Put-in-Bay on South Bass Island makes for a great vacation spot in Ohio.
Located on the banks of Lake Erie, it offers many things to do like swimming, boating or dining in the open-air restaurants.
A leisurely holiday can be enjoyed here at Put-in-Bay. A great place to visit is Perry's Victory and International Memorial.
Trek up to the observation deck on the 352-foot-tall monument for some of the best views of the island.
The best way to reach Put-in-bay is by the Miller Ferry or Jet Express Ferry that runs on regular schedules to take you to the island from Port Clinton.
Amish Country, Ohio
Getaway from the hustle and bustle of the cities to go back in time in this lovely area of Amish Country.
It is almost as if time has stood still here for ages. The cobbled roads and horse carriages will remind you of a simpler time.
You can visit the towns of Charm, Walnut Creek, Millersburg, and Berlin at one go as they are all located next to each other. Going here with no agenda is the best plan.
Just meander through the winding back roads and have hearty meals at one of the quaint bed and breakfasts where meals are made from locally sourced ingredients.
There are several cheese factories located in the region. Make sure to stop by Guggisberg Cheese and Heini's Cheese Chalet in Millersburg.
A great place to shop for cheese and other locally sourced goods is Walnut Creek Cheese in Walnut Creek. This is a large grocery store with incredible prices on cheese blocks and baking supplies.
Dayton, Ohio
Also known as the birthplace of aviation, Dayton offers a plethora of attractions for all ages. The highlights of your visit should be The National Museum of the US Air Force.
This is the world's largest and oldest military aviation museum and it is also one of the most popular tourist spots in Ohio. More than a million people visit each year.
Another must-visit attraction is the Aviation Hall of Fame and the Aviation National History Park where you can pay tribute to the legendary Wright brothers.
For a change of pace, you can also visit the many golf courses that the city has to offer. There are 11 different courses, but the two closest to you may be the Madden Golf Course and the Kittyhawk Golf Center.
Artists can also have a great time at the Dayton Art Institute or the Schuster Performing Arts Cente.
The Wilds, Ohio
This private park and conservation center in Ohio is almost like going to an African safari in the city.
The Wilds is a 9000-acre habitat in Cumberland which is home to hundreds of animals like the buffalo, giraffes, rhinos, and many endangered species.
There are many options for enjoying a safari like the open-jeep safari or private tours as well. You can even see the animals by zip-lining which is an exciting way to see the animals.
Yellow Springs, Ohio
This charming village in Greene City, Ohio is a great place for some outdoor activities. Yellow Springs has a very vibrant atmosphere.
Start by exploring unusual shops, galleries, and restaurants. Originally settled as a utopia, Yellow Springs is also known as a hippie town now.
This quaint college town is a great place for nature lovers where you can spend some time exploring the Glen Helen Nature Reserve. Here you can enjoy hiking, climbing, fishing or biking.
Plus, there are some great farms in the countryside where you can enjoy great local produce and visit the farmers market.
Maumee Bay State Park, Ohio
Maumee Bay in northwest Ohio makes for a great vacation spot. Located on the shores of Lake Erie, visitors can enjoy hiking, birding, and biking.
Located just outside Toledo, Maumee Bay State Park offers lots of things to do. There are dozens of hiking trails, throughout the 1300-acres.
The landscape is also really varied as it ranges from marshlands to forestland which in turn boasts of bountiful wildlife.
Maumee Bay also sits on the Lake Erie Birding Trail, so take your binoculars to spot eagles and songbirds.
A great time to visit Maumee Bay is during the Biggest Week in American Birding each spring when hundreds of birds come for migration here.
Rock House, Ohio
This cave is situated halfway up a 150-foot cliff in the Hocking Hills State Park. Rock House is a tunnel-like corridor situated midway up a 150-foot cliff of Blackhand sandstone.
The cave was carved out of the Black Hand sandstone by millions of years of erosion by wind and water.
This nature's wonder is a sight to behold as it also has seven "Gothic arched windows" and enormous columns supporting the stone roof.
The cave can be reached by hiking the half-mile Rock House Trail which is actually over 200 stairs.
Cuyahoga Valley National Park, Ohio
This northern town of Peninsula within the Cuyahoga Valley National Park makes for a great vacation spot in Ohio.
This quaint, but beautiful town has shops featuring the work of local artisans plus charming B&B's for a romantic or quiet getaway.
There are many hiking and biking trails in the National Park which you can take advantage of. There is even a B&B Bike Trail which connects all the B&B's in the area.
Cuyahoga Valley Scenic Railroad is also a must-do where you can view the National Park by train.
Geneva-on-the-lake, Ohio
Visit Geneva-on-the-lake if you want to experience what vacations used to be made of. Arcades, Diners, Ferris wheels – this destination has it all.
This resort community started in the 1900s and a lot of it still remains the same. Check out the classic doughnut shops, miniature golf, antique shops, and ice-cream parlors.
Have a meal at the popular Eddie's Grill, where coney dogs and root beer have been staples on the strip since 1950.
Hell Town, Ohio
You will not find this town anywhere on the map. The name of this town is given because of a local legend.
The area is located in and around Boston Village in Summit County, Ohio. The area is actually known as the Boston Mills and was home to several paper mills once.
In the 1960s the government decided to protect the dwindling forests by establishing the Cuyahoga Valley National Park, which forced many people to move away resulting in a "ghost town".
After which, all sorts of legends sprung up around Satanic worship, ghosts and haunted cemeteries and what not.
Decide yourself by visiting this Hell town.
Ohio is home to some of the most bustling cities in the USA, and also some of the most amazing natural preserves and National Parks. Needless to say, there is never a dearth of things to do in Ohio.
20 Thrilling Florida Vacation Spots
Ready to plan your next vacation in sunny Florida? Here are the highlights of the 20 best vacation spots in the state! From the vibrant nightlife of Miami to the laid-back charm of Clearwater, there's something for everyone. Whether you're looking for family-friendly activities, high-end experiences, or unique adventures, this article has got you covered. So, pack your bags and get ready to soak up the sun and fun in the Sunshine State!
15 Virginia Vacation Spots Perfect For Exploring History
Explore the best vacation spots in Virginia with this must-read article! From the historical charm of Williamsburg to the breathtaking beauty of Shenandoah National Park, there's something for everyone. Don't miss out on the top attractions, outdoor adventures, and unique experiences that Virginia has to offer.
Top 15 Ohio Vacation Spots: Vibrant Cities & Aesthetic Parks
Ready to discover the best vacation spots in Ohio? Look no further than this article, which highlights the top destinations in the state, from the vibrant cities of Cleveland, Cincinnati, and Columbus to the scenic Hocking Hills State Park. Explore the great outdoors, enjoy cultural activities, and indulge in local cuisine and attractions. So, pack your bags and get ready to experience the diverse and exciting vacation spots that Ohio has to offer!
Picturesque Lake And Mountain Top Views: 16 Michigan Vacation Spots
Discover the best Michigan vacation spots with this ultimate guide! From the charming university town of Ann Arbor to the breathtaking Pictured Rocks National Lakeshore, there's something for everyone. Whether you're looking for outdoor adventures, cultural experiences, or romantic getaways, Michigan has it all.