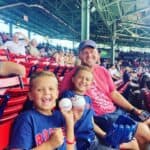 Jake Cain is an entrepreneur and writer from Cincinnati, Ohio. He spends his free time driving around the country in his late 90's conversion van, affectionately known as the "Monster Van" with his wife and 3 boys.
It's no surprise that California is a top destination for vacationers from around the globe. From laid-back beach towns to majestic mountains, vibrant cities, and more, the Golden State has a little something for everyone. Whether you love to hit the trails, relax on the sand, or sip wine in breathtaking vineyards, in California, you can do it all.
But because of its massive size, deciding what to do can be overwhelming. Keep reading for some serious inspiration on the best California vacation spots to maximize your time in the Golden State.
San Francisco
If you've never been to California, there should be no skipping San Francisco. This vibrant and sophisticated city is famous for its rolling hills, cable cars, and gorgeous Victorian houses. Still, the captivating views of the San Francisco Bay and the Pacific Ocean may just be what win your heart over.
Make sure to check out the most emblematic tourist spots in the city, such as Chinatown, Fisherman's Wharf, North Beach, Lombard Street, and Union Square.
But while these areas are fun, don't be afraid to get off the beaten track. Chill out in Golden Gate Park, explore the murals and eat Mexican food in the Mission District, and visit the fun shops in Hayes Valley.
San Francisco's magic is that it has a little something for everyone. Foodies, families, theatre lovers, and outdoor enthusiasts will all be right at home in the City by the Bay.
And no visit to San Francisco is complete without catching a ferry to Alcatraz—just make sure to book ahead, as tickets to the Rock tend to sell out fast.
Pro Tip: Though it may feel counterintuitive, be sure to pack long pants and a sweater if you're visiting in July or August. The summer months in San Francisco are notoriously foggy and chilly, and many a tourist has had to buy a sweatshirt to survive the cold.
Los Angeles
Los Angeles is another must-see city for California first-timers, but this renowned, opulent film city has a much different, more laid-back vibe than San Francisco. It's an excellent destination for anyone—families, couples, and solo travelers alike—and will beguile you with weather that's perfect year-round.
On your trip to LA, check out Rodeo Drive's exclusive boutiques, or cruise through some of the city's most elite neighborhoods, Rodeo Drive and Bel Air. A visit to Sunset Boulevard and Hollywood Boulevard to check out the Walk of Fame is a must for any LA visitor.
If you're looking for a little culture, hit up the Getty Museum or the Walt Disney Concert Hall. TV and film lovers should check out Warner Bros. Studios and Paramount Pictures Studios.
Venice Beach has an energy all its own and is the perfect place for people watching, or head over to Santa Monica Beach's famous Ferris wheel to snap the perfect shot for Instagram.
Be on the lookout for your favorite celebrity when you visit LA, but also be prepared for the city of angel's notorious bumper-to-bumper traffic, even when you least expect it.
Disneyland
For lots of people, a visit to Disneyland and Disney's California Adventure is the main reason for their visit to California. These classic amusement parks are located in Anaheim, about thirty miles outside of LA, and are the perfect place to take the whole family.
Looking for more budget-friendly theme park options? Check out Knott's Berry Farm and Adventure City.
And if Mickey's just not your thing, you can relax with a beer while catching a baseball game at Angel Stadium or satisfy your inner foodie at the Anaheim Packing District food court.
Santa Barbara
Located about an hour and a half north of Los Angeles, Santa Barbara is the perfect place to get away from it all.
Home to stars like Oprah and Rob Lowe, it's no wonder this town has become such a hotspot. With mild temperatures year-round and stunning scenery, there's no better place to take a stroll or ride a beach cruiser than Santa Barbara's palm-tree-lined beaches.
There's also no better way to enjoy a romantic getaway with your partner than by enjoying Santa Barbara's spectacular food and wine scene. And if you're feeling adventurous, the nearby Channel Islands are an incredible way to enjoy the views of this Central Coast gem.
Mammoth Lakes
Though the thought of California conjures images of warm weather and beaches in most people's minds, the Golden State is also a top-rated ski destination. When the temperatures drop, skiers and snowboarders head in droves to the Eastern Sierra to Mammoth Mountain, where you can find the state's highest ski resort.
Though the snow is undoubtedly Mammoth Lakes' crown jewel, this area is also an attractive summer destination. Families and adventure-seekers alike can enjoy activities like hiking, rock climbing, and stand-up paddleboarding.
Santa Cruz
Where to go when you need to escape the hustle and bustle of San Francisco, or when the kids have had enough sightseeing? Santa Cruz has everything you need to get away from it all.
Just an hour and a half south of San Francisco, this fun, easygoing beach town will win you over. It's filled with surfers and college students, fantastic breweries, and excellent wine tasting.
Though it's generally colder than beach towns in SoCal, Santa Cruz has just as much charm. Visit the famous Santa Cruz Beach Boardwalk, Mystery Spot, and the Natural Bridges tide pools.
Then get lost in the redwood forests just outside of Santa Cruz, which you can also explore by taking a steam train ride.
Yosemite National Park
Despite being a bit of a trek from both Los Angeles and San Francisco, Yosemite National Park is well worth a visit. Yosemite is one of the most popular national parks in the United States, and it's got stunning scenery that will leave you breathless.
You can participate in all kinds of activities, from hiking, rock climbing, and fishing to rafting, and bird watching. Must-see areas of this massive national park include Glacier Point, Vernal Falls, and Half Dome.
Book accommodation early if you plan on visiting the park in summer, as things sell out fast.
San Diego
Looking to escape your cold hometown in winter? If taking long walks on endless stretches of beaches in January sounds like your idea of the perfect vacation, San Diego is the place you can live out that fantasy.
Take the kids to favorites like SeaWorld San Diego, the San Diego Zoo, Balboa Park (lots of the city's museums are located here), and the USS Midway Museum. For the over 21 crowds, San Diego has unbeatable microbreweries, and you can pair your favorite beer with delicious Mexican food from any number of local spots.
With ideal weather year-round, this southern California city makes both an excellent family and couples vacation spot.
Lake Tahoe
Lake Tahoe is another must-visit winter destination for ski and snowboard lovers. You'll be captivated by the lake's stunning blue hues and the surrounding alpine landscapes. And even if you've never skied in your life, Tahoe is an ideal place to enjoy activities like hiking, fishing, and mountain biking, or swimming in the summertime.
It's a fantastic destination for couples and families alike who want to enjoy Lake Tahoe's meditative beauty, as well as thrill-seekers looking to hit the slopes.
Sequoia National Park
California's renowned for its sequoias, and Sequoia National Park provides ample opportunities to marvel at these towering trees, which average around 26 stories tall. The Giant Forest features over 8,000 sequoias, and General Sherman Tree, the world's largest tree by volume, will enchant nature lovers.
Big Bear
Though Big Bear is a wildly popular winter destination, the fun continues past ski season. At just an hour and a half outside of Los Angeles, Big Bear provides the perfect setting for your adventure getaways year-round.
If you love skiing or snowboarding, you'd be hard-pressed to find a better ski resort in Southern California. And if you love summer activities like zip-lining, mini-golf, and waterskiing, Big Bear is the perfect place to do it.
Big Sur
You may never want to leave Big Sur, which is just a stone's throw from San Francisco. Big Sur's beauty is enthralling, with ninety miles of virgin coastline that you could spend weeks exploring.
The endless hiking trails are ideal for meditating on the area's unmatched beauty or sharing a romantic weekend with your partner. If you're looking for more of a challenge, Big Sur even hosts a marathon.
Figuring out where to go can be overwhelming, so we recommend starting with Pfeiffer State Park and be sure not to miss the Bixby Canyon Bridge, an emblematic Big Sur stop.
Central Coast/San Luis Obispo and Paso Robles
The Central Coast may just be California's best-kept secret. San Luis Obispo is the gateway to the Central Coast, which is a fun little college town featuring a historic Spanish mission and excellent weather year-round.
Head south from San Luis Obispo on Highway 101, and you're sure to be impressed when, just ten minutes later, the scenery opens up to an incredible panoramic view of the Pacific Ocean. Enjoy the eclectic beach town of Pismo Beach, which has impressive ocean views and a fun downtown area. Or head to nearby Avila Beach to layout and enjoy the scenery.
Hearst Castle is probably one of the most popular places to visit in this region. You won't regret checking out William Randolph Hearst's impressive mansion-turned-museum, fun for both kids and adults alike.
And don't miss the Madonna Inn, a quirky hotel with 110 unique guest rooms that's the perfect launchpad for all your Central Coast activities.
Napa Valley
Wine lovers rejoice—some of the best wineries in the world are just an hour north of San Francisco. When you've had enough of sightseeing, and your calves are screaming at you after climbing hill after hill, hop in a car and head over to Napa.
The best way to enjoy this breathtaking region? By spending the day visiting all the best wine spots. Once you've had your fill, wind down for the evening at one of the area's luxury hotels.
Napa's the perfect place to get away for the weekend with your friends (you can even make it a day trip from San Francisco), or get some much-needed alone time with your partner.
Marin County
San Francisco gets a lot of attention, and rightly so, but SF's northern neighbor Marin County should be on your list, too. Rent a car and hop across the Golden Gate to experience everything this region has to offer.
Start by checking out local hotspots like Sausalito (which is also accessible by ferry from San Francisco) and Tiburon, both of which offer spectacular views of the San Francisco Bay and San Francisco.
Nature-lovers should be sure to check out Tennessee Valley and Muir Woods, which are Marin County's most celebrated spots. And head out to Point Reyes National Park, a paradise for bird lovers who want to see species like snowy plovers.
Bodega Bay and Stinson Beach are also worth a visit for breathtaking scenery, moody beaches, and Bohemian, laid-back vibes. Whether you love hiking, eating, kayaking, horseback riding, or oysters, Marin County won't let you down.
Joshua Tree National Park
We couldn't leave this desert spot off our list of California vacation spots, which is terrific for adventure seekers looking for a cheap trip. Joshua Tree is a paradise for hikers and rock climbers, as well as those who simply want to marvel at the impressive and unusual rock formations of this national park.
Be sure to check out Smith's Drive-In and the Outdoor Desert Art Museum of Assemblage Sculpture while you're there.
The best thing about California is that the opportunities to discover places off the beaten track and have fantastic adventures are never-ending. Whether you're looking to enjoy time with your family, get lost in the snow-capped sierras, or soak up California's thriving art scene, there's a little something for everyone in the Golden State.
20 Thrilling Florida Vacation Spots
Ready to plan your next vacation in sunny Florida? Here are the highlights of the 20 best vacation spots in the state! From the vibrant nightlife of Miami to the laid-back charm of Clearwater, there's something for everyone. Whether you're looking for family-friendly activities, high-end experiences, or unique adventures, this article has got you covered. So, pack your bags and get ready to soak up the sun and fun in the Sunshine State!
15 Virginia Vacation Spots Perfect For Exploring History
Explore the best vacation spots in Virginia with this must-read article! From the historical charm of Williamsburg to the breathtaking beauty of Shenandoah National Park, there's something for everyone. Don't miss out on the top attractions, outdoor adventures, and unique experiences that Virginia has to offer.
Top 15 Ohio Vacation Spots: Vibrant Cities & Aesthetic Parks
Ready to discover the best vacation spots in Ohio? Look no further than this article, which highlights the top destinations in the state, from the vibrant cities of Cleveland, Cincinnati, and Columbus to the scenic Hocking Hills State Park. Explore the great outdoors, enjoy cultural activities, and indulge in local cuisine and attractions. So, pack your bags and get ready to experience the diverse and exciting vacation spots that Ohio has to offer!
Picturesque Lake And Mountain Top Views: 16 Michigan Vacation Spots
Discover the best Michigan vacation spots with this ultimate guide! From the charming university town of Ann Arbor to the breathtaking Pictured Rocks National Lakeshore, there's something for everyone. Whether you're looking for outdoor adventures, cultural experiences, or romantic getaways, Michigan has it all.