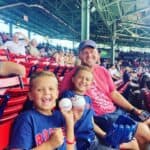 Jake Cain is an entrepreneur and writer from Cincinnati, Ohio. He spends his free time driving around the country in his late 90's conversion van, affectionately known as the "Monster Van" with his wife and 3 boys.
Maine was the state that started this whole homeschooling conversation for us.
Our good friends, Jonny and Chiara Carroll were planning an early September trip to Maine and casually invited us to come along.
I said, "we can't, the kids have school."
She said, "you guys should just homeschool."
Fast forward a few weeks, and here we are. (Read the full homeschooling backstory here.)
We'd never traveled to Maine before, and we ended up renting a house together in Boothbay Harbor.
Lobstering With Clive
We had a hard time finding a house that would fit all of us and looked fairly updated & nice. We looked just about everywhere in Maine, because we didn't have a very firm agenda.
We knew we wanted to go to Acadia for at least one day, but other than that we just wanted to find some harbor town where we could take in some coastal vibes and take it easy.
So when we found a nice place in Boothbay Harbor, and after capturing this sunset on our first night I knew we'd picked the right little harbor town for our Maine trip:
The first thing I did was turn to Trip Advisor to see what kinds of things there were to do there.
The consensus #1 was going on a boat to catch lobsters (AKA "lobstering) with Captain Clive.
It was clear from his website that Captain Clive was much more of a lobstering expert than a tour guide, which is always a good sign.
When I talked to him on the phone a few weeks ago about booking a tour, he had a strikingly strong Maine accent. Coupled with his grizzled voice that sounded exactly like a man who has spent his entire life at sea, I imagined that I was talking to the Gorton's fisherman.
In reality, if he'd have thrown on a yellow coat, a yellow floppy hat, and grabbed one of those old fashioned wooden ship steering wheels, he could have been a dead ringer.
Captain Clive could only take a maximum of 6 people on the boat, so we made this a boys trip. After taking all the obligatory group photos next to stacks of lobster traps…
…we loaded up the bait and set out on the ocean.
We were out on the boat for about an hour and a half and got to lend a hand and learn as Clive and his crew did one of their typical runs to check their traps and then re-bait them and drop them back down.
He's been in the business since he was about 12 years old, so there's nothing about lobsters or the lobstering business that Clive doesn't know.
Trust me, I asked plenty of questions.
We learned quite a bit about all the rules and regulations they have to follow, and were even lucky enough to catch a lobster that was full of eggs:
Clive really was a wealth of lobster information, and the kids learned quite a bit about lobstering and got to help out by putting the rubber bands around their claws.
I also let Clive know that he had another Clive on the boat (Jackson's middle name is Clive) and he said that's the first time he's met another Clive besides his grandpa.
If you ever find yourself in or around Boothbay Harbor, give my buddy Clive a call and tell him Jake sent you.
Lighthouses & Sunsets
I don't know about you, but when I've imagined visiting Maine I've always thought about beautiful sunsets and historic lighthouses.
We had our share of both.
On our way into Maine, we stopped by the famous and oft-photographed Portland Head Lighthouse.
First commissioned by George Washington himself in 1790, it certainly has that iconic Maine lighthouse look going for it and made for a great place to walk around the rocky coast and take some photos.
From our location in Boothbay Harbor, most nights we walked down into town and let the kids play while we watched the sun sink down behind the town and produce some vibrant colors:
Acadia National Park
One day we took the two and a half drive up route 1 to Acadia National Park.
Maine is certainly an easy place to fall in love with.
We drove through several quaint, picturesque coastal towns just like the one we were staying in on our way up to the national park.
Finally, we arrived and were able to cash in on some special promotion the national parks are doing for 4th graders this year, where they get a free year-long pass to all national parks.
Mark that down as $80 saved, which should cover my tolls for the next couple of days.
Acadia seemed to be a popular choice for a place to go socially distance, as the roads and parking lots were packed.
We drove the 27 mile loop road, and our first stop after the visitor center was the famed Thunder Hole. It gets its name from the power and sounds the water makes when it enters a small cave and then explodes back out when the tides are just right.
It was a really pretty spot and we got some of the effect, but perhaps the tide wasn't quite high enough yet to produce the really thunderous results where everyone gets soaked by water.
After that, we went to an Acadia picnic area and had a little lunch. The weather was absolutely perfect and me and Jonny were tag-teaming some of the best peanut butter sandwiches in Maine.
After lunch, we headed over to Jordan Pond and got the kids out for a hike.
Since it was known to be an "easy" loop hike, Jonny thought it was a great idea to put their baby in the stroller for the hike.
Eventually, the trail turned into stretches like you see below that were less than stroller-friendly, so Jonny and the baby gave it up and turned back to the car.
Unfortunately, that meant our most capable hiker was now back at the visitor center eating a Clif Bar while we were navigating this:
In reality, the majority of the hike was very easy and flat and gave us plenty of great rock skipping and photo opps.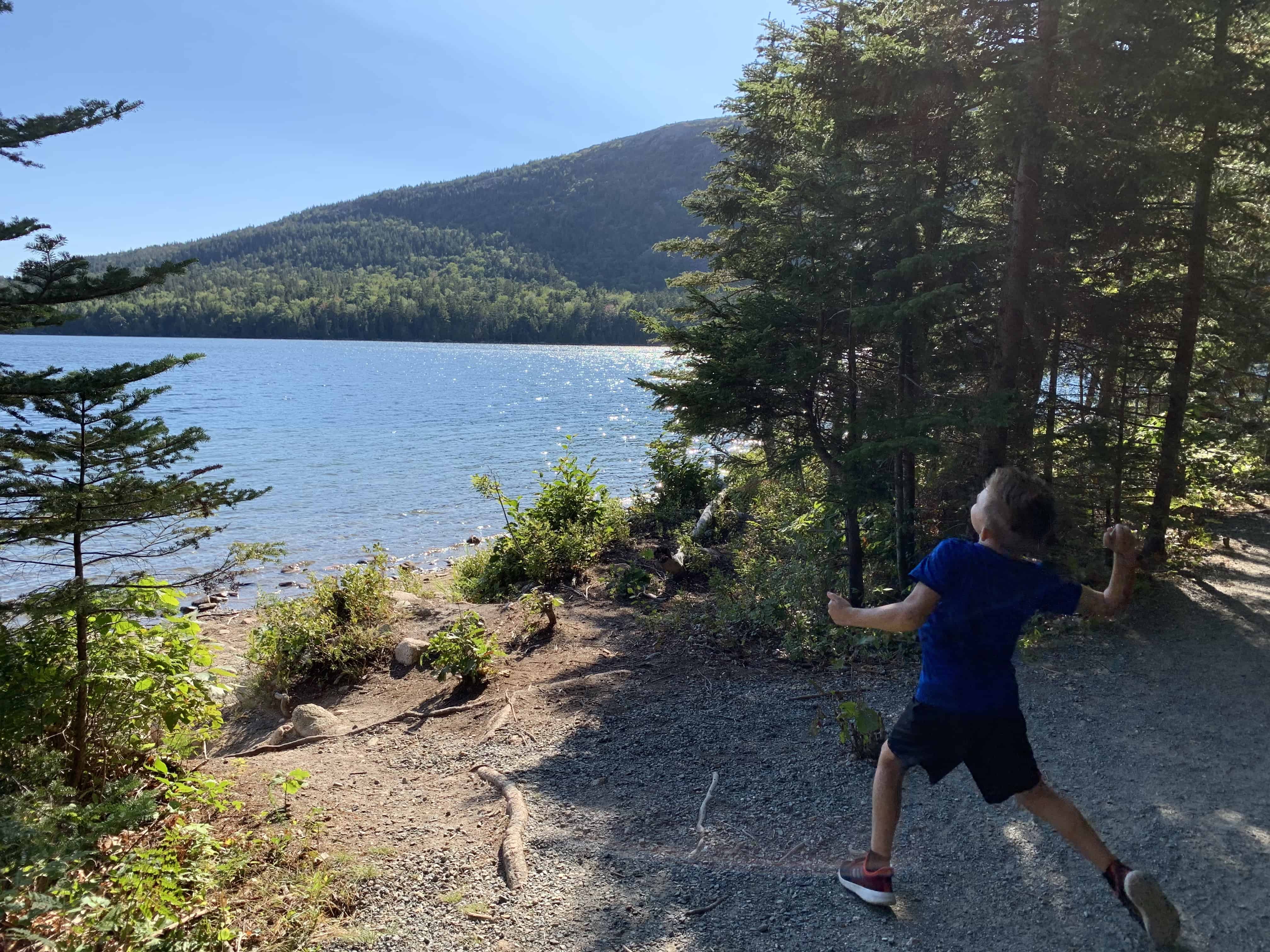 As we rounded out the loop, we went up to Cadillac Mountain in Acadia, which is the highest point and the grandest overlook in the park.
Like everything we saw in Maine, Acadia was a very beautiful place. I'd definitely go back and spend more time there.
If I were handing out superlatives, I'd still give the nod to Yosemite for the most beautiful national park I've been to – but Acadia doesn't disappoint.
Homeschooling in Maine
Since the Carrolls are homeschooling too, it was pretty easy to set aside time every day to dive into the school work.
In fact, the weather was so perfect that our kids took the kitchen and their kids used the deck as their classroom.
Our very artsy friend, Chiara even led a little art class down by the harbor one day.
For gym class, we took a boys' trip up to Boothbay High School and played a little "dads vs. kids" football.
As I've mentioned before, my kids are borderline obsessed with football. As for Jonny's kid Abe, it's a little bit of a different story.
He has more in common with Jack Hannah than he does Patrick Mahomes, which really came in handy at times (more on that in a moment).
Nevertheless, the boys had a great time playing together all week. Most of the time they played ninjas, but our kids have a way of forcing their friends into playing football eventually, whether they want to or not.
When we started playing a game out on the high school field, I noticed that the team had left the tackling dummies outside of the equipment shed, we got in a little extra training. Of course, there was no way I was going to let this opportunity pass without reliving the glory days a little bit.
One game the Carrolls have been playing quite a bit with their kids is charades.
So a couple of nights, we got all of the kids into a game of charades where the adults would give them something to act out and then the rest of the kids would guess it.
We were trying to make things a little tougher, so I told Gray to act out "an eagle swooping down and eating a fish."
The kids eventually guessed it or at least guessed it was some bird eating a fish.
This prompted my 6 year old zoologist buddy Abe to point out that Gray picking up a fish with his beak was a real stretch.
He came up to me and said "Uncle Jake, eagles don't catch fish with their beak, they use their talons. You were probably thinking of an osprey."
Yeah… an osprey. That's what I meant.
#Homeschooled
Overall, the first few days of actual, hit the books homeschooling have gone quite well.
Hudson in particular has decided he's voting for homeschooling again next year and really been a pretty happy camper when it's time for school.
You remember Hudson, right?
We've got a long way to go… and a short time to get there (we've listened to that Jerry Reed song a few times on this trip)
But the schooling is off to a fantastic start.
Lobster Rolls
You can't go to Maine without eating a lobster roll, right?
I'd never actually eaten a lobster roll before, but now I've had 3.
It didn't seem right to just have one, so I went to 3 places so I could compare and contrast.
I knew time would only allow me to eat a finite amount of lobster rolls, so I didn't want to waste time, money, and stomach space on mediocre lobster rolls.
So I first asked Captain Clive, who is the foremost expert on lobsters that I know, "where would you go to get a good lobster roll around here?"
Clive's answer?
"Home."
Fair enough.
The most famous lobster roll I ate was at Red's Eats in Wiscasset. It has no shortage of awards and features on TV, travel magazines, etc. being called one of the best lobster rolls in the world.
I'd never heard of it, but we saw a line wrapped around a city block when we were driving through the town on our way to Boothbay.
On our last day in the area, we got to Red's about 15 minutes before they opened and got in line. All in all, we waited about 45 minutes to try the lobster roll. (Side note: I got the boys their $1 hot dogs and they were the freshly grilled, all beef variety and full of flavor.)
I think the roll lived up to the hype. It was probably my favorite of the three I had, though it was very similar to Shannon's Unshelled in Boothbay Harbor.
Both of them are basically just plain lobster meat piled onto a buttered and toasted roll, served with hot garlic butter. It's pretty hard to screw that up.
Here's the one I had from Shannon's:
And here is the one I had from Mine Oyster, which was more of a lobster salad than just straight up lobster meat on a bun.
I enjoyed this one as well, but after I had time to sleep on it I've decided that I prefer the lobster & butter only style of lobster roll. I'm sure you've been dying to know my opinion on that.
Wrapping Up Maine
As we headed out, we spent a night in Portland and took advantage of another beautiful day and went to Old Orchard Beach:
Of course, many of the classic attractions were closed for Covid, but that just left more time for football.
Maine was a huge hit!
We had mid-70's perfect weather the entire time – which may affect how you feel about a place. Would we have loved it as much if it was gray and rainy the whole time? I'm glad I don't know the answer to that question.
The Maine we just saw was picture-perfect, full of tons of cool little harbor towns, and seemed to have a pretty laid back vibe.
We've now moved on from Maine and journeyed south, to learn and see more about the American Revolution.
I will report back soon.