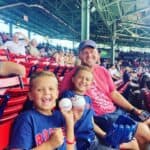 Jake Cain is an entrepreneur and writer from Cincinnati, Ohio. He spends his free time driving around the country in his late 90's conversion van, affectionately known as the "Monster Van" with his wife and 3 boys.
When we decided that the 2020 school year was going to be spent homeschooling on the road, AKA Road Schooling, we knew that we wanted to take the opportunity to opt-out of the nasty Ohio winter.
When we traveled in the Fall, we had a direct learning connection to all the places we visited.
The Freedom Trail in Boston, museums in DC, Independence Hall in Philadelphia, and how the lobstering industry works in Maine.
However, when we decided to go to Key West for 6 weeks it was all about 75 degrees and sunny in January.
Wait… weather is science, right?
So we decided to go to Key West for some fieldwork and data sampling related to meteorology.
In fact, I distinctly remember one day around my birthday in February, I went downtown in shorts and flip flops to pick up donuts with Grayson and snapped a picture of the New York Times front page which showed the cold snap that was dumping snow virtually everywhere (even on our friends in Texas).
If you notice that small orange spot in the bottom right, that's where we were…
It was our first time in The Keys and it didn't disappoint. Here's a quick rundown of our 10 favorite memories (besides the warmth & sunshine in January).
The Mallory Square Experience
Mallory Square is best known for its nightly sunset celebration. Aside from the amazing view of the sun setting over the ocean, there's a lot of buzz going on with music and street performers all around doing circus-style performances for tips.
As homeschooling parents, we used this opportunity to remind our kids of the importance of staying in school.
When the sun dipped below the horizon, the crowd would cheer, and then we typically made our way over to the homemade ice cream place I discovered in our first week, Gladiators.
We chatted with the Italian lady behind the counter and learned that all the ice creams are homemade daily in store, and she picked up her ice cream making skills from her grandpa when she was a child growing up in Italy.
I hesitate to check my bank statement and see how many times we went to Gladiators in our 6 weeks in Key West, but it's safe to say we went at least twice a week.
In fact, we became temporary regulars.
We'd stay and chat with the nice lady behind the counter for a few minutes each time, and really felt a little sad as we got closer to our final "Gladiatiors run" of the trip.
Sarah noticed her apron lacked flair, so she even bought her an ice cream themed apron on Amazon and gave it to her before we left:
So if you're in Key West, going to Mallory Square for a sunset is on everyone's "must do" list. I'd suggest adding a trip to Gladiators after the sun sets, and tell her the Cain family from Ohio sent you.
If our name doesn't ring a bell, tell her we are the ice cream loving people who bought her a new apron…
Meeting Mekhi Sargent
The second week of our trip, we had a weekend visit from Aunt Cici (AKA Sarah's cousin, Lindsey).
The ladies were downtown getting a massage, so I took the boys to a nearby football field to get a little game in.
As we started playing, there was an athletic-looking guy wearing an Iowa hoodie that was warming up on the sidelines. A few minutes later, a coach showed up and started putting him through agility drills and other conditioning work.
We even got to watch him puke!
This guy was definitely built like a serious athlete, and whenever the kids see a short, muscular black guy they generally ask "Dad! Is that Tyreek Hill?!".
So as we were wrapping up our game, I pulled out my phone and googled "Iowa Football Key West" to see if this actually was a notable football player.
Result #1 was this article about Mekhi Sargent who starred at Key West High School and had just completed his Junior year at Iowa.
I looked up at him, and then down at my phone.
This had to be the guy.
A quick look at his Instagram showed me that he'd just declared for the NFL Draft, so I guess he was back home getting ready for the combine.
I walked up and confidently said, "Mekhi Sargeant, right?"
Jackpot.
He was a super nice guy, and even in the height of COVID hysteria, he was happy to take a picture with the kids and even let Jackson throw some passes to him.
Needless to say, our football obsessed kids were on cloud 9 getting to meet and practice with a guy bound for the NFL Draft.
Glass Bottom Boat Ride
We tried to pack in as much as we could during Aunt Cici's long weekend.
As I recall, it was basically Lindsey and Sarah laughing for 3 days and I just kept paying for stuff.
So we went to Benihana Key West for dinner one night to celebrate Lindsey's birthday. By the way, the Key West Benihana faces the ocean and has to be the coolest one ever.
We also took a trip on a glass bottom boat, which lets you see underneath the boat as you hover over the coral reef in the area.
Most boat-related activities are super expensive, and this one was a relatively good deal.
You get to be out on the water for a couple of hours and when you're floating around the reef, you see plenty of colorful fish swimming right below the boat.
Dolphins & Snorkeling
Since the Florida Keys are home to the only living coral reef in the continental US, it's renowned as an excellent place to go snorkeling.
Actually, Key Largo is said to be the better snorkeling location. However, with my sister and my 2 nieces coming to visit for a weekend I decided to book a combo tour with dolphin watching and snorkeling with Honest Eco.
We got lucky with our dolphin watching as we saw dozens of them jumping around like crazy.
Then it came time for snorkeling.
The boys had a good laugh at my expense as I tried to find a wetsuit that fit.
The lady assisting was handing out the sizes she thought would work, and I figured she does this all the time so she probably knows what size I need, right?
Let's just say she'll never get a job at a carnival playing the "guess your weight" game.
She started me out with a large, so I was skeptical but I went ahead and tried it on.
Wetsuits are supposed to be tight, right?
By the time I got both arms in, I couldn't stand up straight or put my hands together in front of me.
My family found this hilarious.
I was worried I wouldn't be able to get this clingy thing back off…
Eventually, I did and ended up finding my perfect fit with a XXL wetsuit.
It was a windy day, so the water was a little rough and made conditions less than ideal – but we got up close and personal with plenty of fish during our snorkel time.
Theater of the Sea
After we dropped off my sister & nieces at the Miami Airport, we made a trip down to the Theater of the Sea in Islamorada. It's the second oldest sea attraction in the United States. It has welcomed many notable guests including presidents Truman and Eisenhower.
After paying a general admission you get access to watch live shows featuring dolphins, sea lions, wild birds, alligators, and others. We paid a little extra and bought the swim with dolphin experience for me and the kids.
Sarah was going to do it too, but backed out at the last minute so she "could take pictures." The truth is that Sarah has an unreasonable fear of wildlife.
Whether it's feeding a baby goat at a petting zoo or swimming with a dolphin in Florida – Sarah has an uncanny ability to convince herself that the most likely outcome is that she'll be killed by that animal.
It was my first time getting to do this, and it certainly was a unique experience and definitely worth doing if you ever get the opportunity.
The kids hopped in the water first and got a "dorsal tow" where you hang on to a pair of dolphins' fins while they pull you through the water.
Then, you finish up with a little kiss.
After I went, Sarah started to regret her decision to not get in the water with the dolphins.
The kids kept begging, so Sarah decided to go change into a wet suit and join us in the water.
It turns out, she was messing with us all along.
Apparently, Sarah interned at Sea World after high school and became very adept at working with and training dolphins.
Needless to say, the boys and I were blown away by what happened next:
I'm just glad I had my camera ready to capture it…
If you visit the Keys, especially with kids, I'd add a day at Theater of the Sea to your list of things to do.
The Turtle Hospital
Yes, that's a thing and yes, they have a turtle ambulance on site.
Located in Marathon, Florida, we turned our visit to The Turtle Hospital into an educational field trip for the boys.
You get a guided tour of the facility and learn more about how they rescue sea turtles that are injured and then attempt to rehabilitate them and release them back into the ocean.
The kids' favorite part was learning about turtles with what the lady called "bubble butt syndrome" where the turtle (usually from being hit by a boat) loses the ability to go under water. The hospital attaches weights to their shell so they can go underwater, but these eventually fall off so they live out the rest of their turtle years swimming in the hospital pool.
Sunset Cruise
Our next set of visitors during our trip were Sarah's parents, known as Peepaw and Gigi to the kids.
They came down on Super Bowl weekend and on one magical Saturday night, they watched the boys so Sarah and I could go on a date night.
Homeschooling has many benefits, but one of the side effects is that you're around your kids constantly.
So a kid-free night out for an all-inclusive sunset cruise was just what the doctor ordered.
The cruise itself was a Christmas gift from Sarah's parents & brothers, so we'd been looking forward to it for quite a while.
We had the perfect weather and even saw some more dolphins while we were out cruising around. The sunset was spectacular, and we grabbed some Mexican food on Duval St. afterward.
I know I keep adding things to your "must do" list, but you simply won't do better than this for a date night in Key West.
Deep Sea Fishing
The other highlight of Chris & Pam's visit to Key West was taking a deep sea fishing trip we were able to take.
It was a 4-hour excursion and we took a pretty long and wavy ride out to one of their hotspots.
After the bumpy ride out, Peepaw had to take a moment and feed the fish before we got started…
The good news is, depositing some of that morning's breakfast back into the ocean seemed to pay off. Here are a few of the fish we caught:
Hudson took home the prize for biggest fish with a barracuda that was about 4 ft. long.
I was the biggest loser, only hauling in an eel.
After the fishing trip, we took the fish in pictures #1 and #4 above and had them filleted and took them with us to dinner at Hurricane Hole.
It was an interesting experience handing your waiter your entree in a plastic bag and telling him how you'd like it cooked.
We didn't set any records for the most fish caught on a fishing trip, but the ones we did catch were delicious.
The Key West Classics
Spending 6 weeks in a city affords you plenty of time to see all the top attractions and photo opps.
Though photography was strictly prohibited inside, we did take a tour of the "Little White House" which was used as a southern office for president Truman.
It was also used for official business by Kennedy during the Cuban Missile Crisis and has been a vacation spot for several other presidents since.
All of the furnishings inside were kept intact as they were when Truman frequented the house.
My favorite part was his poker table where he'd play nightly games with Secret Service members and other guests. It was custom made by members of the Navy stationed nearby and included a tabletop that would cover it and make it look like an ordinary dining table.
He had the cover made because gambling was illegal in the state of Florida at the time, and it might be a bad look if the president was flaunting the law.
We also visited the end of the road and snapped a picture by mile marker zero, and let the kids play around the super cool Kapok tree nearby:
Of course, we also stopped by the Southernmost Point marker multiple times (when we had guests in town) and waited patiently in line to take the obligatory photo that proves you went to Key West:
Sarah also willingly stepped into another classic tourist trap, the guy on the sidewalk holding macaws.
He cut us a buy one get one half off, cash only photo deal and we scored these babies for only $25 or so.
The Food
I'll probably forget some stuff, but one of our favorite places to grab dinner was at the Waterfront Brewery. The kids meals were amazing and cheap, and the ocean breeze and view couldn't be beat. The hot pretzels were the jam, and while waiting for your food you could walk outside and see huge tarpon swimming around right below the dock.
We also had brunch at Blue Heaven, and tried their mile high key lime pie. The setting, live music and food all add up to why it's on just about every "best restaurants in Key West" list you'll read.
Speaking of key lime pie, the kids were excited to try it for the first time and frankly, we were excited to watch Mr. Picky (Jackson) take a big bite.
His puckered reaction didn't disappoint.
Other places we enjoyed include tacos and the corn from Amigos Tortilla Bar, Cuban sandwiches and iced coffee from the Cuban Coffee Queen, and brunch at Ramshead.
New Friends
One of my favorite parts of traveling is chatting with strangers. Every once in a while, that chat will lead to a cool memory or a new friendship.
I've got a couple of those to share with you:
The Dropperts
Since 67 is the average age of the residents and renters at the Key West Golf Club, you take note when you see another family with kids at the pool.
So with a couple of weeks left in our trip, we met the Dropperts who had 5 kids and came from a distant land known as Canada.
It turns out, they were doing remote learning and running their business from Florida primarily to enjoy some freedom and sunshine.
Our kids hit it off immediately and played together non-stop for the last 10 days or so. Bryan (the dad) was kind of like an edgier, more outspoken, Canadian version of me. So I thoroughly enjoyed our conversations.
On one of our last nights, we grabbed dinner and Gladiators (of course) together before saying our goodbyes.
Rivers Stone
I'm ending our story of Key West with my personal favorite, Rivers Stone.
What's a "Rivers Stone?" you may be wondering…
It's actually the name of our neighbor for the 6 weeks we stayed at the Key West Golf Club.
Having gone to college at the prestigious Lee University in Tennessee, I have a special place in my heart for the people of the South.
In particular, I love a good southern accent.
In fact, we take frequent trips back to Tennessee just so I can hear people talk.
Our place in Key West was a poolside duplex in a gated golf community about 10 minutes outside of downtown. It included several crabby old people that really hate kids, which I think is to be expected in a gated community in Florida.
However, on one of our first days there I was out in front of the house when this very nice old guy walked by smiling and ready to chat.
I love old people almost as much as I love southern people.
So when I was fixin' to get a double helpin' of both, that'll make you feel so good you wanna slap ya' mama.
The gentleman introduced himself as Rivers Stone from North Carolina. It's the kind of name you'd expect Indiana Jones' uncle to have.
We chatted for a bit and he let me know that he and his wife (Susan) lived in Hendersonville, NC for 6 months out of the year and then down in Key West for about 6 months.
Mr. Rivers was 84 years old but was incredibly sharp for his age. He's also one of those guys who seems to wear a genuine, permanent smile.
In the weeks that followed, we talked here and there in passing, and then when we'd be hanging out at the community pool we'd chat and he'd tell me bits and pieces about his work and personal life and then ask about ours.
Of course, they knew we were homeschooling the boys and towards the end of our trip, we decided to have each kid pick a president and write a biographical speech and perform it. (This is an idea we borrowed from a Terrace Park Elementary 3rd grade project).
So Sarah told his wife about the project and suggested that she and Rivers should come be the audience on the day our boys performed their speeches.
They loved the idea, so a couple of days later we had them come over and listen in.
The boys did a fantastic job and Rivers and Susan were quite impressed. Mr. Rivers even pulled out 3 Ziplock bags of change and handed one to each boy as a reward for their hard work.
Then, he pulled a curveball on us.
He said, "Ya'll come down to our house, I want to show you something."
So we followed them out the door and into their living room. Mr. Rivers pulled out a 3D model of a glass house with a removable roof, and blueprints printed on the inside.
He explained that part of their 10-year plan (he's 84) was getting this house built in the mountains near Asheville, NC. He even had model cars in the garage that were the same make and color as his actual cars.
He then proceeded to pull out this photo book and tell the boys about a school in North Carolina that helped kids with disabilities that he was very fond of.
As he moved on to his next show & tell topic, I picked up the book and saw this inside the cover:
Thanks for donating the new building? Who the heck is this guy…
From there, he started talking to the boys about always following their dreams and never giving up even when things go bad.
Then, he shared his personal story of running 3 businesses and having the first 2 fail. But then he tried again and sold his next business for $100,000,000.
"Wow" was all we could think to say.
Then Mr. Rivers said, "Jake, I want to give you this check…"
That part didn't really happen… but it was still a cool moment.
We only had a day or so left in Key West, so the next day at the pool Mr. Rivers came up and wanted to chat. We talked business and I explained what I do for a living, which is always fun. I asked for some more details on the $100M exit he talked about and he told me in great detail the story of the family business, Stone Manufacturing in South Carolina.
It turns out they acquired Umbro soccer and ran it for about 20 years and then sold it in the late nineties for $145M. I googled it later and the story seems to be legit.
The best part was getting Mr. Rivers' input on my business. He was particularly complimentary of how I was able to run a business and still spend time with the kids.
He even got a little emotional remembering how much time he missed with his own kids because of a hectic work schedule as a young dad.
It was a really special moment that I'll remember for a long time.
Key West Wrap up
It was rather challenging to sum up 6 weeks in a blog post, so I'm probably missing some stuff but our whole family loved our time in Key West.
During Covid, spending winter in Key West was especially amazing because it had businesses open, outdoor dining everywhere, live music, and just an energy that we'd been missing during 2020.
I've never been in the summer, but I'd imagine the winter is the time to go.
The sunshine, the history, the energy, the food, it was all excellent and I'd do it again in a heartbeat.