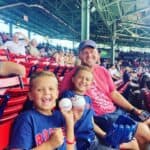 Jake Cain is an entrepreneur and writer from Cincinnati, Ohio. He spends his free time driving around the country in his late 90's conversion van, affectionately known as the "Monster Van" with his wife and 3 boys.
This whole idea of bouncing from one city to the next on a weekly basis sounded brilliant, but now I think we're just going to cancel everything else and stay in Boston…
We've quickly gotten used to our new digs on Beacon St. in the beautiful neighborhood of Back Bay.
I'd stayed in this area once before when we took our first trip to Fenway Park and remembered how beautiful the quiet tree-lined streets were.
My "morning commute" to go get coffee this week has looked something like this at every turn:
Not bad, right?
Now that we're 7 days into the Back Bay lifestyle of walking to restaurants, shopping, parks, waterfront views, Trader Joe's, and more… I'm asking myself why we didn't just book this place for a month and scrap the road schooling idea.
They even had a Capital One Cafe!
I don't know about you, but from the first time I saw those commercials where fees and minimums are replaced by creams and sugars, I've always wanted to go to one.
Most of the cool seating areas were temporarily scrapped for Covid, but it was still fun to grab a Peet's Coffee and see banking reimagined.
Unfortunately, our week in Boston has come to an end.
Here's a look at the highlights.
Hocus Pocus
Sarah considers the movie Hocus Pocus a must-watch come Halloween time.
I personally think it's pretty stupid.
But on our way down from Maine, we stopped through Salem and found the house that was used in the movie and snapped a quick picture.
We walked around the historic town a little bit as well, but we didn't really feel like diving too deep into the Salem witch trials with the kids, so we stopped a grocery store to load up for the week and then went to check into our place in Back Bay.
Adjusting To City Life
Our apartment in Back Bay came with a dedicated, off-street parking spot behind the building – which is a pretty rare luxury.
However, to get from the spot to our apartment, you couldn't cut through the back of the building – you had to walk around the block and enter from the front.
So it took several trips to the van to unload all of our groceries and the suitcases that contain every piece of clothing we own.
We made the kids come with us and lend a hand, and got to listen to them complain the entire time about how ridiculous it was that anyone would ever want to live in a place where they'd have to walk that far from their car to their house.
The Freedom Trail
One of the main reasons I picked Boston as a stop on our trip is because of the rich American Revolution history here.
The "official" guided tours weren't back to operating yet, but fortunately one of the tour guides (Ellen) had offered her services on Airbnb as an experience.
She had tons of glowing reviews, and we were able to get a private tour with her on our first full day in Boston.
If you're not familiar, Boston has a red brick line to mark the Freedom Trail that connects 16 historically significant sites along a 2.5 mile stretch of the city.
Ellen is a self-proclaimed history nerd and really helped bring some of the important sites and stories to life.
We'd prepped for the trip by reading "Who Was Paul Revere" the night before, which gave a good bit of the Cliff's Notes on the Tea Party, Boston Massacre, and other events that were part of the American Revolution story.
Ellen did a great job functioning as a teacher and really focusing on the kids, and our kids felt smart when they knew some of the answers to her questions.
The spot on the tour that gives me all the patriotic feels is the balcony of the Old State House. It was right here on July 18th, 1776 when the Declaration of Independence, which was hot off the presses at that point, was first read to the citizens of Boston.
Can you imagine how cool it would be to go back in time and stand in the middle of that crowd?
I can.
It would be awesome.
The Old State House also marks the site of the Boston Massacre, which happened right out front and really whipped the Sons of Liberty into a froth.
Other highlights of our tour with Ellen included the site of the oldest public school in the US, The Old Corner Bookstore – Boston's oldest commercial building. It once published classics like Walden and The Scarlet Letter, now it produces burritos and bowls.
Uber Confusion
After our guided tour of the Freedom Trail, we were pretty wet from some intermittent rain we'd experienced.
So rather than walking the 2 miles back to our place in Back Bay I decided to get an Uber.
Our kids had never done Uber, and Jackson was particularly worried about it.
Me: "I'll get us a ride back."
Jackson: "A ride with who?"
Me: "It's an Uber – just people who drive around giving other people rides in their car."
Jackson: "We're getting into a stranger's car!?"
Fortunately, like all my Ubers and Lyfts prior, Mohammed got us back to our Airbnb safe and sound.
Self Guided Freedom Trail
On our final day in Boston, we did a self-led trip to Paul Revere's house and the Old North Church.
The Old North Church was closed to visitors, but the tours of Paul Revere's House were up and running.
Apparently they are still operating on 1776 pricing because it was only $1 for kids to get in and $5 for adults.
Considering that Tom Brady's old condo in Back Bay is listed for rent at $32,500 per month, doing things that only cost $1 don't happen very often in Boston.
Plus, Paul had tour guides in each section of his house telling you about what you're seeing and how they used the house back in the day.
Some things had been replaced, like the windows, but a lot of the wood and masonry was still original from when Revere lived there.
We learned a bunch of interesting facts about Revere on this trip. Here were a couple of my favorites:
He was a silversmith by trade and made a bunch of huge church bells during his career. A number of churches in Boston still ring bells made by Paul Revere.
He later mastered the art of rolling copper, and it was Revere who rolled the copper to cover the bottom of the USS Constitution battleship (Old Ironsides) to protect the wood from rotting.
The company he started, Revere Copper, is still in business today.
When we left the Revere House, we walked up to the church and took some pictures with our guy Paul on the way.
We also took some time and Granary Burial Ground where Revere, John Hancock, Sam Adams, and the Boston Massacre victims are buried.
One interesting note about Revere's is that he has 2 headstones. Interestingly, when Revere died he wasn't really a famous hero at all for his midnight ride.
Only after Longfellow wrote the poem Paul Revere's Midnight Ride that jazzed up the facts a little bit in 1860 did Paul become a legendary figure.
In the photo below, the post-Longfellow headstone is the enormous white one, and the more humble, original headstone is easily missable right behind Hudson.
Here are the other photos by John Hancock, Sam Adams and the massacre victims:
While cemeteries aren't exactly fun places to visit, I am fascinated by the older grave markers that look like something you see as part of a haunted house decoration.
While we were out exploring on foot, we also visited a couple of can't miss photo opps on the dreamy streets of the Beacon Hill neighborhood, and at the place where everybody knows your name.
As our last Freedom Trail stop, we went over to Charlestown and took a quick look at the USS Constitution (AKA Old Ironsides). We didn't actually get to go on the ship, but we walked through the visitors center exhibit and tried on fancy hats.
Family Time
Sarah's cousin, Matt and his wife Katelyn live in Boston and were gracious enough to take some time to hang out and show us around the city a little bit.
We walked over to their apartment and then had dinner in the shadows of Fenway Park at Tasty Burger.
As the name implies, the burger was in fact, quite tasty. Of course, we had to stop by Fenway first and show the boys the outside of baseball's oldest stadium.
Over the weekend, we met up again with Matt and Katelyn and walked to the Esplanade park for some football and fishing.
We had a delicious dinner at the Bell in Hand Tavern, which claims to be the oldest tavern in the US with their "first pour" dating back to 1795. However, our Duck Boat tour guide the next day was pretty adamant that their claim was more based on marketing than facts.
Nevertheless, the building and location couldn't be beaten.
After dinner, the kids took their first ride on America's oldest subway system – the "T" which brought us safely back to our place in Back Bay.
On Sunday, Matt and Katelyn joined us on a true tourist excursion – the Duck Boat.
I travel quite a bit, but I'm certainly not above doing "touristy" things. The Duck Boat is fun and funny and a really unique way to see the city from both land and water in about 90 minutes. Plus, the kids love occasionally being able to yell "quack quack!" at people we pass by.
After we rode the Duck Boat, we reconvened and watched the NFL debut of my good friend Joe Burrow – who got his true first experience of being a Bengal when his 2-minute drill drive ended with our kicker "straining" his right/left calf muscle and missing the potential game tying kick.
Fun times.
Studying At Harvard
We had amazing weather in Boston, so one day we decided to pack up the school books and head over to the prestigious Harvard campus in Cambridge.
Unfortunately, we decided to homeschool with actual books instead of an iPad based curriculum, so the bag I was toting around Cambridge had about 75 lbs. worth of education in it.
I had a lot of fun plans about all the walking we'd do around the Harvard campus and surrounding area, but I didn't exactly account for the books I'd be carrying around Cambridge in my plan.
I hopped out of our Uber at Harvard Square looking like this:
So we found the closest seating area possible in the Harvard Yard and the kids got to work. It was a little chilly in the shade, so we moved around a few times.
The kids did recess at a playground near campus, then we grabbed Tasty Burger again for lunch.
After lunch, things warmed up a bit and we went back near the dorms at Harvard Yard and got back to work. It really was a beautiful setting, and I figured now if our kids need to beef up a future resume they can add "studied at Harvard" without having to lie about it.
Once we were done with school, we walked a little more and found Harvard Business School – which involved crossing a bridge and walking close to a mile away from the older Harvard campus.
We had the kids find a nice table where they could sit and write in their journals while I walked around by myself and tried to get into various buildings at HBS. Unfortunately, all the doors are locked, and need a Harvard ID to unlock the door, so I had to admire things from the outside.
After that, we crossed the street and got a pretty close look at Harvard Stadium, circa 1903. The outer facade of this place looks every bit of its 117 year age, but the horseshoe shape let us get close to the football field level, which the kids enjoyed seeing.
Finally, we headed a little further into the athletic complex to the Harvard track & field area. The kids have been all into fitness and getting stronger and ready to play in the NFL, so we talked them into racing around the track. 400 meters later, they were completely exhausted and ready to head back to our house in Back Bay.
I pulled out my phone and asked a stranger to give us a ride in their car, and we were quickly on our way back to the apartment.
Did We Get Smarter?
I think the kids definitely added a few points to their IQ just by doing their work on the Harvard campus.
Just look at how snobbishly philosophical they looked by the end of the day:
Heck, even I learned something new today thanks to this bus advertisement:
I've sold a lot of crap in my life, but I had no idea that selling actual crap was a potential side hustle.
Wrapping Up
Boston was a huge hit for us and the kids.
In particular, our Back Bay location that let us park the Monster van for the week and just walk everywhere was clutch.
If you've never visited Boston and are even remotely interested in the American Revolution, you are certainly missing out. Boston has done a fantastic job of preserving their historical landmarks and intermingling them among their modern society.
Up next, we're off for a week in the Big Apple.