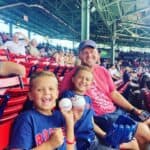 Jake Cain is an entrepreneur and writer from Cincinnati, Ohio. He spends his free time driving around the country in his late 90's conversion van, affectionately known as the "Monster Van" with his wife and 3 boys.
Florida is a fantastic vacation destination with a wide range of things to do. The beaches are beautiful, and if you're looking for something different, you can find culture, history, and great nightlife.
No matter where your interests lie, you can find a place in Florida. Here are our top 20 picks for Florida destination spots to get you started.
Miami – Latin Flair and NightLife
We can't mention vacations in Florida without talking about Miami. It's got world-class food, excellent shopping, and great nightlife.
Head to Miami Beach to stroll the iconic strip of shore and see shopping and art along the way.
Get a Miami Go card for discounted admission to museums and a variety of other spots.
Sample some of the world-famous Cuban cuisines at any of the local restaurants, from food trucks to five-star restaurants.
Miami is a Florida vacation to end them all. Get a hotel that overlooks the water, and you can end your days with great views.
St. Augustine – Quiet History
St. Augustine is the oldest settlement in the US. The Spanish explorers used it as a base, and you can still see the influence to this day.
Walk along St. George Street to take in the architecture and history.
Visit the St. Augustine Pirate and Treasure Museum for a great swashbuckling time.
Ride a sunset safari cruise to unwind and spot some of the local wildlife, such as eagles and gators.
St. Augustine is an excellent place for families to visit. The historical spots are fascinating, and there's lots of food and local culture.
Daytona Beach – Endless Fun
Daytona may have a notorious spring break reputation, but visitors coming during all times of the year are treated to gorgeous coastline and plenty to do.
Try your hand at any number of the available water sports, from parasailing to snorkeling.
Follow the Daytona Beach Pier for gorgeous glimpses of the ocean and the chance to fish.
Drive at the Daytona International Speedway and capture your glory.
Don't let the hard-partying reputation of Daytona fool you. This is an excellent spot for families, singles, and any number of visitors.
Disney World
You couldn't wait to get here, could you? This magical theme park series offers everyone the chance to imagine and dream.
Stay at the Disney Resort and book a themed vacation you'll never forget.
Visit the new Star Wars park to get in on all the action.
Plan time for smaller parks or adults, Adventure Island.
The possibilities are endless for Disney. One of the best things you could do is use a Disney Travel Agent to give you all the inside tips for your trip.
The Keys – Keep Florida Weird
The Keys have a mysterious air about them, but they don't experience nearly the visitors that other Florida hotspots do. Go island hopping.
Travel the Overseas Highway for that end of the world feeling.
Explore Old Town and experience the quintessential Florida Keys charm.
Find world-class diving, fishing, and other water sports.
The Keys are unusual and full of quirks. Find out where the locals go, grab some grub, and put on your best Jimmy Buffet impression.
Fort Lauderdale – The Venice of America
Fort Lauderdale is just a short distance from Miami, but it's an excellent alternative to the always busy city. It features sun, sand, and lots of cultures.
Explore the many waterways of the city by water taxi.
Walk down Riverwalk for the chance to explore the history of the city.
Get all your shopping in on Las Olas Boulevard.
Fort Lauderdale has the beauty, the culture, and the shopping to create a great vacation without all the crowds.
Everglades National Park – Unusual Nature Scenes
The Everglades is a bit off the beaten path, but it is a fun trip for those of you who aren't interested in the stereotypical beach.
Take an airboat tour to go gator spotting and find local wildlife.
Stay at the Seminole Tiki Huts for an unexpected night's stay.
Go during the winter months to avoid the worst of the humidity and mosquitos.
The Everglades offers a unique look at the protected swamplands of Florida and gives you a good idea of how such a unique ecosystem thrives.
Naples – High-End Experiences
Naples is known for being upscale. If it's a high-end experience you're looking for, this could be the one.
Play golf at one of the sprawling waterfront golf courses for games with a view.
Shop on Fifth Avenue for high-end fashion and souvenirs.
Relax at a five-star hotel or stroll along to see million-dollar mansions.
This is a luxury vacation spot without many of the crowds that plague other vacation areas. With sun, sand, and great shopping, it's a wonderful choice.
Clearwater – Laid Back Florida Vibes
Clearwater is a family-friendly vacation spot with an easy-going personality. It features events and great beaches.
Clearwater is an excellent laid back choice for families or for those looking to escape the hustle and bustle of crowded beaches. It's a low-key spot to soak in the Florida sun.
Seaside – Truman Show Magic
Seaside features quaint, picturesque views, and was the filming location for The Truman Show. It's a smaller resort community, offering visitors a chance for a quieter vacation.
Spend the day exploring the local architecture and spotting your favorite places from the movie.
Head to the beach for breathtaking white sands and clear water.
Check out the nearby state park, Grayton Beach, for fun trails and family adventures.
This quaint little town offers a magical spot to vacation with fewer crowds, less noise, and scenery to die for.
Tampa – Pirates and Football
There's no beach in Tampa, but the city offers plenty to do instead. And it's just a short trip to nearby Clearwater if you don't want to let your vacation go by without at least one beach day.
Head to Busch Gardens, the town's theme park for all-day fun for the whole family.
Catch a football game at Raymond James Stadium and experience the cannons go off at each Bucs touchdown.
Go during January for the Gasparilla Pirate Festival.
Tampa is a unique alternative to the traditional beach vacation, but with close proximity to the gulf if you find yourself missing the beach while you're there.
Panama City Beach – Families and Spring Breakers
Panama City is along what's called the "Redneck Coast," but don't be fooled by its party reputation. Like Daytona, it offers plenty to do for families.
Panama City offers pristine beaches and a family-friendly atmosphere. Just be sure to note when spring break season starts, or you may be surprised by the crowds.
Amelia Island – Historical Charm
Just up the coast from Jacksonville, Amelia Island offers vacationers a slower-paced life. It's a hidden Florida gem.
Play golf at one of the island's renowned courses right on the coast.
Spend the day at Fernandina Beach and catch glimpses of the island's pirate history.
Try out outdoor sports like horseback riding and tour the island in a new way.
Amelia is a quiet option for a Florida vacation far from the spring break crowds. It's family-friendly and the perfect spot for slow, relaxing days.
Cocoa Beach – Surf and Space
Cocoa Beach offers world-renowned beaches with a bit of US space history thrown into the mix.
Space Enthusiasts can tour the Kennedy Space Center for a look at the US space program.
Check out the Ron John Surf Shop, the biggest one of its kind in the world.
Sign up for a bioluminescent kayaking tour for a different look at Florida's coast and waterways.
Cocoa Beach is excellent for just a beach vacation with white sand and turquoise waters. Throw in some local flair, and you've got an excellent vacation spot.
Marco Island – Water Sports Galore
Marco Island offers water sports enthusiasts and those keen to try something new the chance to experience everything. It's the largest of Florida's islands.
Marco Island is an outdoor adventure paradise, but it also has things to offer for history fans and those who love watching the unique local wildlife.
St. Petersburg – Surrealism and Sun
St. Petersburg is the place to go if you want to guarantee pleasant weather during your trip. It currently holds the record for most consecutive days of sunshine.
Head to the Salvador Dali Museum for the largest collection of the surrealist painter's work outside of Spain.
Check out The Pier for a newly redesigned, waterfront area filled with fun and interesting things to do.
Spend the day at one of St. Petersburg's many beaches for pristine sand and comfortable water.
St. Petersburg is part of the tri-cities area (with Tampa and Clearwater), making it a great jumping-off point for day trips.
Vero Beach – Sea Turtle Spotting
Vero Beach gives visitors all the best of Florida's classic seascapes with a few little extras thrown in.
Vero Beach may not be the most famous Florida beach, but visitors can find those little extras that make a beach vacation so awesome.
Boca Raton – Enough For the Restless at Heart
Boca Raton is part of the Palm Beach series, and it offers more than the average activities for everyone.
Head to Sugar Sand Park for not only beaches but trails and other entertainment.
Spend the day at the Gumbo Limbo Nature Center and enjoy butterfly gardens and outdoor aquariums.
Relax at Mizner Park for shopping, movies, art, and more.
Boca Raton is a paradise for someone who doesn't think highly of sleeping on the beach all day. It's full of activities.
Sarasota – The Best of Everything Florida Offers
Sarasota is home to beautiful beaches, plenty of family activities, and a bit of history on the side.
Sarasota is an affordable family vacation spot with a great blend of outdoor activities to enjoy plus more academic activities when you're sick of sand.
Orlando – Not Just Disney
Disney World takes a lot of the attention from Orlando, but the surrounding city itself is a fun destination spot all its own.
Orlando offers an easy-going atmosphere, excellent shopping, and plenty of food choices without the massive Disney crowds.
Florida is a wonderful way to spend vacation time whether you're relaxing on the beach, exploring Spanish explorer sites, or doing some shopping. Take in the local cuisine and have your chance to spot wildlife.
The gorgeous beaches await, and if nothing else, you've got days of beachcombing ahead of you. There's no better place to be than at one of Florida's coastline spots or the unique cities along the way.
20 Thrilling Florida Vacation Spots
Ready to plan your next vacation in sunny Florida? Here are the highlights of the 20 best vacation spots in the state! From the vibrant nightlife of Miami to the laid-back charm of Clearwater, there's something for everyone. Whether you're looking for family-friendly activities, high-end experiences, or unique adventures, this article has got you covered. So, pack your bags and get ready to soak up the sun and fun in the Sunshine State!
15 Virginia Vacation Spots Perfect For Exploring History
Explore the best vacation spots in Virginia with this must-read article! From the historical charm of Williamsburg to the breathtaking beauty of Shenandoah National Park, there's something for everyone. Don't miss out on the top attractions, outdoor adventures, and unique experiences that Virginia has to offer.
Top 15 Ohio Vacation Spots: Vibrant Cities & Aesthetic Parks
Ready to discover the best vacation spots in Ohio? Look no further than this article, which highlights the top destinations in the state, from the vibrant cities of Cleveland, Cincinnati, and Columbus to the scenic Hocking Hills State Park. Explore the great outdoors, enjoy cultural activities, and indulge in local cuisine and attractions. So, pack your bags and get ready to experience the diverse and exciting vacation spots that Ohio has to offer!
Picturesque Lake And Mountain Top Views: 16 Michigan Vacation Spots
Discover the best Michigan vacation spots with this ultimate guide! From the charming university town of Ann Arbor to the breathtaking Pictured Rocks National Lakeshore, there's something for everyone. Whether you're looking for outdoor adventures, cultural experiences, or romantic getaways, Michigan has it all.