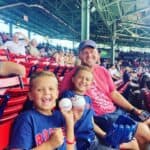 Jake Cain is an entrepreneur and writer from Cincinnati, Ohio. He spends his free time driving around the country in his late 90's conversion van, affectionately known as the "Monster Van" with his wife and 3 boys.
Endless amounts of charm and warmth await anyone who crosses the Mason-Dixon line, and
South Carolina is no exception. The state offers a fantastic introduction to Southern hospitality, all while allowing visitors ample opportunities to enjoy its miles of coastline or immerse themselves in its storied history.
But where should you go if it's your first time in South Carolina and you're overwhelmed at the number of selections to choose from? Here's all the need-to-know information about the best places to visit, all of which are perfect for a weekend trip or longer.
We're kicking off this list of South Carolina vacation spots with Charleston, the oldest city in the state, and a popular tourist destination. It's known as the "Gem of the South," and it's an ideal destination for both families and couples.
Charleston is a vibrant and colonial-era city that will invite you to stroll through its historic district and explore everything it has to offer. Downtown Charleston is compact, but it's full of boutique shops, monuments, and historical sites that you can easily spend a few days discovering.
Art fanatics should check out Charleston Music Hall and Halsey Institute of Contemporary Art. At the same time, history buffs shouldn't miss the Aiken-Rhett House, Nathaniel Russell House, or the Old Slave Mart Museum.
Taking a horse-drawn carriage tour is a fantastic way to get a feel for the city, and the beach is just a stone's throw away if you're looking to cool off. Food lovers can get their fill of Southern cuisine by taking a culinary tour or a Charleston Brews Cruise.
Make sure to check out these neighborhoods/sites on your visit to Charleston:
White Point Gardens
Charleston Market
Hampton Park
Park Circle
Cannonborough/Elliotborough
Harleston Village
Myrtle Beach
Locals and tourists alike flock to Myrtle Beach in the summer for its miles of pristine beaches, vibrant nightlife, and a plethora of outdoor activities. It's the most well-known beach destination in South Carolina, regarded by many as the Vegas of the South.
With over 200 days of sun per year, it's perfect for families from May to September. The good times roll in Myrtle Beach at the boardwalk and Carolina Opry, and kids love spending their days visiting Ripley's Wax Museum, the Family Kingdom Amusement Park, and the Backstage Mirror Maze.
From October to April, Myrtle Beach has a less touristy, more romantic vibe, which is when couples descend on the area. For those going without kids, the Atlas Tap House and Rip Tydz Oceanfront Grill and Rooftop Bar are fun places to unwind.
Hilton Head Island
Hilton Head Island frequently appears on annual "Best Of" South Carolina awards.
It boasts twelve miles of coastline and the perfect laid-back beach vibe perfect for both couples and families. There are lots of fantastic rentals that allow you to enjoy this one-stop-shop vacation area, with many options to stay either in bustling areas or more quiet ones.
Give surfing or stand-up paddleboarding a go at famous tourist beach Coligny, or head to Driessen Beach for a more locals-only, relaxed atmosphere. Enjoy the area's fishing, bike trails, and golf courses, or catch a boat to discover the coastline.
If you've brought the kids, they'll love the Sandbox Interactive Children's Museum. Hilton Head Island is also a popular stop for nature lovers, where they can visit Pinckney Island National Wildlife Refuge to discover common and not-so-common species.
Greenville
We're moving inland to Greenville for our next South Carolina vacation spot, which is an up-and-coming city that makes the perfect family getaway. Located at the foothills of the Blue Ridge Mountains (see below), it offers an excellent mix of outdoor activities with educational and cultural opportunities.
Its position at the foot at the mountains makes it an ideal launch point for Blue Ridge Mountain activities, but if you prefer to stay in town, the pedestrian-friendly downtown has plenty of options to kick back and relax.
Good food, breweries, and a temperate climate beckon weekend visitors. Greenville has many cultural activities and is home to the Greenville Symphony Orchestra, the Greenville Chorale, and the Carolina Ballet Theatre.
If you're looking for a more active vacation, rent some wheels at the Reedy Ride. Riding a bike is a fantastic way to see the city, and when you're done, head to the Swamp Rabbit Trail for your nature fix.
The Blue Ridge Mountains
Just outside of Salem, the Blue Ridge Mountains await outdoor enthusiasts, families, and couples looking for a romantic getaway.
You can take full advantage of the scenery by hiking at one of Table Rock State Park's hiking trails. Pack a picnic and enjoy the unparalleled beauty of this area.
Nearby Lake Keowee is an ideal place to cool off in the summer, and Devils Fork State Park offers some of the state's best trout fishing, as well as ample opportunities to see waterfalls.
Or if romance and relaxation are more your speed, book a weekend at one of the area's resorts.
Columbia
The capital of South Carolina, Columbia, offers a little something for everyone. It's charming, romantic, and like many other cities in the state, the site of many historic gardens and homes.
If you love history, we recommend making a stop at the Hampton-Preston Mansion and Gardens, which dates back to 1818. The South Carolina State Museum is another place that's worth a visit for both history enthusiasts and families alike, as is the Columbia Museum of Art.
For those who would rather spend their time outdoors, Columbia doesn't disappoint in this department. The Saluda Shoals Park has beautiful walking trails where you can get your 10,000 daily steps in, or you can go for a pleasant canoe ride on the Columbia Canal.
And once you're tired of traipsing around and your stomach is rumbling, plenty of excellent restaurants will satisfy your hunger.
Huntington Beach State Park
Huntington Beach State Park is a magnet for animal lovers and people who love to camp.
You can enjoy a family vacation with your furry friend (dogs are allowed here) in your RV or pitch a tent. Whatever way you choose to stay, one thing's for sure: Huntington Beach State Park will get you in touch with nature.
With over three hundred species of birds, the park is considered the best birding location in all of South Carolina. You might even be able to spot an alligator or a sea turtle in the freshwater lake.
There are plenty of walking trails to enjoy a stroll, and the area boasts excellent fishing. And in September, the Atalaya Arts and Crafts Festival attracts art lovers from around the state.
Folly Beach
There's certainly no shortage of beach towns in South Carolina, but Folly Beach's fun, hip vibe makes it one of the best ones, in our opinion. Located in Charleston, it offers a refreshing mix of fun in the sun with bars with outdoor patios, surf shops, and activities.
Some of these activities include paddleboarding and kayaking, fishing off the Folly Beach Fishing Pier, and for the more adventurous (and physically fit), surf lessons. If you choose to give surfing a try, you may even get lucky and spot a dolphin when you're out on the water.
Guests that come in the off-season might decide to venture to the Morris Island Lighthouse to learn about the native wildlife and diverse ecosystems of the area. Otherwise, Folly Beach is the perfect place to swim and sunbathe.
Harbor Island
If you're looking for tranquility and privacy from your vacation, look no further than Harbor Island. This 1400-acre private resort island is known for its enchanting sand dunes and coastal grass, and it's an unbeatable place to rent a condo or vacation home and get away from it all.
What makes Harbor Island so attractive is that you feel far away from everything, yet Beaufort is just a 20-minute drive away. It was made into a resort community in the 1930s, and today the pristine waterfront is the ideal backdrop for seabird, horseshoe crab, and dolphin watching.
Couples or anybody looking to get away from it all will find Harbor Island the perfect place to recharge.
Seneca
Located at the foothills of the Blue Ridge Mountains, Seneca offers visitors the South Carolina staple of historic homes and quirky shops. The whole family will enjoy cruising through Seneca's historic downtown, where you'll discover the town's charming personality.
Nearby Lake Keowee provides the perfect setting for exciting summer activities like swimming, kayaking, and paddleboarding. Once the kids have had their fill of fun in the sun, make sure to stop by Hochstetler's Country Store for ice cream and fountain sodas.
Litchfield Beach
Located in South Carolina's Grand Strand, on Pawleys Island, Litchfield Beach is a golfer's paradise. Golf courses galore here, with five separate greens to fulfill all your golfing dreams.
Crowds are few in Litchfield Beach, and even if you're not a big fan of golf, it's a fantastic place to come with your partner for a weekend getaway. Seafood lovers should try some of the local samplings while taking in the picturesque views.
Stroll the broad, gorgeous beaches and take a dip in the warm waters, or rent a kayak or charter a boat tour to explore the seas. Brookgreen Gardens named one of the Top 10 Gardens in the US by Trip Advisor, is worth a visit to marvel at its sculpture garden, zoo, and children's garden.
Kiawah Island
There's also plenty of golf to be had on Kiawah Island. Located just a few miles south of historic Charleston, Kiawah Island boasts five championship golf courses that are any golf lover's dream.
But this peaceful, mostly private 10,000-acre barrier island has a lot more to offer than just golf. It's a relaxing place to unwind and take some snaps of the endless sand dunes and seagrasses for Instagram.
Wildlife lovers will be pleased to know that they can see several species on Kiawah Island, such as loggerhead turtles, alligators, and egrets. There are also lots of bike trails, hiking trails, and activities like fishing, kayaking, and stand-up paddleboarding.
Kiawah Island is an ideal destination for an active couple's weekend, and it's also the perfect place to improve your backhand and take some tennis lessons. But if you want a little more city life, nearby Charleston is easily accessible, too.
Plantations
For anyone looking to go back in time, there's no better way to do so than with a visit to one of South Carolina's 2,000-plus plantations.
Admire the grand historic homes and sweeping grounds while learning about the history of slavery. Charleston is where you can find some of the state's most impressive plantations, but there are many beautiful ones scattered throughout South Carolina.
Here are a few of the plantations we recommend for people visiting the state:
Surfside Beach
There are a lot of beach towns on this list, but Surfside Beach is unlike the rest.
What distinguishes it in South Carolina (and around the country) is that it's a "Family Beach." Surfside Beach earned that distinction in 2016 when it became the first autism-friendly travel destination.
Employees at local tourist spots receive training on how to interact with families with autistic children. They learn how to deal with any sensory issues that might ordinarily overwhelm these kids.
This training allows families with autistic children to enjoy dining out, as well as activities that might be difficult for autistic children, like learning to fish on the fishing pier.
Other options for family fun include Wild Water and Wheels Amusement Park.
Whether you live in South Carolina and want to take a vacation close to home, or you've come from out of state to see what the South is all about, opportunities for good times are plentiful in South Carolina. From pristine beaches to birding, historical sites, and delicious food, this Southern paradise is sure to please families, couples, and solo travelers alike.
20 Thrilling Florida Vacation Spots
Ready to plan your next vacation in sunny Florida? Here are the highlights of the 20 best vacation spots in the state! From the vibrant nightlife of Miami to the laid-back charm of Clearwater, there's something for everyone. Whether you're looking for family-friendly activities, high-end experiences, or unique adventures, this article has got you covered. So, pack your bags and get ready to soak up the sun and fun in the Sunshine State!
15 Virginia Vacation Spots Perfect For Exploring History
Explore the best vacation spots in Virginia with this must-read article! From the historical charm of Williamsburg to the breathtaking beauty of Shenandoah National Park, there's something for everyone. Don't miss out on the top attractions, outdoor adventures, and unique experiences that Virginia has to offer.
Top 15 Ohio Vacation Spots: Vibrant Cities & Aesthetic Parks
Ready to discover the best vacation spots in Ohio? Look no further than this article, which highlights the top destinations in the state, from the vibrant cities of Cleveland, Cincinnati, and Columbus to the scenic Hocking Hills State Park. Explore the great outdoors, enjoy cultural activities, and indulge in local cuisine and attractions. So, pack your bags and get ready to experience the diverse and exciting vacation spots that Ohio has to offer!
Picturesque Lake And Mountain Top Views: 16 Michigan Vacation Spots
Discover the best Michigan vacation spots with this ultimate guide! From the charming university town of Ann Arbor to the breathtaking Pictured Rocks National Lakeshore, there's something for everyone. Whether you're looking for outdoor adventures, cultural experiences, or romantic getaways, Michigan has it all.