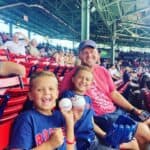 Jake Cain is an entrepreneur and writer from Cincinnati, Ohio. He spends his free time driving around the country in his late 90's conversion van, affectionately known as the "Monster Van" with his wife and 3 boys.
North Carolina is a beautiful South Eastern state. There are many monuments, natural resources, beautiful cities, and this is a state that truly has all four seasons.
You can enjoy a moderate summer, experience fall colors, snow in some parts, and a crisp spring depending on when you go.
Whether you are looking for a mountain getaway or you want to enjoy a week on the water, there are plenty of options for you. Each of these North Carolina vacation spots has features that make it unique.
Asheville
Asheville is an amazing American city to visit if you like to experience nature and artwork. When you visit, you can rent a cabin and explore the Blue Ridge Mountains, which offer breathtaking views throughout the year.
When you visit, be sure to visit the Biltmore Historic Estate, which houses works by Renoir. You will also find the North Carolina Arboretum with 434 acres of lush gardens to stroll around.
The Asheville TreeTop Adventure Park, Mountain-to-Sea Trail, and the Botanical Gardens at Asheville are a few other attractions you will want to see when you are there. Asheville is a perfect place to visit with a significant other or with your family.
Brevard
If you want to experience a romantic getaway in a quaint town, Brevard, in Transylvania County, North Carolina, is the perfect option. The city has a population of just 7,609 people. However, there is plenty to see if you enjoy spending time outdoors.
Many people visit Brevard to experience swimming at Sliding Rock and Looking Glass Falls to locations with waterfalls and natural swimming holes. You can also take in the incredible views at Looking Glass Rock or visit historic sites in the city.
Outer Banks
If a beach vacation is your cup of tea, Outer Banks, a chain of barrier islands off the coast of North Carolina, is a perfect destination. You can take it easy on the many beaches, rent a home on the beachfront, and even dive shipwrecks.
You can also hang glide on Bodie Island, watch a historical reenactment at Mateo's Fort Raleigh National Historic Site, go fishing on or offshore, sail, and much more. With so much to do, there are things that will appeal to people with varying tastes, making this a great place to spend time with your family.
When you go, be sure to check out some of the great seafood the area has to offer at the Mad Crabber or Good Winds where you can enjoy a meal by the water.
Winston-Salem
There is plenty to do with your family in Winston-Salem, North Carolina. The area is home to several museums, including the Kaleideum Children's Museum, the Winston Cup Museum, Korner's Folly, a historic home museum, and several others.
There are also several parks in the area if you want to spend time outdoors. When you get famished, try some of the incredible southern cuisines at Mozelle's Southern Cuisine or Milner's American Southern Restaurant.
Ocean Isle Beach
When you want to spend some time relaxing by the sea, Ocean Isle Beach is a perfect spot. While there are just 525 residents that call it home, it is a popular destination for many vacationers looking to take it easy and get away from crowds found in other areas.
Ocean Isle Beach is between the port of Wilmington, NC and Myrtle Beach, SC. There are vacation homes and resorts, shops where you will find unique gifts, and delicious dining options. It is the perfect place to go for a romantic getaway or a memorable family vacation.
Franklin
If you want to visit the Appalachian Mountains, you have to check out Franklin, NC. It is the official Trail-Friendly destination of the Appalachian Mountains. The population is just over 4,000 residents, so you do not have to worry about large crowds.
Aside from being home to several mountain trails, there are a host of other things to do. Enjoy the three local museums, go antiquing, or watch a show at the Performing Arts Center.
Walk the streets of the historic downtown district, and if you plan on bringing your kids, you can enjoy The Factory, where you can play games and eat.
Beaufort
Beaufort, NC, was established in 1709 and had a history complete with war heroes and pirates. There are numerous annual events hosted in Beaufort, including a National Boat Building Challenge in Spring, the Beaufort Pirate Invasion in the Summer, the Beaufort Food and Wine Beer Festival in Fall, and a Winter Community Thanksgiving Feast.
With so many cool gatherings in the town, you can plan a girls' trip, a family vacation, or a couple's weekend getaway with plenty to do to keep you busy.
Black Mountain
Black Mountain is a city outside of Asheville. There are several trails in the area that are family-friendly.
At the top of the popular Graybeard Trail, you can enjoy a fantastic view from the sixth-highest elevation on the Blue Ridge Mountains.
Lake Tomahawk is another popular local attraction that draws families as well as couples. You can
You can also enjoy some of the local cuisines or have a few beers at some of the local breweries.
Raleigh
Raleigh, NC, is the state's capital, and there is plenty to do with your friends or family in the city. From museums to wineries, this city has it all.
The museums in Raleigh offer guests a chance to experience art or the rich history of the area.
There are also plenty of dining and lodging options in the area. Unlike some other destinations in the state, Raleigh has some great 5-star hotels you can book.
So, if you want to stay in a luxury hotel with your significant other, Raleigh is the perfect North Carolina vacation spot.
During the day, you can check out the many outdoor activities, and at night you can enjoy the downtown scene complete with bars.
Banner Elk
Banner Elk is an interesting North Carolina vacation spot for families and couples who enjoy skiing. There are two ski resorts, Beech Mountain Resort and Sugar Mountain Resort.
The town is an excellent location for couples and friends to experience exhilarating experiences like the Mile High Swinging Bridge.
However, there are also plenty of things to do with children in the area. You can experience wildlife and take it easy at Wildcat Lake where you will find a pier and beaches.
Bald Head Island
Bald Head Island is a more remote North Carolina vacation spot. You have to take a ferry to get to Bald Head Island, but once you arrive, a quiet beachfront town greets you.
It is perfect for getting away from city life, and a perfect place for couples who want to spend some alone time together or even to get married.
There are stunning beachfront vacation rentals, and you can charter a boat or golf.
Wilmington
Wilmington is a larger North Carolina port city, but like most cities in the state, it still has a quaint charm. It is a coastal destination with good surf that attracts a lot of visitors.
There are also several museums, including the Bellamy Mansion Museum, Battleship North Carolina, Cape Fear Museum of Nature History and Science, and more.
The city is also home to Airlie Gardens with sprawling lawns of flowers and lakes and Jungle Rapids Family Fun Park. So, it is a beautiful location to bring your family or a love interest.
Bryson City
Train enthusiasts will love Bryson City, NC. The small town is a gateway to the Smoky Mountains through the Great Smoky Mountains National Park.
Bryson City is an old railroad town, so many of the attractions follow that theme. You can ride a train through the Great Smoky Mountains National Park, and you can visit the railroad museum in town.
Although the city is small, you have access to great fishing, hiking, white water rafting, and an opportunity to experience a slow-paced lifestyle. It is an excellent spot for a short vacation, or you can go camping for the week at the Deep Creek Campgrounds.
Blowing Rock
If you love odd little places where you have exciting attractions to enjoy, Blowing Rock is the place. It is home to Mystery Hill, where there are three small museums, kids and adults love.
Mystery Hill's gravity-defying room has been a feature on several travel shows, and the optical illusion is something you really have to see to believe.
There is also a railroad museum, and you visit the Appalachian Ski Mountain, where there are slopes for every skill level. You can take lessons there, and they are very kid-friendly.
Do not leave without checking out Blowing Rock Cliff which is the location the town is named after. The cliff has beautiful views and strong wind gusts are felt there.
You will also find several fun pubs in town that are great places to relax and grab a delicious meal. When you are there, try the scotch eggs at Six Pence Pub and comfort food at Foggy Rock Eatery.
Atlantic Beach
The swells at Atlantic Beach attract surfers to the area. It is a small coastal location with inlets and Fort Macon State Park. The channels make it a great place to wade fish.
Atlantic Beach is a laid back destination. It is perfect for writers or creatives to get away from their busy lives to work on a project.
You can rent a house on the shore and spend some time enjoying the ocean breeze. Or, you can bring your family to spend quality time together.
Kitty Hawk
Kitty Hawk is another quiet North Carolina vacation spot where you can take it leisurely, relaxing on the beaches.
However, there are fascinating museums in the area and a monument recognizing the accomplishments of the Wright Brothers' achievements in aviation. Neighboring Kill Devil Hills also has a museum with history on the Wright Brothers.
In Kitty Hawk, you will find several fishing piers and the Kitty Hawk Woods Coastal Reserve. The reserve has hiking and biking trails and an opportunity to spot local wildlife or go kayaking, canoeing, or paddle boating.
So, it is a perfect place to vacation for aviation and nature enthusiasts who just want to enjoy the coast for a few days.
Charlotte
For travelers who enjoy vacationing in a major city that has a lot to do, Charlotte is a great option. North Carolina is known for its many museums. However, the museums in Charlotte are some of the most interesting.
Experience the NASCAR Museum that celebrates the history of auto racing, or visit Place Science, where you can interact with the exhibits or watch an IMAX movie.
Summer is a great time to visit Charlotte because there are several water parks and amusement parks in the area.
The U.S. National Whitewater Center gives you the opportunity to go white water rafting, canoeing, and rock climbing. If roller coasters and thrill rides are more your styles, you will find plenty of those in town too.
It is also home to one of the largest renaissance festivals in the United States, which runs from late October through the end of November each year. If you plan a trip during the festival season, you can camp near the festival grounds or stay at one of the many hotels in the area.
Charlotte truly has something for everyone in your family to do, but it is also a great place to go with a few friends or with your significant other.
North Carolina is a truly one of a kind location. Few states give you the option to visit the beach, ski, swim under waterfalls, hunt, fish, and experience world-class artwork.
The state is home to historical sites, the largest mansion in the country, gardens, and museums with Southern charm. However, you can also enjoy lively festivals, parades, and events.
It is a beautiful state for a road trip. You can drive to several of these North Carolina vacation spots to take in the incredible views along the way.
With so much to offer, you should strongly consider planning your next vacation in the Tar Heel State.
20 Thrilling Florida Vacation Spots
Ready to plan your next vacation in sunny Florida? Here are the highlights of the 20 best vacation spots in the state! From the vibrant nightlife of Miami to the laid-back charm of Clearwater, there's something for everyone. Whether you're looking for family-friendly activities, high-end experiences, or unique adventures, this article has got you covered. So, pack your bags and get ready to soak up the sun and fun in the Sunshine State!
15 Virginia Vacation Spots Perfect For Exploring History
Explore the best vacation spots in Virginia with this must-read article! From the historical charm of Williamsburg to the breathtaking beauty of Shenandoah National Park, there's something for everyone. Don't miss out on the top attractions, outdoor adventures, and unique experiences that Virginia has to offer.
Top 15 Ohio Vacation Spots: Vibrant Cities & Aesthetic Parks
Ready to discover the best vacation spots in Ohio? Look no further than this article, which highlights the top destinations in the state, from the vibrant cities of Cleveland, Cincinnati, and Columbus to the scenic Hocking Hills State Park. Explore the great outdoors, enjoy cultural activities, and indulge in local cuisine and attractions. So, pack your bags and get ready to experience the diverse and exciting vacation spots that Ohio has to offer!
Picturesque Lake And Mountain Top Views: 16 Michigan Vacation Spots
Discover the best Michigan vacation spots with this ultimate guide! From the charming university town of Ann Arbor to the breathtaking Pictured Rocks National Lakeshore, there's something for everyone. Whether you're looking for outdoor adventures, cultural experiences, or romantic getaways, Michigan has it all.