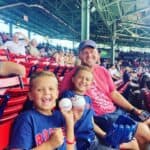 Jake Cain is an entrepreneur and writer from Cincinnati, Ohio. He spends his free time driving around the country in his late 90's conversion van, affectionately known as the "Monster Van" with his wife and 3 boys.
Montana – a state known for its beautiful wilderness, abundant animal life, and incredible national parks. It's any outdoor enthusiast's paradise, whether you're into hiking, water sports, or even winter sports.
Known as Big Sky Country, most people come for the one of a kind scenery you won't be able to find anywhere else. Here are fifteen Montana vacation spots you don't want to miss.
Yellowstone National Park
Yellowstone National Park is the world's oldest national park, receiving thousands of visitors each year.
But who wouldn't want to see the Old Faithful Geyser, a spout that shoots water up out of the earth 90 to 184 feet high every 35 to 120 minutes?
There are multiple geysers throughout the park, some that shoot higher than Old Faithful, but they're less predictable. It's worth time to schedule a visit around the Grand Geyser, the tallest fountain.
It erupts every 8-12 hours and shoots 150-180 feet high.
While at the park, check out Mud Volcano, where the mud boils from geological activity.
If you enjoy viewing wildlife, hit the walking trails or ride a bike through Hayden Valley and Pelican Valley. Take in the natural waterfalls, hot springs, and multiple fishing spots.
It's a vacation that's fun for the whole family or for solo outdoor adventures. Camp in the great outdoors or book a room at one of the on-site lodges, which do fill up quickly.
Make sure you book in advance.
Billings
Many tourists who visit Yellowstone opt to stay in Billings.
Enjoy the 68-mile scenic drive down Beartooth Highway to the National Park. In town, you have access to wonderful local breweries and restaurants, as well as plenty of shopping.
If you're taking a family trip, there's plenty to see. Visit Zoo Montana to check out the animal collection.
If you want to get educational, go to the Wise Wonders Children's Museum.
Got a dino fan? The Makoshika State Park has dinosaur remains and a paleontology lab!
Go offroad and explore the Rockie Mountains in a four-wheel drive. Or pick one of the many paths for hiking and biking among unrivaled nature sites.
Rafting, kayaking, winter sports – you can do them all in Billings.
Get a taste of history by staying at one of the rustic accommodations instead of a fancy hotel.
Your kids are sure to love the ghost stories at Kempton Hotel or the mountain views of Beartooth Basin Bunkhouse.
Glacier National Park
If you're looking for the photo op of a lifetime, you have to make time to visit Glacier National Park.
This historic site is home to over 200 crystal clear lakes, 50 glaciers, waterfalls, forests and gorgeous fields of wildflowers.
Try to plan your visit for a breathtaking experience of getting to view the northern lights at sites like Lake McDonald and Goat Haunt.
There is a forecast you can check to find the perfect conditions. Bring along your telescope for perfect stargazing.
If you travel the Going-to-the-Sun Road, you'll have access to local shops for foods, cold beverages, lodging, visitor centers, and five campgrounds.
You can often see wildlife grazing on the side of the road. There's even a place to see a glacier from your car.
If you're looking for active things to do, there are 734 miles of land for you to explore. Take a hike along with one of the trails. Pitch a tent for a weekend in the wilderness.
There are guided tours if you're not comfortable taking off alone. There are also opportunities for skiing, boating, and cycling.
Bozeman
The college town of Bozeman is a four-season tourist hot spot.
If you appreciate the finer side of life, Bozeman is the home to its own theater, opera, ballet, and symphony orchestra.
Visit the Museum of the Rockies to learn the history of the area and to see real dinosaur fossils.
For some fun in the sun, consider a whitewater rafting trip down the Gallatin River, a 120-mile river that is said to be the best rapids in the area.
There are also opportunities for kayaking, zip-lining, and excellent fishing.
One of the most common reasons for coming to Bozeman is the perfect skiing conditions.
Stop at Bridger Bowl, which is in the Gallatin National Forest, for the chance to ski over 75 marked trails. There are options for skiers of all skill levels. Snowboarders too!
Take a short drive from the city through Hyalite Canyon to view Palisade Falls, an 80-foot waterfall at the base of Palisade Mountain. It's an ideal hiking spot for families.
For lodging, no matter if you're looking to stay at a resort or a log cabin, there's something to meet your needs.
Big Sky Resort
While you're in Bozeman checking out the scenery, you aren't going to want to miss the Big Sky Resort, located on Andesite Mountain.
This site has something for everyone, from dog sledding and sleigh rides to zip lining and strapping on snowshoes for a trek through the snow.
But wait, there's more.
Big Sky Resort also has high ropes, horseback riding, a giant swing, a climbing wall, and a bungee trampoline. This is sure to be your children's favorite stop on your family vacay.
Have a golfer in the family? Check out the 18 hole golf course.
If mountain sports aren't your thing, no worries. Instead, check out some live music, browse through the many local shops, or grab a bite to eat. There are plenty of restaurants to try.
Finding a place to sleep isn't hard, as there are numerous hotels within the village to choose from, including Huntley Lodge, an original establishment, as well as cabin and condo rentals.
Lewis and Clark Caverns State Park
While you're vacationing in Montana, you want to find time to tour the oldest state park, Lewis and Clark Caverns.
Located near Three Forks and the state capital Helena, it's a seven-hour drive from Yellowstone and 45 miles from Bozeman.
Between May 1 and September 30, you can tour the caves to view geological wonders like stalagmites. There's a ¾ mile uphill trail that leads you to the entrance. Once inside, you'll explore various limestone formations that will leave you in awe.
The Paradise Tour is considered an easy trail, that is one mile long and takes about 70 minutes. This is best for families or people with limited mobility.
If you're an experienced cave explorer, challenge yourself with the Wild Cave Tour, which is 2 miles and takes 3 hours to complete.
You'll be squeezing into a lot of tight spaces and crawling. Don't attempt if you're not in shape.
Once you're through touring the caves, check out the local trails for a hike or a bike ride.
Visit the state-of-the-art visitor center to see exhibits.
For shoppers, there's a gift shop and concession stand.
Stay at one of the 40 campsites, rent a tipi for a historical sleep experience, or reserve one of the three available cabins.
Helena
If you don't want to spend your entire weekend at the cave, take a short drive to the capital of Montana. Helena is a hub for visitors to Sky Country.
There's access to over 75 miles of prime trails for hiking, biking, and rock climbing. Or take a leisurely stroll through the historic homes located in Westside Mansion District.
After a long day of hiking, spend some time relaxing in the only natural springs in Helena, located at Broadwater Hot Springs.
Don't leave without grabbing a meal and some brew at The Springs Taproom & Grill.
If you appreciate history, stop to explore the Montana State Capital Building. Then book a seat aboard the Last Chance Tour. Ride in an open-air train or a climate-controlled trolley to view historic sites throughout the city.
There are plenty of places to stay throughout the city, whether you want a luxury hotel or a quaint bed and breakfast.
If you're into bonding with nature, schedule your visit between Memorial Day and September 15 so you can camp at Helena National Forest.
Bannack
If you enjoy historical trips, you don't want to pass up the chance to visit Bannack State Park, a gold mining ghost town perfectly preserved. Founded in 1862, the town was abandoned and turned into a state park in the 1950s.
This state park is open year-round although the hours vary by season so be sure to check the schedule before making plans.
There are still 60 buildings left standing, many of which you can explore at your own leisure.
Take a trip back in time to experience the way life was lived in the height of the Gold Rush. You can even pan for gold! In designated areas only of course.
If you're visiting in the winter, don't leave without taking a twirl on the frozen pond. You can bring your own ice skates or rent from the facility.
There is no camping or lodging available so you'll have to seek accommodations elsewhere. The nearest town is Dillon, which has plenty of hotels and bed and breakfasts.
Dillon
If you're spending time in Dillon, there are a few things to check out.
This area is known for its' excellent fly fishing due to its proximity to trout streams like The Beaverhead, The Big Hole, Red Rock, and the Ruby Rivers.
Visit the Beaverhead-Deerlodge National Forest, which covers 3.32 million acres of land!
While at this park, you can engage in a variety of outdoor activities from trekking through the woods to cross-country skiing.
You can jump on snowmobiles, rent vehicles to hit the offroad trails, horseback ride, or even ride quad bikes and ATVs. Don't be afraid to get off the beaten path to view pristine lakes.
Many visitors like to camp on-site or book one of the available cabins. If you're trying to get close to nature, there's no better place to do it than here.
You can also stop to check out Clark Lookout, a popular tourist spot that covers 8.2 acres of land. Climb the 5,118 feet hill to gaze out at the Beaverhead Valley.
While here, you can also view the monument explaining the significance of the site, which was founded in honor of William Clark.
Great Falls
Affectionately known as the Electric City, Great Falls is a common stopping point for people traveling between Yellowstone and Glacier National Park or driving across the state.
One of the must-see spots in Great Falls is the Lewis and Clark Interpretive Center.
View artifacts and exhibits portraying the harrowing journey of Lewis and Clark, who discovered the "Great Falls" of the Missouri River.
To view the Great Falls, you should visit Ryan Island Park, where you can stand on a suspension bridge stretching over the Missouri River.
Wait until Spring to see the sites just as Lewis and Clark, complete with multicolored rainbows.
While here, take the family on a tour of Ryan Dam, a six-unit hydroelectric plant that gives the city its nickname.
Have a picnic at the designated area before starting your trek along River's Edge Trail, which will connect you to other awesome parks and sites.
You can also check out the other popular falls –
Crooked Falls, only accessible by hiking and untouched by expansion.
Rainbow Falls & Dam – known as "Beautiful Cascade" by Lewis.
Black Eagle Falls & Dam – closest to Great Falls', 26 feet high and 600 yards wide. Also the site of Black Eagle Memorial Island Park.
Food and accommodations are easy to come by in Great Falls, no matter your preferences.
If you've got the time, get a tour of the local breweries and do some taste testing.
Check out the pizza shops, burger joints, sushi, or even authentic Irish cooking.
You might never want to leave!
Montana is known for its wilderness so it's no wonder that there's an abundance of outdoor activities to enjoy throughout the state.
Learn about the history of America's expansion while experiencing once in a lifetime sights. There's plenty to see and do. The problem is finding enough time to get it all done.
You're sure to want to vacay here more than once. Enjoy our 10 Montana vacation spot recommendations to get you started.
20 Thrilling Florida Vacation Spots
Ready to plan your next vacation in sunny Florida? Here are the highlights of the 20 best vacation spots in the state! From the vibrant nightlife of Miami to the laid-back charm of Clearwater, there's something for everyone. Whether you're looking for family-friendly activities, high-end experiences, or unique adventures, this article has got you covered. So, pack your bags and get ready to soak up the sun and fun in the Sunshine State!
15 Virginia Vacation Spots Perfect For Exploring History
Explore the best vacation spots in Virginia with this must-read article! From the historical charm of Williamsburg to the breathtaking beauty of Shenandoah National Park, there's something for everyone. Don't miss out on the top attractions, outdoor adventures, and unique experiences that Virginia has to offer.
Top 15 Ohio Vacation Spots: Vibrant Cities & Aesthetic Parks
Ready to discover the best vacation spots in Ohio? Look no further than this article, which highlights the top destinations in the state, from the vibrant cities of Cleveland, Cincinnati, and Columbus to the scenic Hocking Hills State Park. Explore the great outdoors, enjoy cultural activities, and indulge in local cuisine and attractions. So, pack your bags and get ready to experience the diverse and exciting vacation spots that Ohio has to offer!
Picturesque Lake And Mountain Top Views: 16 Michigan Vacation Spots
Discover the best Michigan vacation spots with this ultimate guide! From the charming university town of Ann Arbor to the breathtaking Pictured Rocks National Lakeshore, there's something for everyone. Whether you're looking for outdoor adventures, cultural experiences, or romantic getaways, Michigan has it all.