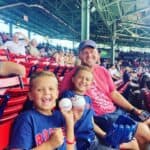 Jake Cain is an entrepreneur and writer from Cincinnati, Ohio. He spends his free time driving around the country in his late 90's conversion van, affectionately known as the "Monster Van" with his wife and 3 boys.
Also known as the Keystone State, Pennsylvania is home to popular tourist stops like Independence Hall and the Liberty Bell. The state has many varied types of cities that make for excellent vacation spots.
The state has an abundant natural beauty that lets you enjoy the outdoors or just soak it up from the window of a posh resort.
Let us explore some of the best Pennsylvania vacation spots which you can visit.
Pittsburgh

, Pennsylvania
Pittsburg is an up and coming food destination and woos its visitors with many cuisines from Italian to Asian-Mexican fusion. The city also offers so many things to do that it is nearly impossible to tackle them all in a weekend.
If you are a sports lover, then there is nothing more fun than enjoying an NFL Pittsburgh Steelers game or enjoy an ice hockey game with the Pittsburgh Penguins. Art lovers can also have a great time in the city roaming around the famous Andy Warhol Museum which houses countless originals from this American painter.
Philadelphia, Pennsylvania
Philadelphia is also known as the Birthplace of America and is one of the most notable historical destinations. The city makes for a great vacation spot in Pennsylvania.
If you are visiting the city for the first time then make time to visit the Independence National Historical Park, the Liberty Bell Center, National Constitution Center, and the Betsy Ross House.
The Liberty Bell is where women's suffrage advocates and other groups have used in their causes as a symbol of liberty and the Independence Hall is where the Declaration of Independence and the Constitution were debated and signed.
If you are a family with kids, then do visit the Philadelphia Zoo which is considered to be the first zoo in America.
Don't forget to end your trip with a Philly Cheesecake.
Gettysburg, Pennsylvania
Gettysburg has remained a favorite with history buffs. Known for its Civil War battlefield tours and reenactments, travelers can tour the sites.
Start by touring the 6,000-acre Gettysburg National Military Park, this was the site of the Civil War's bloodiest battle. Other attractions which you can explore include the Jennie Wade House, this is where the only civilian casualty from the Battle of Gettysburg died.
Visitor's can also take guided tours or get a taste of Pennsylvania's Dutch Country Roads with a bike. You can also travel with a National Park Service Ranger on a tour through the battlefield and Cemetery Ridge.
Lancaster, Pennsylvania
Lancaster County is known for one of the most scenic driving tours. This lovely Amish countryside makes for a great vacation spot in Pennsylvania.
The most visited tourist spot here is The Dutch Wonderland amusement park which is synonymous with Lancaster. This family-friendly theme park gets a lot of praise.
Other than that, you can also enjoy the area with a hot air balloon ride over the rolling farms with the U.S. Hot Air Balloon Team. You can also learn more about the Pennsylvania Dutch culture by shopping for antiques or stopping at a roadside stand for fresh produce.
Pocono Mountains, Pennsylvania
Poconos makes for one of the most scenic weekend getaways in Pennsylvania. Whether you are looking for a relaxing getaway or non-stop adventure, this is the place to be in.
When you visit The Poconos in the summertime, then you can indulge in hiking, whitewater rafting, all-terrain treks, bird watching and skydiving.
It has over 150 lakes which is why water-based activities are also popular. The Pocono Mountains also offer skiing and snowboarding which attracts many adventure enthusiasts.
Allegheny National Forest, Pennsylvania
If you are looking for an outdoor recreation getaway, then there is nothing better than Allegheny National Forest. There are many hiking trails in the forest that range from less than a mile to 201 miles.
The Allegheny National Forest occupies more than 500,000 acres of land and offers countless chances to hike, bike, ride horses and cross-country ski. You can also try water activities like fishing, windsurfing and water skiing.
Also, visit Allegheny River where you can enjoy days of canoeing and kayaking. After all that adventure, you can also take a scenic drive along the 36-mile Longhouse National Scenic Byway.
Hershey Park, Pennsylvania
Hershey, Pennsylvania is also known as the sweetest place on Earth as the city pays homage to the chocolate empire.
One of the best places to visit is Hersheypark which has more than 70 rides and entertainment. The park was originally built in 1906 as a recreational area for Hershey's workers but now is a popular tourist attraction.
The best time to visit is in the summer when all the attractions are open. In addition to kiddie rides, the park has all the family favorites like a carousel, train, bumper cars, and Ferris wheel.
You must also visit the Hershey's Chocolate World where you will learn more about the history of Hershey's candy with interactive exhibits.
Presque Isle State Park, Pennsylvania
Presque Isle State Park sits on a peninsula that curves out into Lake Erie, creating Presque Isle Bay. The park is open all-year-round and has plenty to offer, including eleven miles of beach and several hiking trails
Enjoy swimming or sunbathing or just relaxing on the picturesque beach. The park also holds seasonal events and summer concerts that are free and open to the public.
You can also visit the Presque Isle Lighthouse and the North Pier. At the entrance of the park, you can visit Tom Ridge Environmental Center which houses exhibits about the park.
Valley Forge, Pennsylvania
Visit Valley Forge to know more about American history. Valley Forge is the ultimate symbol of sacrifice and triumph during the American Revolutionary War. The village served as the winter encampment for former President George Washington and the Continental Army from 1977 to 1978.
The Valley Forge endured some 2,000 casualties related to hunger, disease, and poor conditions after the British razed this key supply center. You can see the history through exhibits, film and tours.
For a break from history, you can also enjoy shopping at the nearby King of Prussia Mall.
Williamsport, Pennsylvania
The city of Williamsport is a great getaway spot in Pennsylvania. It does not get the tourist attention that it should, but it's a great recipe for sports fans.
This is where Little League Baseball originated and where the league is currently headquartered. To know more, visit the World of Little League Museum, where you can admire artifacts and memorabilia related to the Little League.
Strasburg, Pennsylvania
Strasburg is a small town in Lancaster County known for its Amish culture and railroad history. Take a ride on the Strasburg Rail Road, which offers 45-minute scenic journeys aboard the country's oldest turn-of-the-century steam trains.
Strasburg is also home to the National Toy Train Museum, which has extensive displays of model train collections from the 1800s through today.
Pennsylvania State Capitol, Pennsylvania
The Capitol Building in Pennsylvania is an impressive structure built of Vermont granite. The building is easily distinguishable as it is an impressive structure with a great dome sitting on it.
The dome is inspired by Rome's Cathedral, St. Peter which weighs in at a massive 52 million pounds.
You can visit the State Museum of Pennsylvania which is also located on complex grounds and includes a natural history museum, planetarium, historical exhibits.
Pennsylvania is blessed with many attractions that make the state filled with many vacation spots. From Lancaster to the lovely Strasburg, there are lots to do in the state.
20 Thrilling Florida Vacation Spots
Ready to plan your next vacation in sunny Florida? Here are the highlights of the 20 best vacation spots in the state! From the vibrant nightlife of Miami to the laid-back charm of Clearwater, there's something for everyone. Whether you're looking for family-friendly activities, high-end experiences, or unique adventures, this article has got you covered. So, pack your bags and get ready to soak up the sun and fun in the Sunshine State!
15 Virginia Vacation Spots Perfect For Exploring History
Explore the best vacation spots in Virginia with this must-read article! From the historical charm of Williamsburg to the breathtaking beauty of Shenandoah National Park, there's something for everyone. Don't miss out on the top attractions, outdoor adventures, and unique experiences that Virginia has to offer.
Top 15 Ohio Vacation Spots: Vibrant Cities & Aesthetic Parks
Ready to discover the best vacation spots in Ohio? Look no further than this article, which highlights the top destinations in the state, from the vibrant cities of Cleveland, Cincinnati, and Columbus to the scenic Hocking Hills State Park. Explore the great outdoors, enjoy cultural activities, and indulge in local cuisine and attractions. So, pack your bags and get ready to experience the diverse and exciting vacation spots that Ohio has to offer!
Picturesque Lake And Mountain Top Views: 16 Michigan Vacation Spots
Discover the best Michigan vacation spots with this ultimate guide! From the charming university town of Ann Arbor to the breathtaking Pictured Rocks National Lakeshore, there's something for everyone. Whether you're looking for outdoor adventures, cultural experiences, or romantic getaways, Michigan has it all.