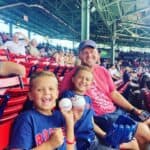 Jake Cain is an entrepreneur and writer from Cincinnati, Ohio. He spends his free time driving around the country in his late 90's conversion van, affectionately known as the "Monster Van" with his wife and 3 boys.
One of the best parts of any road trip is getting that first glimpse of the thing you've been driving for hours or even days to see.
Sometimes, it's a view you've been fully expecting to see.
Like when we were ascending the mountains around Mt. Rushmore and knowing at any moment, we'd be seeing our friends George and Abe.
Other times – you run into something unexpected.
I'll never forget in our 2017 trip when I missed the turn into my good friend Derek's neighborhood and went to turn around on a side street in near Austin, Texas.
I whipped around the corner quickly and simultaneously screamed and slammed on the brakes when I was greeted by a peacock in the middle of the road.
I'd never seen a peacock outside of the Cincinnati Zoo, so I was startled and confused when this bird was giving me some full-feathered aggression like this:
Eventually, it moved over and we went on our way – but that angry peacock still haunts my nightmares and makes my kids laugh.
Fortunately, on the 2019 road trip we've seen almost exclusively happy surprises. Here are my favorite Monster Van pictures in no particular order:
1. Mt. Rushmore
I was skeptical of how much I'd enjoy Mt. Rushmore, but it was certainly cooler than I expected.
However, it was also the first "big" stop on our trip (if you don't count Wall Drug)- so there's something about that first landmark that's really special. Everyone is excited and there's a sense of anticipation as you're driving up.
In this case, we knew we were getting close based on the mileage signs, but we didn't know if you'd see the monument from the main road, or until after you entered the park.
So there were some definite "oohs and ahhs" when we got that first surprise look after turning the corner.
2. Grand Teton National Park
The Tetons are just a photogenic set of mountains.
Everything you see looks better when those mountains are behind them. However, I particularly love this panoramic photo I pulled over and took at a nearby lake while we were driving around and exploring.
3. Trump International

On Facebook, I captioned this one as "Making Our Road Trip Great Again."
It wasn't a political statement, it just seemed like the obvious choice for a caption here…
I don't know why, but I get particularly excited about pulling my ugly van up into places where it stands out like a sore thumb.
The super-fancy Trump International in Vegas was definitely one of those places.
I think our toilets inside of Trump International were made out of gold.
Everything was glitzy.
So of course, the valet line had plenty of eye-catching cars sitting around when I pulled up and snapped this picture with a big smile on my face.
4. Redwoods State Park

In the Santa Cruz area, we visited Henry Cowell Redwoods State Park.
This was our first time seeing coastal redwoods – which are the ones that tend to grow extremely tall instead of extremely wide (like the sequoia).
We got up close and personal with the trees on a one mile loop hike, but the drive to get back there was quite serene as well.
5. Lombard Street

I'd be lying if I said I wasn't nervous about driving the Monster Van down "the crookedest street in America" in San Francisco's Lombard Street.
I'd driven it once before in a much sportier Toyota Sienna, so I knew the road was steep and the turns were sharp.
My knuckles were a brighter shade of white, but we made it without any collisions or killing any oblivious pedestrians.
6. Wildlife Sightings

We were really lucky with our wildlife sightings this year. Above are just a couple pictures of a black bear and bison in Yellowstone and a moose we saw in Jackson, Wyoming.
We've got a ton of pictures like this – which show you just how close you get to these fantastic beasts.
7. Grand Tetons Approach

Did I mention the Tetons are beautiful?
You start seeing them from quite a distance as you're driving in, and here's what that looks like.
8. Golden Gate Bridge

Of course we had to drive across the Golden Gate bridge.
Here we are headed away from San Francisco and towards the Battery Spencer overlook, which was worth the time to check out.
9. The Lights Of Vegas

We took a trip up to old Vegas, where the Golden Nugget and some other other brightly lit casinos and attractions reside.
The lights here are super bright and closer to ground level – which makes for a pretty cool photo from the van like this one.
10. Rodeo Drive

Rodeo Drive is the famous, super high-end shopping street in Beverly Hills. Some stores are so exclusive that they only allow shopping by appointment only.
I'm pretty sure that's to keep riff-raff like me out – who would come in just to play Price Is Right style guessing games with their overpriced items.
One of the most exclusive stores of them all is House of Bijan, and the store usually has some exotic car parked out front in their signature yellow color.
As soon as I saw this Bentley, my first though was to quickly parallel park in front of it and take a picture.
Then, I did the math and realized if I screwed that up and dented his bumper, I'd have to take out a second mortgage to pay for it.
So as an alternative, I just stopped in the middle of the road and Sarah jumped out and snapped this beaut in a matter of seconds.
11. Pacific Coast Highway
The Pacific Coast Highway (PCH) is atop many ultimate road trip lists for a reason.
Particularly in the Big Sur area, you'll enjoy driving oceanside while the California sun sets right next to you.
The biggest challenge as a driver is not glancing over too often and driving off a cliff. I'm not exactly sure where Sarah took this one, but there were thousands of opportunities just like it during our 5+ hour drive.
12. Hollywood Sign
If you're ever in Los Angeles and want to do a bus tour, I highly recommend Mark at Legends of Hollywood Tours. We've actually done a tour with him twice, and the guy knows his stuff and does a fantastic 4 hour tour of the area.
I say that because it was Mark who told us to set our GPS to Lake Hollywood Park for a close-up view of the Hollywood sign. We went up there last time and were able to park and get great city views and of course some pictures with the iconic Hollywood sign.
This time around we couldn't find parking (it was a Saturday), so we settled for this Hollywood through the windshield photo opp.
13. The State Of Utah
We've been flat out blown away by the natural beauty of places like Zion, Bryce Canyon, Moab, and even our hotel the Red Cliffs Lodge in Utah.
These are just a few random shots from our time driving around the land of Stockton & Malone.
Bumper Sticker Memories
I'm normally not a bumper sticker guy.
But in this case, the van is already ugly – so we decided to load up on bumper stickers from every stop on our trip and stick them on the van.
Our hope is that as we journey around this great country, the back of the Monster Van will serve as our scrapbook.
We've got a few stops left, but the Monster Van has already taken in some of America's greatest sights.