Located on the shores of Lake Erie, Buffalo is upstate New York's most famous city. Buffalo is also known as the "Queen City" and and "The Nickel City".
Since it's close to Toronto, Niagra Falls are just around the corner. Plus it provides an excellent base for travelers through various day trip options.
The city itself has a lot to offer in terms of nature trails, sailing opportunities, and of course Buffalo Wings!
Let us explore some of the best day trips you can take from Buffalo.
Niagra Falls, Canada
When thinking about day trips from Buffalo, you surely cannot miss out on this one – the Niagra Falls. Located just a stone's throw away from the city, Niagra Falls needs no introduction.
There are a couple of ways to get up close to the Niagra Falls – either you can take the Maid of the Mist boat, or simply observe from afar at the Observation Tower.
Some of the highlights of the waterfall include Horseshoe Falls, Bridal Veil Falls, Goat Island, and the Whirlpool.
Step outside of Niagra State Falls for some more unique attractions. Expect a bustling street scene, tons of restaurants, and attractions.
Distance: 24 minutes
Ideal for: Nature lovers & family fun
Ellicottville, New York
Located just an hour away from Buffalo, Ellicottville is a fantastic option for nature lovers. Though it is packed with adventures all year long, the place truly comes alive in winters.
This village is known for its skiing resort. The Holiday Valley Resort is known for offering many adventure-filled activities.
It offers activities like an exciting mountain coaster, scenic chair lifts, mountain biking trails. You can also head to the nearby Allegany State Park for some challenging hikes and end the day with a splash in the lake.
Distance: 1 hour
Ideal for: Adventure sports
Rochester, New York
Rochester is one of the most populous cities of New York and makes for a great day trip from Buffalo. The city is known for its exciting atmosphere that sees a huge number of exhibitions, performances, and festivals held here throughout the year.
The city is also home to 12,000 acres of parklands amusement parks and water parks. Rochester is also located close to Lake Ontario and the Genesee River that flows through the city.
Distance: 1 hour and 16 minutes
Ideal for: Fun getaway
Letchworth State Park, New York
Head out to Letchworth State Park for a wonderful day trip. This park is a great option for nature enthusiasts.
It is also known as the "Grand Canyon of the East" and is one of the most stunning areas in the eastern US region and is also the Number 1 state park in the USA.
The park feature three major waterfalls and the view is truly amazing. Some cliffs are as high as 600 feet and are surrounded by lush greenery and hiking trails.
Hikers can have a great time here where they can choose to hike 66 miles (106 kilometers) of hiking trails. Other activities that you can indulge in are horseback riding, biking, and cross-country skiing.
For even more activities, you can even indulge in activities such as white-water rafting, kayaking, or even hiring a hot-air balloon.
Distance: 1 hour and 8 minutes
Ideal for: Adventure enthusiasts
Finger Lakes Region, New York
If you love wine, then this region will perfect for you. The Finger Lakes Region is the perfect day-trip destination for those looking to get a few sips of the area.
The region is over 124-000-acres and there are many activities which you can indulge in. There are six major lakes here and you can spend your day indulging in many activities offered in the region.
Coming to wine, head to the Owl Wine Company in the Fingers Lake region. There are more than 1000 wineries in the area.
You can also visit the Glenora Wine Cellars which is near the Watkins Glen Area.
Distance: 2 hours and 4 minutes
Ideal for: Wine lovers
Toronto, Canada
Toronto is actually pretty close to Buffalo and makes for one of the best day trips from Buffalo. Shopping, wining and dining can be a great way of spending time in Ontario's capital.
Wander around Toronto's Eaton Centre where shops line the streets and spend some time shopping from high-end brands to local designers.
CN Tower makes for a great attraction. It stands at 553.33 meters (1,814 feet) high and dominates the Toronto landscape.
It stands out in the Toronto skyline and some consider it to be one of the Seven Wonders of the Modern World.
Distance: 1 hour and 41 minutes
Ideal for: Shopping and fun
Chautauqua Institution, New York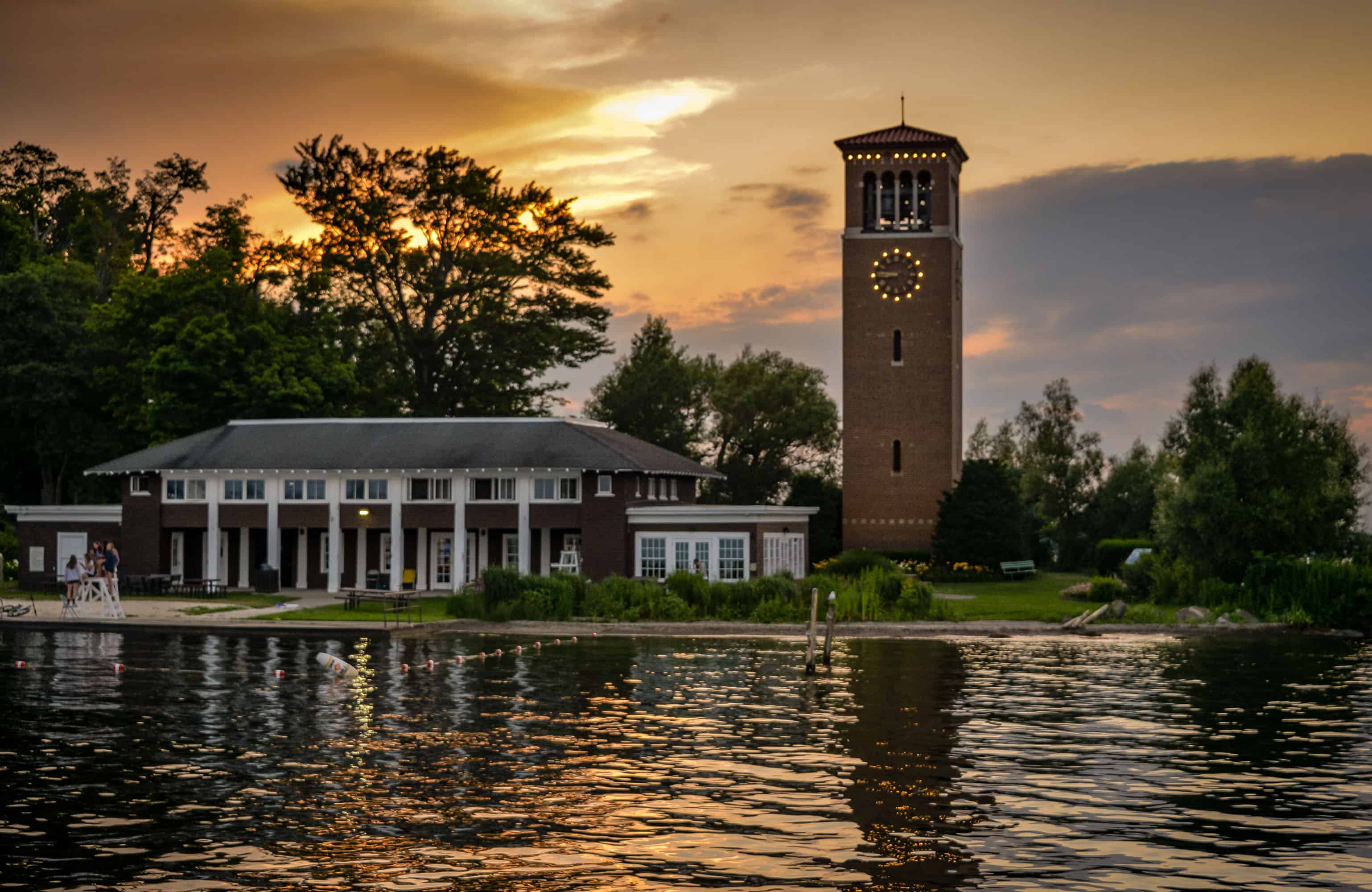 Located on the banks of Chautauqua Lake, Chautauqua Institution offers education and entertainment all in one. Here you can enjoy lectures, music, and dance — in a historic setting.
Visitors can also indulge in golfing, boating, spiritual lessons, and an entire lineup of concerts. Located just an hour away from Buffalo, Chautauqua Institution makes for a great day trip.
Distance: 1 hour
Ideal for: Entertainment
East Aurora, New York
Located just south of Buffalo, East Aurora is home to the fascinating Roycroft Campus which is a dynamic and fun art colony. This is where the founders of the Arts & Crafts movement once created furniture, books, metal works, and more.
The designs produced here were a contrast to the mass-produced goods of the Industrial Revolution and featured a simple, hand-crafted look.
The colony is still alive and certainly deserves a visit. There are fourteen buildings spread across the campus, so take your time to explore the same.
Distance: 1 hour
Ideal for: Art lovers
Darien Lake, New York
Darien Lake is New York's largest water and theme park which is located around 40 minutes from downtown. It makes for a great day trip from Buffalo with friends and family.
There are many rides that can make your day like seven roller coasters, a Ferris wheel, bumper cars, and dozens of other attractions for adults and kids.
Children, of course, love Darien Lake and adults love the excuse to be children for the day. In summer, you can also look for concerts at the Darien Lake Performing Arts Center.
Distance: 43 minutes
Ideal for: Children and families
Canandaigua, New York
Buffalo is blessed with an endless sea of waterfront towns and breathtaking lakes. Canandaigua has much to offer if you are willing to drive from Buffalo out across the Finger Lakes.
Summer is a great time to visit, as in winter most of the lakes just freeze over. Other attractions worth visiting are Sonnenberg Gardens, Roseland Waterpark, the stunning Canandaigua Pier, and the waterfront Kershaw Park.
Distance: 1 hour and 31 minutes
Ideal for: Water lovers
Lily Dale, New York
If you really want to splash it out of the park, then visit Lily Dale which is the most unique town near Buffalo. If you haven't heard of it, then Lily Dale is known as the world's largest center for Spiritualism and all of the residents living in this gated community are certified spiritual mediums.
Just to live there you will have to prove that you are a spiritual medium otherwise you might not be allowed.
Apart from that, you can visit Lily Dale even if you do not want to take part in its spiritual givings. This scenic and peaceful town makes for a great getaway from Buffalo.
It will definitely be unlike any town you have ever seen in Western New York.
Distance: 1 hour and 5 minutes
Ideal for: Spiritual people
Olcott, New York
If you want a summer holiday, then drive up north to spend some time along the shore of Lake Ontario by visiting the village of Olcott. Olcott is a scenic beach town that is known for its beautiful lakefront views.
Visit the charming shopping village, a famous and historic popcorn stand, and an entire kiddie amusement park.
Needless to say, Olcott makes for a great family-friendly vacation spot that can leave you rejuvenated.
Distance: 1 hour
Ideal for: Family fun
Batavia, New York
The charming city of Batavia in Genesee County has a little bit of everything to offer to its visitors. It makes for a great day trip from Buffalo.
Take your kids to places like the Adam Miller Toy & Bicycle Shop to shop for vintage trinkets that will surely make them excited. After that, you can head for a meal at Center Street Smokehouse for some amazing finger-licking food.
Distance: 43 minutes
Ideal for: Family fun
Jamestown, New York
Jamestown sits on lakefront so there are lots of fun things to do around this exciting city. This town also happens to be the hometown of Lucille Ball.
Explore more at Lucille Ball-Desi Arnaz Museum or spend the day at the National Comedy Center.
Distance: 1 hour and 42 minutes
Ideal for: Family fun
Conclusion
Buffalo is a great city on its own but there are many destinations which you can visit from the city. From Toronto to the beautiful Finger Lakes Region – the options are endless.