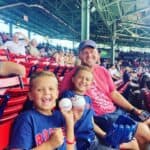 Jake Cain is an entrepreneur and writer from Cincinnati, Ohio. He spends his free time driving around the country in his late 90's conversion van, affectionately known as the "Monster Van" with his wife and 3 boys.
Known as the Queen City, Charlotte offers visitors a fantastic starting point to experience a variety of adventures worthy of its regal nickname.
Located along the border to South Carolina, Charlotte is one of North Carolina's major cities. From Charlotte, visitors have easy access to Tennessee, South Carolina, and North Carolina's Atlantic coastline.
Charlotte prides itself on promoting a creative, curious, and vibrant culture, and there is no better way for a visitor to experience this than by exploring all the area has to offer through energizing day trips.
Whether you prefer a trip to the Atlantic coast, a hike through a state park or forest, or a boat ride on a scenic lake, you can get there in a flash from Charlotte.
Read on for our picks of the best day trips from Charlotte.
Reed Gold Mine
This historic site lies just 40 minutes from downtown Charlotte and is known as the location of the first documented gold find in the country.
Guided tours of the mines, including underground tunnels, highlight the fascinating history and economic importance of mining to the region. You can even watch a demonstration of the reconstructed mill machinery from the 1890s.
History buffs will enjoy the Visitor's Center with its exhibits on gold and mining technology, as well as its library.
After your tour, set out on one of the trails surrounding the mines to learn more about geology and mining equipment. A small gift shop carries souvenirs to remember the experience.
If you are looking for family-friendly fun, Reed Gold Mine is the perfect stop. Kids will especially love panning for their own gold, just like the miners of the past!
Lake Lure
Remember that iconic lake scene in "Dirty Dancing"? It was filmed right here at Lake Lure!
Lake Lure is one of North Carolina's most popular destinations for its natural beauty and for the variety of activities available to enjoy there. Water sports, boating, fishing, and swimming are just a few examples of the fun you can have at Lake Lure.
Once you're tired of the water, you can hike one of the nature trails surrounding the lake for a look at the native wildlife. Morse Park has plenty of trails for walking or biking, along with scenic views of the lake and the mountains of Hickory Nut Gorge.
The Lake Lure Flowering Bridge is a community garden bridge maintained by the locals and worth a visit during your trip for its seasonal splendor.
Lake Lore is perfect for outdoor enthusiasts in need of a little adventure on their day trip.
Fort Dobbs State Historic Site
Calling all history aficionados! Fort Dobbs was the military headquarters for early settlers during the Seven Years War, also known as the French and Indian War.
Guided tours through the fort are available, as well as a covered picnic area and a small playground. A short nature trail gives you an up-close look at the natural wildlife and vegetation of the area.
Head to the Visitor Center, which is designed like a log cabin, and contains the Petit Sutler gift shop and several original artifacts found at the site. You can also take a look at a miniaturized version of the first 1756 fort.
Fort Dobbs stages reenactments throughout the year, so check the calendar before your visit if you are interested in seeing one.
Historic Downtown Salisbury
A quick hour-long drive from Charlotte, Historic Downtown Salisbury takes visitors back in time. Choose to visit several historical sites, unique shops, and restaurants, or hip breweries and wineries.
Do you study military history? The National Cemetery and Confederate Prison site offers a final resting place to veterans of all wars. Thousands of unknown soldiers who died at Salisbury Confederate Prison during the Civil War are buried there.
History buffs will also enjoy the Rowan Museum for its exhibits on early Carolina history, and the Dr. Josephus Hall House, a restored southern residence that you can tour.
Guided walking tours through the historic district allow you to visit landmarks and learn more about the rich history of the town.
Looking for somewhere a bit more modern? New Sarum Brewing offers high-quality craft beers and a laid back atmosphere with live music every week.
For foodies, there are plenty of world-class restaurants located in Salisbury. Stag & Doe Restaurant and Tavern opened in the 1950s and has been a popular eatery among locals and visitors since.
You can find pizzerias, fine dining, homemade ice cream shops, and more conveniently located in Salisbury.
Antique shops, jewelers, curio stores, and other unique small businesses make for an excellent day of shopping.
The whole family will enjoy charming Historic Downtown Salisbury, though groups of adults will have the most fun exploring the city and its history.
Crowders Mountain State Park
Are you a nature lover or outdoor enthusiast? If this sounds like you, head out for a day trip to Crowders State Park.
With two peaks, Crowders Mountain and King's Pinnacle, there are several challenging hikes and trails to reach panoramic views of the region. Adrenaline junkies will get a rush from rock climbing the steep vertical cliffs of the mountains.
To relax after your hike, sit back in the picnic area or visit the visitor center to check out exhibits about the nature and history of the area. Bird and nature watching are also peaceful activities that may lead to some curious finds.
You can rent a canoe at the lake for a different way to explore the park. The nine-acre lake is also a great fishing spot for anglers of all skill levels.
Crowders State Park is best for adventurers looking to explore nature, challenge themselves with a journey to the top of one of its peaks, and reconnect with the natural world.
Asheville, NC
Located among the Blue Ridge Mountains, Asheville is best known for its vibrant arts scene and unique, historic architecture.
Biltmore is Asheville's grandest must-see attraction. Biltmore Estate features America's largest home, a French Renaissance castle with 250 rooms.
There are 8,000 acres of gardens and forest trails to explore, a winery, six restaurants, and charming specialized shops for a truly unique experience.
Are you interested in European architecture? Stop by the Basilica of St. Lawrence, which has the largest freestanding elliptical dome in the country and was designed by Spanish architect Rafael Guastavino.
With over 30 art galleries in the downtown area, Asheville is the center of art in the southeast.
Check out one of the galleries or the Asheville Art Museum to discover the variety of art present in the city. Fine art, folk art, and Appalachian pottery are just a few examples of the lively art scene in Asheville.
With so much to do in Asheville, anyone, including families, will always be entertained during their visit. But art and architecture aficionados will certainly have the most to see and do during their day trip.
Daniel Stowe Botanical Garden
Just a 30-minute drive from Charlotte, Daniel Stowe Botanical Garden is a gardener's paradise. More than 380 acres include meadows, forests, gardens, a fountain collection, and a lake.
The Orchid Conservatory is a five-story glass house that displays orchids and tropical plants, like a cocoa tree, in order to teach about tropical ecosystems. A waterfall adds to the tropical environment and completes the experience.
What about fun for the kids? Lost Hollow: The Kimbrell Children's Garden has play areas for children, plus an amphitheater for entertainment and a sunken pond to explore.
Children will also love venturing through the 3.2 miles of woodland trails surrounding the gardens. The Thread Trail is very popular and takes you by picturesque Lake Wylie.
Daniel Stowe Botanical Garden offers a beautiful day trip full of nature and adventure that appeals to visitors of all ages.
Wilmington, NC
Wilmington is a famous port city on North Carolina's Atlantic coast. You might recognize many areas of Wilmington from the TV show "One Tree Hill," which often filmed scenes in the city.
A quintessential beach town, Wilmington has several sand beaches for relaxing and swimming. If you're looking for more exciting water sports, try out surfing, paddle boarding, or kayaking on the Atlantic Ocean.
Battleship North Carolina is the most decorated U.S. Battleship of World War II and gives visitors a chance to experience history firsthand.
The Wilmington Riverwalk is the city's #1 tourist attraction. At 1.75 miles long, the Riverwalk stretches along the bank of Cape Fear River into the historic downtown area.
Shops, restaurants, museums, and parks are all easily accessible from the Riverwalk.
Tour the Historic District or Bellamy Mansion for a glimpse at life in early North Carolina and to admire the beautiful architecture of the old homes.
Wilmington is a family-friendly day trip that combines laid back beach vibes with dynamic downtown attractions and stunning ocean views.
Uwharrie National Forest
Spanning 50,000 acres, this national forest has three rivers that provide natural scenery and outdoor activity.
Hiking and camping are always popular activities at Uwharrie. Campgrounds and cabins provide great places to rest, while hundreds of miles of hiking trails offer you a way to observe wildlife in its natural habitat.
Are you looking for a unique way to see the forest? Visit one of Uwharrie's two-horse camps and then explore more than 40 miles of horseback riding trails full of natural scenery.
Children will enjoy all of the water activities available on the rivers. Boating, waterskiing, swimming, and tubing provide hours of fun for the kiddos.
Stressed out day-trippers will find Uwharrie a relaxing retreat from the stress of everyday life. This forest promises an outdoor adventure for all visitors, young and old.
Travelers Rest, SC
Do you want to take a trip to the past? This small town in South Carolina has vintage energy with boutique shops, authentic dining, and rich history.
Before you explore the town, stop by the charming Travelers Rest History Museum, which is only open on weekends. Though small, the museum has exhibits and artifacts from the early time of the town.
If you're a cycling aficionado, Travelers Rest is the place for you. The Prisma Health Swamp Rabbit Trail is a 22-mile trail that runs through Main Street and connects to Greenville.
For shopaholics, there are plenty of boutique shops with handcrafted goods, as well as antique shops full of funky finds.
Foodies will love the cuisine in Travelers Rest, which ranges from classic Southern dining to modern fusion restaurants.
With its variety of attractions, Travelers Rest is best suited to adult day-trippers who can enjoy its history, downtown shopping and dining, and outdoor recreation.
Boone, NC
Located in the Blue Ridge Mountains, Boone is a combination pioneer and mountain town with pulse-pounding activities for outdoor adventurers.
Grandfather Mountain is the highest peak in the Blue Ridge Mountains and home to the famous Mile High Swinging Bridge. This death-defying suspension bridge hangs a mile above sea level and gives you fantastic panoramic views of the area.
Boone has the best skiing in the southeast! Three different resorts offer skiing, snowboarding, snowshoeing, and even snow tubing, an especially fun activity for kids.
Rocky Knob Mountain Bike Park has five trails coursing through woods and along streams for great nature scenes. There are uphill and downhill challenges throughout the trails for complete biking experience.
Mast General Store is one of the best-preserved general stores left in the country. They carry all kinds of unusual merchandise and Americana artifacts for those interested in learning how townspeople lived in early Boone.
What isn't there to do in Boone? Between outdoor activities, museums, historic sites, shopping, and dining, you'll never be bored in the bustling town of Boone.
Seagrove, NC
Seagrove is for the artists. Rightly considered the "Handmade Pottery Capital of the United States," there are more than 100 potters to visit in the town.
About an hour and a half drive from Charlotte, Seagrove is a must if you are interested in pottery or if you are a potter yourself.
North Carolina Pottery Center provides a place for visitors to learn about North Carolina's clay culture. It is the only statewide facility devoted to pottery in the country.
Exhibits, classes, and interactive workshops help guests engage with the art of the region. Special events celebrate local artists, pottery techniques, and other art topics.
Are you a coffee addict? Make sure to stop by Seagrove Pottery Gallery and Hearthside Coffee Shop, where you can admire all different kinds of pottery and relax by the fire with a gourmet coffee.
If you're looking to purchase a unique piece of pottery, there are many shops to choose from in Seagrove. Smith Pottery, Ray Pottery, and Dean and Martin Pottery are just a few of the many pottery stores in Seagrove selling handcrafted art.
Seagrove makes for a worthy day trip, especially for art enthusiasts who are interested in learning more about the pottery of the region.
Every day trip from Charlotte is a jewel in the crown of this Queen City. There is truly an adventure for everyone, whether your interest lies in the outdoors, in history, or in art.
Stunning lakes, mountains, and parks are a short drive from Charlotte and feature picturesque natural scenery and spectacular panoramic views.
Small towns abound, offering a laid back lifestyle with eclectic shops and restaurants. Historic districts and homes allow visitors a glimpse into early American life.
The Charlotte region is also rich with history showcased in museums and restored buildings throughout the area.
It's no wonder, so many visitors pass through Charlotte every year. With something for everyone, you won't want to miss out on this charming city that promises thrilling adventure and enchanting day trips.
20 Thrilling Florida Vacation Spots
Ready to plan your next vacation in sunny Florida? Here are the highlights of the 20 best vacation spots in the state! From the vibrant nightlife of Miami to the laid-back charm of Clearwater, there's something for everyone. Whether you're looking for family-friendly activities, high-end experiences, or unique adventures, this article has got you covered. So, pack your bags and get ready to soak up the sun and fun in the Sunshine State!
15 Virginia Vacation Spots Perfect For Exploring History
Explore the best vacation spots in Virginia with this must-read article! From the historical charm of Williamsburg to the breathtaking beauty of Shenandoah National Park, there's something for everyone. Don't miss out on the top attractions, outdoor adventures, and unique experiences that Virginia has to offer.
Top 15 Ohio Vacation Spots: Vibrant Cities & Aesthetic Parks
Ready to discover the best vacation spots in Ohio? Look no further than this article, which highlights the top destinations in the state, from the vibrant cities of Cleveland, Cincinnati, and Columbus to the scenic Hocking Hills State Park. Explore the great outdoors, enjoy cultural activities, and indulge in local cuisine and attractions. So, pack your bags and get ready to experience the diverse and exciting vacation spots that Ohio has to offer!
Picturesque Lake And Mountain Top Views: 16 Michigan Vacation Spots
Discover the best Michigan vacation spots with this ultimate guide! From the charming university town of Ann Arbor to the breathtaking Pictured Rocks National Lakeshore, there's something for everyone. Whether you're looking for outdoor adventures, cultural experiences, or romantic getaways, Michigan has it all.