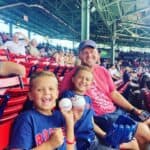 Jake Cain is an entrepreneur and writer from Cincinnati, Ohio. He spends his free time driving around the country in his late 90's conversion van, affectionately known as the "Monster Van" with his wife and 3 boys.
New Jersey is one of the smaller states in the United States. There are many tourist attractions to keep you busy for many weekends.
New Jersey has it all – from national parks to museums and even historical sites. Atlantic City can be a great place to start exploring this wonderful state.
Let us explore some of the best New Jersey vacation spots that you can explore with your friends and family.
Atlantic City, New Jersey
One of the most popular towns in New Jersey is Atlantic City. There are lots to do here in this glitzy, entertainment-filled destination.
The city is best known for its famous Boardwalk. This four-mile-long promenade was constructed in 1870 and remains a popular attraction to this date.
Go explore the Steel Pier, which is also a great tourist attraction. This carnival-style amusement park has rides for all ages and there is a beautiful observation deck for some of the best views of the city.
While there, you can also check out the Entrance to the Stars, which has handprints of celebrities such as Frank Sinatra.
For a chilled-out vibe, just hang out by the shore with hot peppers, from Dino's Subs and Pizza Spot.
Cape May, New Jersey
Ideal for a romantic getaway, Cape May makes for an exciting vacation spot in New Jersey. Also referred to as "Nations oldest seaside resort".
Cape May was discovered by the wealthy in the 18th and 19th centuries when this was a fashionable resort town. Six US Presidents even had their summer home here!
Check out the beaches which are definitely an attraction here. Apart from that, you can spend some time at Cape May Point Lighthouse, explore Victorian-style holiday homes and specially Emlen Physick Estate.
It is now a museum and this 18-room mansion was built in 1879. For a romantic evening, try out a horse-drawn ride with the Cape May Carriage Company. If you are feeling extravagant, then try out a seven-course tasting menu for $65 per person at The Red Store.
Asbury Park, New Jersey
This seaside town in New Jersey which is situated along the Jersey Shore has become one of the most sought-after beach destinations in recent years.
Explore the boardwalk lined with shops and restaurants and enjoy the multiple music venues that are peppered throughout the park. Head to Frank's Deli for a bacon, egg, and cheese that will leave you satiated.
For a quieter getaway, head to the North End of Asbury Park which attracts many surfers. Kids will enjoy the Asbury Splash Park which is located on the boardwalk, while parents can treat themselves to some cocktails and tapas at The Watermark rooftop bar and restaurant.
Asbury Park makes for a wonderful weekend destination with something for everyone!
Jersey Shore, New Jersey
You must have heard about Jersey Shore and it definitely gets a bad rep. If you explore this destination yourself, you will be amazed at how family-friendly this destination actually is.
Fresh salty air, amusement parks, calm sandy beaches are all here. The vast coastline spans 127 miles from Sandy Hook all the way south to Cape May.
Jersey Shore is most famous for its boardwalks the best known of which are in Point Pleasant, Seaside and Atlantic City.
You choose which shore town to go to depending on the vibe you are going for. Long Island is full of casual and low key fun, while Seaside has a different vibe altogether.
Red Bank, New Jersey
This town located along the Jersey Shore makes for a quieter excursion. If you are an art lover, then you will love it at the Red Bank.
Start with a show at the Two River Theater, which is known for developing and supporting up and coming artists. You can also head to The Count Basie Center For The Arts for live music.
Do grab some sushi rolls at the Teak's which is a rooftop restaurant where you can relax and enjoy some great views.
Liberty State Park, New Jersey
Liberty State Park overlooks Upper New York Bay, Liberty Island, and Ellis Island. It comprises of 1,212 waterside acres and the park also contains many highlights of its own, including Communipaw Cove.
There are a number of interesting memorials and monuments like Liberation dedicated to the Holocaust and Empty Sky which is a 210-foot-long steel wall with the names of those victims of the tragic events of 9/11.
Visitors can also do kayaking, cycling, and fishing.
Princeton, New Jersey
Princeton is known for its grand monuments and is a small town which owes its reputation to its university and associated research institutes, including the Institute for Advanced Study, where Albert Einstein carried out his final work.
Another famous historic site worth visiting is Princeton Battlefield State Park which is the 200-acre location of the Battle of Princeton of 1777. In addition to this, you can also visit the Clarke House Museum, built-in 1772.
Delaware Water Gap National Recreation Area
Delaware Water Gap National Recreation Area covers more than 70,000 acres and lies on the border between New Jersey and Pennsylvania.
Visitors can access this recreation area from various points. There is two visitors center in New Jersey – Millbrook Village which is a recreation of a 19th-century community and Kittatinny Point Visitor Center which offers many exhibitions and is also the access point of the Appalachian Trail.
You can also visit the Minisink Archaeological Site where you can indulge in canoeing, kayaking, swimming, fishing, and camping.
Trenton, New Jersey
New Jersey's capital, Trenton, is a fantastic place for history lovers. It was briefly the capital of the US at the end of 1784.
Visitors can start by learning the history of the Garden State at the New Jersey State Museum. You can spend the entire day here easily, checking out fossils, fine art, and Native American artifacts.
Also, explore the state's most historic building New Jersey State House and the Old Barracks Museum. If you want more of history, then head to the Grounds For Sculpture gardens where art and nature collide for one of a kind selfies.
There are more than 270 sculptures here across 42 acres filled with exotic flora and fauna that make this a magical art experience. You can refresh at the French-inspired Van Gogh Café where the ceiling is fashioned after The Starry Night.
Morey's Piers, New Jersey
For a fun and exciting time head to Morey's Piers which is located on the shore of Cape May. The amusement parks and water parks cover six blocks parallel to the sandy beach.
The park started in 1968 with a lone waterslide and a concession stand, but the Morey brothers have expanded the park over the past 50 years to create one of the best water parks in the country.
There are rides for every age from tilt-a-whirl, bumper cars, and a 156-foot Ferris wheel. Of course, there are roller coasters and daredevils rides. Water parks include water slides, a lazy river, and pools with floating snack bars.
Newark, New Jersey
The second-largest city in New Jersey, Newark makes for a fantastic vacation spot in New Jersey. Known as the cultural center of the state, it offers endless art and entertainment options.
Start by exploring The Newark Symphony Hall, which will astound you with its architecture and art.
Newark is also known for its cherry blossom trees. Come here at the right time and you might be able to witness it!
Wildwood, New Jersey
This lovely family-friendly destination in New Jersey makes for a fantastic vacation spot. The cape towns of Wildwood include Wildwood, Wildwood Crest and North Wildwood.
It is known for long stretches of beaches which tend to attract over 9 million people annually. The main attraction here is the Wildwoods boardwalk which is spread over an area of 38 blocks.
There are also loads of sporting events and games throughout the summer like volleyball.
New Jersey has some very exciting family-friendly vacation spots like Ashbury Park and Atlantic City which can be great places to spend your weekend!
20 Thrilling Florida Vacation Spots
Ready to plan your next vacation in sunny Florida? Here are the highlights of the 20 best vacation spots in the state! From the vibrant nightlife of Miami to the laid-back charm of Clearwater, there's something for everyone. Whether you're looking for family-friendly activities, high-end experiences, or unique adventures, this article has got you covered. So, pack your bags and get ready to soak up the sun and fun in the Sunshine State!
15 Virginia Vacation Spots Perfect For Exploring History
Explore the best vacation spots in Virginia with this must-read article! From the historical charm of Williamsburg to the breathtaking beauty of Shenandoah National Park, there's something for everyone. Don't miss out on the top attractions, outdoor adventures, and unique experiences that Virginia has to offer.
Top 15 Ohio Vacation Spots: Vibrant Cities & Aesthetic Parks
Ready to discover the best vacation spots in Ohio? Look no further than this article, which highlights the top destinations in the state, from the vibrant cities of Cleveland, Cincinnati, and Columbus to the scenic Hocking Hills State Park. Explore the great outdoors, enjoy cultural activities, and indulge in local cuisine and attractions. So, pack your bags and get ready to experience the diverse and exciting vacation spots that Ohio has to offer!
Picturesque Lake And Mountain Top Views: 16 Michigan Vacation Spots
Discover the best Michigan vacation spots with this ultimate guide! From the charming university town of Ann Arbor to the breathtaking Pictured Rocks National Lakeshore, there's something for everyone. Whether you're looking for outdoor adventures, cultural experiences, or romantic getaways, Michigan has it all.