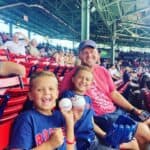 Jake Cain is an entrepreneur and writer from Cincinnati, Ohio. He spends his free time driving around the country in his late 90's conversion van, affectionately known as the "Monster Van" with his wife and 3 boys.
New Hampshire makes for a popular year-round getaway spot. It packs a variety of things to do as it's known for beaches, lakes, charming small-towns and historic homes.
Nestled between n Maine, Vermont, and Massachusetts, New Hampshire can be a fun-filled destination for anyone and everyone.
Mt. Washington Cog Railway
Admire New Hampshire's natural wonders and climb aboard an old-fashioned train. The train is the easiest way to reach the top of Mount Washington in the northern Appalachians at more than 6,000 feet.
If you arrive here on a clear day you might be able to four states and on a cloudy day, you may be able to look down on the tops of clouds. If you want to hop on board the authentic coal-fired steam engine train, then they run from May to October.
Once at the top, you can explore Sherman Adams Visitors Center, which has a cafeteria, museum and you can also head to the Mount Washington Observatory.
Portsmouth, New Hampshire
Portsmouth is the third-oldest city in the United States and was earlier referred to as Strawbery Banke. History buffs will have a great time exploring the Strawbery Banke Historic District.
Start with the 10-acre Strawbery Banke Museum which still contains houses from earlier centuries. History lovers can then head to the American Independence Museum and the Discover Portsmouth Center.
For a break, head to the go to the Hampton beach or visit a few breweries. Families can also head to the Children's Museum of New Hampshire, York Wild Kingdom or Seacoast Science Center.
Manchester
Known as the business capital of New Hampshire, Manchester lies south of Concord. Choose from two historic walking tours that showcase historic architecture and include interesting museums and landmarks.
Manchester is a great place for art lovers who can feast their eyes on the great collection at the Currier Museum of Art. You can also go to catch a live performance at the Majestic Theatre or Palace Theater.
Visit Manchester in June when the annual Best of New Hampshire party where food, live music, and entertainment happens. The city also has a large selection of parks and recreation areas where you can go hiking and biking.
Kancamagus Highway
Known for some beautiful scenic driving, New Hampshire's Kancamagus Highway makes for the best road trip. Though not exactly a highway, it is a winding two-lane NH Route 112 which climbs over the spine of the White Mountains via New Hampshire's Kancamagus Pass.
The scenic views here are worth viewing, but apart from that visitors can also explore Rocky Gorge and Lower Falls, both popular for swimming and picnics.
The Kancamagus Highway ends in Lincoln where Loon Mountain is not just a winter ski resort, but a year-round sports center.
The highway is open all year round but is especially beautiful during foliage season.
Derry
Southeast from Manchester lies the town of Derry in New Hampshire. Here you can get a birds-eye view of the lush valley with High 5 Ballooning.
This is a great place for lovely outdoor recreational activities. Plus the town is close to Boston, Manchester, Nashua, and Lawrence which makes Derry a fantastic base to explore from.
You can start with some horseback riding at Hidden Pond Farms and Stables, after which you can head to a show at Stockbridge Theater.
Literary fans can also head to a tour of Robert Frost Farm State Historic Site. For adults, you can have a lot of fun at the breweries and wineries at Kelsen Brewing Company, Rockingham Brewing Company, Moonlight Meadery, and Appolo Vineyards.
Dover
Dover is one of the biggest cities in New Hampshire and was settled in 1623. It is one of the oldest towns and there are lots of historic buildings which delight history buffs.
To explore, you can take a walking tour along the streets where you can see the old restored cotton mills which are now home to interesting modern shops and art galleries.
Families can head to the Children's Museum of New Hampshire. Here there are many exhibits that teach kids the joy of science, music, and animals.
Outdoor lovers can follow the Riverwalk from Downtown to the Cocheco River where you can kayak or canoe.
Sutton
Sutton is a small town which lies in central New Hampshire on the west boundary of Mount Kearsarge State Forest Park. There are lots to explore in this quaint town like Kezar Lake, Wadleigh State Park, Gile Pond, and Shadow Hill State Forest.
Stay for the weekend and explore the area. You can take a kayak to Loon Island or hike along the Sunapee-Ragged-Kearsarge Greenway which is a 75-mile hiking loop that trails from Wadleigh State Park to Winslow State Park.
There is even a Bayberry Barn Christmas Shop where Christmas is all-year-round!
Story Land
Those with families will love a charming trip to Story Land. It is exactly what it sounds like and there are lots of storybook type things you can explore.
Jump on the carriage and board a pumpkin coach to Cinderella's Castle or you can even sail in a pirate ship, take a swan boat for a spin around the lake.
You will find imaginative rides and play areas which you can explore, but also that they are really original and unique!
Concord
The capital city of New Hampshire, Concord has a lot of fun and exciting things to do and makes for a fantastic vacation spot in New Hampshire.
Start your visit by visiting downtown which is the hub of the city and you can also tour the impressive New Hampshire State House. Art lovers can also have a great time here as you can explore the Millbrook Gallery and Sculpture Garden or McGowan Fine Art.
You can also choose to spend some time outdoors where you can explore hiking trails or go kayaking.
Nashua
Nashua is the second-largest city in New Hampshire and has a lot to offer to its visitors in terms of historic, cultural, and outdoor activities.
History buffs can explore the well-preserved collection of historic buildings that they can tour on foot in the Nashville Historic District. Also, visit the Abbott-Spalding Building.
Families and outdoor enthusiasts can head to Greeley Park, which is a large green space where there are gardens, hiking trails, and a boat ramp. Mine Falls Park is also a great area for cycling, picnics, and kayaking on the river.
Salem
Salem offers easy access to Boston which makes this rural town an ideal base for exploring the area. Head to Canobie Lake Park with your family and enjoy over 40 rides, you can even enjoy an open-air concert in the summer.
Head to America's Stonehenge, if you have an interest in astronomy. Here you can learn more about the mysterious astronomic rock calendar. If you love the outdoor, then you can go hiking in the Salem Town Forests where the trails are particularly scenic in fall.
For a bit of downtown, head for shopping at Rockingham Park where there are over 150 stores and many eateries to keep you entertained.
Franconia Notch State Park
Located in the heart of White Mountain National Forest, there are many outdoor recreational activities you can do here.
Either drive down the scenic Franconia Notch mountain pass for wonderful views. After that, you can also stop by at the Flume Gorge Visitor's Center to walk through the dramatic 70 to 90-foot deep gorge. Its walls rise up 70 to 80 feet above the brook that flows through it, and you can follow it on a boardwalk just feet above the water.
You can also take a ride at the Cannon Mountain Aerial Tramway. This was the first aerial tramway in North America. On clear days, you can see New Hampshire's Presidential Range and mountains in Vermont, New York, and even Canada.
Hampton Beach State Park
The Hampton Beach State Park makes for an ideal beachside holiday. Bring your RV or camping gear if you want as there is a campsite situated directly on the beach at the mouth of the Hampton River.
There are miles and miles of sandy beaches for you to relax in, swim in and just soak up some sun. You can also enjoy picnic facilities and children's playground.
Outdoor enthusiasts can also try whale-watching tours and fishing charters, Para-sailing, surfing.
Lost River Gorge
The Lost River Gorge was carved out of the earth by wind, water, and massive receding glaciers during the Ice Age. The Lost River disappears into the caves formed by a tumble of glacial boulders.
Today, you can explore this beautiful gorge on foot along a boardwalk or venture into the caves. Try something different and opt for the Lantern Guided Tours at sunset here. You can also hike the Kinsman Notch Ecology Trail and the Nature Garden Walk.
Isles of Shoals, New Hampshire
Isles of Shoals are a group of nine small islands located off the east coast of New Hampshire and Maine near Portsmouth.
Most of these islands are privately owned, but you can visit Star Island and stay in one of the Victorian era guesthouses. You can reach Star island by hopping on a boat an Isles of Shoals Steamship Company Cruise during the summer months.
As we saw, there is much to explore in the lovely state of New Hampshire from the lovely city of Manchester to the quaint city of Story Land. New Hampshire never ceases to surprise you!
20 Thrilling Florida Vacation Spots
Ready to plan your next vacation in sunny Florida? Here are the highlights of the 20 best vacation spots in the state! From the vibrant nightlife of Miami to the laid-back charm of Clearwater, there's something for everyone. Whether you're looking for family-friendly activities, high-end experiences, or unique adventures, this article has got you covered. So, pack your bags and get ready to soak up the sun and fun in the Sunshine State!
15 Virginia Vacation Spots Perfect For Exploring History
Explore the best vacation spots in Virginia with this must-read article! From the historical charm of Williamsburg to the breathtaking beauty of Shenandoah National Park, there's something for everyone. Don't miss out on the top attractions, outdoor adventures, and unique experiences that Virginia has to offer.
Top 15 Ohio Vacation Spots: Vibrant Cities & Aesthetic Parks
Ready to discover the best vacation spots in Ohio? Look no further than this article, which highlights the top destinations in the state, from the vibrant cities of Cleveland, Cincinnati, and Columbus to the scenic Hocking Hills State Park. Explore the great outdoors, enjoy cultural activities, and indulge in local cuisine and attractions. So, pack your bags and get ready to experience the diverse and exciting vacation spots that Ohio has to offer!
Picturesque Lake And Mountain Top Views: 16 Michigan Vacation Spots
Discover the best Michigan vacation spots with this ultimate guide! From the charming university town of Ann Arbor to the breathtaking Pictured Rocks National Lakeshore, there's something for everyone. Whether you're looking for outdoor adventures, cultural experiences, or romantic getaways, Michigan has it all.