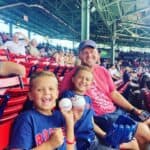 Jake Cain is an entrepreneur and writer from Cincinnati, Ohio. He spends his free time driving around the country in his late 90's conversion van, affectionately known as the "Monster Van" with his wife and 3 boys.
Mississippi has no shortage of vacation spots and destinations that the whole family will love. It is home to the longest river of the country, after which the state got its name.
It is also home to the lovely culture of vibrant people, coastal beaches, lakes, and parks. Mississippi is also known as the "Magnolia State" or "The Hospitality State" as it offers some of the best places to visit.
Let us explore the best Mississippi vacation spots.
Oxford
Home to the University of Mississipi, Oxford is like a college town. It makes for a fantastic summer vacation destination and the quaint city makes you feel as if you have gone back in time.
Oxford calls itself the Cultural Mecca of the South because of its diverse, creative community. History lovers will love this place as there are lots to explore here. Stroll down the Confederate cemetery, or the downtown area which has a quaint Square.
Take your family to the award-winning Big Bad Breakfast for pancakes and bacon, after which you can head to Square Books for storytime or browse through a great selection of books.
Hikers can enjoy the Bailey's Wood trail and of course, take a tour of the beautiful campus of the University of Mississippi as well.
Jackson
Jackson is the capital city of Mississippi and it has a lot to offer to its visitors. It is a great place to visit in summertime when there are street festivals, rodeos, and the Mississippi Gospel Awards celebration.
Jackson is also a part of the Mississippi Freedom Trail, which memorializes locations and people that impacted the Civil Rights Movement. You can explore markers that are there throughout the city including at the Mississippi State Capitol Building.
Other attractions that visitors can explore are zoo, the Natural Science Museum, which features an aquarium, and a Civil Rights Museum.
Biloxi
This coastal city in Mississipi attracts thousands of visitors to its top-rated casinos every year. Apart from that, there are many family-friendly destinations as well. You can visit the Biloxi Beach. the nearby Biloxi Lighthouse and the Beauvoir Estate as well.
Make sure to attend the Biloxi's Farmers Market Festival each weekend from late May through mid-October. You can enjoy live music, food vendors, and fun activities for kids and families.
If you visit during the summer, then you can enjoy various activities at the Tchoutacabouffa River like fishing, kayaking, and canoeing.
Flora
Opt for a quieter vacation this time and head to Flora which is a small community located just north of Jackson. Flora is best known for Dunn's Falls which is a 65-foot man-made waterfall.
Here you can enjoy swimming, glide along in canoes.
Apart from that, you can enjoy the small-town charm of this city as you can spend your time browsing the quaint shops, or enjoy a burger at the Blue Rooster.
Flora is also known for its petrified forest, an ancient place that contains fossilized wood over 36 million years old.
You can also explore the Earth Science Museum where the guests can go fuming in the water to try and find some real gems amongst the "mine muck."
Gulfport
Located on the Gulf of Mexico, Gulfport is a great beach destination and makes for the best vacation spot in Mississippi.
Gulfport is blessed with long beach stretches and offers easy access by boat to some of the nearby barrier islands. Many families flock to this city in the summer to relax on the beach.
Have fun on the beaches or enjoy kayaking, or opt for a chance to see dolphins on a boat ride.
In the city, you can stop by the Lynn Meadows Discovery Center, which is an interactive children's museum.
You can also have fun at the Gulf Islands Water Park before heading back.
Natchez
Located on the Mississippi River, Natchez was the original capital of Mississippi. This city was named for the Natchez Native American tribe and today you can explore the gorgeous and well-preserved antebellum architecture.
Stop by at the Longwood estate, with its ornate domed top, and the Dunleith mansion, which has tall white pillars which will surely take you back in time. You can also spend time exploring the Natchez National Historical Park.
Visit the Grand Village to have a look at how the local Native Americans lived in the 17th and 18th centuries.
Vicksburg
The historical city of Vicksburg offers a mix of family-friendly entertainment and attractions for the entire family. Start by exploring the Biedenharn Coca-Cola Museum which gives you a glimpse into the beginnings of the popular soda that was first bottled in the city.
For some historic tour, the Vicksburg National Military Park is a great place to start where you can take a guided tour through the park.
Families with kids can head to Catfish Row Children's Art Park, where there are a collection of murals, children's art exhibits, and splash fountains near the Mississippi River.
At night you can head to Ameristar Casino for some exciting nightlife.
Hattiesburg
Home to the University of Southern Mississippi, Hattiesburg can be a great vacation spot to visit in Mississippi. Hattiesburg is a lovely college town and it also has an upscale atmosphere and entertainment of a major city.
Pep's Point Water Park makes for a fantastic getaway in the summertime where families with kids can have fun. After that, you can head to the Hattiesburg Zoo to see the wildlife.
The city has a great music and arts scene, plus there are multiple festivals throughout the year devoted to living performances and crafts.
Holly Springs
Holly Springs is located in northern Mississippi and is right across the state border from Tennessee. Here you can get in touch with nature and makes for a fantastic vacation spot in Mississippi.
This city began as cotton plantations and then was used as a supply store for the Confederate army during the Civil War. Visitors can roam almost 200 historical homes and buildings of interest to know more about the city's history.
You can also visit the nearby Strawberry Plains Audubon Center where there are nature trails and educational programs.
Tupelo
Tupelo is the birthplace of Elvis Presley the King himself. Music lovers will have a great time visiting this city as you will find plenty of statues of Presley and even his childhood home open for visitors.
Visit the Elvis Presley Birthplace and Museum in Tupelo which is part of a 15-acre park that displays exhibits about Presley's childhood and his career.
History lovers can also visit the Tupelo Automobile Museum where you can explore classic cars from the past century. The collection includes 150 vehicles some of which are presently being restored in open bays while museum visitors watch.
New Albany
A mill town built during the early 19th century, New Albany was completely destroyed by fire during the Civil War. The railroad bought this community back to life and now it is a thriving town that makes for a fantastic vacation spot in Mississippi.
New Albany is also the birthplace of American writer William Faulkner who is also the winner of Pultizer Prizes for his works.
Hikers can take advantage of the Tanglefoot Trail which is a 44-mile long paved path and a scenic trail for cyclists as well.
Philadelphia
Philadelphia is famous for the annual Neshoba County Fair. Here there is live music, horse races, and many other attractions the family will love.
You can also have a great time at the Geyser Falls Water Theme Park which is a top-rated water park with rides and thrills for kids and adults of all ages.
Clarksdale
Clarksdale can make for a fantastic vacation spot for music lovers. This city was a major stop on the Mississippi Blues Trail.
Music and blues culture really blossomed in Clarksdale from the 1920s through the 1950s and it remains to this day. They had a radio station devoted to blue and many great artists like, Bukka White, and Ike Turner who are from this city.
You can visit the Delta Blues Museum for a look at this colorful history. Clarkson also holds the Sunflower River Blues Festival which attracts many music lovers.
You can also enjoy great live music in Clarksdale's blues bars, such as the Ground Zero Blues Club.
Cleveland
Also a stop on the Mississippi Blues Trail, Cleveland makes for a great vacation spot in Mississippi. One market is in Christmas Street, and one for the noted blues musician W. C. Handy.
If you are a music lover, then do check out the GRAMMY Museum in Cleveland which celebrates artists and musicians from Mississippi. Apart from that, there are some great restaurants and shopping avenues that families can explore for a great time here in Cleveland.
Crystal Springs
This tiny city lies just outside the capital city of Jackson. Visit Crystal Springs for a small-town feel especially the old historic district.
Here you will find old, original buildings which are now home to shops, restaurants, cafes, and churches. You can just stroll down the tree-lined sidewalks of the residential neighborhoods to soak up the feel of the city.
Ocean Springs
Ocean Springs is located on the Gulf Coast and is just a few miles from Biloxi. If you are looking for a resort seaside vibe, then Ocean Springs is it.
Explore the artsy downtown area where there are lots of galleries and unique shops to explore. Fontainebleau Nature Trail is also a great trail to explore for hikers and nature lovers. Of course, you can just relax on the beach as well!
Mississippi is blessed with all kinds of destinations from nature spots like Flora or big towns like Jackson and Oxford. Explore this wonderful state to your heart's content!
20 Thrilling Florida Vacation Spots
Ready to plan your next vacation in sunny Florida? Here are the highlights of the 20 best vacation spots in the state! From the vibrant nightlife of Miami to the laid-back charm of Clearwater, there's something for everyone. Whether you're looking for family-friendly activities, high-end experiences, or unique adventures, this article has got you covered. So, pack your bags and get ready to soak up the sun and fun in the Sunshine State!
15 Virginia Vacation Spots Perfect For Exploring History
Explore the best vacation spots in Virginia with this must-read article! From the historical charm of Williamsburg to the breathtaking beauty of Shenandoah National Park, there's something for everyone. Don't miss out on the top attractions, outdoor adventures, and unique experiences that Virginia has to offer.
Top 15 Ohio Vacation Spots: Vibrant Cities & Aesthetic Parks
Ready to discover the best vacation spots in Ohio? Look no further than this article, which highlights the top destinations in the state, from the vibrant cities of Cleveland, Cincinnati, and Columbus to the scenic Hocking Hills State Park. Explore the great outdoors, enjoy cultural activities, and indulge in local cuisine and attractions. So, pack your bags and get ready to experience the diverse and exciting vacation spots that Ohio has to offer!
Picturesque Lake And Mountain Top Views: 16 Michigan Vacation Spots
Discover the best Michigan vacation spots with this ultimate guide! From the charming university town of Ann Arbor to the breathtaking Pictured Rocks National Lakeshore, there's something for everyone. Whether you're looking for outdoor adventures, cultural experiences, or romantic getaways, Michigan has it all.