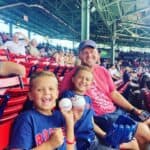 Jake Cain is an entrepreneur and writer from Cincinnati, Ohio. He spends his free time driving around the country in his late 90's conversion van, affectionately known as the "Monster Van" with his wife and 3 boys.
Nebraska has many interesting attractions and this state has been long overlooked as a tourist attraction. Northeastern Nebraska offers natural beauty with many wooded areas and pristine waterfalls.
Lincoln and Omaha are two main cities that attract many tourists. Let us explore some of the best Nebraska vacation spots.
Chimney Rock National Historic Site, Nebraska
Chimney Rock National Historic Site dates back to 25 to 24 million years ago and the formation rises 480 feet above the surrounding countryside. This rock formation was an important landmark for pioneers heading westward.
The site gets its name from the formation of the rock, which sits erect like that of a chimney of a house. When you visit, you will be able to sense how early settlers used to feel when they came across this formation, as nothing has changed for centuries.
There is also the Ethel and Christopher J. Abbott Visitor Center where you can visit several museum exhibits, a video presentation of the history of West migration.
Seward, Nebraska
One of the most charming cities in America, Seward is known as Nebraska's official Fourth of July city. The rich history and cultural attractions make this a great vacation spot in Nebraska.
The city sits on the banks of the Big Blue River and the downtown districts hold lots of shops and eateries.
Visit City Park with your family and take a stroll along the water. The best time to visit is, of course, the Fourth of July when the entire city has parades, concerts, and a massive fireworks show.
History buffs can learn more about the history of Seward at the Seward County Historical Museum and the Seward Memorial Library.
Omaha, Nebraska
Omaha is the largest city in Nebraska and there are lots to do here which makes it a great vacation spot in the state. Start by roaming around the downtown markets where you can shop at the quaint shops and weekly farmers market.
Families can head to the Durham Museum which was built in 1931 and the Art Deco-style architecture wows visitors every time. Another place you can visit is the Henry Doorly Zoo and Aquarium and exhibits at the Omaha Children's Museum.
Learn more about the history of the Mormon Trail Center or the Lewis and Clark National Historic Trail Visitor Center.
Lincoln, Nebraska
Lincoln is Nebraska's capital and also a college town worth visiting. This entertainment destination has a number of attractions to keep tourists busy.
If you are a culture vulture, then you will enjoy the Lied Center for Performing Arts, The Haymarket Theatre, and the UNL schools of Music, Theatre, and Film, where there are performances all year round.
If you are visiting with family then you can visit Antelope Park, featuring the Lincoln Children's Zoo, a play center, golf course, trail system. There is something here for art lovers too.
Visit the Sheldon which is the largest gallery in town. Apart from that, there are many art studios which you can visit in downtown.
The first Friday of every month is the perfect time to visit as the galleries put up new work that's often accompanied by food, drinks, and sometimes live music.
Scotts Bluff National Monument, Nebraska
Scotts Bluff National Monument is an imposing 800-foot structure that rises above the North Platte River and has been a historic landmark for travelers. This structure can be seen from far and wide in Nebraska.
Visitors can explore the park, trails, or just come here on weekends when rangers dress in period costume and roam various areas of the park while narrating stories.
This 3000-acre national monument was first founded in 1919 and many improvements have been made over the years. You can also see native trees, wildflowers, grass prairies, various birds, and mammals.
Indian Cave State Park, Nebraska
This dense hardwood forest on the Missouri River makes for a great vacation spot in Nebraska. This lovely wilderness area is a nature lover's perfect getaway.
Apart from many hiking trails, the caves in the park have nature scenes and wildlife on the walls. There are two campgrounds as well plus an RV campground as well. These sites can be reserved online.
There are horseback trail and biking trail as well.
Carhenge, Nebraska
This quirky attraction is a take on Stonehenge and makes for an interesting getaway. Carhenge duplicates the more familiar Stonehenge but its constructed with automobiles.
This structure was originally built as a tribute to his father by a son and is now one of the most popular attractions in the state. It includes thirty-nine cars arranged in all different positions jutting out of the prairie grasslands.
Besides this, Carhenge is also home to a Car Art Preserve peppered with quirky sculptures also created from cars and car parts.
Cowboy Trail, Nebraska
If you love trails and hikes, then the Cowboy trail can be a great vacation spot for you. This 195-mile trail follows an old railway line as it heads to the northern part of the trail.
The trail is usually empty and you will most likely have the trail to yourself. Small towns are located along the way where you can stop for a rest.
The trail is open to walkers, mountain bikers, and horseback riders.
Columbus, Nebraska
There is a wide range of activities in Columbus for outdoor and adventure enthusiasts. A self-guided tour throughout the city, to see historical markers such as Andrew Jackson Higgins, Ferry Rock, and the Quincentenary Belltower makes for a great tour.
Other historical attractions include Agricultural Park, the Platt County Museum, and the Statue of Liberty Replica.
Outdoor lovers can enjoy cycling, jogging, or scenic walking trails along with tree-lined parks.
Lake McConaughy, Nebraska
The largest reservoir in Nebraska is Lake McConaughy, which is why it makes for a great vacation spot in the state. It is is located 8 miles north of the small Nebraska farm town of Ogallala.
If you love fishing, then this can be a great destination for you as you can catch rainbow trout; white, striped, and smallmouth bass; and the revered walleye. In summers, you can see many sailboaters, windsurfers, water skiers, scuba divers, and swimmers.
OPPD Arboretum, Nebraska
If you want to learn more about landscaping trees and planting trees and shrubs in relation to aboveground and buried power lines and electrical equipment, then this is the place to be.
There are six areas of the park which the visitors can explore, these include Electrical safety education, substation functions, transmission line demonstration, wildlife, and erosion-control planting, and more.
Bob Kerry Pedestrian Bridge, Nebraska
This 3000-foot cable bridge is a marvel in itself. The bridge spans between Omaha, Nebraska, and Council Bluffs, Iowa.
Visitors can stroll the bridge and see the expansive scenery around them. The bridge crosses two states which are Nebraska and Iowa. When you reach Omaha end, there is a splash fountain, a visitors center, and children's play area as well.
Ponca State Park, Nebraska
This 1400 acres of dense woodlands make for a great getaway in the state of Nebraska. There are great accommodations here at 14 cabins and full-hookup or primitive camping sites.
It is a great spot for outdoor enthusiasts who will love the 20 miles of hiking trails, golf courses, horseback riders, and much more. Visitors can also learn about interesting skills like backpacking and fishing which can be a great educative experience.
Courthouse & Jail Rocks, Nebraska
These are two rock formations near Bridgeport, Nebraska, with historical significance. They stand over 4,000 feet above sea level.
These are also historical monuments that the early emigrants of the 19th century would see as a landmark across their journey. Courthouse and Jail Rocks remain till this date is of unique importance in the state.
Nebraska is a land of history and culture that can be seen across many cities like Lincoln and Omaha and even in State parks like Scotts Bluff National Monument.
20 Thrilling Florida Vacation Spots
Ready to plan your next vacation in sunny Florida? Here are the highlights of the 20 best vacation spots in the state! From the vibrant nightlife of Miami to the laid-back charm of Clearwater, there's something for everyone. Whether you're looking for family-friendly activities, high-end experiences, or unique adventures, this article has got you covered. So, pack your bags and get ready to soak up the sun and fun in the Sunshine State!
15 Virginia Vacation Spots Perfect For Exploring History
Explore the best vacation spots in Virginia with this must-read article! From the historical charm of Williamsburg to the breathtaking beauty of Shenandoah National Park, there's something for everyone. Don't miss out on the top attractions, outdoor adventures, and unique experiences that Virginia has to offer.
Top 15 Ohio Vacation Spots: Vibrant Cities & Aesthetic Parks
Ready to discover the best vacation spots in Ohio? Look no further than this article, which highlights the top destinations in the state, from the vibrant cities of Cleveland, Cincinnati, and Columbus to the scenic Hocking Hills State Park. Explore the great outdoors, enjoy cultural activities, and indulge in local cuisine and attractions. So, pack your bags and get ready to experience the diverse and exciting vacation spots that Ohio has to offer!
Picturesque Lake And Mountain Top Views: 16 Michigan Vacation Spots
Discover the best Michigan vacation spots with this ultimate guide! From the charming university town of Ann Arbor to the breathtaking Pictured Rocks National Lakeshore, there's something for everyone. Whether you're looking for outdoor adventures, cultural experiences, or romantic getaways, Michigan has it all.