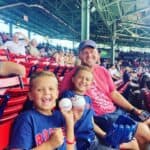 Jake Cain is an entrepreneur and writer from Cincinnati, Ohio. He spends his free time driving around the country in his late 90's conversion van, affectionately known as the "Monster Van" with his wife and 3 boys.
America's Wild West legacy, natural beauty or a back-to-the-nature experience, South Dakota has it all. Check out the amazing badlands or deep underground caves and the mammoth presidential monument of Mount Rushmore, there will never be a dearth of destinations and experiences waiting for you at South Dakota.
Let us explore some of the best South Dakota vacation spots.
Mount Rushmore Monument, South Dakota
One of the most unique destinations in the world, Mount Rushmore makes for the number one vacation spot in South Dakota. This historical monument attracts over three million tourists every year.
Here you will see carved the majestic heads of presidents of America; Presidents George Washington, Thomas Jefferson, Abraham Lincoln, and Theodore Roosevelt. The carving of this monument began in 1927 but was halted for several decades, and finally completed in 1991.
Do stay till the evening when the monument is illuminated by lights and is accompanied by a patriotic ceremony.
You must also visit the Lincoln Borglum Visitors Center just below the Grand View Terrace where you can know more about this monument.
Custer State Park, South Dakota
Custer State Park covers over seventy-one thousand acres of land and boasts of spectacular wildlife and recreational activities. The park covers different terrains, offering opportunities for outdoor recreation and sightseeing.
Visitors can indulge in hiking, fishing, wildlife viewing, and more in Custer State Park. You can also see a huge herd of bison roaming the peaceful landscape.
Learn more about the history of the park the Peter Norbeck Visitor's Center and then walk in Custer's footsteps along the banks of French Creek. You can also do fishing in several lakes or have a great camping experience.
Badlands National Park, South Dakota
Located 75 miles east of Rapid City, South Dakota, Badlands National Park has a pretty dramatic landscape which makes this destination a unique vacation spot.
The Badlands National Park consists of uniquely formed hills and protects a rugged environment. The lands house some of the richest fossil beds on the continent.
This scenery is undoubtedly one of the most beautiful in South Dakota and attracts many visitors throughout the year.
Hiking is a favorite activity in this area as there are designated trails to suit all levels of fitness. You can get maps of the area at the Ben Reifel Visitor Center.
Another interesting attraction in this area is the Badlands Loop Road which tours the scenic environment from the northwestern Pinnacles Entrance to the Ben Reifel Visitor Center.
Crazy Horse Memorial, South Dakota
Located just a short distance away from Mount Rushmore, the Crazy Horse Memorial a unique mountain carving. This carving stands as a tribute to Crazy Horse, a Lakota warrior and one of the most important Native American tribal leaders.
This memorial has been a work in progress since it began in 1947. You can see the upper body and head carved into the mountain from afar.
Once complete, this memorial will stand 563 feet tall. Other attractions in the area include the Indian Museum of North America, a cultural center, restaurant, and gift shop where you can learn more and explore the culture of American Indians.
Wind Cave National Park, South Dakota
Located just north of Hot Springs, Wind Cave National Park is one of the most extensive and unusual networks of caves in the world. Discovered in 1881 by a hunter, these caves are thought to be among the largest in the world.
You can explore the caves with guided tours. Different tours are available for different ability levels with most routes following along lighted and cement pathways installed by the Civilian Conservation Corps in the 1930s.
If you want more adventure, then enroll yourself in the four-hour Wild Cave Tour where you will learn the basics of safe caving under the guidance of a ranger.
There are lots of activities to be done above ground as well which include hiking, wildlife watching, and ranger-led programs.
Deadwood, South Dakota
Unlike its name, there is nothing dead about Deadwood, and the city, in fact, has a lot to offer. The city is nestled into dense Black Hills scenery and steeped in the rich history.
Here you can step back in time and experience the infamous Wild West gold-rush days. There are many Wild West attractions in the city waiting to be explored.
Start by exploring the reenacted shootouts on Historic Main Street, the Adams Museum, and the Broken Boot Gold Mine. You can also tour the historic buildings, try your luck at casinos, or enjoy a relaxing spa.
Also visit the Mount Moriah Cemetery is the final resting place for some of the biggest characters of the Wild West, including "Wild Bill" Hickok.
Spearfish Canyon, South Dakota
Popular attractions and hikes include Bridal Veil and the Rough Lock Falls, and the Spearfish Peak and Little Crow Peak. The 22-mile scenic route makes for a great drive any time of the year, but fall is particularly spectacular.
National Music Museum, South Dakota
Musically inclined people will love this museum. The National Music Museum is located at the University of South Dakota and houses thousands of American, European, and non-Western instruments from all over the world.
The museum is also a designated landmark of American Music and attracts thousands of visitors each year. You will have to pay a small admission fee with which you can access a wide variety of instruments which will certainly entice you.
Sertoma Butterfly House and Marine Cove, South Dakota
Families will enjoy a trip to the Sertoma Butterfly House and Marine Cove which is home to hundreds of butterflies from all over the world. This 3600-square foot indoor garden houses lots of butterflies that the visitors can see in their natural environment.
Marine Cove is also a highlight where you can see marine life in tanks and petting pools. Visitors can also indulge in classes and events at the Sertoma Butterfly House, including yoga, meditation, and tai-chi.
Rapid City, South Dakota
Rapid City is the second-most populous city in South Dakota and is the getaway to South Dakota's most famous attractions such as Mount Rushmore and Badlands National Park.
Plus, there are many attractions in the city as well like Dahl Arts Center, APEX Gallery, and the fabulously eclectic Art Alley.
Rapid City is also referred to as, "City of Presidents", as there are many life-size bronze statues of the nation's former leaders in the downtown area. There are many family attractions as well as indoor and outdoor water parks, Dinosaur Park, the Journey Museum, and more.
Mitchell, South Dakota
Mitchell is home to the unique Corn Palace. Making for an eccentric vacation spot, Corn Palace was opened in 1921 and was made to pay a tribute to the corn farmers.
The popular attraction is visited by more than 500,000 people each year. Not only is this palace a marvel to look at, but inside the palace, you can learn all about the early days in Mitchell by visiting the Dakota Discovery Museum and the McGovern Legacy Museum.
Needless to say, Mitchell makes for a fantastic vacation spot in South Dakota.
Iron Mountain Road, South Dakota
If you want to go for a scenic drive, then you can take the time to drive Iron Mountain Road (aka 16A). This beautiful, scenic 17-mile road joins Mount Rushmore National Monument and Custer State Park.
The road has many dramatic views spanning both sides of the road. You can call in at the Iron Mountain Road Store to get a map and directions and then set off to leisurely explore 314 curves, fourteen switchbacks, and some great scenery.
Needles Highway, South Dakota
Another great highway is the Needles Highway which is a National Scenic Byway in the heart of Custer State Park in the Black Hills. This 14-mile highway is an all-time favorite with photographers and nature lovers.
The road twists and turns the entire way, so be prepared for sharp turns, low tunnels, and amazing views. The highway is open only during the summers and is meant for a leisurely and careful drive.
South Dakota makes for an amazing state to explore with lots of vacation spots all over the state. From the majestic Mount Rushmore to the unique Corn Palace, there is something for everyone here.
20 Thrilling Florida Vacation Spots
Ready to plan your next vacation in sunny Florida? Here are the highlights of the 20 best vacation spots in the state! From the vibrant nightlife of Miami to the laid-back charm of Clearwater, there's something for everyone. Whether you're looking for family-friendly activities, high-end experiences, or unique adventures, this article has got you covered. So, pack your bags and get ready to soak up the sun and fun in the Sunshine State!
15 Virginia Vacation Spots Perfect For Exploring History
Explore the best vacation spots in Virginia with this must-read article! From the historical charm of Williamsburg to the breathtaking beauty of Shenandoah National Park, there's something for everyone. Don't miss out on the top attractions, outdoor adventures, and unique experiences that Virginia has to offer.
Top 15 Ohio Vacation Spots: Vibrant Cities & Aesthetic Parks
Ready to discover the best vacation spots in Ohio? Look no further than this article, which highlights the top destinations in the state, from the vibrant cities of Cleveland, Cincinnati, and Columbus to the scenic Hocking Hills State Park. Explore the great outdoors, enjoy cultural activities, and indulge in local cuisine and attractions. So, pack your bags and get ready to experience the diverse and exciting vacation spots that Ohio has to offer!
Picturesque Lake And Mountain Top Views: 16 Michigan Vacation Spots
Discover the best Michigan vacation spots with this ultimate guide! From the charming university town of Ann Arbor to the breathtaking Pictured Rocks National Lakeshore, there's something for everyone. Whether you're looking for outdoor adventures, cultural experiences, or romantic getaways, Michigan has it all.