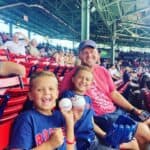 Jake Cain is an entrepreneur and writer from Cincinnati, Ohio. He spends his free time driving around the country in his late 90's conversion van, affectionately known as the "Monster Van" with his wife and 3 boys.
Iowa is located in the Midwestern US and offers some of the most beautiful sights to visit. You can spend a few days at the Iowa Great Lakes, explore Crystal Lake Cave, or just explore the great outdoors.
Let us explore some of the best Iowa vacation spots which you can visit with your friends or family.
Des Moines
The capital of the state of Iowa, Des Moines is a growing city that is full of young professionals, great restaurants, and lots of things to do.
When here, visit the weekly Des Moines' Farmers Market and Iowa State Fair which takes place in August. After which you can head for boutique shopping at the Historic East Village and Valley Junction.
You can also visit the beautiful John and Mary Pappajohn Sculpture Park, State Capitol Building, and decadent eateries like Americana, Centro.
Families with kids can head to the Science Center of Iowa, the Greater Des Moines Botanical Garden, or the Blank Park Zoo.
Decorah
Located in the northeast corner of Iowa, Decorah is known for its surrounding scenic beauty and authentic Norwegian heritage. This charming town has a lot of outdoor activities which visitors can enjoy.
The Trout Run Trail is a great non-motorized passageway to discover the natural appeal of Decorah. Other destinations to explore include waterfalls at Dunnings Springs Park and Siewers Springs State Park.
You can also spot a few famous Decorah bald eagles and their nest.
After all that outdoor fun, you can head downtown for shopping and fine dining. Learn more about the city's history at the Vesterheim Norwegian-American Museum.
Lake Okoboji
Lake Okoboji is a tourist favorite in summers and attracts visitors and families from across Iowa for water-based activities.
This resort region features five blue water lakes and more than 70 miles of shoreline. Families with kids also have a great time at Arnolds Park Amusement Park.
There are plenty of activities to do here like fishing, boating, dining, and more. Other attractions at Lake Okoboji include Iowa Great Lakes Maritime Museum and Dickinson County Nature Centre.
There are many beautiful state parks plus the entire lake is lined with beautiful resorts as well.
Iowa City
Iowa City is a college city that is home to the Hawkeyes and the University of Iowa and it offers plenty of fun things to do for visitors and students alike.
Catch a football game at Kinnick Stadium and other entertainment options offered by the university include Hancher Auditorium, the Stanley Museum of Art, and the Old Capitol Museum.
Head to Downtown for a fun day at a pedestrian mall filled with local shops, restaurants, and unique public art installations. If you are an outdoor person, then you can head just outside the city at Coralville Lake where there are many mountain trails as well.
Dubuque
Dubuque was founded 13 years before Iowa even became a state and history run deep in this city which lies adjacent to Mississipi River.
It makes for a great weekend destination and the whole family can head to the National Mississippi River Museum and Aquarium for a great time. Here you can learn more about the history of the city plus the fishes in the waterway nearby.
Not far is the Dubuque Arboretum and Botanical Gardens which provides an aesthetic appeal.
Cedar Rapids
Just half an hour north of Iowa City lies Cedar Rapids which is a revitalized River Town. The town was devastated ten years ago by flooding.
Since that time, many shops, restaurants have redeveloped themselves. It is now the second-most populous city in Iowa and a great vacation spot as well.
You can start by catching a minor league Cedar Rapids Kernels baseball game on a summer evening. To know more about the history of the city, head to National Czech & Slovak Museum & Library located near the river.
Explore the NewBo Market Area where Lion Bridge Brewing, Sykora Bakery are popular places to have a meal at. If you like art, then head to the Cedar Rapids Art Museum which features a great collection of once-resident painter Grant Wood.
Amana Colonies
The seven villages are known as Amana Colonies which is located thirty minutes west of Iowa City. It is a great vacation spot if you want to step back in time and relax.
The colonies were founded by German Priests in 1855 and the people maintained a self-sufficient, communal society until the 1930s.
Today there are many wineries, breweries, that share the culture and history of the German migrants. Popular attractions at the Amana Colonies include the various museums, historical sites, restaurants, and shopping opportunities.
Boone
Located less than an hour from the state capital of Des Moines, this lovely city makes for a great vacation spot in Iowa. The most famous attraction is the Boone & Scenic Valley Railroad.
Here the tourists can visit the historic rail line and learn more about the industry's history in the area.
Pella
This lovely Dutch town makes for a fantastic vacation spot as it has a strong Dutch ancestry. Full of windmills and tulips, it is almost like you are in a European town.
Visit Pella during the annual Pella Tulip Time (the first weekend in May) to see the tulips in full bloom. This town was founded by refugees from Holland in 1847.
Home to the tallest windmill in the United States, and Pella Historical Village, there is lots to do in this town. Stop by Jaarsma Bakery for some Dutch-inspired treats.
Don't miss Lake Red Rock, where visitors can indulge in paddling, boating, and rock-climbing.
John and Mary Pappajohn Sculpture Park
Another top tourist attraction of Iowa, John and Mary Pappajohn Sculpture Park has more than 20 sculptures from celebrated artists.
The sculptures are worth $40 million and they give the downtown of Des Moines a great lift. This 4.4-acre park is open during city park hours which open from sunrise to midnight.
The sculpture looks especially great during nighttime when it is lit up. Enjoy walking through the sculptures but don't miss the Art Centre either.
The Loess Hills
The Loess Hills are a unique geological formation and sit on Iowa's western edge. This geological formation of quartz silt creates an extraordinary landscape that is worth visiting.
Drive through the Loess Hills National Scenic Byway to enjoy the scenery which is a 220-mile route full of parks and prairies.
Other attractions in the area include n Council Bluffs, Union Pacific Railroad Museum, Squirrel Cage Jail.
Iowa is one of the most beautiful places to visit and you can visit in the United States. From the bustling states of Des Moines to the scenic Lake Okoboji.
20 Thrilling Florida Vacation Spots
Ready to plan your next vacation in sunny Florida? Here are the highlights of the 20 best vacation spots in the state! From the vibrant nightlife of Miami to the laid-back charm of Clearwater, there's something for everyone. Whether you're looking for family-friendly activities, high-end experiences, or unique adventures, this article has got you covered. So, pack your bags and get ready to soak up the sun and fun in the Sunshine State!
15 Virginia Vacation Spots Perfect For Exploring History
Explore the best vacation spots in Virginia with this must-read article! From the historical charm of Williamsburg to the breathtaking beauty of Shenandoah National Park, there's something for everyone. Don't miss out on the top attractions, outdoor adventures, and unique experiences that Virginia has to offer.
Top 15 Ohio Vacation Spots: Vibrant Cities & Aesthetic Parks
Ready to discover the best vacation spots in Ohio? Look no further than this article, which highlights the top destinations in the state, from the vibrant cities of Cleveland, Cincinnati, and Columbus to the scenic Hocking Hills State Park. Explore the great outdoors, enjoy cultural activities, and indulge in local cuisine and attractions. So, pack your bags and get ready to experience the diverse and exciting vacation spots that Ohio has to offer!
Picturesque Lake And Mountain Top Views: 16 Michigan Vacation Spots
Discover the best Michigan vacation spots with this ultimate guide! From the charming university town of Ann Arbor to the breathtaking Pictured Rocks National Lakeshore, there's something for everyone. Whether you're looking for outdoor adventures, cultural experiences, or romantic getaways, Michigan has it all.