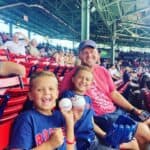 Jake Cain is an entrepreneur and writer from Cincinnati, Ohio. He spends his free time driving around the country in his late 90's conversion van, affectionately known as the "Monster Van" with his wife and 3 boys.
Connecticut was formerly known as the Constitution State and is a small state in New England, which is densely packed with unique attractions that everyone can enjoy.
Beaches, hustle-bustle, and nature – everything is there in Connecticut. Go zip-lining, golfing, fishing, dine in an elegant restaurant all in one day. Plus, there is a multitude of impressive art for people searching for culture.
Let us explore some of the best vacation spots in Connecticut.
Mystic
Mystic is one of Connecticut's most famous destinations and makes for a great vacation spot. It was once a booming seaport essential for the region's trade.
Located on the state's southeastern coast, this town is a quaint seaside town and boasts of an array of maritime-themed attractions. The harbor is also home to amazing seafood and a wide array of restaurants.
Step back in time with your visit to the Mystic Seaport Museum. Here you can explore the exhibits and historic vessels. You can also visit Mystic Seaport which is an old-time village that houses artifacts and interactive exhibits related to the community's early days as a shipyard and whaling center.
Greenwich
Greenwich is considered one of the best places to live in the States and one step in this city and you will understand why. The city is a mere 40-minute train ride from the Big Apple.
Visit Greenwich Avenue which has luxury designers, upscale restaurants, and trendy cafés and a good competition to NYC's Upper East Side.
Many Victorian B&B's populate this town giving it a historic flair. You can also visit the Bruce Museum which is a five-minute walk from the Metro-North train station.
Art lovers will enjoy visiting the Bush-Holley house, the home of the first Connecticut art colony, and once the center of American Impressionism.
New Haven
Located on the shore of Long Island Sound, New Haven is a lovely town which makes for a great vacation spot. It is a quintessential New England town which is elegant and cultured.
New Haven is also home to Yale University and its exciting food scene. The University boasts of an art gallery, a British art gallery, natural history museum, musical instrument collection, and repertory theatre.
New Haven is also considered the first planned city and this is also the first American public tree planting program. Which is why you will see lots of elm trees and a large canopy of trees shading the city.
To end your trip, do visit the bars and restaurants that line the street including the famous Frank Pepe Pizzeria Napoletana, known for its white clam pizza.
Hartford
Hartford is the capital of Connecticut and is a vibrant city that deserves a visit. The city is also home to the oldest American public art museum – the Wadsworth Athenaeum.
Here you can view the works of great international and national artists. If you want to be outdoors, then visit Bushnell Park.
Kids will love the vintage carousel from 1914 that features 48 hand-carved horses. You can also visit the Connecticut Science Center which has over 100 programs and hands-on exhibits on topics ranging from forensics to geology to astronomy.
For a change of pace, visit the North Meadows, just north of downtown, which is the home of the New England Dodge Music Center.
Essex
If you are a fan of Gilmore Girls, then you will love this town. Essex served as an inspiration for Stars Hollow, the fictional town in the series.
This charming town makes for a fantastic family getaway. The mighty Connecticut River travels past Essex, offering the town picturesque views of boats.
To experience the town in a unique away, hop on board the Essex Steam Train & Riverboat for an experience everyone will love. The conductor will tell you all about the landscape while you slowly take in the town.
You can also visit the historic Griswold Inn for a mug of beer and a goodnight's rest.
Madison
Relax by the sea in this cute seaside town of Madison in Connecticut. Home of Hammonasset Beach State Park, it is Connecticut's largest shoreline park.
You can run around with the kids or there is even a jetty here if you bought a boat along.
After chilling at the state park, head to RJ Julia Booksellers for a good read and then grab a coffee from a local cafe. You can also visit the Meigs Point Nature Center, where they can get up close and personal with turtles, crabs, fish, birds, and snakes.
Guilford
Another small and historic coastal town in Connecticut deserves a visit. Guilford sits on the shore of Long Island Sound and offers a picturesque setting for walks.
This charming and inviting village is surrounded by elegant tree-lined streets, historic mansions. If you are a history buff, then you will love the historic houses in the city. Check out the 1660 Hyland House, the Henry Whitfield State Museum built-in 1639, and the 1803 Medad Stone Tavern.
If you want to be by the beach or swim, then you can head to Jacobs Beach.
Old Saybrook
Old Saybrook is a quaint town that is snuggled on the banks of the Connecticut River where it merges with the Long Island Sound. This community started in 1635 when it was just a Saybrook Plantation independent colony.
If you are traveling with kids, then you can enjoy a game of mini-golf at Saybrook Point, or head to Main Street to sample delicious fudge from the many small shops.
Bristol
Just 20 miles away from Hartford, lies the fun town of Bristol. It is best known as the home of ESPN and the site of the oldest theme park in the United States – Lake Compounce.
Lake Compounce is the oldest theme park in the United States. Here you can Hop aboard the Boulder Dash for a wild ride.
There are water rides to keep the heat at bay as well. The city has a large number of museums as well such as the American Clock & Watch Museum, the Bristol Historical Society Museum, and many more.
Stamford
Located just 30 miles away from Manhattan, Stamford is an upper-class community that makes for a great vacation spot in Connecticut. This is the city where New Yorkers built summer homes on the shore.
A lot of people who live here commute to New York or work in one of four Fortune 500 Companies or nine Fortune 1000 Companies that moved to Stamford. This vibrant and sophisticated community has its own personality.
Attractions that you can explore are Stamford Museum and Nature Center, the Stamford Observatory among many others.
Kent Falls State Park
If you love the outdoors, then head straight to Kent Falls State Park. Located just 4.5 miles from the city of Kent, Kent Falls State Park is located in the beautiful Litchfield Hills.
Follow the Kent Falls Trail that will take you across a quaint covered bridge, and after about quarter mile you will start feeling the cool mist of the falling water. Enjoy the mountain stream that falls 250 feet in a pool.
Kent Falls is a great trout fishing spot and there are several picnic areas that you can visit as well.
Hammonasset Beach State Park
Hammonasset Beach State Park is Connecticut's largest shoreline state park. It has more than two miles of fine sandy beach and 3/4 miles of beautiful boardwalk.
The park opened in 1920 and makes for a great vacation spot now. Visitors can indulge in camping, swimming, fishing, scuba diving, and boating.
Milford
This old-fashioned town is full of charm and dates back to 1639. The Wepawaug River winds its way through the center which makes the city have a laidback feel.
Everyone's favorite tourist spot in Milford is the Silver Sands State Park on Charles Island. There is a story behind this state park as well which goes like the naughty captain hid his treasure under the sand in 1699 and never came to reclaim it.
Now, in the high tide, the narrow sand bar that connects the island to the mainland becomes submerged.
The park is a lovely boardwalk that is popular for fishing and swimming.
Roseland Cottage
Roseland Cottage is surrounded by lush boxwood hedges right across from the town common in Woodstock, Connecticut. The cottage was built in 1846 as the summer home of Henry Bowen, his wife Lucy, and their children.
The cottage is built in the Gothic Revival style, with steep gables, fancy barge boards, and decorative chimney pots. The house can be enjoyed by visitors as a display of the typical overindulgence of the Victorian era.
Westport
Located just an hour away from Manhattan, Westport offers a small-town vibe and also is the best city for foodies. Get anything here right from paleo to sushi, even the pickiest of eaters will have his palate tempted by local restaurants.
Make a visit to the Westport Farmer's Market on Thursdays for fresh seafood and local veggies. After that, you can head to Compo Beach for a swim. In the evening, you can catch a concert at the Levitt Pavilion for the Performing Arts.
Connecticut is a great state to explore and has the best of old-world charming towns to the most beautiful natural avenues which you can explore.
20 Thrilling Florida Vacation Spots
Ready to plan your next vacation in sunny Florida? Here are the highlights of the 20 best vacation spots in the state! From the vibrant nightlife of Miami to the laid-back charm of Clearwater, there's something for everyone. Whether you're looking for family-friendly activities, high-end experiences, or unique adventures, this article has got you covered. So, pack your bags and get ready to soak up the sun and fun in the Sunshine State!
15 Virginia Vacation Spots Perfect For Exploring History
Explore the best vacation spots in Virginia with this must-read article! From the historical charm of Williamsburg to the breathtaking beauty of Shenandoah National Park, there's something for everyone. Don't miss out on the top attractions, outdoor adventures, and unique experiences that Virginia has to offer.
Top 15 Ohio Vacation Spots: Vibrant Cities & Aesthetic Parks
Ready to discover the best vacation spots in Ohio? Look no further than this article, which highlights the top destinations in the state, from the vibrant cities of Cleveland, Cincinnati, and Columbus to the scenic Hocking Hills State Park. Explore the great outdoors, enjoy cultural activities, and indulge in local cuisine and attractions. So, pack your bags and get ready to experience the diverse and exciting vacation spots that Ohio has to offer!
Picturesque Lake And Mountain Top Views: 16 Michigan Vacation Spots
Discover the best Michigan vacation spots with this ultimate guide! From the charming university town of Ann Arbor to the breathtaking Pictured Rocks National Lakeshore, there's something for everyone. Whether you're looking for outdoor adventures, cultural experiences, or romantic getaways, Michigan has it all.