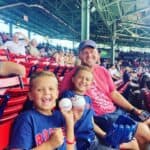 Jake Cain is an entrepreneur and writer from Cincinnati, Ohio. He spends his free time driving around the country in his late 90's conversion van, affectionately known as the "Monster Van" with his wife and 3 boys.
Massachusetts is also known as Bay State and it boasts of historic landmarks, colonial history, picturesque beaches, and laid-back islands. This makes the states one of the best vacation spots in the US.
Massachusetts was one of the original 13 colonies and has preserved historic landmarks from as far back as pilgrim days.
Let us explore some of the best Massachusetts vacation spots that you can explore with your family and friends.
Boston
Boston is the perfect blend of old and new and makes for the most perfect places to visit in Massachusetts. It is a city with vast cultural heritage as well.
Boston played a huge role in the Revolutionary War and is one of the oldest cities in the United States. Check out the freedom trail which is a 2.5-mile-long path that passes many of the historically significant locations in Boston.
If you are an arts and culture fan, then be sure to hit the Museum of Fine Art and the Boston Public Gardens.
Fenway Park is also a great destination in the city and is also home to the infamous Boston Red Sox and some of the most dedicated fans in baseball.
Nantucket
Nantucket is known for its beaches and is an island located in the Atlantic Ocean about 14 miles south of Cape Cod.
It is one of the most popular island getaways for the affluent and home values here are some of the highest in the country. Start by exploring the Whaling Museum and Atheneum, where you can learn more about the island's past.
Brandt Point lighthouse also makes for a great place to explore. If you want to relax then head to Cisco or Jetties Beach.
The easiest way to reach Nantucket is to fly from Boston or you can drive to Hyannis and take the ferry over.
Cape Cod
The premier beach destination in New England makes for the perfect vacation spot in Massachusetts. Cape Cod is a peninsula that extends out from the State of Massachusetts into the Atlantic Ocean.
Sandy beaches, romantic sunsets, and windswept dunes make up this lovely destination. There are 14 lighthouses located here which is more than any other county in America.
When you are here, grab a bike and visit the 25-mile Cape Cod Rail Trail, which runs from South Dennis to Wellfleet.
History buffs will love the Heritage Museum and Gardens. This is an exciting destination with an antique carousel, automobiles from throughout history, and beautiful gardens.
The towns in Cape Cod are full of history and shopping opportunities at the local boutiques as well as in souvenir shops.
Provincetown
Provincetown is an eclectic seaside town known for its vibrant culture, a picturesque harbor, and bustling art scene. The city is also one of the best vacation spots in Massachusetts.
It is located on the northern point of Cape Cod and can be reached by ferry from Boston.
Start by visiting the Commercial Street where you can just walk around, do people-watching, or grab a bite to eat or shop.
The town has also been known to be a safe haven for LGBT travelers and residents.
Do make a stop at the Pilgrim Monument & Provincetown Museum where there are exhibits that are related to the Pilgrims, the Mayflower voyage, and other local histories.
Also, visit the Race Point Lighthouse which is a historic lighthouse that offers overnight accommodations in the bed-and-breakfast Keeper's House.
Plymouth
Also referred to as "America's Hometown", Plymouth has a lot of historical significance. Pilgrims landed here in 1620.
Plymouth is a popular tourist destination during the Thanksgiving holiday season as it was the site of the first Thanksgiving feast. A trip to this city would not be complete without visiting the Plymouth Grist Mill.
This historic attraction is a working mill that has been functioning since 1636 and opens to the public on Fridays at noon. Another tourist spot worth visiting is the W. Russell Blake Planetarium.
Here the visitors can experience astronomy with the only 4K high-resolution full-dome planetarium south of Boston.
Martha's Vineyard
Martha's Vineyard is an island located to the south of Cape Cod. It makes for the perfect getaway if you want to escape the hustle and bustle of busy cities behind.
The city is a popular getaway for the wealthy and many of the homes on the island are vacation rentals and summer homes. Martha's Vineyard is a destination where people go to relax and enjoy the beaches.
Visit the southwestern tip of the island where Aquinnah Cliffs lie, it is a popular tourist spot, where you can see the impressive clay cliffs. You can also view the Gay Head Light or Elizabeth Islands.
For a bit of fun with animals, head to Island Alpaca, where you can meet one of the friendly Huacaya alpacas and tour the beautiful farm.
Salem
Salem is a town that is rich in history and as it played a key role in Puritan American history. This town is also famous for the 1692 Salem witch trials where several local people were executed for supposedly practicing witchcraft.
Hence, many attractions in the town pay homage to this dark time in American history.
Apart from this, there are many different tourist attractions. Stop by at the House of Seven Gables, which was the setting for Nathaniel Hawthorne's novel of the same name.
The Peabody Essex Museum displays a large collection of art from around the world. If you are adventurous then you can head to the Haunted Footsteps Ghost Tour.
Other area attractions include Nathanial Hawthorne's birthplace, Canobie Lake Park, and the Bakers Island Lighthouse.
Berkshires
For those who want to escape to the mountains, Berkshires is the perfect vacation spot. It is located on the slopes of Green Mountain and is a quaint rural region in western Massachusetts, about 2.5 hours from Boston.
It has charming small towns and villages, rolling green fields, fertile farms, and a great art scene as well. Yoga enthusiasts can also take a class at the world-famous Kripalu Center for Yoga and Health.
Music lovers can also attend concerts by the Boston Symphony Orchestra, which resides at the Tanglewood Music Center in Lenox. Art lovers can visit Norman Rockwell Museum, the Williamstown Theatre Festival, and MASS MoCA.
Cambridge
Cambridge is home to two prestigious universities- Harvard University and the Massachusetts Institute of Technology.
Located just across the river from Boston, Cambridge makes for a great vacation spot in Massachusetts. Cambridge is known to be more tolerant and liberal than its neighbor, Boston.
The city was established in 1630 and has many interesting historical buildings, gardens, cathedrals, and museums.
Some places to visit include Church of St. Mary the Great, Holy Sepulchre, Ely Cathedral, and All Saints' Church.
Apart from that, there are many museums you can visit as well as the Fitzwilliam Museum, which is an art museum, the Sedgwick Museum of Earth Science, the Museum of Archeology and Anthropology
Rockport
Another eclectic town is Rockport in Massachusetts. It is a seaside community that makes for a fantastic getaway spot.
Located just an hour away from Boston, it feels like you are thousands of miles away from the bustling city. When here, check out the iconic Motif #1, a famous painted fishing shack.
Bearskin Neck makes for a great stop as it has many shops, restaurants, and art galleries.
Sturbridge
Sturbridge is one of the most historic towns in Massachusetts and visiting this place is like stepping back in time.
The city recreates life as it was back in the early 1800s, in more than 40 historic homes, craft shops, stores, malls, and farm buildings. It truly makes for an eclectic place to visit.
The living museum of Old Sturbridge village has unique boutiques and shops that visitors can spend hours browsing. There are costumed actors as well who demonstrate daily tasks of farmers, blacksmiths, housewives, and craftspeople.
Newburyport
Newburyport is a charming coastal town and historical seaport in northeastern Massachusetts. You will find many boats moored at the port which is still quite active.
The town's former customhouse is available for touring and is the location of the Customs House Maritime Museum. Visitors can also explore the Cushing House Museum and Garden which is a federal style museum with a garden.
You can also visit the nearby Plum island which has a national wildlife refuge along with beaches, lighthouses.
Barnstable
Barnstable is a collection of small villages that together comprise the largest town on Cape Cod. There are several attractions here such as the Cahoon Museum of American Art and the John F. Kennedy Hyannis Museum.
Visitors can also explore the U.S Customshouse which is a historic customs house that also houses a museum devoted to the Coast Guard. There are several beaches in the area which make for a great visit as well.
Halibut Point State Park
It comprises of 55-acres of preserved ocean-side land on Cape Ann. There are very few trees in the park and more bushes and wildflowers.
You can see small creatures such as snails, sea stars, and hermit crabs in the tidepool. There are many park trails and tidepools which are loved by outdoor enthusiasts.
Take a self-guided tour of the park to learn more about the history of Halibut Point State Park,
Bridge of Flowers
The Bridge of Flowers was once owned by the Shelburne Falls & Colrain Street Railway. The railway operated until 1927, and the history of the railway is preserved in the nearby Shelburne Falls Trolley Museum.
Now the bridge has turned into gardens featuring a wide variety of plantings throughout the year. You can see the bridge in full bloom from April to October.
Massachusetts is blessed with many destinations and towns that truly deserve a visit. From the fancy Cape Cod to the historic Salem – there are lots to see here.
20 Thrilling Florida Vacation Spots
Ready to plan your next vacation in sunny Florida? Here are the highlights of the 20 best vacation spots in the state! From the vibrant nightlife of Miami to the laid-back charm of Clearwater, there's something for everyone. Whether you're looking for family-friendly activities, high-end experiences, or unique adventures, this article has got you covered. So, pack your bags and get ready to soak up the sun and fun in the Sunshine State!
15 Virginia Vacation Spots Perfect For Exploring History
Explore the best vacation spots in Virginia with this must-read article! From the historical charm of Williamsburg to the breathtaking beauty of Shenandoah National Park, there's something for everyone. Don't miss out on the top attractions, outdoor adventures, and unique experiences that Virginia has to offer.
Top 15 Ohio Vacation Spots: Vibrant Cities & Aesthetic Parks
Ready to discover the best vacation spots in Ohio? Look no further than this article, which highlights the top destinations in the state, from the vibrant cities of Cleveland, Cincinnati, and Columbus to the scenic Hocking Hills State Park. Explore the great outdoors, enjoy cultural activities, and indulge in local cuisine and attractions. So, pack your bags and get ready to experience the diverse and exciting vacation spots that Ohio has to offer!
Picturesque Lake And Mountain Top Views: 16 Michigan Vacation Spots
Discover the best Michigan vacation spots with this ultimate guide! From the charming university town of Ann Arbor to the breathtaking Pictured Rocks National Lakeshore, there's something for everyone. Whether you're looking for outdoor adventures, cultural experiences, or romantic getaways, Michigan has it all.