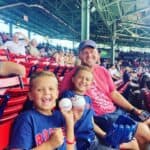 Jake Cain is an entrepreneur and writer from Cincinnati, Ohio. He spends his free time driving around the country in his late 90's conversion van, affectionately known as the "Monster Van" with his wife and 3 boys.
The largest state in the U.S, Alaska is 600,000 square miles and boasts of wild nature and offers almost countless destinations to immerse yourself in stunning natural beauty.
Alaska is famous for its scenery giant glaciers and pristine forests and there are many things to do here.
Let us explore some of the best Alaska vacation spots that you can visit with your friends or family.
Denali National Park
Located in central Alaska, Denali National Park is one of the largest parks in the United States and encompasses North America's highest mountain.
Denali is the traditional name of the peak, but modern explorers dubbed it Mount McKinley. The upper part of the mountain is always covered with snow and glaciers, and the temperatures can go really low.
Despite the extreme temperatures, there are many animals among them 39 species of mammals and 169 species of birds.
Tracy Arm Fjord
Located 45 miles south of Juneau, Tracy Arm Fjord is a popular destination for cruise ships and boat tours. It is one of the two deep and narrow fjords in the Tracy Arm-Fords Terror Wilderness.
There are waterfalls that tumble down the sharp rock walls and glaciers calve which create small icebergs.
Tracy Arm Fjord is more than 30 miles long, and one-fifth of it is covered in ice. You can access the Fjord by boat through Stephens Passage to Holkham Bay and from the bay to the fjord.
Wildlife sightings are common as well, whether it's a brown bear or moose on land or whales and seals as well.
Ketchikan
Ketchikan is known as Alaska's "first city", and is located on Revillagigedo Island in the Tongass National Forest. It is a 17-acre rainforest which is full of Sitka spruce, cedar, waterfalls, and diverse wildlife.
If you have been following the "Deadliest Catch" the reality show, then you might want to take the Bering Sea Crab Boat Tour which was featured on it. Ketchikan is the southernmost Alaskan city backed by forested slopes of Deer Mountain.
There are many other outdoor adventures that include flying over the Misty Fjords in a floatplane or just spending a few hours watching for whales, sea lions, and more.
If you are back in town, then you can discover the amazing art scene, live music and theatre and more.
Seward
Seward has a lot to offer if you are looking for an Alaskan town that has everything. It is located on the foot of Mount Marathon on the shore of Resurrection Bay on the Kenai Peninsula.
For centuries, the ice-free harbor has served as a gateway to Alaska's wild and resource-rich interior. You can reach Seward via a scenic drive on the Seward Highway from Anchorage, which winds through the spectacular Alaskan wilderness.
The pristine waters of Ressurection Bay are home to humpback whales, orcas, harbor seals, porpoises.
Main tourist spots include Kenai Fjords National Park, deep glacial lakes, the Harding Icefield. You can also take a kayak tour, participate in a dog sled race, or take a small plane tour as well.
Mendenhall Glacier
Located just 12 miles northwest of the state capital, it stretches 12 miles from the Juneau Icefield towards Mendenhall Lake.
It is one of the most famous tourist attractions in Alaska and is about half a mile wide. The glacier has retreated two and a half miles since the mid-1700s.
The best way to see the glacier is to kayak up to its face or from a helicopter. You can even spot wildlife near the glacier-like black bears, porcupines, and beavers.
You can also try ice-climbing or exploring the caves.
Fairbanks
You can't think of Alaska and not think of Northern Lights. Fairbanks is known as one of the best places to catch the beautiful phenomenon of Northern Lights in the U.S.
Northern Lights are mysterious curtain of swirling, flowing colors of green, purple and red lights that brighten the night skies.
The town is located near the North Pole called Auroral Oval, and its continental climate allows for more clear nights than other places on the coast which helps to see the Aurora Borealis.
To get a good look at this natural phenomenon you will have to get away from the city lights and out to the wilderness. The best time to experience is late at night or early morning.
Glacier Bay National Park and Preserve
Located just west of Juneau, the Glacier Bay National Park is a 25-million acre World Heritage Site and is one of the largest protected areas in the world.
It is located where the North American and Pacific tectonic plates collide and the coastal mountains, three miles high, are still rising.
The Glacier Bay Area covers more than three million acres of mountains, glaciers, rainforest, rugged coastlines and there is no dearth of things to do here. It is a great place for fishing, hiking, and boating.
Homer
The charming town of Homer makes for a perfect vacation spot in Alaska. It is an amazing panorama of snowy peaks, dramatic mountains, glaciers, and the famous Homer Spit.
The town is best known for fishing, spectacular nature, and excellent art and culinary scene.
The Homer Spit is a 4.5-mile long road on the sand bar that leads straight into the beautiful blue bay and most of the activities surround this spit.
This artsy town has numerous galleries and museums, as well as a live theatre and music venues. They have great restaurants and coffee shops too.
The Kenai Mountains provide a beautiful backdrop to this lovely town and also protect it from the blistering cold. Try biking or hiking or explore the rich marine life here in Homer.
Kenai Fjords National Park
Located near Seward, Kenai Fjords National Park covers an area of 669,984 acres of snow, ice, long fjords, and hundreds of tranquil bays and coves.
Snow and ice cover 60 percent of the park and about 40 glaciers flow out of the Harding Icefield. There are many adventures you can do in the park-like snowmobiling, dog sledding, boat tours, flightseeing, and cross-country skiing.
There is lots of wildlife that can be found in this national park as well like sea otters, moose, black bears, wolverines, mountain goats, and coyotes.
Talkeetna
Talkeetna sits at the base of Denali or Mt. McKinley which is the tallest mountain in the country. It is a historic town that makes for an excellent starting point from where you can experience true Alaska.
This town was founded at the height of the gold rush and now draws many visitors. You can indulge in fishing, hiking, skiing, mushing, and mountain climbing.
You can just spend time walking around the town and exploring the historic buildings. Try breweries, quaint shops, and restaurants.
Sitka
Located on Baranof Island, Sitka is an Alaskan treasure that is rich in nature and culture. It lies in the Alexander Archipelago and is surrounded by snow-covered mountains.
It is the only Inside Passage community that ronts the Pacific Ocean and Sitka is also a town where Americans came to buy the town from Russians. This fact is celebrated with must gusto every year.
The spectacular nature surrounding the town provides amazing natural beauty. You can indulge in hiking o see the American bald eagle, black-tailed deer, or brown bears at the Fortress of the Bear.
Skagway
Skagway was once the gateway to Klondike Gold Rush. The town is full of wooden sidewalks, saloons, shops, and people who are dressed up as people from the end of the 19th century.
Earlier, Skagway was filled with people seeking out to make millions.
You can take a self-guided tour narrated by a Skagway local if you want to delve into the history of this place.
Alaska Highway
Alaska Highway is also known as the Alaska-Canada Highway and it runs from Dawson Creek in British Columbia to Delta Junction near Fairbanks.
It is a 1500-mile open road which was carved from rock and deep forests in only eight months. It makes for the most beautiful scenic drives and you will see some of the most magnificent national parks in both Canada and the United States.
As you keep driving north, the mountains keep becoming more prominent and spectacular. You might also encounter wild animals such as bison, sheep, and beers.
Girdwood
Girdwood is a beautiful town in Alaska which surrounded by the peaks of the Chugach Mountain Range. Located only 36 miles south of Anchorage, it offers year-round recreational opportunities.
Outdoor enthusiasts can visit this town for Nordic skiing, dog mushing, snowmobiling, fishing, and hiking.
Valdez
Valdez lies in Port Valdez at the head of the 11-mile long fjord in the Prince William Sound. Though this is a small city, it one of the most important ports in Alaska for both fishing and commercial purposes.
It is also an oil-terminal l for the Trans-Alaska pipeline. The town has been used as a trading port for many years, for trading jade, copper, furs, and fishing.
Alaska is nature's wonderland and there are so many things to see and experience which will leave you speechless. From the other-worldly Northern Lights to the awe-inspiring Mendenhall Glacier – take your pick
20 Thrilling Florida Vacation Spots
Ready to plan your next vacation in sunny Florida? Here are the highlights of the 20 best vacation spots in the state! From the vibrant nightlife of Miami to the laid-back charm of Clearwater, there's something for everyone. Whether you're looking for family-friendly activities, high-end experiences, or unique adventures, this article has got you covered. So, pack your bags and get ready to soak up the sun and fun in the Sunshine State!
15 Virginia Vacation Spots Perfect For Exploring History
Explore the best vacation spots in Virginia with this must-read article! From the historical charm of Williamsburg to the breathtaking beauty of Shenandoah National Park, there's something for everyone. Don't miss out on the top attractions, outdoor adventures, and unique experiences that Virginia has to offer.
Top 15 Ohio Vacation Spots: Vibrant Cities & Aesthetic Parks
Ready to discover the best vacation spots in Ohio? Look no further than this article, which highlights the top destinations in the state, from the vibrant cities of Cleveland, Cincinnati, and Columbus to the scenic Hocking Hills State Park. Explore the great outdoors, enjoy cultural activities, and indulge in local cuisine and attractions. So, pack your bags and get ready to experience the diverse and exciting vacation spots that Ohio has to offer!
Picturesque Lake And Mountain Top Views: 16 Michigan Vacation Spots
Discover the best Michigan vacation spots with this ultimate guide! From the charming university town of Ann Arbor to the breathtaking Pictured Rocks National Lakeshore, there's something for everyone. Whether you're looking for outdoor adventures, cultural experiences, or romantic getaways, Michigan has it all.