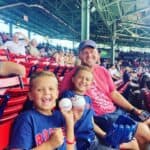 Jake Cain is an entrepreneur and writer from Cincinnati, Ohio. He spends his free time driving around the country in his late 90's conversion van, affectionately known as the "Monster Van" with his wife and 3 boys.
Vermont is a picture-postcard beauty that begs to be discovered. The entire state is so scenic and has beauty at every turn, historic buildings, and towns that are considered some of the prettiest in the United States.
Imagine dazzling meadows with black and white cows, dazzling white ski trails, tidy hillside farms, scenic towns – Vermont has it all.
Let us explore some of the top Vermont vacation spots that you can explore with your friends and family.
Burlington
Burlington is the state's biggest city and lies on the eastern shore of Lake Champlain in northwestern Vermont. The city has a lot of areas which can be enjoyed by outdoor enthusiasts.
Greenway is one of them, where you can enjoy biking. It is a forested corridor that runs the entire length of the city and you can also access over 30 miles of trails spreading across abundant natural areas via 127 paths.
Also, make a stop by the Burlington Farmer's Market at City Hall Park, and shop for fresh produce, flowers, and plants. In the evening, you can spend your time exploring the breweries Burlington City Brew Tours takes you around to the best locations for tastings.
Apart from that Burlington has thirty-five diverse parks, several beaches, plus the Lake Champlain marina offers many activities as well.
Montpelier
Montpelier is the state capital of Vermont and is the smallest capital city in the country. The city sits on the bank of the lovely Winooski River in central Vermont.
The historic town of Montpelier has lovely colorful boutiques and interesting shops that offer everything from chocolates to toys. Visitors can have a great time shopping here.
You can also enjoy a free tour of the State House, and admire the artwork and architecture of this historic building that was built in 1859.
If you want to relax, head to the Wrightsville Beach Recreation Area along the Winooski River on the north side of town. Here there's a wonderful beach and a picnic area where families can enjoy it.
The city has a lovely nigh scene where the restaurants and clubs come alive with eclectic cuisine and live music.
Stowe
Stowe is best known as a winter playground in Vermont. This scenic mountain town looks like a picture from a Christmas card.
It is also known as the ski capital of the east, thanks to the proximity of Mount Mansfield. Snow and ski keep the visitors busy in the winters as there are about 20 feet of snowfall from November to April.
In summers, there are lively festivals and art shows. One of the biggest is September's British Invasion, where fields are filled with makes of British automobiles.
If you love Sound of Music, then Stowe is a must-visit. It's where the von Trapp family settled and operated a ski lodge after they fled Austria during World War II.
Other activities include dog sled, sleigh-ride, snowshoe, snowmobile, ice fish, and more.
Woodstock
Woodstock is a quaint mountain town that has elevated tourism to an art form. If you are thinking of a music festival when you are thinking of Woodstock – this is not that state.
Woodstock makes for a classic New England getaway and makes for the most perfect Vermont vacation spot.
This sleepy little village is one of the prettiest little villages where every corner is like a picture postcard shot. Choose from a dozen bed and breakfasts or resorts and stay here for a memorable vacation.
Visit a sugar maple farm, walk the beautiful tree-lined streets, breathe in the crisp mountain air as you hike or shop at unique boutiques and galleries. Other activities include biking, golfing, shooting, fishing, and visiting working farms.
Quechee Gorge State Park
Quechee Gorge State Park is located along US Route 4 and is Vermont's answer to the Grand Canyon. Though it is not as big as the Grand Canyon, it still offers some awe-aspiring views of the gorge.
It is the deepest gorge in the state and was created by glacial movement roughly 13,000 years ago. The Ottauquechee River provides exciting whitewater rafting at the bottom.
There is a trail along the gorge for hikers plus a picnic area, campsite, and large playing field lie next to the trail.
You can also walk till the Mill Pond Falls that cascade down 30 feet.
Manchester
Nestled in the Green Mountains, this historic town makes a good base for exploring the mountains as well. It has lots of shopping options, including outlet malls.
Explore the town through tours that take you through Alpaca Farms, maple shack, and a Norman Rockwell exhibit.
Popular points of attraction include Hildene, the former Lincoln family home, the Manchester Historical Society, and the American Museum of Fly Fishing. You can also try out skiing at Bromely Ski Resort, ride a sleigh at Taylor Farm, or ice skate at Riley Rink.
Lake Champlain Islands
When you want to have a lovely outdoor experience, then there is no better place than Lake Champlain islands. These are a collection of isles on the sixth biggest lake in the United States.
The islands are an archipelago, perhaps a total of 30 miles long, and offer a host of outdoor activities.
You can reach here by ferry, plus they make for some of the most scenic drives in Vermont. Each island has its own attributes and there are lots to do. In the summer, you can camp, visit the state's first vineyard or cycle the scenic Island Line Trail.
Bennington
Bennington lies along the Walloomsac River at the western edge of the Green Mountains in southwestern Vermont. It is the place to go if you want to get a taste of Americana.
There are a few covered bridges that make quite the drive and definitely deserve a visit. After that, you can visit the Vermont Covered Bridge Museum to learn about the legends, history, engineering, and builders of these historic structures.
If you want to relax a bit, visit the north side of the town where Lake Paran is situated. Here you can swim, hike sunbathing, and then visit the climb two-mile trail to the Robert Frost Stone House Museum.
Visitors can also go to The Dollhouse and Toy Museum which has many vintage toys, dolls, and puppets.
St. Albans
The small town of St. Albans lies on the eastern shore of Lake Champlain in northwestern Vermont. This family-friendly place makes for the perfect vacation spot in Vermont.
Visit the downtown area for a taste of historic buildings. Do pay a visit to St. Albans Museum and Gallery, St. Albans Cathedral, and the amazing Verulamium Museum.
For fun with your family visit the Kill Kare State Park, which lies on the shores of Lake Champlain.
The park has wide open spaces, barbecue facilities, a small beach cove, and a ferry that provides easy access to both Burton Island State Park and Wood's Island State Park.
Kids will also enjoy at Willows Activity Farm, where they can get a chance to meet farmyard animals, take tractor rides, and enjoy other fun activities.
Grand Isle State Park
Grand Isle State Park lies in the town of Grand Isle in the midst of Lake Champlain. The State Park offers a lot of activities to do, which makes the Grand Isle State Park a great vacation spot in Vermont.
It has over 225 acres and more than 4,000 feet of Lake Champlain shoreline. Many campers visit the State Park every year as it offers a plethora of outdoor activities.
Visitors can kayak, rowboat, swim, fish on the shores of Lake Champlain. The State Park also has a nature center, sports facilities, hiking trails, a volleyball court, a play area, and horseshoe pits.
Smugglers Notch State Park
Smugglers Notch State Park is a slender trail that runs through the Green Mountains between 1,000-foot cliffs. This gained historic momentum when President Jefferson banned U.S. trade with Canada and Great Britain in the early 1800s.
That is when many continued to trade illegally with Canada using this narrow pass.
Later, this pass was used to smuggle liquor during the Prohibition. Visitors can learn more about the past of the Smugglers Notch State Park through the interpreter programs offered at the relocated park.
Bennington Battle Monument and Museum
The Bennington Battle Monument statue is the tallest statue in Vermont and commemorates an essential battle in the Revolutionary War. You can see a smaller statue of General John Stark right next to the monument.
The 306-foot high obelisk is visible for miles around and offers sweeping views of the scenic vistas of three states. Visit the nearby Bennington Battle Museum and check out the collections of Bennington pottery, furniture, toys, American glassware, and Victorian quilts.
Burton Island
Located in the Inland Sea of Lake Champlain, Burton Island makes for a fantastic getaway in Vermont. The state park is made up of 250 acres that can be reached only by boat via a 10-minute ferry ride from Kamp Kill Kare State Park.
You can stay the night here as there are tent sites, lean-to sites, and cabins for guests. Since the island has 3 miles of shoreline there are plenty of water-based activities that visitors can indulge in.
Try kayaking, row boating, canoeing, and swimming. Plus, there are several hiking trails as well.
Fairbanks Museum & Planetarium
The Fairbanks Museum and Planetarium exudes a certain Victorian museum charm. The 1891 building is listed on the National Register of Historic Places.
There are many unusual things here from wildflowers to the mysteries of the universe uncoded. Check out Native American stone tools, Civil War memorabilia, Victorian portraits of Washington, Lincoln, and others formed entirely of bugs and beetles.
There is a live broadcast studio as well Eye on the Sky which is quite popular with visitors.
Rock of Ages Quarry and Hope Cemetery
Visit the Rock of Ages Quarry which is a huge hole in the earth and at 550 feet wide, a quarter-mile long, and 450 feet deep, the world's largest quarry.
Barre granite structure makes it the preferred stone for finely detailed, durable outdoor sculpture, such as monuments. For some fun, you can even sandblast your own granite souvenir, and go bowling on what is believed to be the world's only outdoor granite lane!
Many expert stone carvers and stone experts were drawn by Barre and you can find their works at Hope Cemetry. The cemetery is filled with exquisite carvings by early-20th-century stonecutters.
Vermont has many picture-postcard perfect cities that will make your heart swoon. From Stowe, which is the winter playground to the quaint mountain town of Woodstock – there are lots to do in this beautiful state of Vermont.
20 Thrilling Florida Vacation Spots
Ready to plan your next vacation in sunny Florida? Here are the highlights of the 20 best vacation spots in the state! From the vibrant nightlife of Miami to the laid-back charm of Clearwater, there's something for everyone. Whether you're looking for family-friendly activities, high-end experiences, or unique adventures, this article has got you covered. So, pack your bags and get ready to soak up the sun and fun in the Sunshine State!
15 Virginia Vacation Spots Perfect For Exploring History
Explore the best vacation spots in Virginia with this must-read article! From the historical charm of Williamsburg to the breathtaking beauty of Shenandoah National Park, there's something for everyone. Don't miss out on the top attractions, outdoor adventures, and unique experiences that Virginia has to offer.
Top 15 Ohio Vacation Spots: Vibrant Cities & Aesthetic Parks
Ready to discover the best vacation spots in Ohio? Look no further than this article, which highlights the top destinations in the state, from the vibrant cities of Cleveland, Cincinnati, and Columbus to the scenic Hocking Hills State Park. Explore the great outdoors, enjoy cultural activities, and indulge in local cuisine and attractions. So, pack your bags and get ready to experience the diverse and exciting vacation spots that Ohio has to offer!
Picturesque Lake And Mountain Top Views: 16 Michigan Vacation Spots
Discover the best Michigan vacation spots with this ultimate guide! From the charming university town of Ann Arbor to the breathtaking Pictured Rocks National Lakeshore, there's something for everyone. Whether you're looking for outdoor adventures, cultural experiences, or romantic getaways, Michigan has it all.