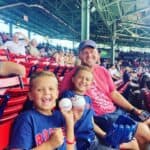 Jake Cain is an entrepreneur and writer from Cincinnati, Ohio. He spends his free time driving around the country in his late 90's conversion van, affectionately known as the "Monster Van" with his wife and 3 boys.
West Virginia is a state that is rich in natural resources. There are several national forests, dozens of lakes, rivers, and mountains, making it an excellent location for families or couples looking to enjoy a relaxing getaway.
No matter what West Virginia vacation spot you choose, your destination will provide you with a chance to enjoy the outdoors and the breathtaking views the Mountain State offers.
Harper's Ferry National Park
Harper's Ferry National Park is a historical site in West Virginia that allows families to step back in time.
If you are looking for a place where you and your children can learn about the rich history in the area, Harper's Ferry National Park is the perfect place. It allows visitors to take a trip back to a simpler life.
You can participate in Civil War reenactments, churn butter, and see monuments dedicated to the soldiers who fought here. The views are stunning, and all around you, there are things to see in this popular West Virginia vacation spot.
Participating in the photography scavenger hunt will help you capture all of the incredible sites in the park, so when you get home, you can look back fondly on your time there.
There is no sleeping or eating in the park. However, there are plenty of options nearby. You can stay at one of many area hotels or camp if you prefer to spend your nights in nature.
Charleston
Charleston, WV, is the state capitol, and it is home to incredible inns, markets, history museums, the Capitol building, and much more. Visiting in fall is unique because the trees change to their vibrant autumn colors then.
It is a perfect West Virginia vacation spot for a cozy trip with your significant other. Staying at Hillbrook Inn gives you a chance to stay on a property that George Washington once owned.
At the Brass Pineapple Inn, you can share a romantic room, and the hotel will even serve you fruit and wine with a basket and blanket so you can snuggle up with your love, and in the morning you can enjoy a "silver tray" breakfast in bed.
There are also many places to dine in the city. Try Noah's Restaurant and Lounge, where they serve delicious seared scallops, and other bistro-style meals.
Or, you can go for French cuisine at Laury's waterfront restaurant on the Kanawha River.
Morgantown, West Virginia
Morgantown is home to West Virginia University, the Art Museum of West Virginia, waterfalls, and the 1924 Metropolitan Theatre. On the eastside of Morgantown, you will find Cheat Lake with hiking trails and beaches.
You can spend the day exploring the Core Arboretum where wildflowers bloom during spring and Decker's Creek, where there are lush vegetation and waterfalls. You can also sample the wine at the Forks of Cheat Winery, take a dip in the pool at Krepps Park, or attend an art class and wander the galleries at the Monongalia Art Center.
When you get hungry, check out the Pies and Pints Restaurant for pizza and beer or Tin 202 for tapas.
Huntington, West Virginia
Huntington is a neat West Virginia vacation spot on the Ohio River. On the Huntington side of the river you are in West Virginia, but if you cross the river, you are in Ohio.
The city is one of the largest in the state, with a population of over 47,000 residents, and it is one of the best locations in the state for family vacations.
There are several museums, including the Huntington Museum of Art, the Heritage Farm Museum and Village, and the Museum of Radio and Technology. There are also several lovely gardens and parks in the area where you can take a stroll with your four-legged friend if you choose to bring them with you when you travel.
Ritter Park features a rose garden, sprawling green lawns, and a dog park, and the Ritter Park Historic District has historical buildings you can visit that was built between 1913 and 1940.
Parkersburg, West Virginia
Parkersburg is a river town located at the intersection of the Kanawha and Ohio Rivers. It has a population of just over 30,000 residents, and it is a metropolitan area, so there is plenty to do.
The architecture in the city is impressive, with buildings dating back to the 1800s. It is the perfect way to transport yourself back in time. Some of the most notable structures in town include the Blennerhassett Mansion, Julia-Ann Historic District, and St. Francis Xavier Catholic Church.
To visit the Blennerhassett Mansion located on Belle Island, you have to take a ferry to get there, but it is worth the trip to check it out.
A hundred and sixteen buildings in the Julia-Ann Historic District were built between 1875 and 1915. It is a unique opportunity to take a trip back in time that children and adults will appreciate.
You can explore the district on your own or take a guided tour to learn even more about the rich history of the buildings.
There are restaurant options to fit every taste, including Lebanese, American, Asian, and Italian restaurants, and there is a local brewery, Parkersburg Brewing Co., as well.
Wheeling, West Virginia
Wheeling is a city on the Ohio River in the foothills of the Appalachian Mountains. The landscape is stunning. There are also several exciting attractions in Wheeling.
Oglebay Park Resort and Conference Center on the outskirts of the city is a great place to stay while you are in Wheeling. The resort is a 1,650-acre area with the Oglebay Good Zoo, sprawling lawns, several historic buildings, and lodging accommodations.
There are also several diners, grilles, and a buffet. If you prefer to dine in your room, you can order cottage meal delivery.
Oglebay is also a popular place to have weddings or large events. There are private dining rooms, and you can also host outdoor activities there, too.
The Wheeling Island Hotel, Casino, and Racetrack is another popular area attraction that draws tourists each year. The racetrack features horse and greyhound races depending on the time of year you visit.
Bluefield, West Virginia
Bluefield is a small-town West Virginia vacation spot. There are several state day parks where you can hike and watch wildlife.
The East River Mountain Overlook Park gives you a breathtaking bird's eye view of Mercer County and Pinnacle Rock State Park is a great place to hike with children or novices.
Lotito City Park is another interesting attraction in the city that features tanks, trains, and playground equipment.
After a long day of exploring, you can grab some comfort food at Patty Joe's in the Bluefield Plaza Shopping Center. It is a favorite spot for locals and visitors.
New River Gorge National Park
New River Gorge is a fun state park that offers visitors plenty of activities to keep you entertained. You can hike, climb, whitewater raft, go fishing, and take guided tours.
There are several visitor centers to help you familiarize yourself with the park. If you want to learn even more about the native plant and wildlife, programs are available for children and adults.
Before you go, you should check with the park to make sure the conditions are favorable. During the winter, the park often has significant snow, which causes some of the many trails to close.
You will also need to plan lodging at one of the area motels or campgrounds because there is n camping in the park. However, there are so many things to do at New River Gorge National Park that you will want to spend several days exploring everything.
Blackwater Falls National Park
Blackwater Falls National Park is a really neat place to bring your family. Most people enjoy seeing waterfalls, and this park has them. There are also many opportunities to spot local wildlife.
At the park, children enjoy riding down snow hills on sleds, fishing, camping, and boating. There is also a lodge and restaurant at the park. The only thing you cannot do there is go hunting.
Stonewall Resort State Park, Roanoke, West Virginia
Stonewall Resort State Park is a very unique West Virginia vacation spot you can enjoy year-round. The lodge is beautiful, and the rooms are nicely appointed.
During the day, you can explore miles of trails, golf at the onsite course, enjoy treatments at the spa, or take in the breathtaking views.
As the sunsets, you can watch the colors dance across the sky by the firepit beside the indoor-outdoor pool. Or, you can dine at one of two restaurants at the lodge, or you can experience a murder mystery dinner.
It is a popular destination for families and couples celebrating their anniversary, and many people also plan their weddings at the lodge.
Coopers Rock State Forest
If you enjoy skiing, Canaan Resort and State Park is the West Virginia vacation spot for you. It is a year-round favorite for friends, couples, and families.
In warmer weather, you can hike, go tubing, swimming, play tennis, enjoy a softball game, golf, and go on wagon rides.
During cold weather, you can visit the spa, engage in many indoor activities going on at the resort, ski, ice skate, and go snow tubing. There are 47 ski trails that range from beginner to expert, and if you need lessons, the resort offers that too.
It is a popular destination for family reunions, business conferences, weddings because there are things for everyone to enjoy.
Berkley Springs
If you enjoy hunting and history, Berkeley Springs is a great West Virginia vacation spot. The area is home to George Washington's Bathtub, which draws visitors each year.
The former United States president was a frequent visitor to the town. The bathtub is a recreation.
However, it has a natural spring that bubbles into it and you can even bathe in it yourself.
If the tub does not interest you, you can visit Berkeley State Park or the Clarence Hovermale and John Herbert historic homes. There is also a local museum that teaches visitors about the town, called the Museum of Berkeley Springs.
White Sulfur Spring, West Virginia
White Sulfur Springs is a small town in West Virginia, but there is plenty to do during a weekend stay. There are historic sites, wildlife refuges, recreational areas, recreational areas, a casino, spa, salt caves, and more.
The Greenbrier Falconry features majestic birds and allows you to get close and learn about them. You can also visit the Greenbrier Government Relocation Facility, where you can tour the Cold War bunker.
It is a beautiful building on the sprawling grounds of The Greenbrier Resort and you would never guess that there was a formerly secret government bunker under it.
You will find plenty of places to stay in the area and it is suitable for people that want a quiet getaway with their family or with a significant other. The town gives visitors a chance to get in touch with the outdoors while still enjoying amenities offered in the city.
Point Pleasant
Point Pleasant is a lovely riverfront city on the confluence of the Kanawha and Ohio Rivers. It has a small-town feel with a population of just over 25,500 residents.
While you are there, you can enjoy boating, kayaking, tubing, and other water sports on the Ohio River. You can also visit several local museums, including the Mothman Museum, a quirky museum inspired by a local legend, the Point Pleasant River Museum, and the West Virginia Farming Museum.
Fort Randall and the Point Pleasant Historic District give you a chance to learn about the history of the city, and there are recreation areas and parks where you can spend time with your family, as well.
West Virginia vacation spots offer families and couples an opportunity to learn about the history of the state, connect with wildlife, and enjoy resort-style retreats. Each location gives visitors breathtaking views.
The picturesque landscapes are the perfect backdrop for wedding or family photos, and no matter what time of the year you visit, there is stunning natural scenery to enjoy.
20 Thrilling Florida Vacation Spots
Ready to plan your next vacation in sunny Florida? Here are the highlights of the 20 best vacation spots in the state! From the vibrant nightlife of Miami to the laid-back charm of Clearwater, there's something for everyone. Whether you're looking for family-friendly activities, high-end experiences, or unique adventures, this article has got you covered. So, pack your bags and get ready to soak up the sun and fun in the Sunshine State!
15 Virginia Vacation Spots Perfect For Exploring History
Explore the best vacation spots in Virginia with this must-read article! From the historical charm of Williamsburg to the breathtaking beauty of Shenandoah National Park, there's something for everyone. Don't miss out on the top attractions, outdoor adventures, and unique experiences that Virginia has to offer.
Top 15 Ohio Vacation Spots: Vibrant Cities & Aesthetic Parks
Ready to discover the best vacation spots in Ohio? Look no further than this article, which highlights the top destinations in the state, from the vibrant cities of Cleveland, Cincinnati, and Columbus to the scenic Hocking Hills State Park. Explore the great outdoors, enjoy cultural activities, and indulge in local cuisine and attractions. So, pack your bags and get ready to experience the diverse and exciting vacation spots that Ohio has to offer!
Picturesque Lake And Mountain Top Views: 16 Michigan Vacation Spots
Discover the best Michigan vacation spots with this ultimate guide! From the charming university town of Ann Arbor to the breathtaking Pictured Rocks National Lakeshore, there's something for everyone. Whether you're looking for outdoor adventures, cultural experiences, or romantic getaways, Michigan has it all.