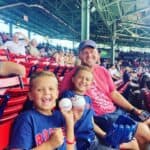 Jake Cain is an entrepreneur and writer from Cincinnati, Ohio. He spends his free time driving around the country in his late 90's conversion van, affectionately known as the "Monster Van" with his wife and 3 boys.
Key Takeaways:
RVshare's 2024 Travel Trend Report reveals growing interest in electric RVs among travelers.
RVshare has partnered with Grounded to offer electric RVs on their platform by mid-2024.
Major RV manufacturers, like Winnebago, are also venturing into the electric RV space, supplementing RVshare's efforts.
As the calendar flips towards 2024, an exciting trend is revving up in the travel industry – the rise of the Electric Recreational Vehicle (RV). According to the 2024 Travel Trend Report by RVshare, travelers are increasingly interested in exploring green roads with electric RVs.
This shift towards sustainable travel is a testament to the growing consciousness among travelers about their carbon footprint and a strategic move towards environmentally friendly travel.
RVshare's report offers intriguing insights into this evolving trend. Half of the survey respondents view electric RVs positively, associating them with cost savings and environmental protection. Another 28% find the concept intriguing, signalling a latent potential that could shape the future of RV travel.
In an added boost to this trend, leading RV manufacturer, Winnebago, has also entered the electric RV space. As reported by CNBC, Winnebago recently announced its concept for an "all-electric zero emission motorhome". This innovative move complements RVshare's initiative and bolsters the growing momentum of electric RV adoption.
The onset of electric RVs aligns seamlessly with the shift towards domestic and nature-centric travel, also underlined in RVshare's report. The pandemic-induced rethink of travel habits has set the stage for more relaxed, eco-friendly road trips in the upcoming year.
Recognizing this shift, RVshare has partnered with Grounded to bring an electric recreational vehicle rental program to their platform. This collaboration, alongside engagement with leading manufacturers, anticipates the availability of electric RV models on the platform by mid-2024.
However, the transition to widespread adoption of electric RVs isn't without hurdles. Limited availability of charging stations and high initial costs of electric vehicles are significant challenges that need navigating. Yet, with technological advances and growing consumer interest, these challenges are likely to diminish over time.
In conclusion, 2024 is gearing up to be a transformative year in travel history. The rise of electric RVs brings exciting possibilities for travel enthusiasts, combining the thrill of exploration with the satisfaction of eco-conscious travel. So, brace yourself for a revolution in travel, driving towards greener pastures, both literally and metaphorically.