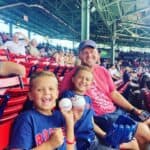 Jake Cain is an entrepreneur and writer from Cincinnati, Ohio. He spends his free time driving around the country in his late 90's conversion van, affectionately known as the "Monster Van" with his wife and 3 boys.
Today's travelers want more than just a relaxing getaway; they're searching for meaningful, unique travel that leaves an impact long after the trip ends.
Astrotourism delivers all of this and more. With skies growing brighter and stars getting harder to spot in the night sky every year, a trip to a dark sky travel location provides the opportunity for visitors to unplug and enjoy unparalleled celestial views. At these resorts, you'll find stargazing opportunities you'll be dreaming about for years to come.
Castle Hot Springs
Located 50 miles from Pheonix, Castle Hot Springs offers views of the night sky completely unobstructed by city lights. A stay at this luxury all-inclusive desert resort, located near natural geothermal hot springs, guarantees a completely unplugged and tranquil getaway.
This fall, Castle Hot Springs is offering two nights of incredible stargazing events on September 16, 2023 and October 7, 2023. These events will be led by an astronomer and will offer a glimpse at the Milky Way Galaxy, Saturn's infamous rings, and the Andromeda Galaxy. Participants can also float in the natural hot springs and gaze at the bright stars and constellations visible to the naked eye against the dark sky.
Four Seasons Resort Maui at Wailea
A trip to Four Seasons Resort Maui at Wailea is sure to be meaningful and memorable. Here, visitors can enjoy experiences centered around Hawaiian culture and custom-designed Unforgettable Experiences that guarantee a once-in-a-lifetime adventure.
The resort's newest Unforgettable Experience, A Wayfinder's Journey, takes travelers on a private, three-hour catamaran voyage under the starry sky. The experience is led by Kala Baybayan Tanaka, a distinguished Hawaiian navigator who will share the ways that her Polynesian ancestors used the stars and other natural elements to navigate across the sea.
Camp Sarika by Amangiri
Located in Canyon Point, Utah, Camp Sarika is a desert retreat located near the main Amangiri resort. Camp Sarika's ten private tented pavilions may be situated in a rugged desert, but their accommodations are beautiful and luxurious. Comfortable and well-appointed indoor living spaces are complemented by open-air terraces and plunge pools, all overlooking the unmatched desert scenery.
Designated hiking trails, UTV tours, horseback rides, and E-bike rides are among the many activities offered at Amangiri. Excursions to Grand Canyon National Park, Bryce Canyon National Park, and Zion National Park can also be arranged.
Red Cliffs Lodge
Red Cliffs Lodge, located in Moab, Utah, is the perfect choice for astrotourists with an adventurous spirit. During the day, visitors will have no shortage of high-energy activities to choose from. Ziplining, horseback riding, river rafting, and more are all easily accessible from this hotel. Visitors may also choose to venture into Arches National Park or Canyonlands National Park; Moab is the nearest town to both.
After a busy day of adventure, Moab's dark sky location makes it perfect for viewing the night sky, stars, constellations, and even the Milky Way galaxy.
Under Canvas Lake Powell- Grand Staircase
Under Canvas Lake Powell- Grand Staircase is the world's first DarkSky- Certified Resort, and despite its rugged surroundings, the accommodations are shockingly luxe. This glamping resort puts visitors in luxurious safari-inspired tents complete with king-sized beds, cozy linens (no sleeping bags here!), and en-suite bathrooms with hot showers.
During your stay, you'll enjoy seasonal, locally sourced dining options. Activities include hiking in the on-site slot canyon, relaxing float trips, and UTV tours. Best of all, the resort intentionally uses low-level lighting to mitigate light pollution and provide clear views of the stunning night sky.
Primland Resort
Primland Resort sits on 12,000 acres in Virginia's stunning Blue Ridge Mountains. The luxurious rooms of the Lodge put visitors in close proximity to the spa, golf courses, observatory tower, and fine-dining restaurants. For more privacy, book a room in one of the free-standing cottages, treehouses, or Mountain Homes.
This resort offers plenty of opportunities to enjoy its beautiful natural setting, with golf, hiking, all-terrain vehicle driving, fishing, and more all close at hand. The on-site observatory has two high-powered telescopes, allowing visitors to take a close look at the stars in this secluded setting.
Hyatt Regency Maui Resort and Spa
Have you ever dreamed of stargazing in paradise? If so, Hyatt Regency Maui Resort and Spa just may be the resort of your dreams. It's located on Ka'anapali Beach and is a AAA four-diamond rated hotel, offering a luxurious beach getaway in a gorgeous setting.
If the African penguins, fire dancers, and luau aren't enough to tempt you, wait until you hear what this resort has available for stargazers! Nightly rooftop stargazing through two telescopes and the opportunity to take astrophotography workshops on-site make this a prime destination for amateur astronomers.
Keweenaw Mountain Lodge
This rustic, four-season lodge is located on the Keweenaw Peninsula, the northernmost tip of Michigan's Upper Peninsula. The lodge is surrounded by wilderness, making it a prime destination for outdoor enthusiasts and rugged adventurists.
The lack of artificial lights around the Keweenaw set the stage for stellar stargazing, and visitors can spot constellations, meteor showers, and even the Northern Lights. "Lights Out!" events, in which all streetlights and artificial lights are turned out to guarantee darker skies, are also scheduled periodically.
Gorman Chairback Lodge and Cabins
Located in Maine's 100-Mile Wilderness, the Gorman Chairback Lodge and Cabins is a spectacular getaway for visitors who are prepared for more than a little adventure. While the Lodge is accessible by gravel logging roads during the spring and fall seasons, winter visitors must access the Lodge by snowshoe, ski, or dogsled.
Once you've arrived, you'll find sustainable, green practices such as food waste composting, composting toilets, and solar energy use. During the day, visitors can enjoy hiking, fly-fishing, skiing, and snowshoeing. At night, the dark skies of the Maine wilderness allow for spectacular stargazing.
Treebones Resort
Treebones Resort is a unique glamping experience on California's Big Sur Coast. The resort is made up of a series of yurts designed to allow visitors to enjoy the beauty of nature while protecting its fragility.
This completely off-grid resort is the perfect place to enjoy beautiful views, abundant wildlife, and outdoor adventures, including kayaking, hiking, beachcombing, and more. At night, enjoy stargazing in the dark skies of Big Sur.
Enchantment Resort
Enchantment Resort is located in Sedona, Arizona, a well-known stargazing destination and certified International Dark Sky city. Dedicated astrotourists will be hard-pressed to find a better destination than this resort, which hosts experiences like astronomer-led stargazing evenings and full moon hikes.
During the day, visitors can take part in hiking, mountain biking, rock climbing, and more.