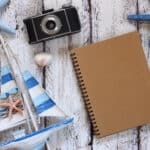 Elizabeth is an experienced traveler and writer with bylines in several popular travel publications. She currently co-owns a small digital travel publication and spends her free time writing, taking photos, and traveling.
St. Louis may not be known for its beaches, but that doesn't mean you can't soak up some sun and sand nearby. We've scoured the region to bring you the best of the best, from hidden coves to crowded hotspots. Grab your shades and get ready to visit these 14 great beaches near St. Louis.
Creve Coeur Lake
Ver esta publicación en Instagram

Imagine a day filled with boating, fishing, hiking, or perhaps even ziplining, all within the confines of a scenic 2,145-acre park. This is what awaits you at Creve Coeur Lake, located conveniently close to St. Louis. While you can't swim due to the water quality, the northeastern cove of the lake provides a serene backdrop for sunbathing or simply soaking in the beautiful vista. While its popularity can lead to crowds, the park's combination of tranquility and adventure still makes it a compelling travel destination.
Castlewood State Park
Ver esta publicación en Instagram

Break free from the ordinary beach trips and venture into the secluded tranquility of Castlewood State Park. Its 1,818 acres welcome explorers for a serene nature retreat intertwined with scenic hiking trails and opportunities for fishing. Nestled in Ballwin, just a stone's throw from St. Louis, it's the perfect destination for a satisfying quick beach getaway despite its limited water activities.
Washington State Park
View this post on Instagram

Venture to Washington State Park, a 2,147-acre treasure tucked within the eastern Ozarks, meticulously crafted by the Civilian Conservation Corps. Here, diverse landscapes—from the dense, verdant forests to the scenic lakeshores—unravel a world of outdoor activities. Breathtaking trails along the Big River are perfect for a hike, and the inviting swimming hole and sandy beach offer an idyllic spot for a refreshing swim.
Keyesport Beach
View this post on Instagram

Discover the quiet charm of Keyesport Beach, nestled just 50 miles from St. Louis, where city bustle gives way to gentle waves and family-filled fun. Here, laughter from the playground and splash from the boat ramp punctuate the peaceful ambiance. Depending on the time of year, the drive out there from St. Louis can be quite pretty as well.
Grand Glaize Beach
View this post on Instagram

Escape the hustle and bustle of city life and head to Grand Glaize Beach, tucked away in Lake of the Ozarks State Park. Its balmy waters and sandy beach provide a safe and engaging playground for children. For additional excitement, a visit to the nearby marina will have you cruising calm waters and indulging in sweet treats from local stores.
The Fugitive Beach
View this post on Instagram

Unveil an unexpected aquatic paradise at The Fugitive Beach, a one-of-a-kind spot near St. Louis. This repurposed quarry offers a sandy retreat where visitors can engage in spirited volleyball matches, bold cliff jumping, and a heart-pounding journey down a 60-foot water slide. Savor a smorgasbord of quick bites at the Fugitive Beach and Grill throughout the fun-filled summer season from May to September.
Lake Shelbyville
View this post on Instagram

Uncover a blend of relaxation and adventure at Lake Shelbyville. Its 11,100 acres of water houses an aquatic center and four captivating beaches, while the vast expanse of 23,000 acres of land hosts numerous trails suitable for hiking, biking, and even horseback riding. For a quieter pace, indulge in a picnic or try your hand at fishing. To add an educational twist to your escapade, visit the COE Visitor Center and delve into the lake's history and its diverse wildlife.
Lake Boutin Beach
View this post on Instagram

Tucked away in the historical Trails of Tears State Park, Lake Boutin Beach is an ideal spot for family adventures. This public beach offers a serene atmosphere with its calm and inviting waters and a sandy shore perfect for children's castle-building escapades. Not to forget, the picnic tables and swimming areas promise a delightful day out. Make sure to visit the neighboring center to delve into Cherokee Indian history or venture out for some fishing and canoeing along the shoreline as a unique way to explore.
North Avenue Beach
Ver esta publicación en Instagram

If you're prepared for a bit of a drive, swap Gateway City for the Windy City and immerse yourself in the dynamic environment of North Avenue Beach, nestled in Chicago's Lincoln Park. This vibrant waterfront destination combines the laid-back beach vibe with the thrills of city life. Take a leisurely bike ride, or indulge in flavorful local bites, all against the awe-inspiring backdrop of the Chicago skyline.
Finger Lakes State Park
View this post on Instagram

Immerse yourself in Finger Lakes State Park's captivating blend of history and adventure. Once a mining hub, this 1,128-acre site has blossomed into a recreational paradise, featuring a tranquil beach and an array of activities such as kayaking and ATV trails. This park, comfortably reachable from St. Louis in under two hours, offers a rejuvenating getaway that effortlessly bridges the gap between relaxation and thrills.
Wakonda State Park
View this post on Instagram

Wakonda State Park, positioned on the serene Wakonda Lake, is an impressive 20,000-square-foot hideaway offering the largest swimming beach in Missouri. It serves as a tranquil escape for anglers eager to reel in catfish, crappie, and largemouth bass. The park's trails and picnic areas provide the perfect backdrop for an outdoor adventure.
Cuivre River State Park
Ver esta publicación en Instagram

Escape the hustle and bustle of St. Louis with a 1-hour scenic drive to Cuivre River State Park. Home to a spectacular beach and over 6,400 acres of nature's canvas splashed with vivid autumn colors, this state park truly invigorates the senses. With more than 40 miles of trails enticing outdoor enthusiasts—be it hikers, bikers, or equestrians—it's a place where natural beauty and adventure intertwine.
Rocky Falls Beach
View this post on Instagram

Immerse yourself in the unparalleled beauty and thrill of Rocky Falls Beach, a part of the National Scenic Riverways in the Ozarks. Beyond the beach's captivating 1.5-billion-year-old rock formations lie enticing features like a natural waterslide, a waterfall, and a cooling swimming pool. Remember, this enchanting destination is a 6-mile hike away, turning your trip into an adventure in itself.
Klondike Park
View this post on Instagram

Experience tranquility and adventure at Klondike Park. Known for its breathtaking beach scenes, this 250-acre park, founded in 1999, draws visitors in with its pure white sands and sparkling waters. Despite swimming being off-limits, the allure of outdoor activities such as camping, fishing, hiking, and biking makes it an ideal escapade for nature enthusiasts. Ascend the Donkey Kong Loop trail for a bird's eye view of this majestic park and the wide expanse of the Missouri River Valley.